Ontario is a mecca for outdoor activities. I have always been an avid hiker, camper and nature lover, making me well-positioned living in Southern Ontario. And as my children have gotten older, we've been out more and more and more. And I am constantly searching out the best hiking trails for families in Southern Ontario.
Travel is not recommended right now, but it does not mean that you have to stay inside. In a time of social distancing, we are being told to avoid contact with others. It's safe to still enjoy nature and remain a safe distance from others. We can be outside and safe. We can stay a couple of metres away from other people, we can wash our hands frequently. It's become prudent to carry hand sanitizer and we do. Lucky for us, there are a few less frequented hiking areas you can go to and I'll tell you about them.
Best Hiking Trails For Families In Southern Ontario
Here are the best hiking trails for families in Ontario to practise social distancing. The list is completely unofficial and purely based on my personal experience over the years and that of fellow bloggers.
Skinner's Bluff Loop Lookout on the Bruce Peninsula Trail
This section of the trail is on the Bruce Trail and it's hard to find. Kind of for good reason because it's a secret. Safe to say, it's extremely safe for social distancing! To find the trailhead, you need to get yourself on a dirt road called Colpoy's Range Road outside of Wiarton, Ontario. Look for the Bruce Trail markers. It's well worth the hunt to see the amazing views of Georgian Bay.
Fairly safe and easy for kids on the trail sections. You'll want to exercise an abundance of caution at the lookout points though. They are not protected by barriers. The view would be ruined if there were barriers, so please hold your children's hands and keep pets on a leash. It can be quite buggy in the summer, you'll want to pack bug repellent. Bring snacks and your camera.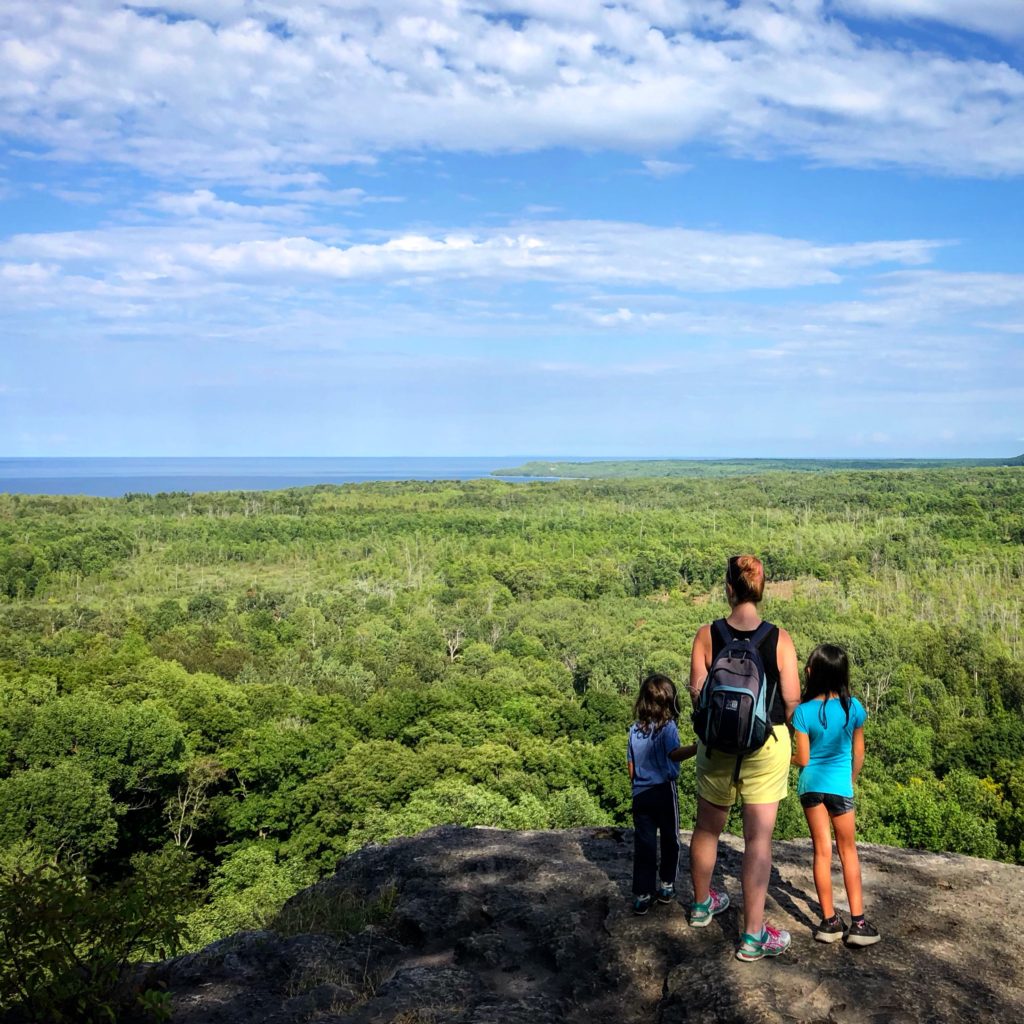 Barron Canyon Trail in Algonquin Park
The Barron Canyon Trail in Algonquin Provincial Park can be accessed most easily from the Sand Lake Gates. That's the eastern section, closest to Petawawa, Ontario. Normal provincial park fees apply.
The canyon trail is only 1.5 kilometres and is a loop. The loop takes you up to the amazing north rim of the Barron Canyon. And the view is outstanding. This is what you're here for. Like Skinner's Bluff, you have to exercise caution and common sense, don't play around on the edges.
It's an uphill hike for about 200-300 metres, but not difficult at all. Once you reach the canyon, it's fairly level, few ups and downs. This trail is moderately trafficked in the summer under normal conditions. My four-year-old son basically ran up this hill, so it's manageable for all family members. You can read all about it in more detail here: Epic Hikes With Kids – Barron Canyon Trail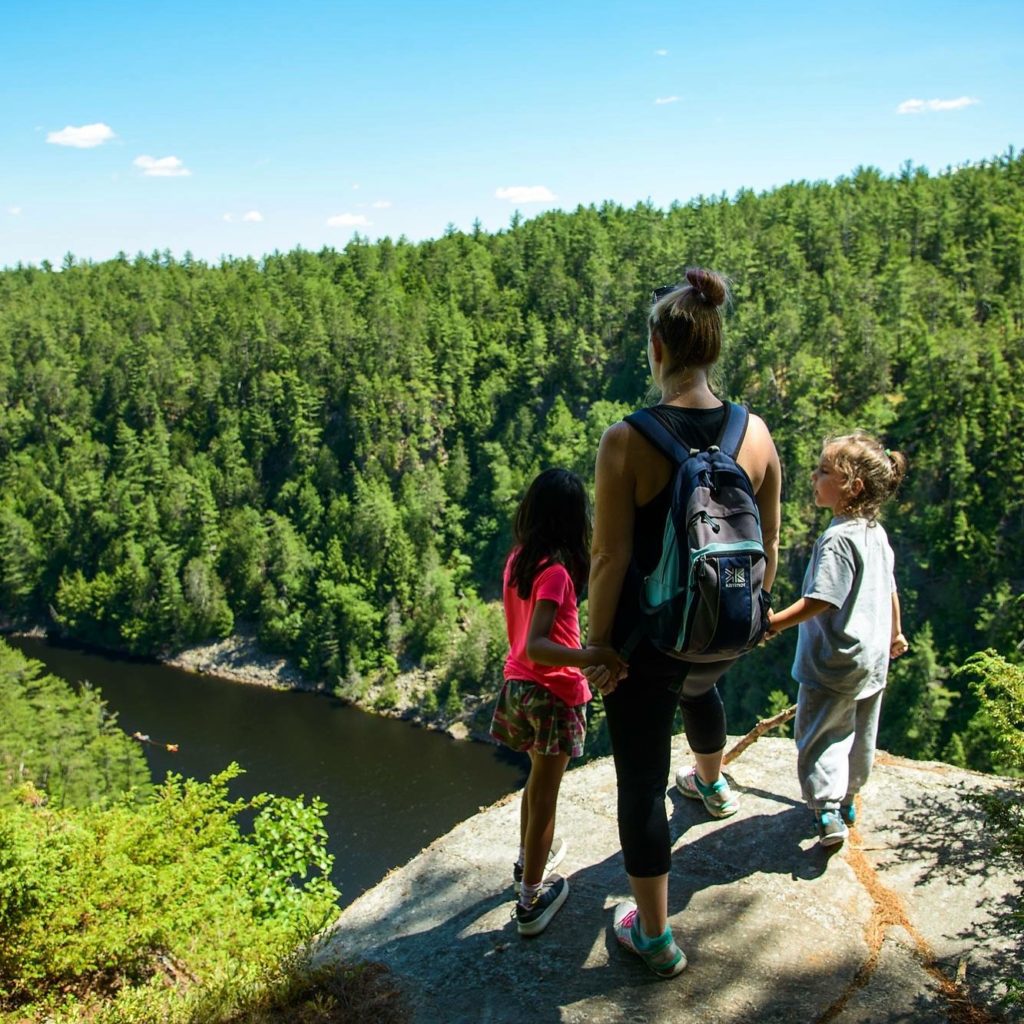 Hilton Falls Trail in Hilton Falls Conservation Area
A 10-metre spectacular waterfall view is a reward for this easy hike. To get to the falls from the parking lot, it's a two-kilometre walk. Same distance going back, with kids, budget about two hours for this. It's a great place to go on a hot day to cool off, to feel the mist from the water and get amazing Instagram shots. Seriously.
Last time I was there with my kids, other families were walking behind the waterfall and kids were frolicking in the water at the base.  This trail has been REALLY busy on nice days, so plan to go on a less sunny day for fewer crowds.
BUT – There is more to Hilton Falls than the actual waterfalls. Take a detour out onto the trails and see the best-kept secret out there – the reservoir.
This conservation area is closest to Milton, Ontario. Normally, there are entrance fees there for parking. Also, ice cream is sold at the visitor centre.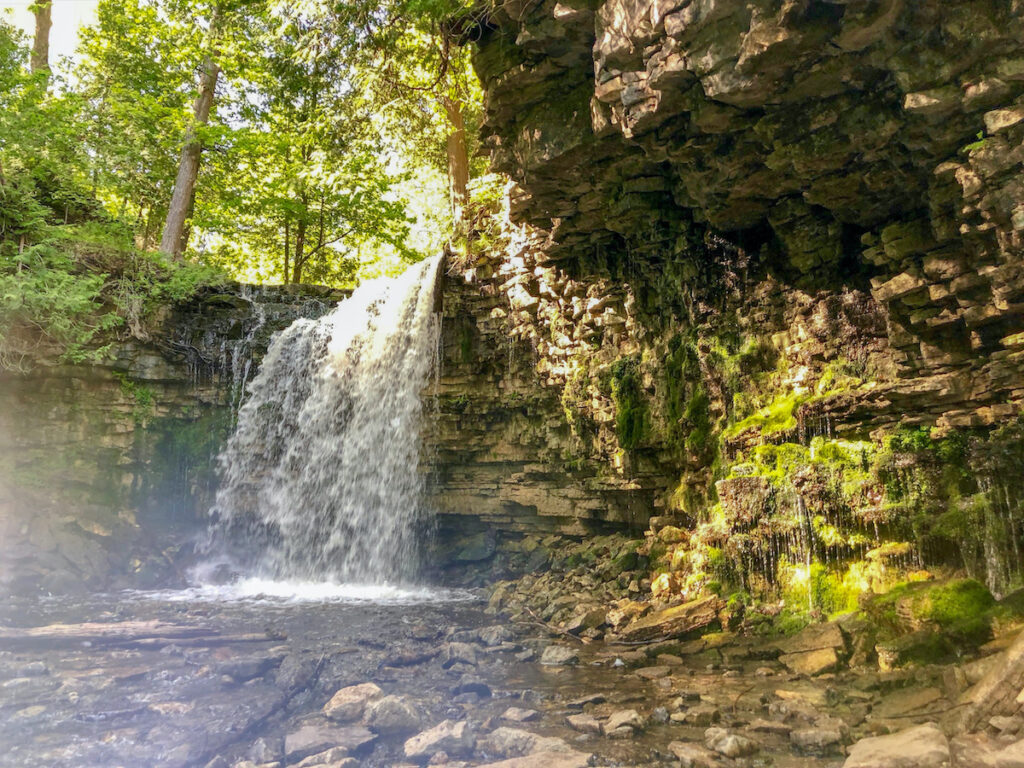 Mount Nemo Loop Trail in Mount Nemo Conservation Area
If you want to avoid crowds and have a nice hike in the Greater Toronto Area, this is the place to go. Mount Nemo is gorgeous, has caves and you can spot vultures circling in the air. Here, you can go rock climbing or find a lookout where the CN Tower can be spotted on a clear day. There's a loop you can hike that's approximately 5.3 kilometres and will likely take you 3 hours to do with kids.
Just north of Burlington, there are entrance fees, same as Hilton Falls. PRO TIP – visit Hilton Falls and Mount Nemo in the same day. Pay for parking in one location in the morning and your daily entrance fee receipt provides access to all Halton Parks for the same day. Same goes for Rattlesnake Point (below, under non-social distancing protocols).
Buffalo Crag Lookout – Rattlesnake Point Conservation Area
Just a six-kilometre bike ride or quick car ride from the Hilton Falls Conservation Area parking lot is Rattlesnake Point Conservation Area. An easy 3.2-kilometre trail to the Buffalo Crag lookout for one of the best views of the escarpment. If you are a fan of the Canadian TV show, Schitt's Creek on CBC, this is the conservation area and trail where Patrick proposed to David on the episode called "The Hike".
The views here are amazing. There are two ways to do the loop, you can side the side trail along the escarpment or you wan take the maintained walking path.
In full disclosure, these trails have just been given the green light to re-open and are only permitting people in for two-hour windows. You have to reserve online ahead of time. It's a bit difficult to run your kids through here within two hours, to be honest, but if you move at a brisk pace, it's doable. While we are under social distancing protocols, you cannot visit two conservation areas in one day. Hopefully, that lifts for 2021.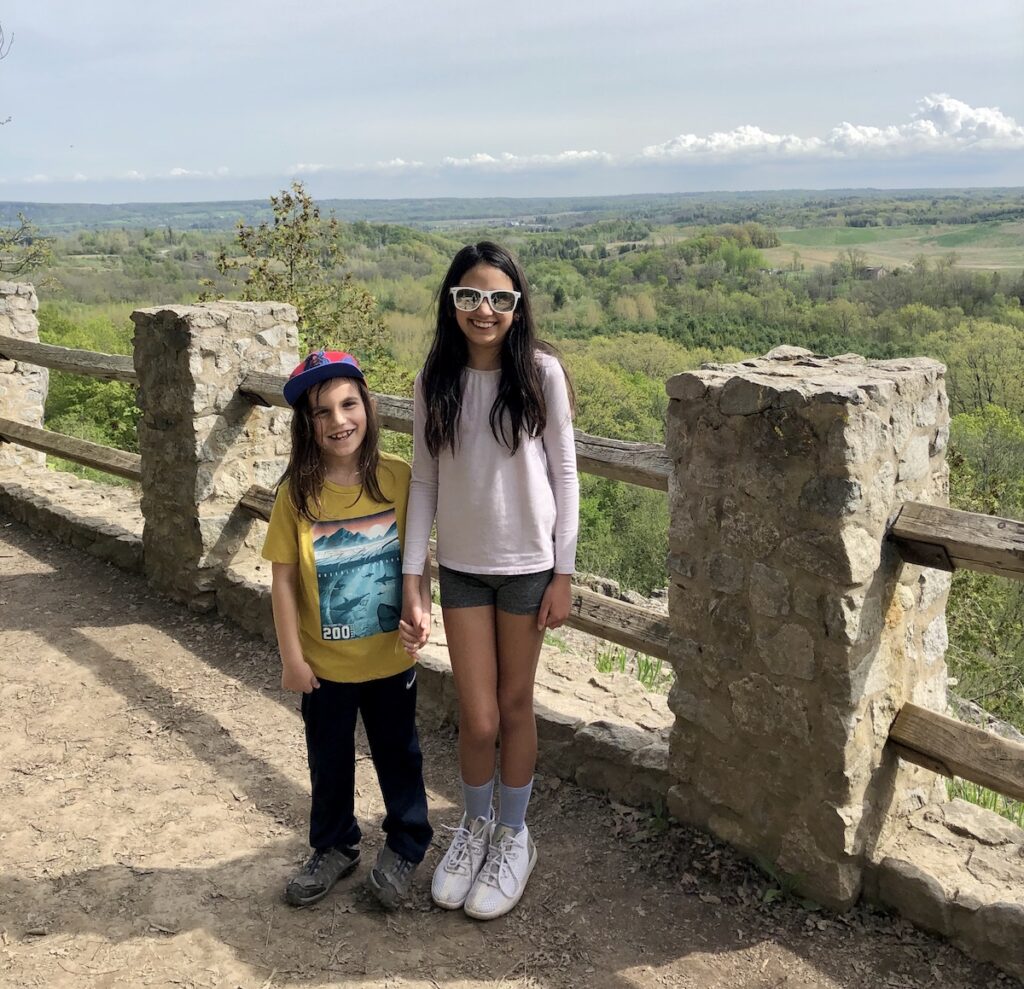 Bennett Heritage Trail – Silvercreek Conservation Area
For all-season hiking, Silvercreek Conservation area boasts some of the best hiking for families in Ontario. Only an hour from Toronto, and part of the Bruce Trail, this is where you can get away from it all, including in the dead of winter.
When this trail is muddy, it can be very slippery. If you are here in the winter, be sure to bring your cleats (snow picks) for your hiking boots as it can be icy. This trail can be challenging, so if you're looking for adventure, this is it. You'll find some diverse terrain here and it will be a memorable day for the kids.
If you finish hiking around this conservation area, you can continue on an eight-kilometre trail to Terra Cotta Conservation Area. With the Bruce Trail, the possibilities are truly endless!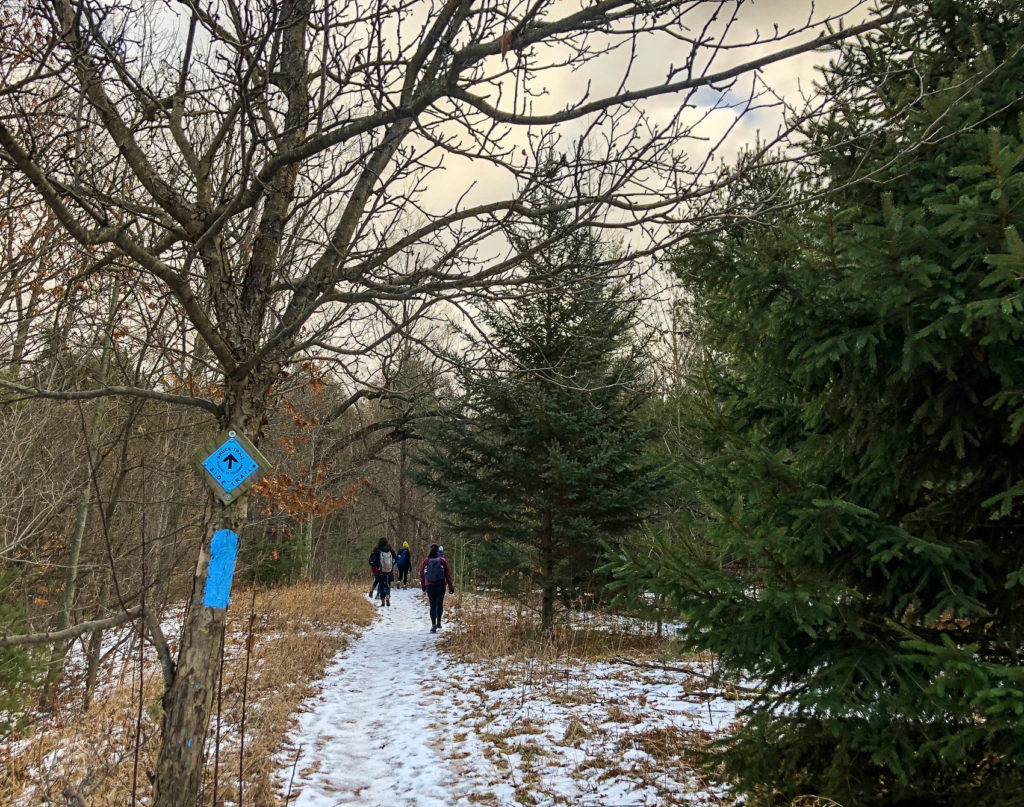 Cliff Top Side Trail via Carriage Trail and Spillway Trail – Mono Cliffs Provincial Park
If you have a day to spend hiking, Mono Cliffs Provincial Park is the park to take the kids too. It's a day-use park, so there is no camping here. However, there are a lot of areas here to toss out a blanket and hang out for a while. While I am recommending one trail and path, there are many here that wind around and intersect.
Getting to the Cliff Top Side Trail at Mono Cliffs takes a bit of time. It's approximately an 8-kilometre trail from the parking lot and back. With kids, it could take you four to five hours, but it's worth it. Some trails in this park are classified as moderate hikes, some are easy. Some trails are surrounded by forest while others are more of an open field setting. They range from well-worn, sandy paths to rocky trails to wooden boardwalks. That said, my kids basically ran through here like they were in their playroom.
If you'd like to know more details about this park and the trails there, I did an entire post on it here: Mono Cliffs Provincial Park – Best Place For Mother's Day Hike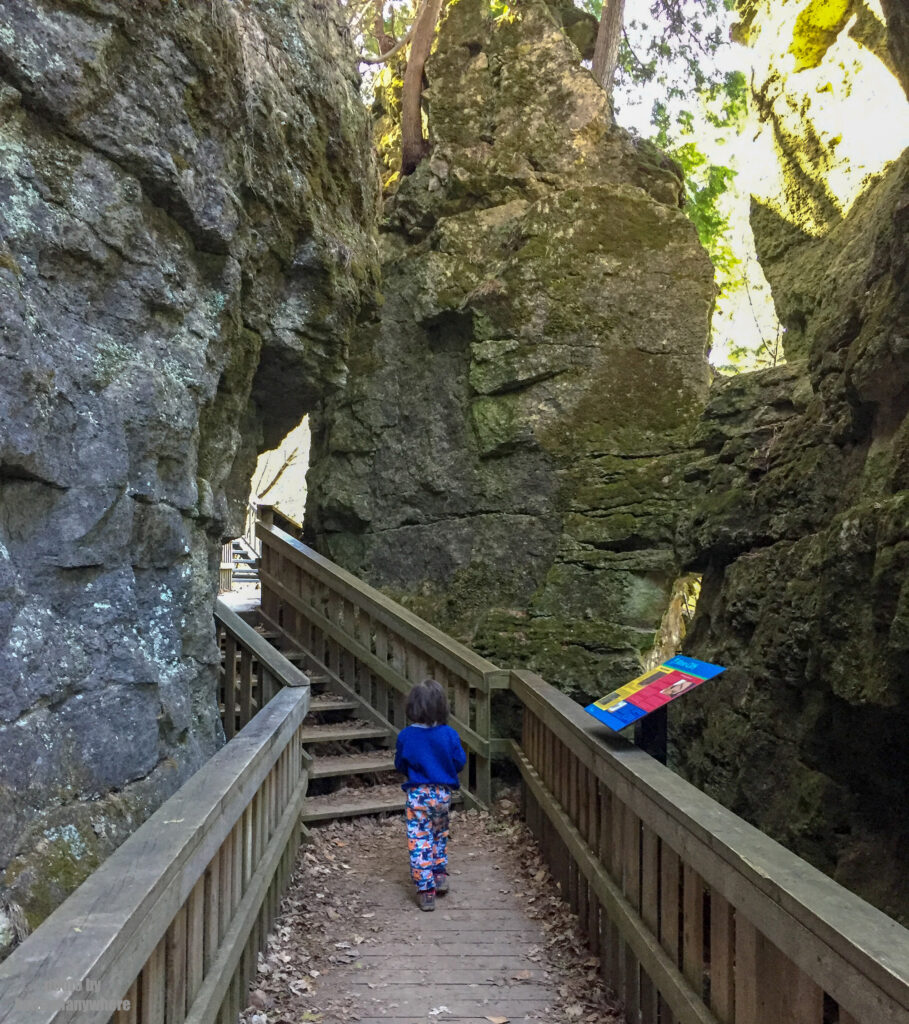 Cataract Falls via Trans Canada Trail and Kettle Trail Loop – Forks of the Credit Provincial Park
The 6.6-kilometre hike to Cataract Falls and back to the parking lot looks like it's going to be really easy, but has a lot of ups and downs. That said, you will find places along the way to take a moment to sit by the pond on a bench. I would also recommend that you could have a picnic once it is safe to do so (when restrictions are lifted) as it will be one of the best soul-refreshing moments of your day.
This trail is a great place for active kids to let them run and wear them out. Classified as a moderate trail in this provincial park which is only for day use. No camping is permitted here. Honestly though, you will forget you are anywhere near a city when you're in Forks of the Credit Provincial Park. Only an hour from downtown Toronto in Caledon, you will need to obtain a valid Ontario Parks day permit at the parking lot.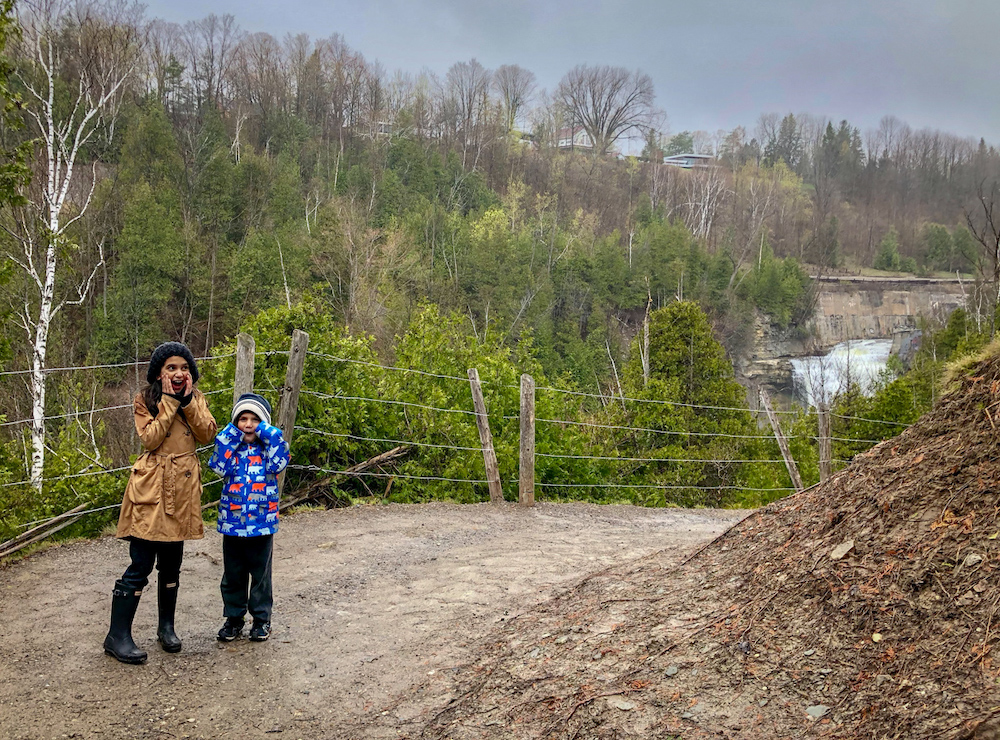 Hiking etiquette and knowledge of the outdoors are lessons you can only learn from others on the trail with experience or a lot of experience yourself. As you prepare for your first or next outdoor adventure, here are some tips to keep in mind 👇
Oak Ridges Trail at Seneca College
As beginner family hikers, and kids ages 3 – 11 years old, we chose the Oak Ridges Trail at Seneca College in King, ON for one of our first Winter treks. It's a mostly flat provincial recreational trail running the full length of the protected Oak Ridges moraine. It was a level "easy" according to
AllTrails
(which is an app) and even with a bit of elevation very manageable for kids and all skill levels.
We entered from the Dufferin side and bypassed
$2.50
parking at Seneca's King Campus by parking along the road by the trail entrance (which is legal & many do). Lots of little streams and small bridges and a neat little stone-built fire hut the kids had fun chasing each other around.
Stumbling upon Eaton Hall overlooking Seneca Lake (former residence of Lady Eaton, gathering place for many Eaton Family celebrations & backdrop for several movies) made for a great history lesson and photo opp around the 1.5 km mark. Dogs are allowed on the trail but must be on a leash. The 9km trail is well marked, and since we only conquered under 3 km of it our first go, we'll be back this summer to explore some more!
Said to be best hiked April – October, we really enjoyed a less busy experience in January.   With lots of little wetlands throughout, bring your bug spray if visiting in the warmer months.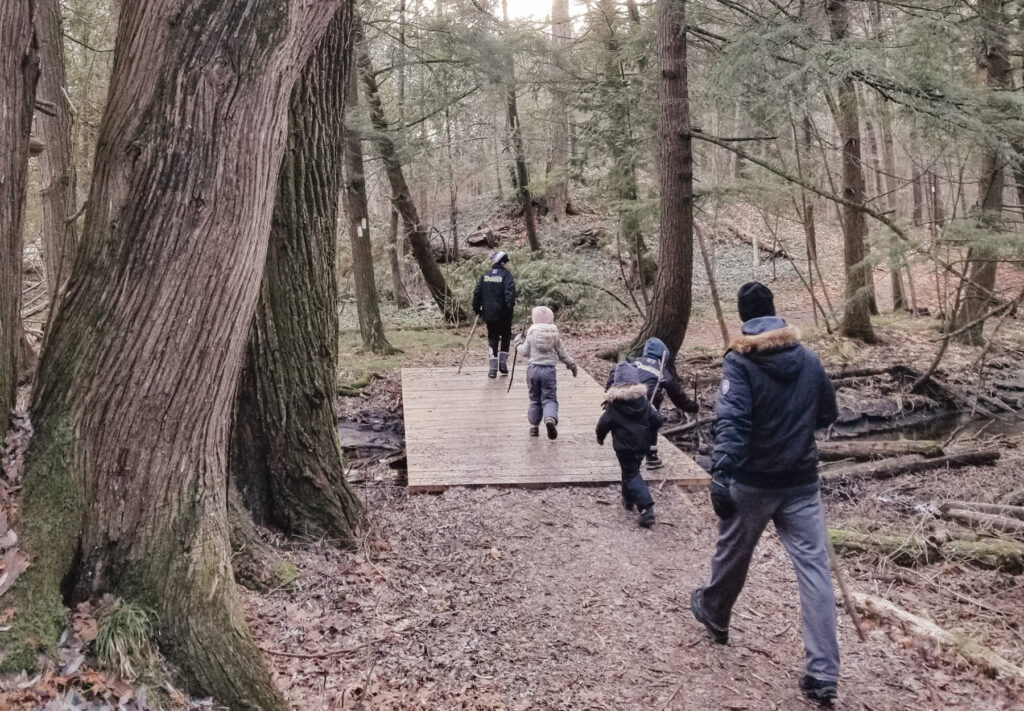 Spirit Rock Conservation Area
If you're looking for a great place to go hiking with your family in Ontario then consider Spirit Rock Conservation Area. Spirit Rock is located just north of Wiarton, approximately two and a half hours north of Toronto. Spirit Rock Conservation Area is one of the best places to hike on the Bruce Peninsula. It offers picturesque hiking trails, incredible views of Georgian Bay and some amazing historic ruins. So clearly, this is one of the best places to hike with kids in Southern Ontario.
Spirit Rock is set over 87 hectares and is home to the ruins of the Corran. The Corran was once a lavish estate in the late 19th century. Now all that is left are a scattering of stone ruins that have been taken over by nature. There is also an old spiral staircase that you can carefully descend down to the water's edge below. The main trail through the conservation area is the Bruce Trail. You can enjoy the loop trail that is approximately 2 kilometres and takes from an hour to an hour and a half. The trail takes you through the forest, past a few great lookouts and over the rocky and rugged Niagara Escarpment. And it's a perfect place for a family hike with shaded trails that are manageable for children and kids will love exploring and climbing over the ruins.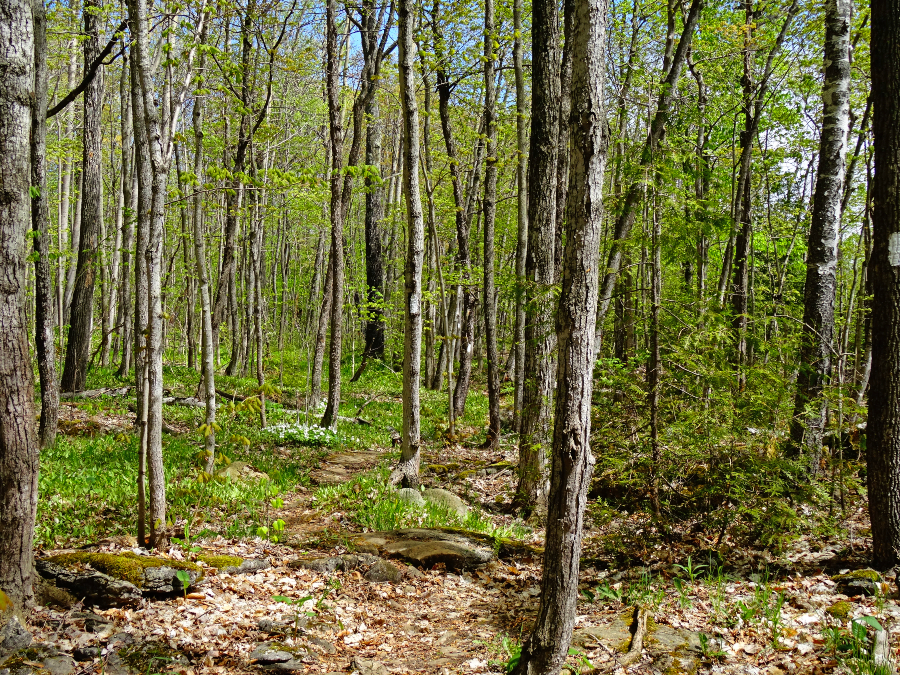 Old Ausable River Channel, Pinery Provincial Park
Located on the shores Lake Huron, just outside of Grand Bend, Pinery Provincial Park is a hidden gem in the Ontario Parks' system. The 21 square kilometres of rare forests and rolling dunes offer excellent year-round outdoor recreation, including 10 walking trails, a 14 km bike trail, 38 kms of groomed ski trails and the Old Ausable River Channel (OARC), which runs the length of the park.
While we love to take a traditional hike during our summer family camping trips to the Pinery, we also like to "hike outside of the trail" and canoe or kayak the OARC.
Originally named "La Riviere aux Sables" by early French voyageurs, this river has a rich cultural history and, since its creation, has always been full of life. It provides habitat for more than 35 species of freshwater fish, several endangered freshwater mussel species and many reptiles and amphibians, including the threatened Eastern spiny softshell turtle. The surface of the river is covered in pond and water lilies, and if you're lucky, you may even spot one of the resident beavers or river otters going about their day. Don't forget to look for white-tailed deer along the banks, and bring your binoculars to view the many species of birds that call the park home.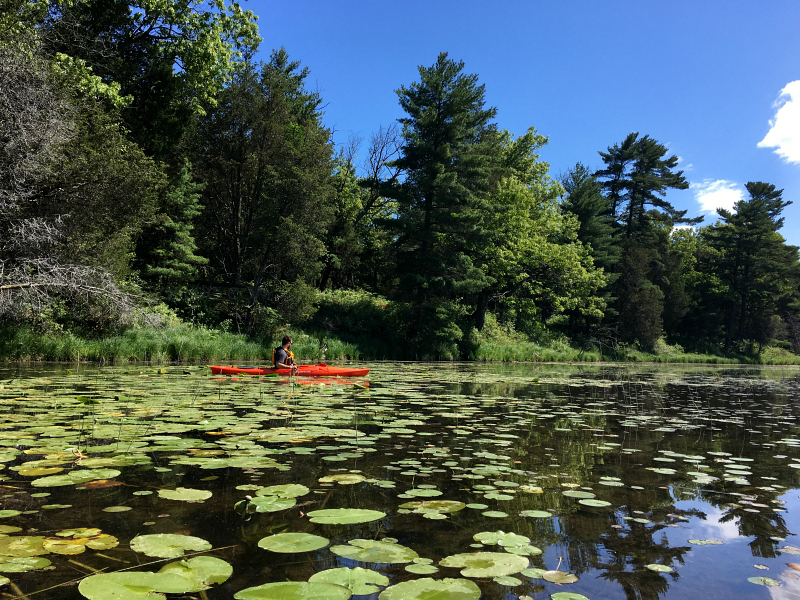 Marla Ward: www.toandfroblog.com 
Niagara Glen
Niagara Glen is a great activity for families visiting the Niagara Falls area because it gets you away from the almost carnival atmosphere of the falls and into pristine Carolinian Forest. It's also one of the rare free-activities in Niagara Falls.
Located right next to the Niagara River near the whirlpool, Niagara Glen is only a 10-minute drive from the falls. Before starting your hike, there is a grassy picnic area and bathrooms above the gorge.
The 4km of trails are in a gorge so you have to descend down a spiral metal staircase. The terrain of the glen can be hilly or include staircases in some areas so it isn't suitable for strollers. There are multiple looping trails here among the boulders to explore. My favourite is the River Trail as it gives you views of the turquoise water and the American side of the gorge as well.
Niagara Glen is a bouldering destination so you may spot some rock climbers on your hike. These huge boulders that dot the park are leftovers from when the river eroded the area thousands of years ago. Kids may enjoy exploring around the boulders as some of them have small caves and may even include ice of you are there in late spring.
It's a great destination for families as you can spend as little as 30 minutes doing a short hike or as much as an afternoon exploring the whole glen.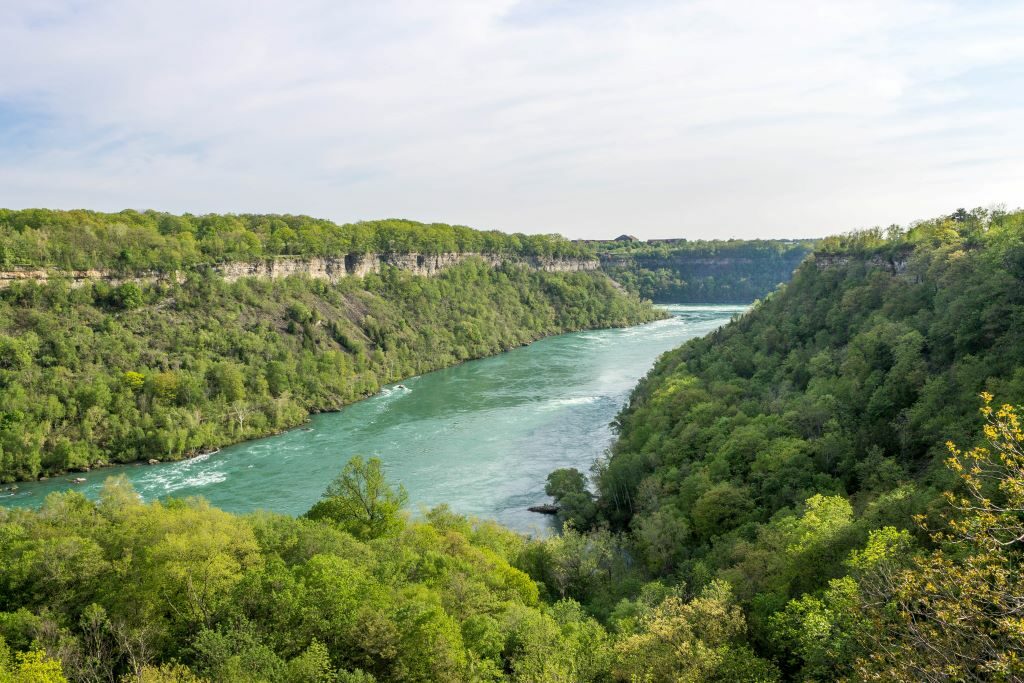 Brianna – Website: https://curioustravelbug.com/
The Durham Regional Forest Trail
The Durham Regional Forest Trail is 35 km from Oshawa. Take the Lake Ridge Rd exit on the 401 W onto Goodwood. On Concession Road 7 you make a left to your destination. The trail is close to Uxbridge.
The reason I like it because it is a 12km loop, with moderate difficulty, an elevation gain of 400 meters and takes about 3 hrs to complete. Novices are going to love the fact that it is clean, neat, consistent and marked all along. It is accessible all year. If you take your dog with you it has to be kept on a leash. The trail has very few ruts, roots or rocks. If you want a nice, moderate work out this is the trail for you.
On the weekend it is an amazing escape with the scenery being luscious and robust. The plantation forests were set up more than 70 years ago and are constantly maintained. Even on a hot humid day you can be sure of lots of shade.
The forest is about 405 hectares and is famous for hiking, horseback riding, cross-country skiing, bird watching and mountain biking.
The parking is free, it is never crowded, quiet, peaceful and an easy trail to follow.
Jerry Godinho from https://fourcolumnsofabalancedlife.com/
Swan Lake Trail
We've always been an active family, but typically that's skiing and zip lining and swimming, or learning a new sport. We've never done a lot of hiking together, but that changed when we were invited to do an RV trip with Ontario Parks last fall. We started with Grundy Lake Provincial Park and in the morning went for a quick walk before heading straight over to The Swan Lake Trail.
Swan Lake Trail is a moderate hiking trail that's about 1.5 kms long and will take roughly an hour. It runs through the Swan Lake nature reserve and is ideal for families just starting to hike or families with young kids. The Swan Lake views through a boggy marsh and up over stunning rock formations will leave you wanting more. My kids loved that there's an interactive research portion too. So, if you spy wildlife in a particular spot you can text a number and help researchers to document it. Gnarly trees and walkways through swampy bogs appealed to my young teens. This was the start of a new passion for our family and is definitely a place to find the best hiking for families in Ontario.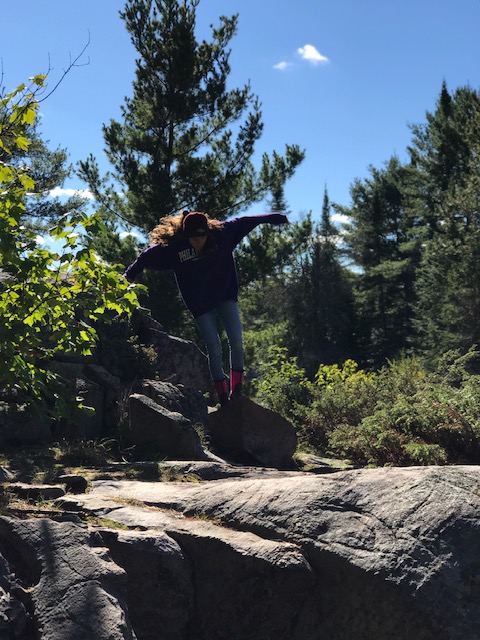 I hope this list inspires you and your family to get out and enjoy some of the many beautiful hiking trails this province has to offer. This post is meant to be a work in progress as we explore more. Have no fear, I'm always on the lookout for the best hiking for families in Ontario. The more trails I find, the more I will report back!