The Ultimate Holiday Wish List For The Traveling Mom
It's the most happiest time of the year! Aside from heading off on a vacation or hitting the road – that's when I'm truly happiest… the months of November and December are my most joyous as I plan holiday gifts and presents for all the loved ones in my life. Rumour has it though, I'm incredible hard to shop for. I'm not (I think), so I created The Ultimate Holiday Wish List For The Traveling Mom to help guide those husbands, boyfriends and children who don't know what to get their partner or Mom to show them how awesome they are.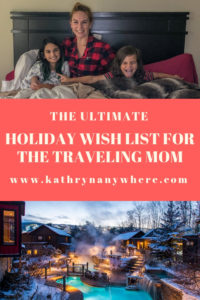 Full disclosure – I'm always been more impressed by an experience over something material. There are material items that I've accumulated over the past year that I truly love. I would find them to be perfect gifts for the traveling mom. And I have created for you, based on my tried and true purchases and a couple on my wish list (hint hint for those who love me), a list of amazing gifts for the adventure seeking Mom who has it all.
The Ultimate Holiday Wish List
For The Traveling Mom
FitKicks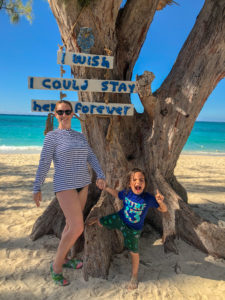 I was on a recent trip and my feet got eaten by a combination of mosquitos, sand fleas and I blistered my feet with ill fitting flip flops. To the rescue? FITKICKS.
My Special Edition Coco Palm FITKICKS shoes served me well walking the sand, on the sidewalks and inside restaurants of the resort. I wore them to the pool, on the beach and even with a nice dress.
The Flex Form sole technology are so relaxing! The soft stretchy upper is form-fitting and comfortable. It features a protective toe guard to prevent excess wear points and an elastic strap for grip and fashion.
I already have another new pair at the ready for my next travels and brand new pairs for the kids. Keep an eye out for our adventures in the new year and you'll be seeing us wear them.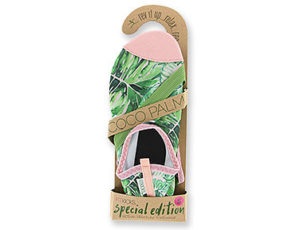 Retails from $29.99 – $39.99 Canadian
To shop for FITKICKS in Canada: https://www.fitkickscanada.com/
To shop for FITKICKS in the USA: https://fitkicks.com/
prAna Foundation Dress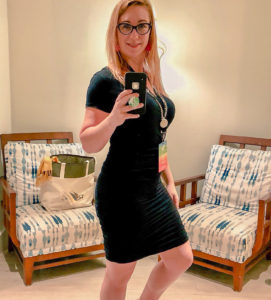 I have never, ever worn an everyday travel dress, or regular wear, non-fancy, non-cocktail dress that made me feel so sexy! Also, did you know I have a semi-amazing Mom-body that I spend a lot of time in the gym on? I have curves (at least in this dress)!
I love my black Foundation Dress from prAna so much, I've ordered another one in hunter green. The Foundation Dress is constructed from a lightweight heathered lenzing modal jersey. The short-sleeved boyfriend t-shirt dress features a shirred pencil skirt, V-neckline and a fully lined skirt. It's incredibly comfortable and clings in all the right places.
What I love about prAna is their commitment to sustainable clothing. When you invest in prAna, you invest in social and environmental responsibility and the safety and well being of the people assembling their clothes.
Retails for $104.07 Canadian plus tax and shipping, BUT Black Friday sales are roughly 30% off!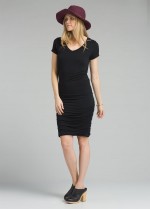 PrAna currently is offering FREE SHIPPING on orders until December 13, 2018! I have done more holiday shopping for myself on the prAna website this past week knowing that shipping was free!
To shop prAna, click the banner below.
Covered Goods
It's a nursing cover. Wait, it's a car seat cover. Also, it's an infinity scarf AND a cart cover. Hold on – what is this? It's all of that.
Designed by a Mom of four (yes, 4!), this versatile and stylish product is the first all in one strapless, ringless, cordless nursing cover that allows the Mom on the go to breastfeed her baby freely and be completely covered if they want to be. The flexible neck is designed to be worn under one arm to help the Mom be free while nursing and the neck material has enough give that you can peek in on the baby.
When not using it to nurse, it covers the car seat from bugs, pets and the elements. Done nursing, but not ready to give it up because you've used it for some long you have now bought clothing to match it? Suddenly it's a fashionable infinity scarf! Got a toddler who likes to ride in the cart in the grocery store? Use it as a cart cover and worry not about what they're touching (or licking) on that handle.
Retails for $34.99 USD, comes in a wide variety of prints, solids and stripes.
To shop for Covered Goods, check out their webpage: https://www.coveredgoods.com
Lands' End Monogram Flannel Pyjamas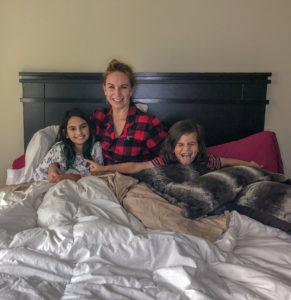 Whether I'm cozied up at home reading a book in bed or in a tent or a yurt, I need warm pyjamas and Lands' End cotton flannel brushed pyjamas are it!
They're soft and comfortable and the envy of everyone in my family. Now that I have a pair, the kids want one too. The pants have an elastic waist and tie up to adjust size. And they have pockets!
The bonus? Mine are personalized with a K monogram.
Insider tip: Sizing runs a bit big, but then they shrink a little bit in the wash. The top and bottom are sold separately.

Retails from $62 Canadian for the top and $55 for the bottoms. Not inexpensive, but a good investment for a quality product. The monogram costs $11 extra for a single letter. It helps ensure you don't have them stolen by your mother!
To shop Lands' End: https://www.landsend.com – ships to Canada.
Selfie Ring Light
Did you know that selfie lights have more than one use? I'm not vain for having one of these because I use them not only to take those infamous pictures of myself with, but I also use my particular selfie light to brighten up my environment for live streaming, angle them for product shots, read to my kids with when we're having a storytime by my workspace.
The one I like the most is a USB plug into your laptop or desktop computer and has different light settings – warm or cool light, each setting with dimmers. It has flexible arms to position the light in the right place, a separate mobile phone holder in case you're not live-streaming directly into your computer and it can clip onto your desk or chair.
This one, in particular, is a great price point for what you're getting. Retails from $19.99 Canadian
Lifeproof iPhone case
I don't think anyone could ever comprehend how many times I have wrecked, broke or cracked my iPhone screens in my life. Over the years, I have owned the iPhone 3, 5, 6 and now an X. Cracked screens I can kind of live with… But these incidents come not just at my hands, but at the hands of my children too. My iPhone 6 was the victim of a smashing at the hands of an eight-teen-month-old with a Thomas The Tank Engine toy in his other hand. Additionally, my iPhones have been wrecked by being dropped into a sink while washing dishes, being dropped onto a concrete floor while meeting with my accountant to name a couple of instances.
While I now possess a swanky new iPhone X that's supposed to be waterproof (or resistant up to 30 feet or so), I don't trust all the "what ifs…" that comes from my life and mothering and general clumsy experience. I invested in a Lifeproof iPhone case. Shockproof, waterproof, water and snow proof, it fits all my hiking, camping and water sport needs. I've now taken my iPhone into the pool to get footage of my son jumping in solo for the first time. I didn't trust myself taking it snorkelling last time, but with a wrist or a neck strap that I intend on picking up, I feel confident for next time. At least confident enough to take it on the boat to get pictures!
Retails from $37.93 Canadian on Amazon, plus shipping.
DJI Mavic 2 Zoom Drone Quadcopter and Camera Bundle
Perhaps the most extravagant item on the travel mom holiday wish list – a drone. Not just any drone, but a DJI Mavic 2 Aoom Drone Quadcopter along with the camera bundle. I suppose if no one buys me one, I'll buy it for myself! I really want to up my own video production game (not spy on my neighbours).
It's one thing for me to receive all the footage from producers and directors and make their vision come to life, but I really want to ensure I'm pushing my own vision going forward with creating my own content. I think a drone is one of the last pieces I am missing to make my content stand out.
Retails from $1,628.00 Canadian.
A trip to Scandinavia Spa, Blue Mountains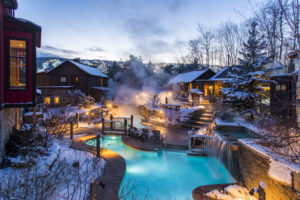 This has been on my list of things to do for quite some time. I have been to the Blue Mountain and Collingwood area in Ontario more times than I can count. Have I ever had the opportunity to visit this spa? Nope, I've been too busy running my kids to skiing lessons or chasing them around the village or up to Scenic Caves.
I want nothing more than to be sent for a massage or a hot stone therapy there. In fact, send me there for a day to be in silence and relax in nature. I'd be extremely happy. I don't think there are many Moms out there that would disagree with me on this one.
Reservations open 4 months in advance. Weekends book up first and can be quite busy.
Check out what they offer here: https://www.scandinave.com/blue-mountain/en/
Convinced to run away from the family and spend some time there?  Book your stay in the Blue Mountains area so you don't have to travel far to the spa here:
How About Some Stocking Stuffers?
What traveling mom holiday wish list would be complete without some stocking stuffer ideas! Here you go shoppers – a Leatherman ultimate utility tool for the hiking and camping mom, waterproof cases mobile phone and passport holders, hiking socks, a Joby mini tripod with swivel head, Michelle Obama's book "Becoming", humourous adult colouring book, coloured pencils, engraved wine glass AND a travel pillow.
If none of this is suffice in terms of a gift for that traveling Mom in your life – a trip to anywhere, size Window Seat is the best gift. Not the cheap family vacations type ticket – luxury travel, please.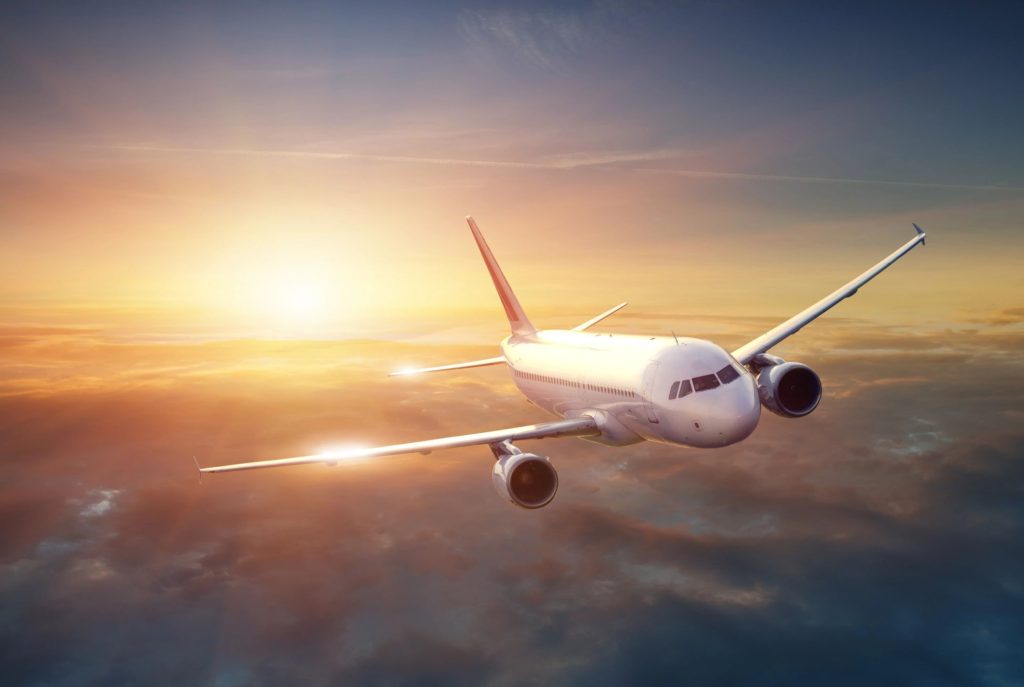 This post contains some affiliate links, that means if you make a purchase through an affiliate link, I make a small commission. Please see more in my privacy policy.