10+ Amazing Things To Do In Thunder Bay Ontario
If the city of Thunder Bay, in Northern Ontario, is not on your radar, it should be! This Toronto dweller (me) got a taste of how quick and easy it was to be out my front door and into one of the most magnificent canyons in the entire country in a matter of a couple of hours. I am going to explain how I did that and all of the amazing things to do in Thunder Bay.
To be honest, I'm not sure if I have ever been to Thunder Bay. I suspect my parents and I drove past Thunder Bay once when we drove across the country. I was fifteen years old then, so many years have passed and my memory is foggy of that time period. Suffice to say, I did not know that I was missing out on such cool things to see and do in and around Thunder Bay.
Where Is Thunder Bay?
Thunder Bay is built on the traditional territory of the Anishinabek, which includes the Ojibwa of Fort William First Nation. Thunder Bay is in the northwest region of Ontario and sits on the north shores of Lake Superior. Lake Superior is the northernmost Great Lake and is the largest of all of the Great Lakes. In terms of being in the centre of Canada, you could say that in geography terms Thunder Bay is pretty close to the centre of Canada. And by close, I mean that the town of Tache, Manitoba is actually the centre of Canada, which is a little bit west of Thunder Bay.
The city of Thunder Bay is also at the mouth of the Kaministiquia River. The Kaministiquia River is known for having quite a few waterfalls.
Thunder Bay was a major trading port in the development of Canada and still holds a significant seat as the gateway to Northwest Ontario today. Some might say that Thunder Bay is one of those cities that sprawls – partly because it started out as two cities (an amalgamation of the cities of Fort William and Port Arthur in 1970) and they are gradually inching their way together. I didn't get that feeling. Thunder Bay felt like one big community to me.
How Do You Get To Thunder Bay?
Ontario is a huge province. Size-wise, Ontario is 1.076 million km². All that to say is that there are a lot of miles between many cities and parks in Ontario. You can drive for two days and still be in Ontario. Going from Toronto to Thunder Bay is no exception.
When you consider the size of Ontario, to drive to Thunder Bay from Toronto is more than 1550 kilometres. That would equate to a seventeen-hour drive allotting for quick stops for gas. However, there is a much quicker way to get to Thunder Bay from downtown Toronto. It's Porter Airlines at Billy Bishop Airport.
I flew on Porter Airlines from Billy Bishop Airport on Toronto Island to Thunder Bay. My kids and I left our downtown Toronto house at a reasonable 7:45 AM. I walked to the airport, which took 15 minutes with my carry-on backpack and boarded a flight just after 9:00 AM.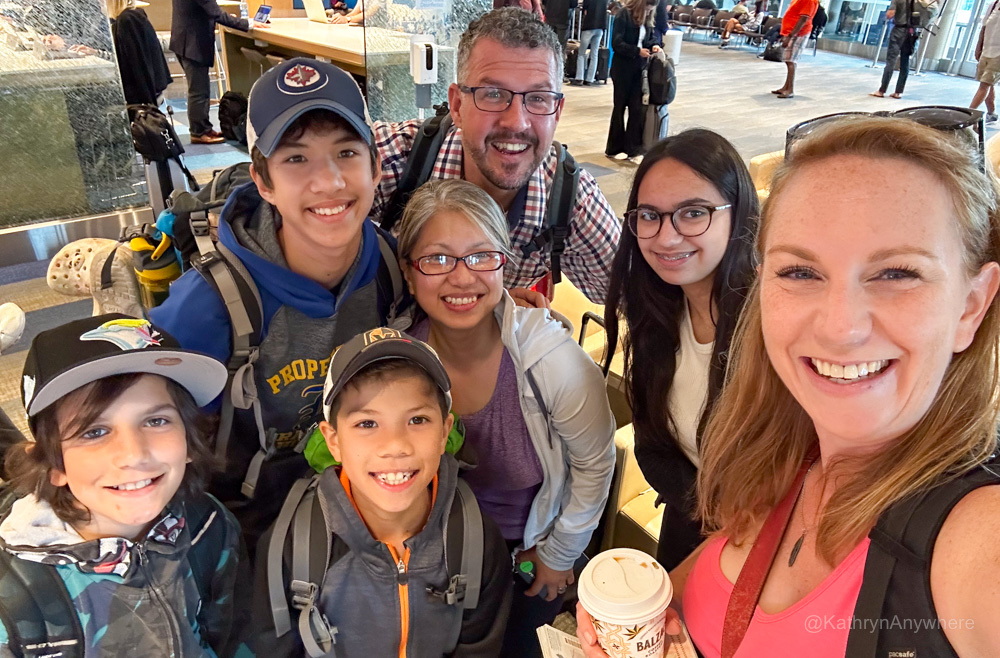 My kids and I were lucky enough to travel with our friends, The Wandering Wagars. We all arrived in Thunder Bay at 11:19 AM. At 11:30 AM, I picked up a rental car at National Car Rental at the Thunder Bay airport. By noon, my kids and I were well on our way to adventure!
Amazing Things To Do In Thunder Bay
Thunder Bay offers a variety of family-friendly activities, a mecca of outdoor experiences for all skill levels and attractions that are perfect for travellers of all ages. Located on the northwestern shore of Lake Superior. Thunder Bay is known for its natural beauty, outdoor recreational opportunities, and rich history. I have quite a few outdoor and indoor activities for my readers below. Read on!
We were super pumped to take this adventure with the Wandering Wagars, Christopher Rudder and Gordana from Road Trip Ontario and Bri and Chris Mitchell of TravelingMitch. For those of you who don't know, Kevin Wagar, Chris Rudder, Chris Mitchell and myself are the four co-founders of the Toronto Blogger Collective.
Thunder Bay is one of the top Ontario Destinations to experience with the family. Want to read more? Check out Ontario's Top Travel Destinations here on Ontario Family Travel. Ontario Family Travel is my new site dedicated to all things family travel in Ontario. KathrynAnywhere will be less kid stuff, and more adventure from now on!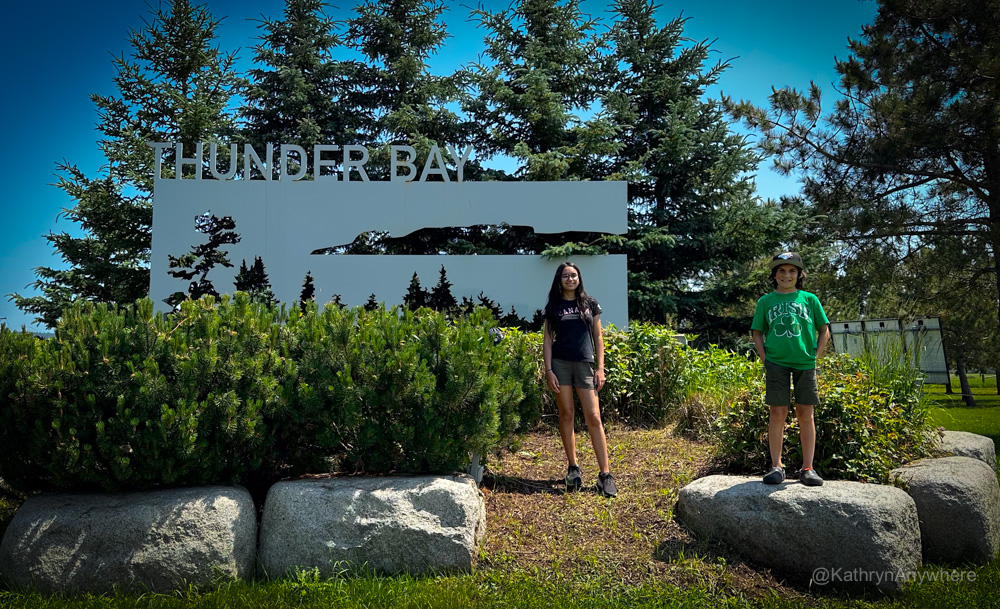 Awesome Outdoor Activities in Thunder Bay
Thunder Bay and the surrounding area offer a plethora of outdoor activities for nature enthusiasts and adventure seekers. Here are some of the awesome outdoor activities around Thunder Bay that you can enjoy:
Provincial Parks By Thunder Bay
I highly recommend that you visit one of the many Provincial Parks close to Thunder Bay! Northern Ontario boasts a lot of outdoor opportunities and of course, there are a few Ontario Parks locations to explore. Outside Thunder Bay, the parks we visited are Sleeping Giant, Ouimet Canyon and Kakabekka Falls Provincial Parks. All of which offer excellent hiking and exploring opportunities. Each park offers a variety of trails with varying lengths and difficulty levels, providing opportunities to experience the region's stunning natural beauty. Be sure to pick up an annual pass from Ontario Parks and book your day trip parking to visit in advance at popular locations.
Ouimet Canyon Provincial Park
I have seen such iconic photos of Ouiment Canyon online before and I wanted this to be one of my first stops. About an hour east of Thunder Bay, Ouimet Canyon gives hikers panoramic views of its 150 m wide gorge and 100 m vertical cliffs from two viewing platforms overlooking the edge of the canyon. It was just my luck that the day I went, it was raining and foggy. Listen, the weather doesn't bother me. I was disappointed thinking I wouldn't get to see anything. I had a similar experience before when my kids and I were in Lisbon and we went to Sintra to see the castle and explore the town.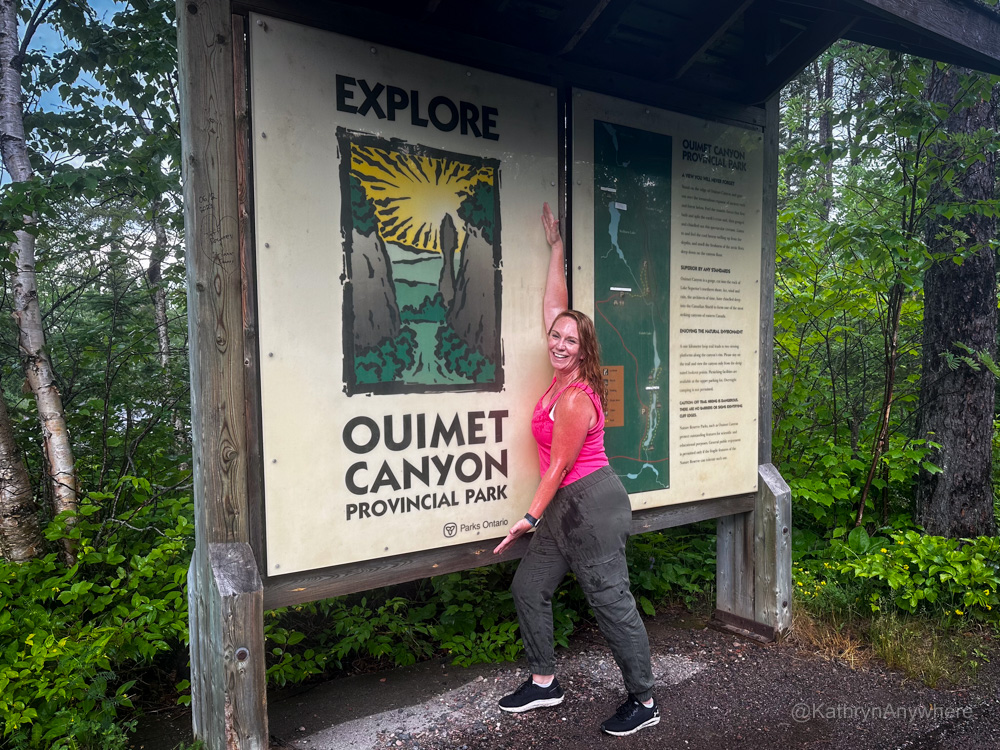 While I didn't get the iconic photo of Ouimet Canyon that I desired, it was just as beautiful. Ouimet Canyon is incredible and worth exploring. So in any weather, see it! No regrets about going on a foggy and rainy day.
This day-use-only park features a short 1.7 km loop trail, with sections of boardwalk and gravel. If you have mobility needs that require barrier-free access, you can see the majority of this path. The geological wonder that is Ouimet Canyon Provincial Park is located near Dorion, just over an hour's drive from Thunder Bay, east, along Highway 17.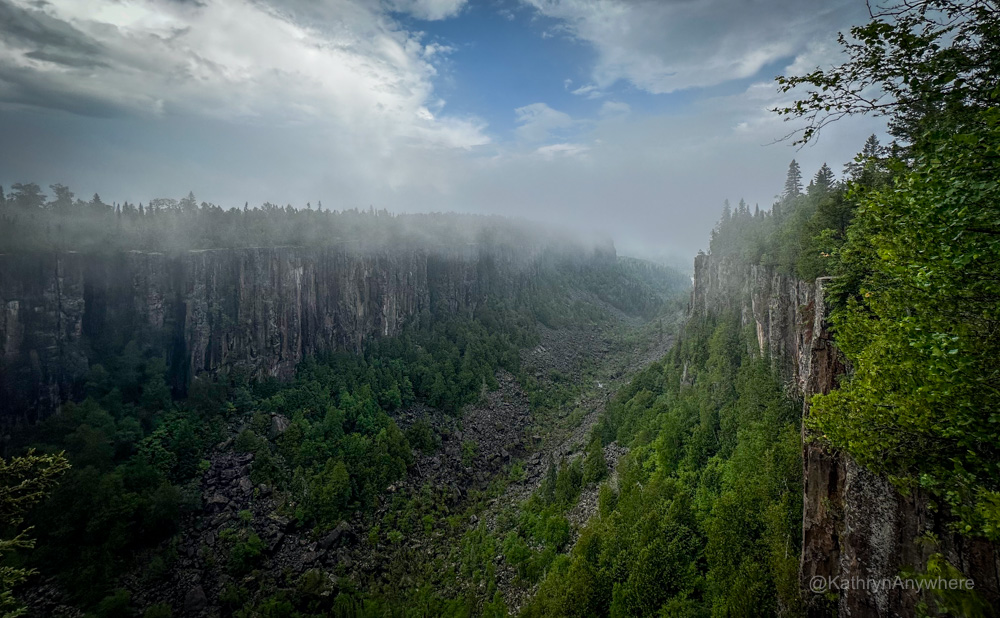 Kakabeka Falls Provincial Park
At 40 m tall, Kakabeka Falls is the second-highest waterfall in Ontario and you can check it out all year round. Kakabekka Falls is one of the most popular and accessible waterfalls in Northern Ontario. Seriously. You can park your car and walk 50 feet. Take a few steps down the stairs if you really want, but if you can't, it's not a worry! This is a good place to bring a stroller for ease of viewing with the youngest members of the family.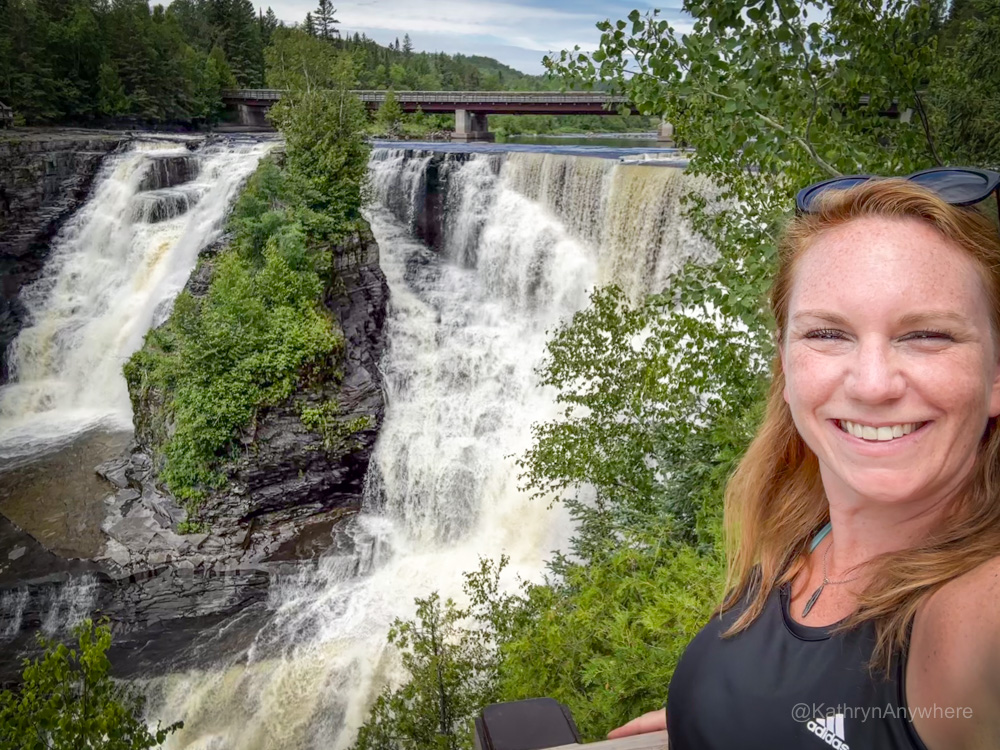 A barrier-free boardwalk from the main parking lot extends around the top of the falls with a few viewing pods and all-over scenic views of both the waterfall and the Kaministiquia River below. If you'd like to continue the exploration, hike along the Mountain Portage Walking Trail (1.25 km loop) to follow in the footsteps of early travellers and voyageurs.
If you are interested in camping and spending more time here, Kakabeka Falls Provincial Park offers campsites with electrical service and non-service. The park is located a short 30-minute drive west of Thunder Bay, located directly adjacent to the Trans Canada Highway 11/17. Location-wise, it is a convenient tourist stop for cross-Canada travellers who need the perfect place to take a walk.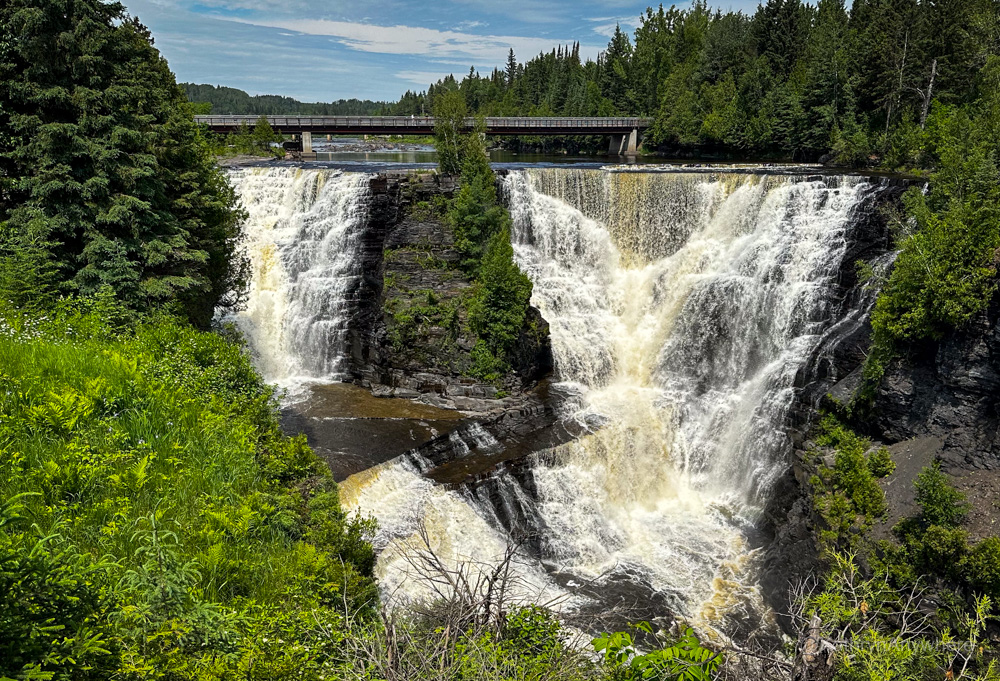 Sleeping Giant Provincial Park
The highest vertical drop in all of Ontario can be found in Sleeping Giant Provincial Park. The hike to the top of Sleeping Giant is also one of my coveted bucket list hikes in all of Canada. Located just east of Thunder Bay, the park is named after its most prominent feature – the Sleeping Giant. The name was given to a landform formation, which stretches for about 8 kilometres along the lake's northern shore.
The Top of the Giant Trail is a popular and challenging hike that leads to the top of the Sleeping Giant. This trail provides absolutely stunning panoramic views of Lake Superior and the surrounding wilderness. This hike covers a distance of approximately 22 kilometres round trip and can take a full day to complete. For our group, it took us approximately 8 hours in total and that factors in a couple of stops for snacks and photo opportunities. Our moving time was just shy of seven hours.
I would be remiss to not mention the number of mosquitos we encountered. It was a lot.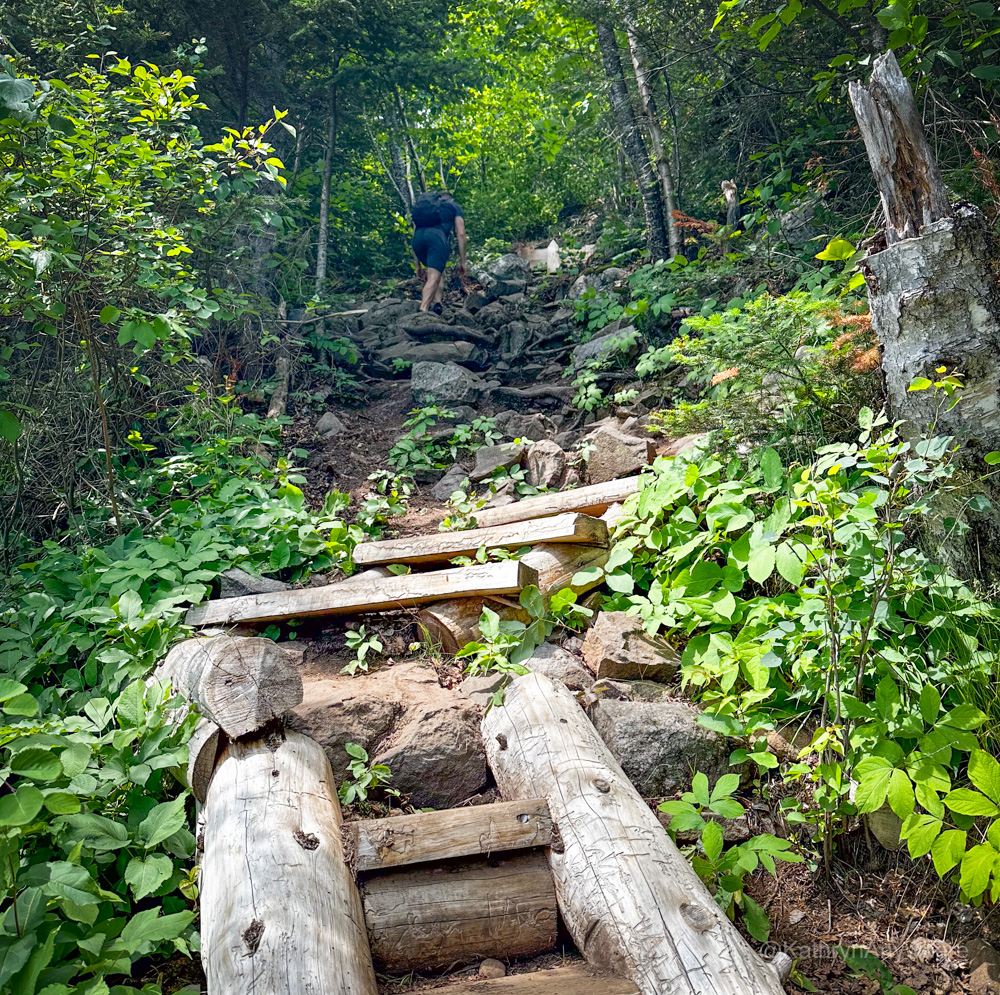 About two-thirds of the way up the trail, you'll reach the Silver Islet Lookout, which provides stunning views of Silver Islet and the surrounding islands on Lake Superior. As you near the top of the trail, you'll reach the Thunder Bay Lookout, offering panoramic views of Thunder Bay, the city of Thunder Bay, and Lake Superior. There are a few places along the way that are perfect to stop and take a break at.
The hike leading up to the Top of the Giant junction is actually quite level, but long. You can – if you wish – take a bike and ride to the junction. That length is just over 7 kilometres.
The Top of the Giant trail is steep. Wooden stairs have been built, but I'm not a fan of them. I'd rather scramble up the dirt.
The culmination of the hike is the awe-inspiring summit of the Sleeping Giant. From this vantage point, hikers can witness the incredible vista of Lake Superior and the vertical drop below. This view and this feeling of accomplishment is an unforgettable experience.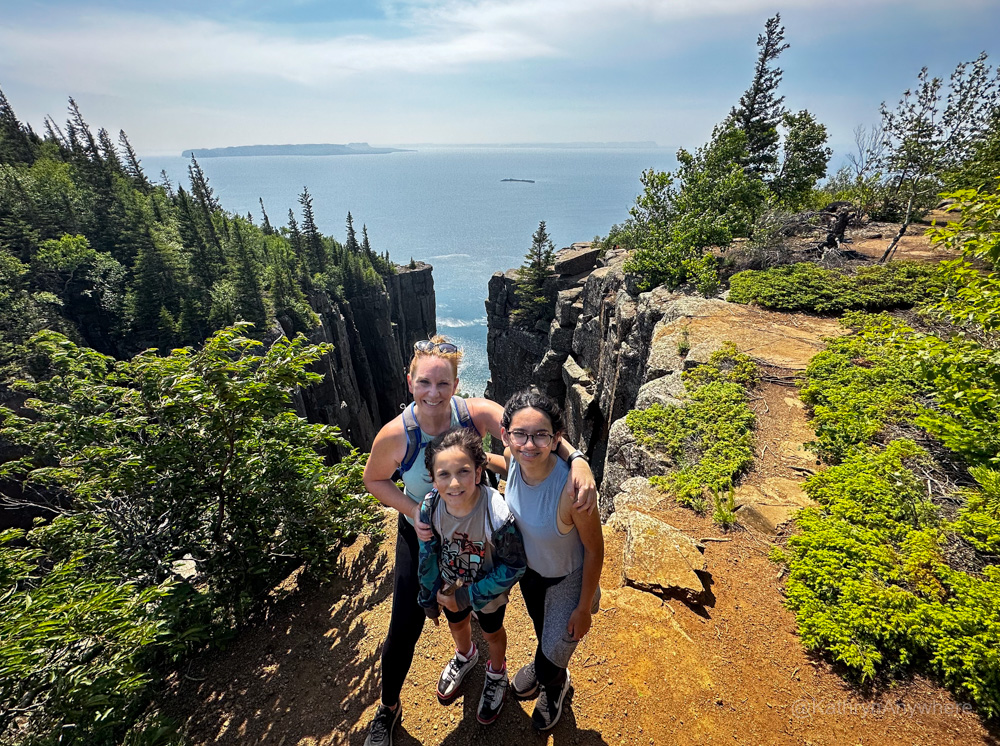 The Top of the Giant hike is one that only those in good physical condition should take on as it is challenging to return should there be a medical emergency. Kids can absolutely finish this trail if they have the mental willpower to pull it off. I recommend taking kids in a group so they can keep each other moving.
I am an experienced hiker and in reasonably good shape, but I will say that the Top of the Giant hike pushed me to my limit. That said, I'm relatively confident I can do anything less strenuous than this with less preparation! 
Here is a note from our experience – There is very limited cell phone service should any situation arise. Newer iPhones can ding a satellite at specific points along the trail for safety. My iPhone 14 did that. As the Top of the Giant Trail is a challenging hike, it is essential to come well-prepared with proper hiking gear, sturdy footwear, plenty of water, snacks, and a map or GPS device.
This provincial park does offer an extensive network of trails for all skill levels, not just for the bucket list thrill seekers. The entire family can venture onto the Sea Lion trail for some incredible views.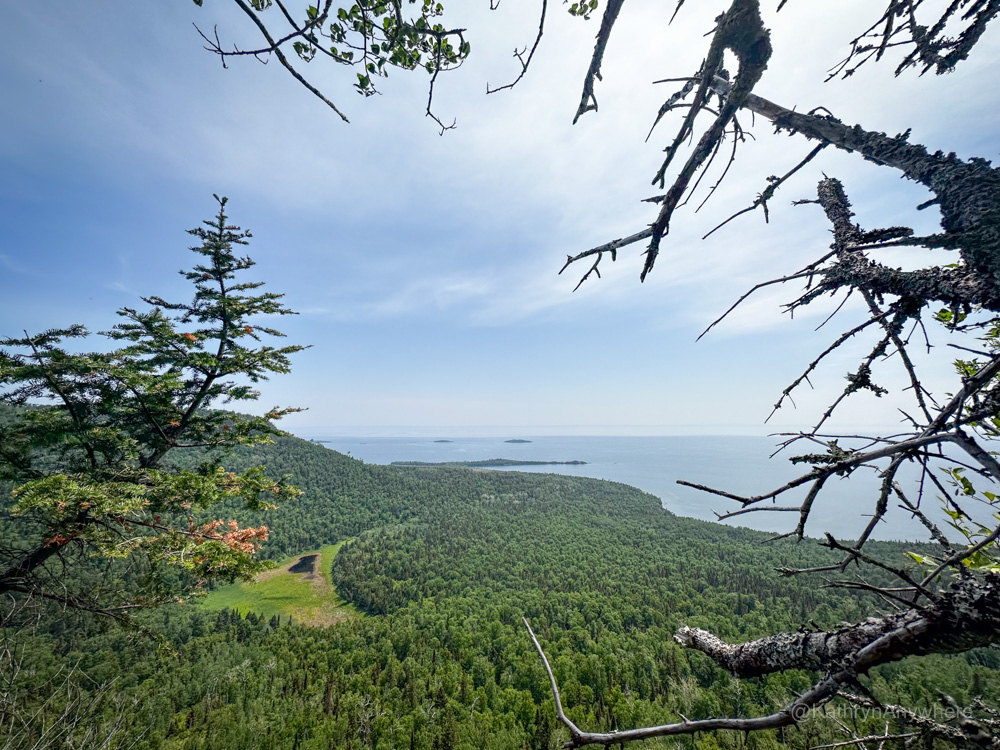 Outdoor Attractions In Thunder Bay
There are also a lot of family-friendly outdoor attractions in Thunder Bay that don't include huge hikes, vertical drops or potential wildlife encounters. The best Thunder Bay outdoor activities also take place in the form of attractions.
Be sure to visit the Terry Fox Monument and Lookout dedicated to the inspiring Canadian hero. Terry Fox is the courageous runner, who after losing his leg to cancer, embarked on a cross-Canada run to support cancer research. He started his run in St. John's Newfoundland and made it almost to Thunder Bay. He covered 5,342 km before his cancer returned and forced him to stop.
From here, enjoy the panoramic views of Thunder Bay at the nearby lookout. It's a great spot for a family hike or picnic and a place to also take a moment and think about the legacy Terry Fox leaves behind and the advancements made in cancer care.  and awareness from his run.
The Terry Fox Monument is located at 1000 Highway 11/17.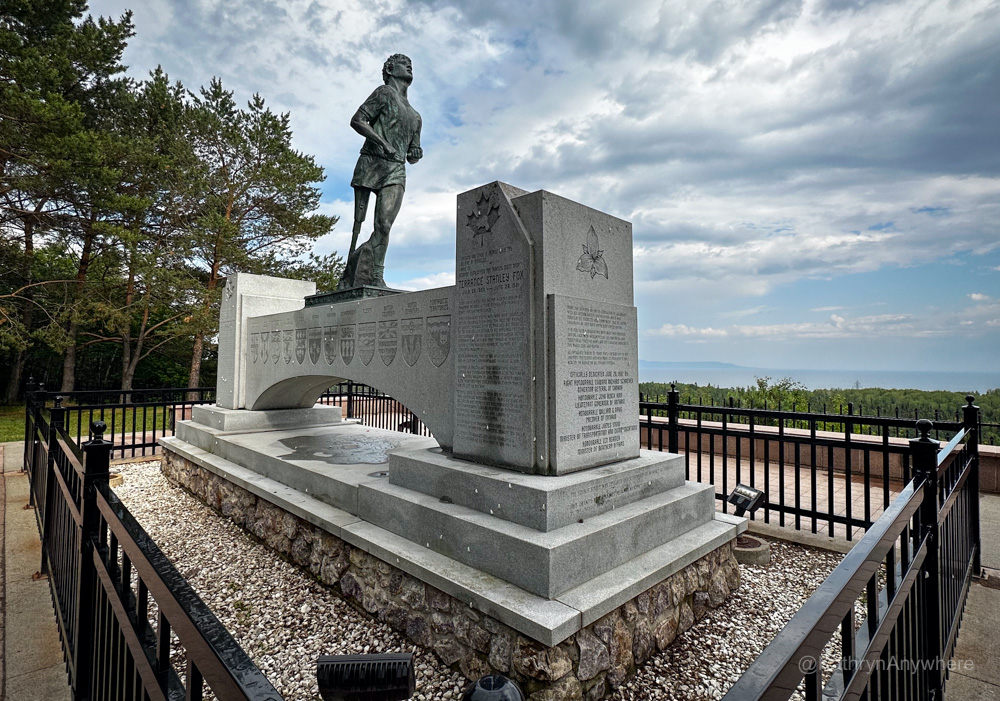 Prince Arthur's Landing
Located on the waterfront, Prince Arthur's Landing features a marina, skate park, splash pad, and scenic walking trails along the shore. It's an ideal spot for family outings and picnics. Sunrises and sunsets from here are all awesome. I recommend taking them in.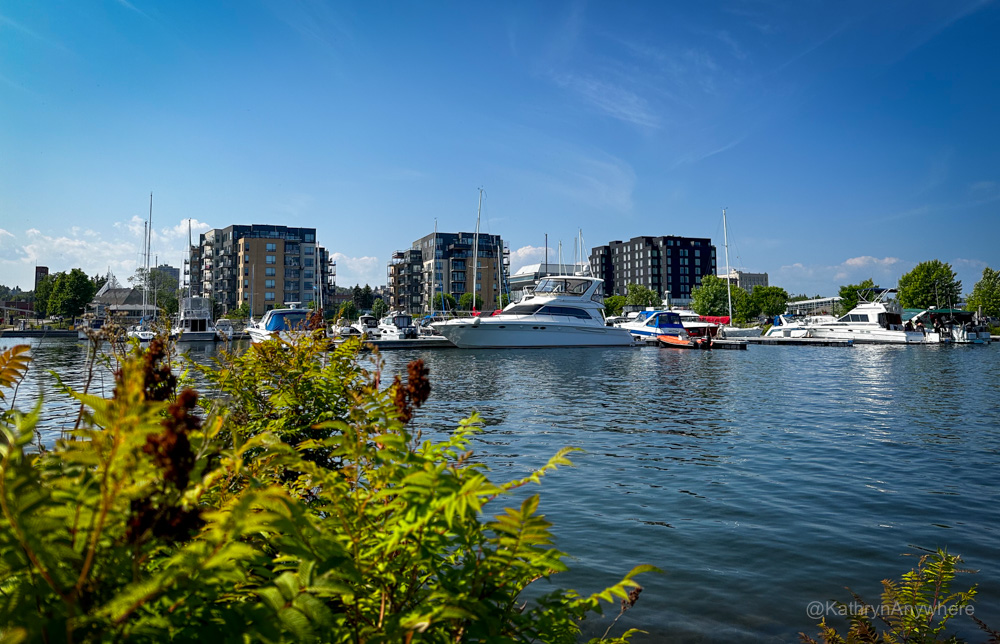 Sail Superior
Seeing and exploring a city from the water is one of the best ways to do it. Rent a catamaran or Zodiac from Sail Superior to take your group for a fun-filled water adventure on Lake Superior. The boat comes with a captain, so it's full service.
Here's why you should do that:
The views are unparalleled and outstanding of the Thunder Bay harbour. You'll see Sleeping Giant from the water as well as lighthouses, the breakwalls and the horizon.
You'll learn about the history of the harbour and Thunder Bay area from your experienced Captain
It's a relaxing experience for the group.
Tours can be booked for 2 hours or from 4 to 6 hours or even longer depending on the itinerary your group desires. It's really an amazing way to see and appreciate Thunder Bay and the area surrounding.
Sail Superior was a highlight of our time in Thunder Bay for my children.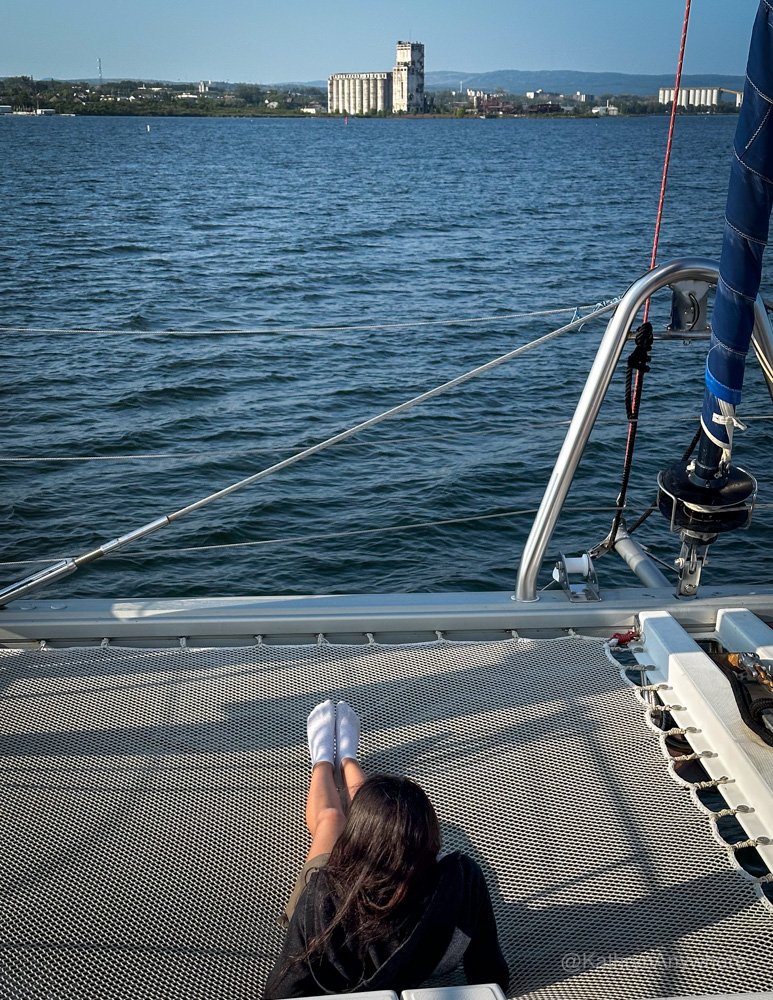 Amethyst Mine Panorama
Did you know that you can dig your own Amethyst just outside of Thunder Bay? If that's on your to-do list, look for amethyst Thunder Bay opportunities. The one we recommend is Amethyst Mine Panorama, approximately 60 kilometres east of Thunder Bay. At Amethyst Mine Panorama, you can dig on your own, wash them, weigh what you dug up and pay for your treasures.
When you arrive and enter through the gift shop, you are taken on a tour and information session on this family-owned and operated mine. Kids will love how easy and fun it is to dig and find their own amethyst. At Amethyst Mine Panorama, you are literally walking on amethyst throughout the whole digging site, you just need to bend over and select the types and sizes of pieces you're after. You can go at your own comfort and interest level and spend hours (or minutes) in the dig portion.
The admission price to the mine site is $10.00 per person, children aged 5 and under are free. Dig-your-own amethyst is priced at $5.00 per pound.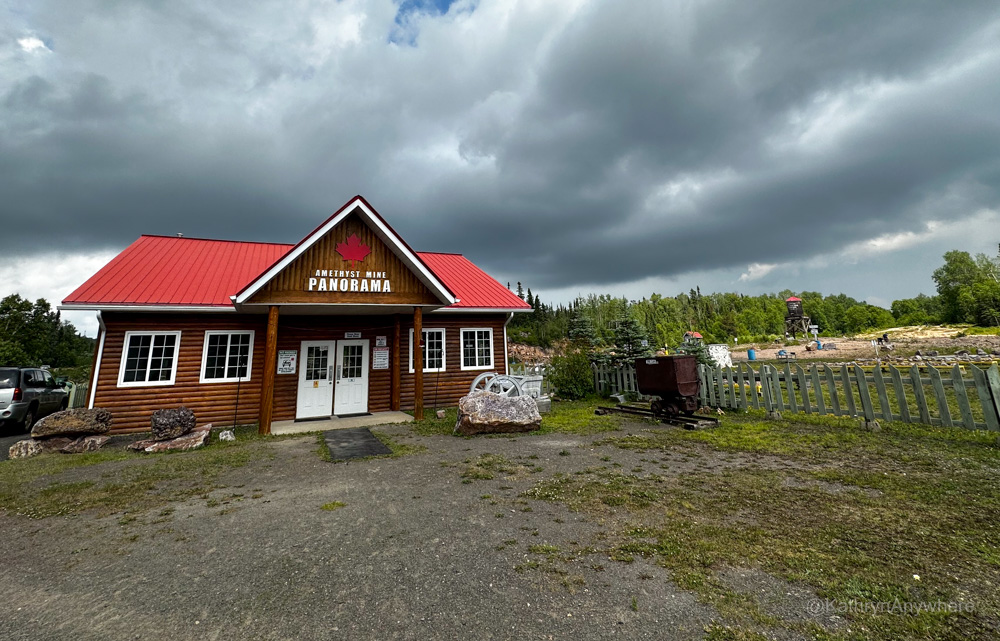 Fort William Historical Park
Ready for a historical re-enactment? Step back in time at Fort William Historical Park, a living history site, where guests can experience the fur trade era through interactive demonstrations, workshops, and guided tours. This is a working community site that boasts skilled tradespeople from the era and they are at work in the village. The blacksmith, tinsmith, carpenter, cooper and birch bark canoe builder craft the products according to the 19th-century tools of their trades.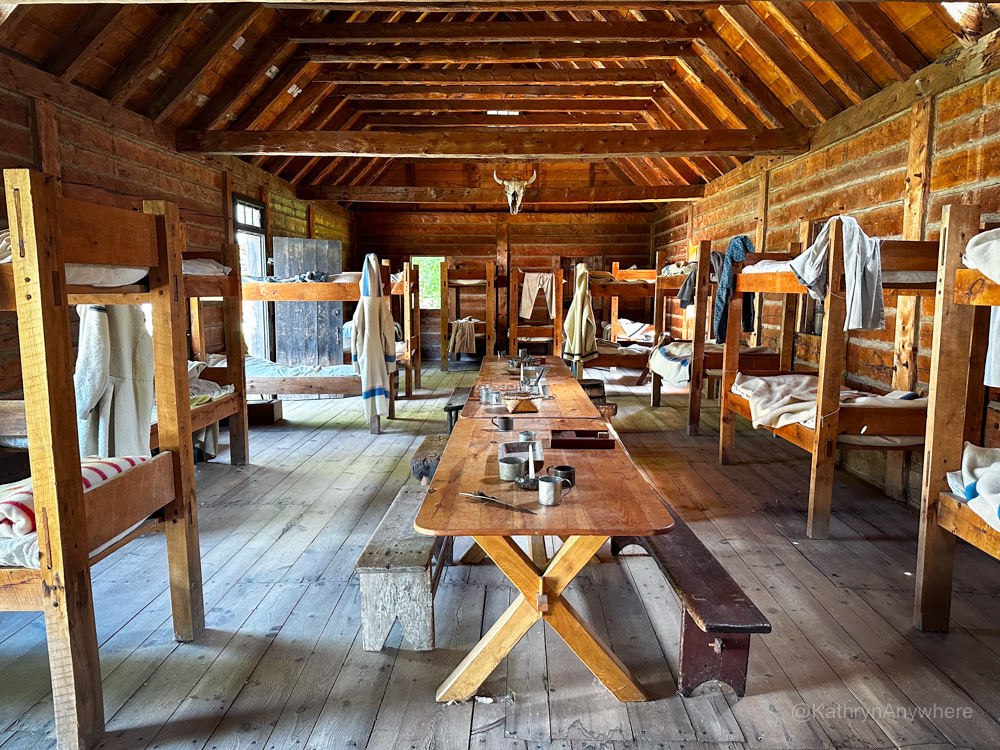 You arrive in Fort William Historical Park, in the year 1815 at the headquarters of the North West Company. This is the largest fur trading post in the area. In the summer at Fort William, French-Canadian voyageurs, Scottish businessmen, Indigenous people and others from around the world gather at this trading post to make trades and firm alliances.
From the Indigenous village outside the Fort to the living quarters through the apothecary shop, to the fur trading room and on to the dining room, you will be treated to an informative and interactive experience. Of note – this site is mere kilometres from the original site of the Fort, making this a close-to-true historical site.
The experience at Fort William can easily take a few hours to go into each building and explore the Indigenous village.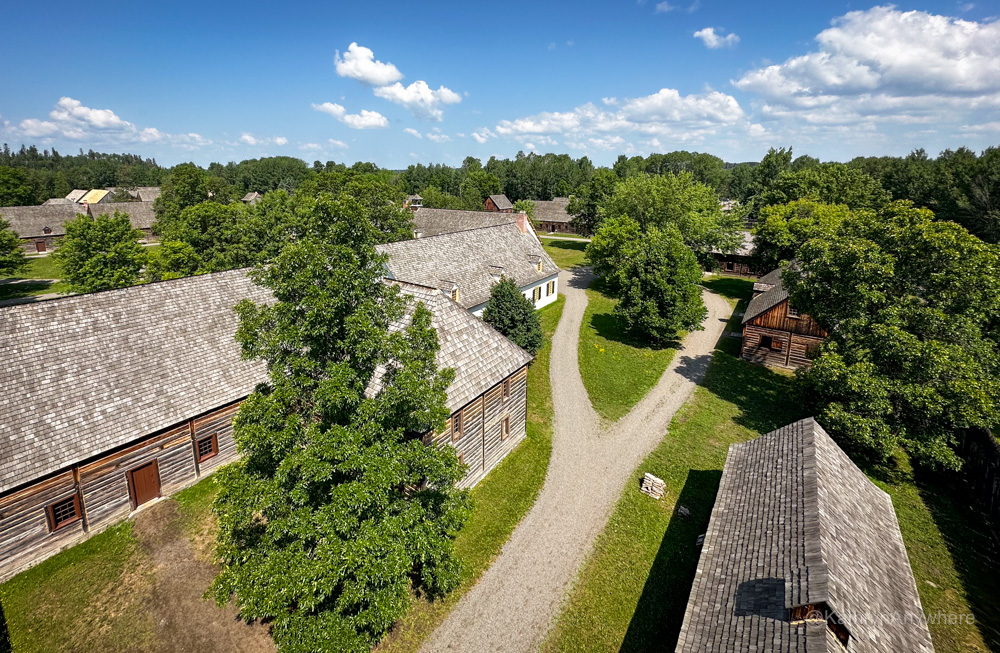 Attend a Pow Wow
Anemkii Wajiw (Mount McKay), in Fort William, has been a meeting place and the site of traditional First Nation ceremonies for thousands of years. It is here where the Fort William First Nation peoples hold Pow Wows more than once a year. In terms of spiritual and cultural enticements, this is one of the best outdoor Thunder Bay activities.
A Pow Wow is a traditional First Nation celebration. It is a celebration of First National culture. At a pow wow, people from diverse Indigenous nations gather for dancing, singing and honouring their ancestors.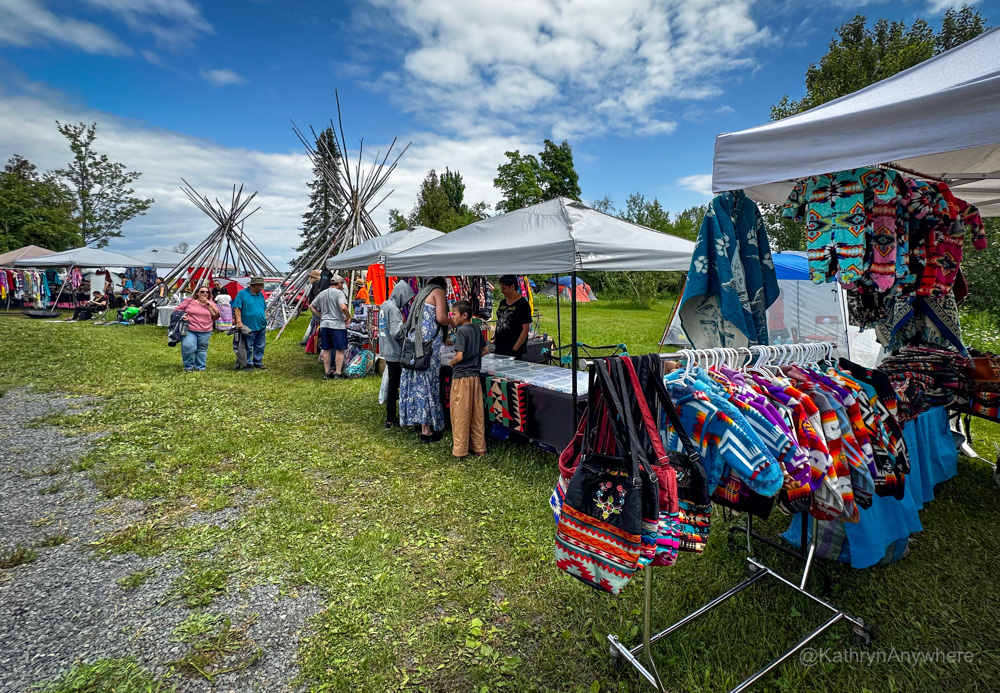 Attending a Pow Wow is highly recommended if you are interested in developing a deeper understanding of and connection to First Nation culture. During a Pow Wow, you enjoy the drumming, the dancing and the food at a Pow Wow. This is not a tourist attraction, and do not arrive anticipating to find one. A Pow Wow is open to the public and everyone is invited to attend. However, you must be respectful of the etiquette and traditions.
The Grand Entry and Opening Prayer are performed by an elder. There are many times during a Pow Wow that photos and videos are not permitted such as during the Grand Entry and Opening Prayer. A rule of thumb is to ask before taking the picture.
A dancer's regalia is how they dress and identify with their spirit. Never touch without asking. Do not take photos without asking. Please respect that the dancer's regalia may have taken years to create. It is not a costume and should not be referred to as such and there is much spiritual and cultural significance to the regalia.
If you'd like to show respect to an elder, please offer tobacco. Never be afraid to ask a question if you are unsure.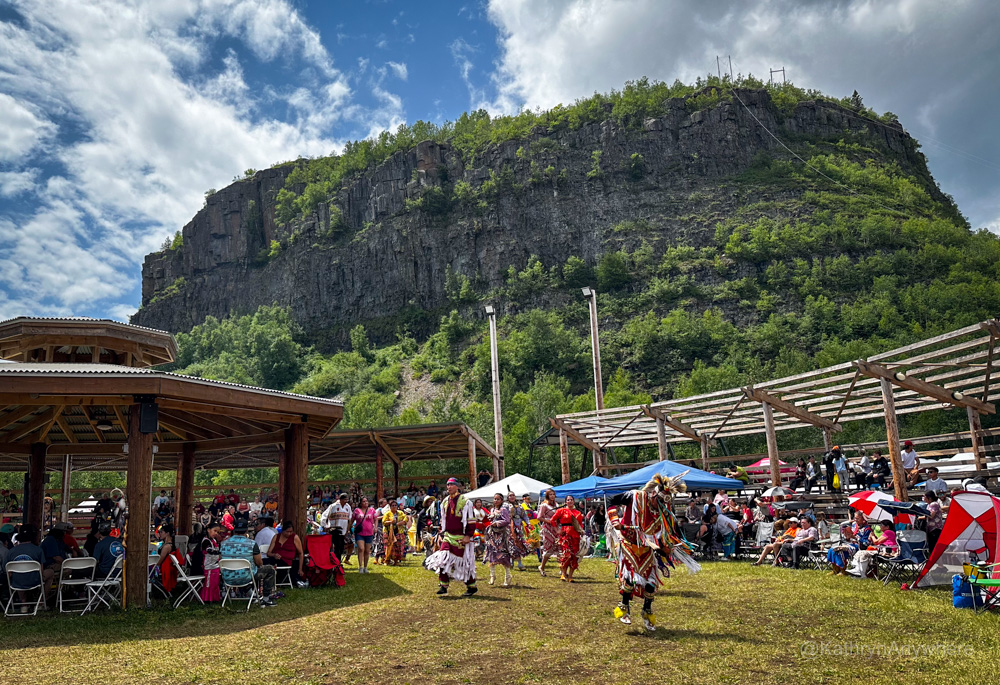 Mount McKay Scenic Look Out
 Mount McKay, on the Fort William First Nation, has an amazing lookout. You can hike to it, and the trail is approximately 5km (round trip). However, since I coupled the Mount McKay Scenic Look Out with my visit to the Pow Wow, I was fortunate enough to have taken a bus up Mount McKay.
The view of the city of Thunder Bay from this vantage point is spectacular. Is it worth seeing? Sure is!
Please respect the Fort William First Nation rules when and if, you decide to visit the Scenic LookOut on Mount McKay. This is considered to be a sacred space.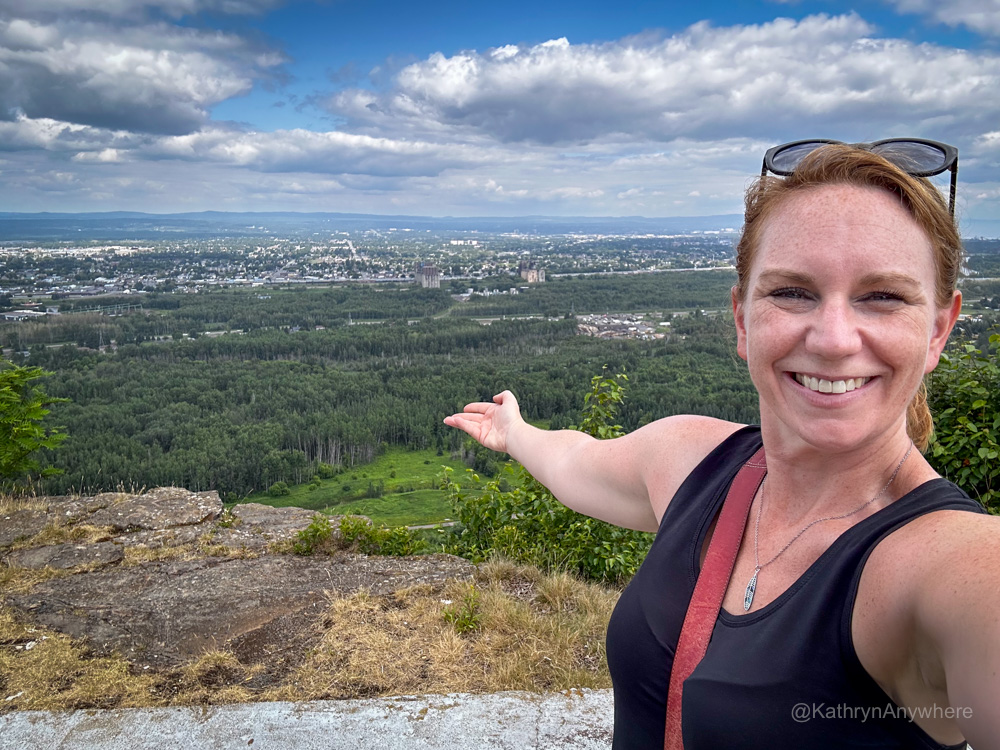 More Amazing Things To Do And See In Thunder Bay
Not everything to see and do in and around Thunder Bay has to be outdoors. Here are a couple of wonderful experiences to be had that do not involve being outside in Thunder Bay.
Thunder Bay Country Market
Like supporting local? Then you will like the TBay Country Market.
This is where artisans, bakers, and manufacturers bring their wares to market for the public to browse and buy. The Market is open year-round on Wednesdays from 3:30 PM to 6:30 PM and Saturdays from 8:00 AM to 1:00 PM.
Perfect to come grab a coffee, look for a souvenir and appreciate the local flavours. You'll find one-of-a-kind items that are very specific to the region of Thunder Bay.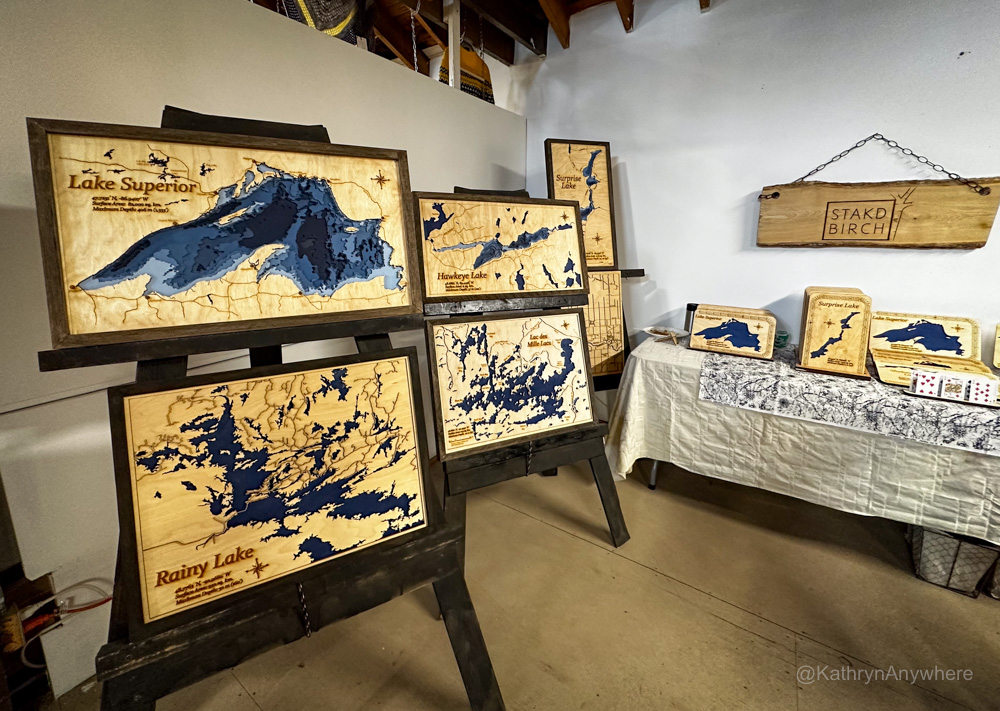 Thunder Bay Art Gallery
While not initially on my itinerary, my kids and I wanted to visit the Thunder Bay Art Gallery to support local artists. What we walked away with was a deeper appreciation and understanding of the work of contemporary Indigenous artists.
The Art Gallery is small and has a narrow focus. You won't find the Group of Seven in here. The Art Gallery of Thunder Bay displays installations of First Nations artists interpreting life and history.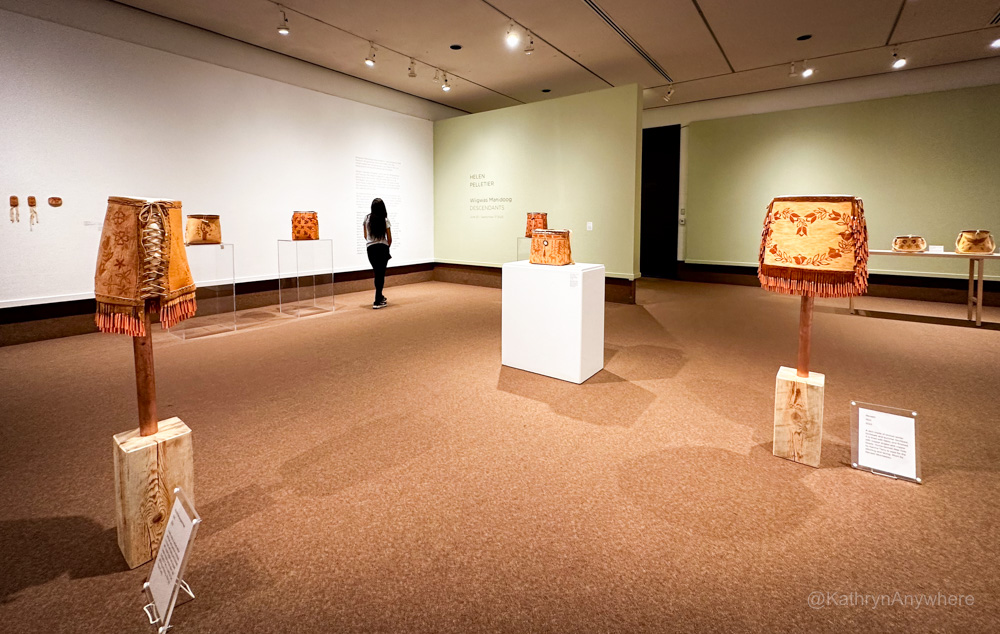 What Beer Is Made in Thunder Bay?
In terms of beer that is made in Thunder Bay, I came across three breweries that I was able to try beer at. Those breweries in Thunder Bay are Sleeping Giant Brewery, Lakehead Beer Company and Prospector Brew House.
Pictured below is the Rose Window Belgian Enkel draft beer at Lakehead Beer Company. It's only a 4.6% alcohol, but a 27 IBU. Not high, so super enjoyable.
For the most part, I found the beer in Thunder Bay to be okay. No shooting the messenger! I gave a range of ratings like 2.5 to 3.5 on Untapped (beer application) on what I tried. I wouldn't say to travel to Thunder Bay purely on their beer selections. However, there is local beer to enjoy and what might not be a stand out to me, might be a favourite to you.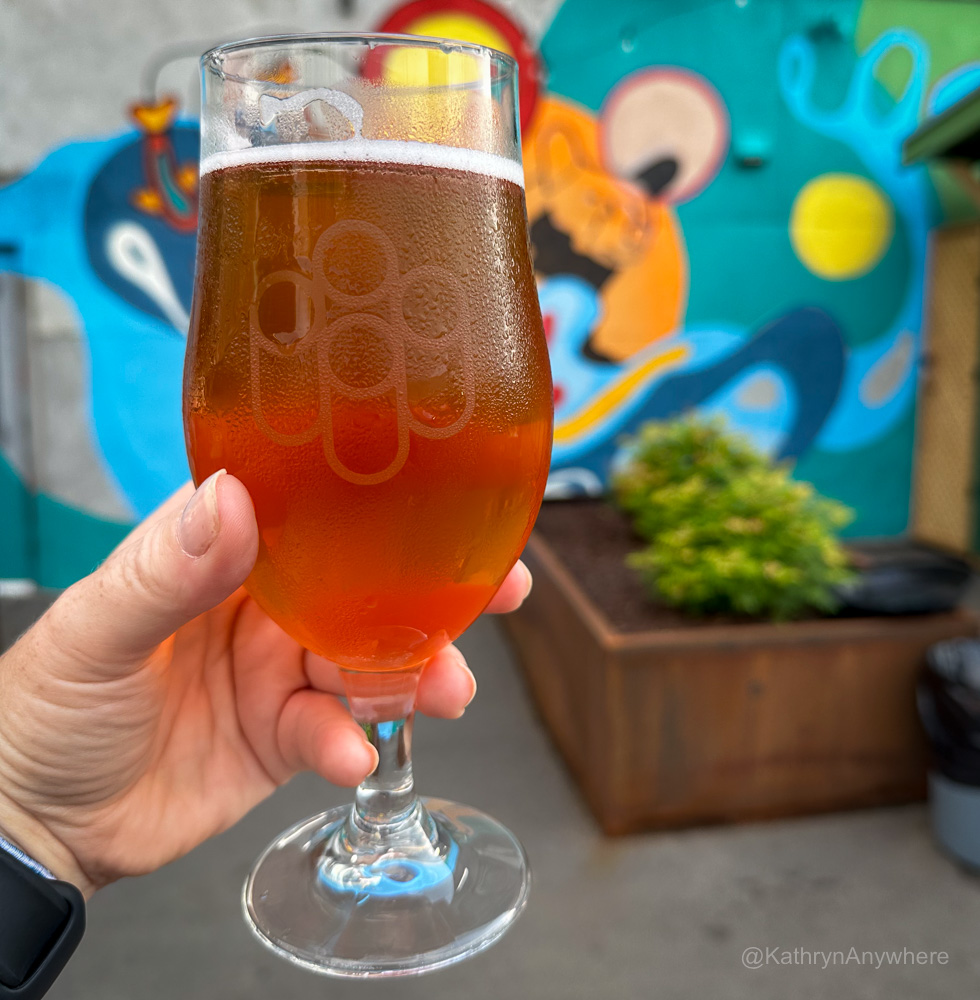 Where Should We Stay In Thunder Bay?
We stayed at Aiden by Best Western at Superior Shores. This is a boutique hotel that has been recently renovated and brought into the Best Western Brand.
We enjoyed a double queen suite. For a family, it gave us space to sleep and relax in our downtime. While the hotel doesn't have any amenities like a pool, it has parking and is centrally located. You can walk to the waterfront or to all of the restaurants in the downtown area.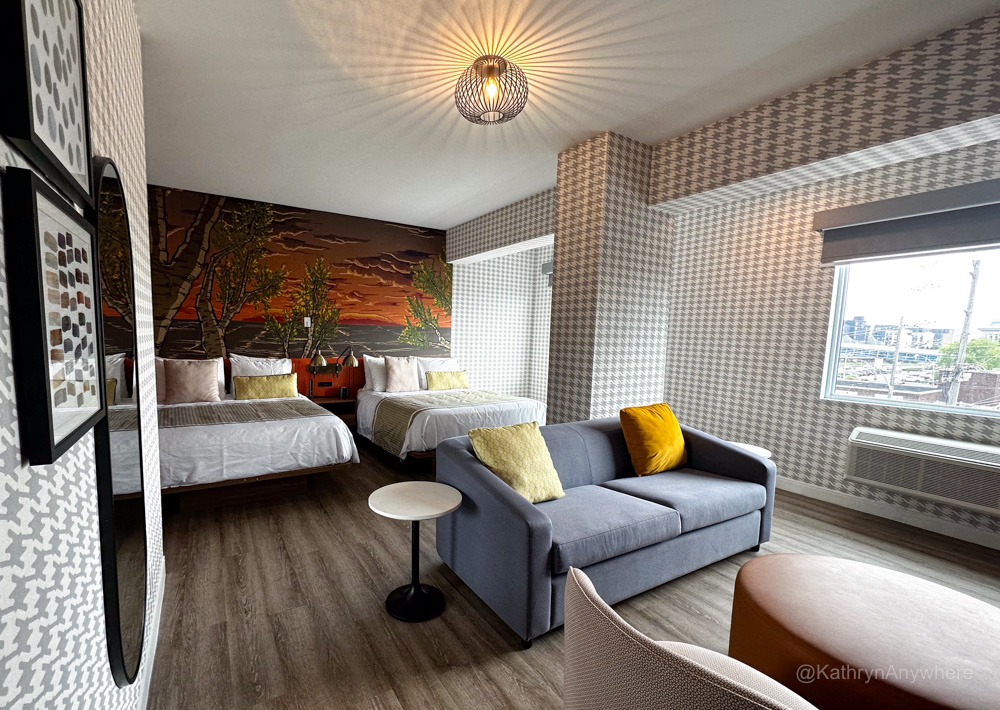 Hopefully, this has inspired your travel group to consider Thunder Bay as a base for some of the best outdoor activities and cultural experiences. And if so, if you book a stay at a property using this link below, you'll earn me a very small commission for my work at no extra cost to you!
From provincial parks to low-impact waterfront sightseeing, this Lake Superior city has it all for your travel group.
Thank you to Thunder Bay Tourism for hosting us. While my children and I are compensated for our time, our opinions are always ours.
The outdoor activities we experienced over the 4 days we were there are just the tip of the iceberg of what you can experience in and around Thunder Bay.
If you need a hand finding the places I mentioned in this article, check out the map below as I have added them to my map for your convenience.