The Magic of Saint Andrews, New Brunswick; What To Do and See in This Seaside Resort Town
 The town of Saint Andrews, New Brunswick is the most irresistible seaside village we've ever visited. It was a real pleasure to get to know the streets. We saw plenty of the neighbourhood cats. We witnessed deer roam wild in the evenings through quiet residential neighbourhoods. A lot of churches of every denomination we counted. Fudge was purchased and consumed. Whales were watched. Beer was drunk. Golden-hued sunsets? We enjoyed them on the Bay of Fundy. Having a vacation in the magical seaside resort town of St. Andrew's By The Sea will fill your soul with wonder and excitement.
For a family from Toronto, New Brunswick is a taste of freedom to us all. Our first stop in New Brunswick, after a stop at Cape Jourimain Nature Centre, once we crossed over the Confederation Bridge is Saint Andrew's. Saint Andrews is at the southwest end of the province. This is a magical place where you can walk on the ocean floor and observe wildlife. Then you can feast on local seafood and enjoy the sunset while the tides roll in.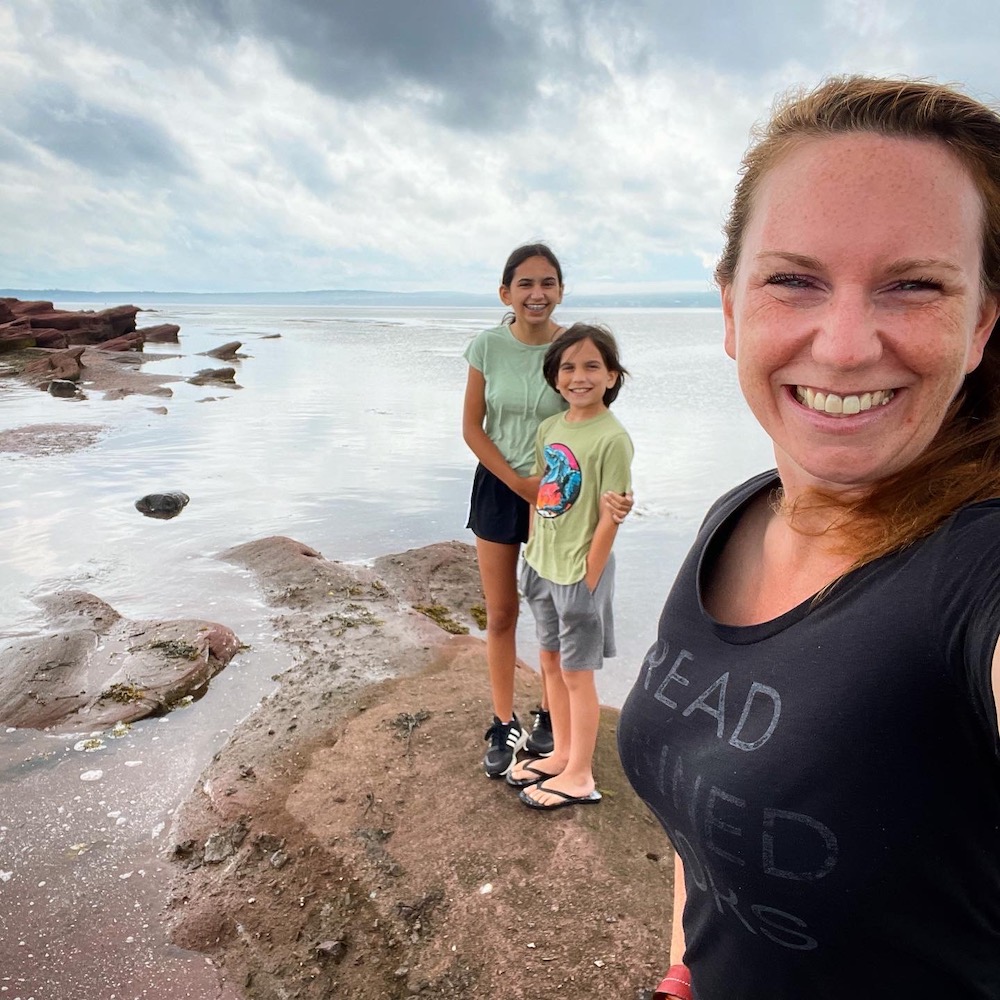 Where is Saint Andrews, New Brunswick?
Saint Andrew's New Brunswick is located on the far southwestern point of the province of New Brunswick. The body of water that the town faces is Passamaquoddy Bay.
It's very close to the United States. In fact, you can clearly see the US State of Maine.
St. Andrews was settled by the French initially in the 17th century. Then the region was ceded to the British. Due to its location, Saint Andrews, NB became a hub for shipbuilding and fishing and that led to economic prosperity. With prosperity came tourism and wealthy visitors from all over Canada and the United States of America. St. Andrews By The Sea, New Brunswick became a resort community that attracts tourists interested in relaxation, leisure activities and a charming town.
You can read all about the rest of the time spent on the Bay of Fundy road trip in New Brunswick by clicking here.
What Are The Best Things To Do in Saint Andrews?
Saint Andrews, New Brunswick is a popular tourist destination. The town is known for its historic sites, scenic beauty, ocean tides, golf course, and whale watching, with a vibrant arts and culture scene. The town's rich history and coastal charm make it a unique place to visit in Eastern Canada.
In narrowing down the best things to do in Saint Andrews, I bring in a little adventure, some slow travel and a bit of historical appreciation. Here are the activities I recommend in St. Andrews By The Sea while visiting there.
Visit St. Andrews Blockhouse National Historic Site
The Saint Andrews Blockhouse is a stone defensive structure that was built in the early 19th century as a part of British military defences during the War of 1812. It was constructed between 1813 and 1815 to protect the strategic town of St. Andrews and its harbour from potential American attacks. It served as a military outpost during the war and played a significant role in protecting the area.
After the War of 1812, the blockhouse lost its military importance. However, it has remained a symbol of Saint Andrews history and heritage. In 1959, it was designated as a National Historic Site to commemorate its historical significance and to preserve it for future generations.
Today, visitors to Saint Andrew's Blockhouse National Historic Site can explore the restored blockhouse and learn about its military history through interpretive displays and exhibits. It's managed by Parks Canada.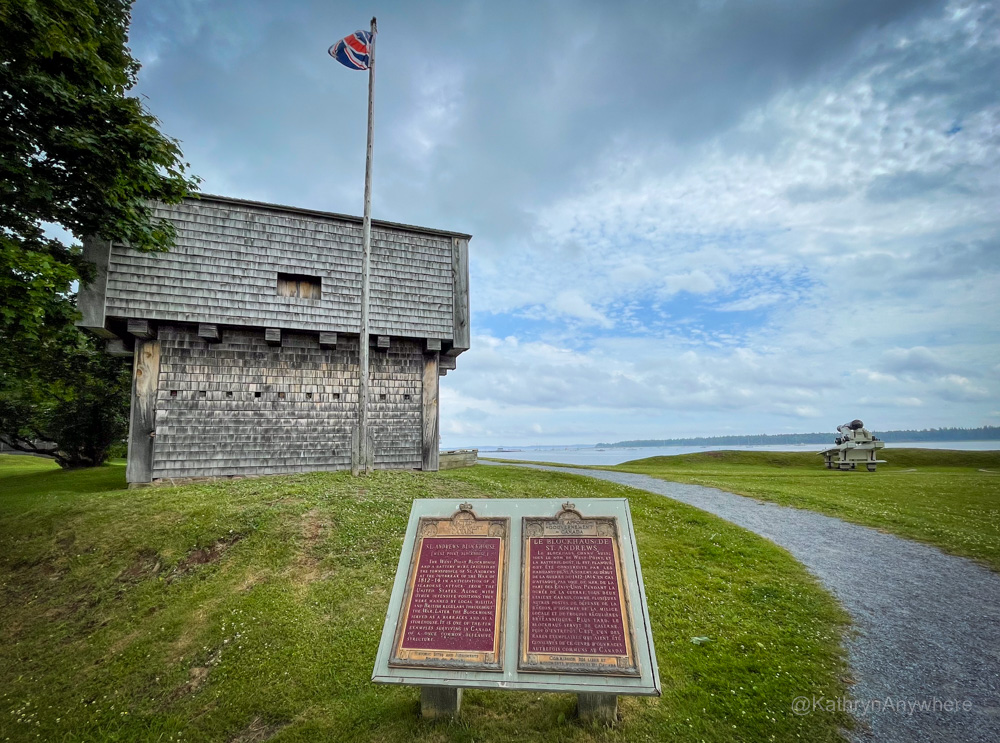 Wander Around Kingsbrae Garden
Where else can you see more than 50,000 perennials in themed gardens, ponds, streams, old-growth Acadian forest and various animals and birds? Kingsbrae Garden is a 27-acre public garden located in St. Andrews, New Brunswick. The town is known for its beautiful landscape and diverse collection of plants, flowers, and trees. The garden offers a variety of themed areas, including a Rose Garden, Herb Garden, Perennial Garden, and a vegetable Garden.
There's a lot of love, talent and planning that goes into creating a garden as spectacular as this one. This includes a sculpture garden with a collection of contemporary artworks, a petting zoo with domestic and exotic animals, and a café offering refreshments. You'll never see another one like it.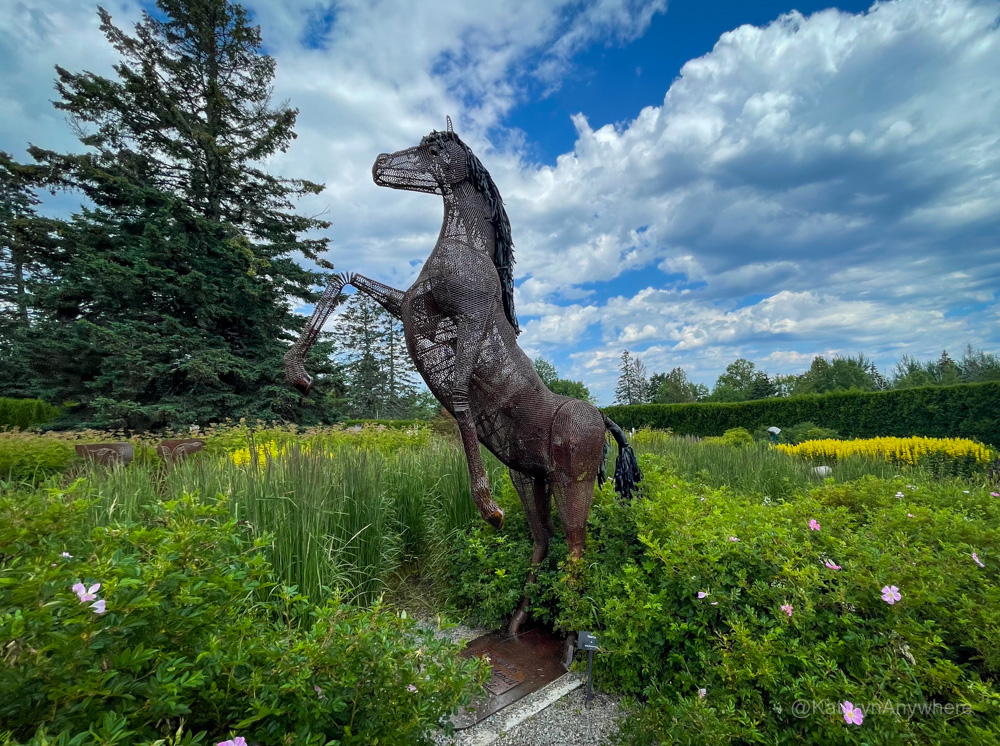 Take a Whale Watching Tour on The Bay of Fundy
One of the top things to do in Saint Andrews is take a whale-watching tour. Do that with Island Quest Marine – local guides take you out through the Bay of Fundy in search of seals and whales and other marine wildlife. Saint Andrews is known as one of the best places in the world for whale watching. The area is home to a diverse marine ecosystem, including various whale species.
When you take a whale-watching tour with Island Quest Marine from Saint Andrews, you have the opportunity to see different types of whales, such as humpback whales, minke whales, fin whales, and even the endangered North Atlantic right whales. The tours typically take you out into the Bay of Fundy or the nearby Passamaquoddy Bay, which is known for its rich marine life.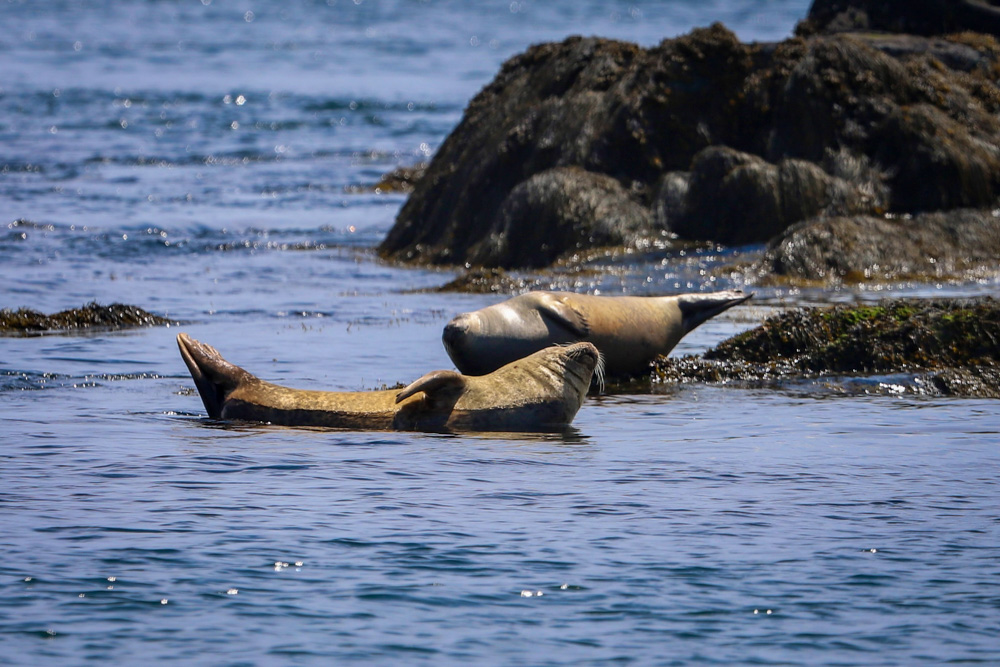 The experienced guides and boat captains on these tours are knowledgeable about the local wildlife and can provide interesting information about the whales, their behaviour, and the marine environment. Senior marine biologist, Nicole Leavitt with Island Quest Marine is a proud family member of the business and a local to the area. She expertly tells us that in the month of Jult, we can Expect to spot seals, minke whales, a multitude of migratory seabirds and maybe, if we are lucky, we might spot a great white or see Old Thom. Old Thom is the Bay of Fundy's resident orca.
Want to make a core memory? Going on a whale-watching excursion from Saint Andrew's is worth every cent and minute of your life. The moment a beautiful mammal breaks through the water and you're only a couple hundred feet away on a boat and get to witness it is one of the best moments you will ever live.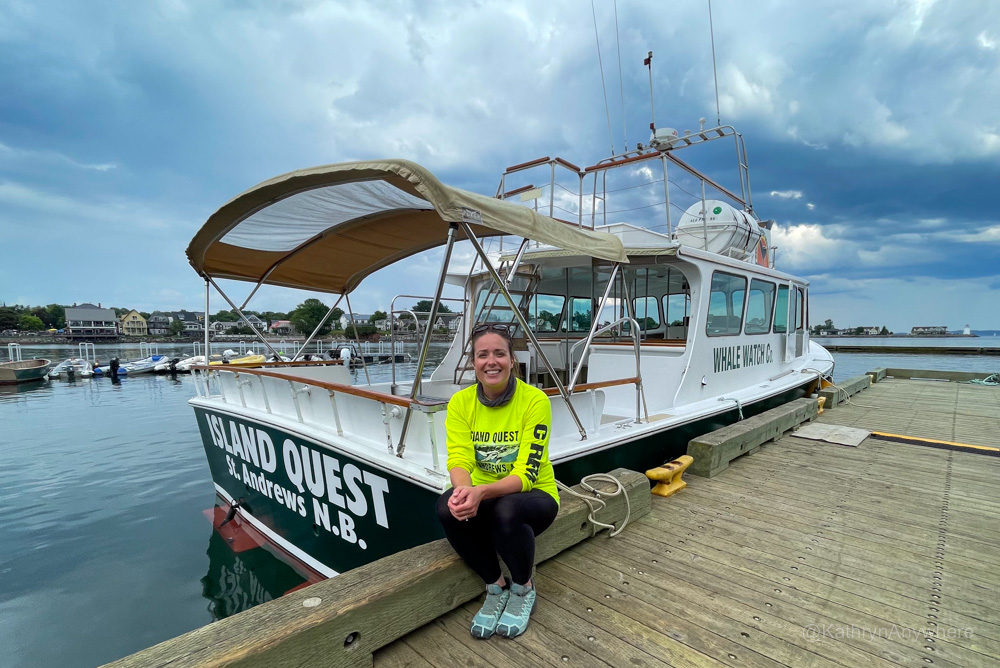 Take A Walk Through Town
Have a free afternoon in Saint Andrew's? Here's my advice: Take a walk along the main waterfront street. Pop into the shops which are all locally owned and operated. You won't find big box stores here. Sit down in a cafe, buy local fudge and indulge with ice cream.
Here's how to experience the true magic of Saint Andrews – wait until dusk, then take a walk. Take note – the shops generally close around 5:00 pm and nothing except restaurants are open after that. We found, as city dwellers, that restaurants tend to close more on the early side. So, the magic here is the sunset and the tides. Sunsets are brilliant in St. Andrew's, but come out on a full belly.
Hot tip to be aware of while you are out… You might see deer roaming freely through the residential neighbourhoods after dusk.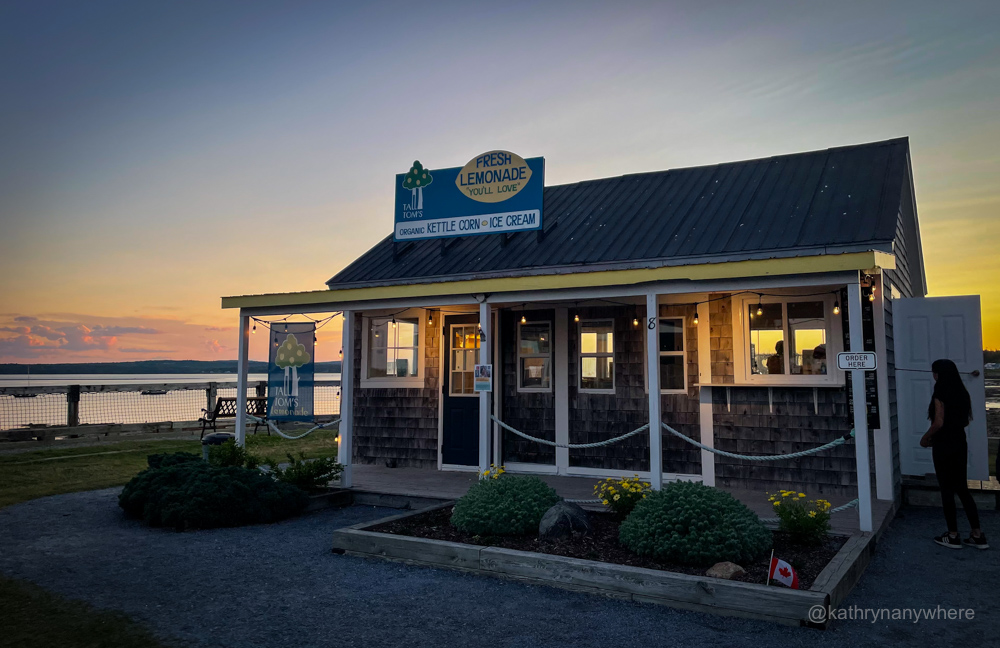 Drive On the Ocean Floor and Visit Ministers Island
This day trip idea has two big events attached to it. To get to Minister's Island, you have to drive over the ocean floor and you can only do so while the tide is out. Ministers Island is Canada's largest tidal island and it is a historic place. It is located in Passamaquoddy Bay, off the coast of St. Andrews. It is approximately 1.5 kilometres offshore.
Here are the steps you have to take in order to reach Ministers Island:
Timing: Before planning your visit, check the local tide charts or consult with the staff at Ministers Island to determine the low tide times. The access road is only exposed and accessible during low tide. If you attempt to cross at another time, you will get stuck.
Driving: From St. Andrews, follow signs or directions to the Bar Road or Bar Road Wharf. This is the starting point for reaching Ministers Island. The access road begins from here.
Low tide access: When the tide is low and the access road is exposed, you can drive across the seafloor to Ministers Island. Follow the designated path and drive slowly.
I drove my Jeep Wrangler across with zero issues. There was a Toyota Sienna minivan behind us that had to be pushed or towed out as they got stuck in the loose ground off the designated path.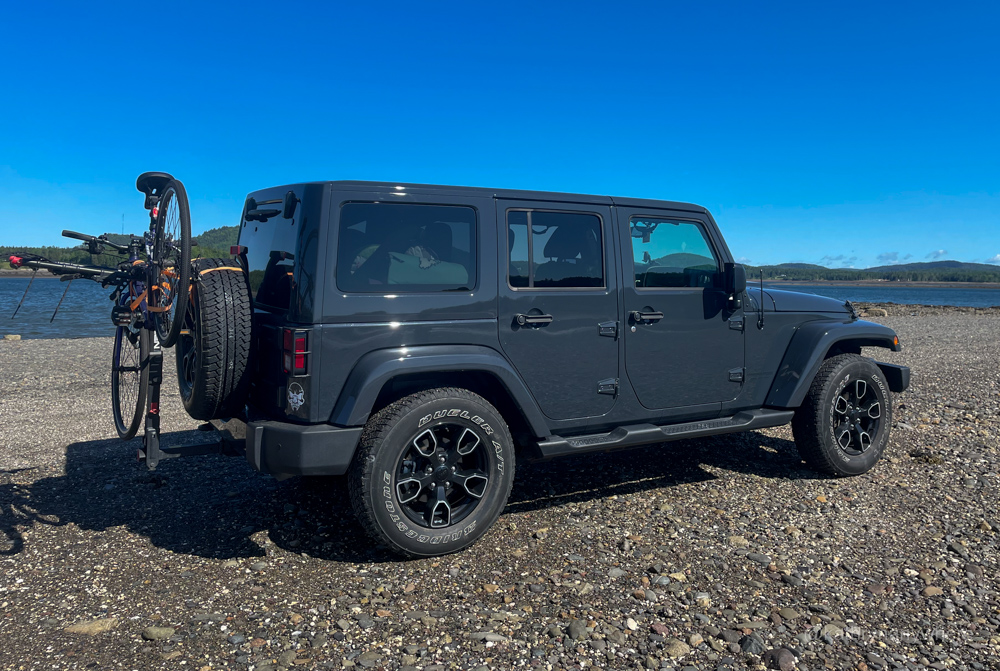 Minister's Island Estate, is a 500-acre island renowned for its connection to Sir William Van Horne, who was the president of the Canadian Pacific Railway (CPR) during the late 19th and early 20th centuries. Van Horne purchased the island in 1890 and transformed it into his family's luxurious summer estate.
Ministers Island features Van Horne's huge summer residence. This imposing mansion is called the Van Horne Estate. The mansion showcases the opulence and elegance (or overindulgence) of the Victorian era. It is surrounded by beautiful gardens, including terraced gardens, formal flower beds, and expansive lawns.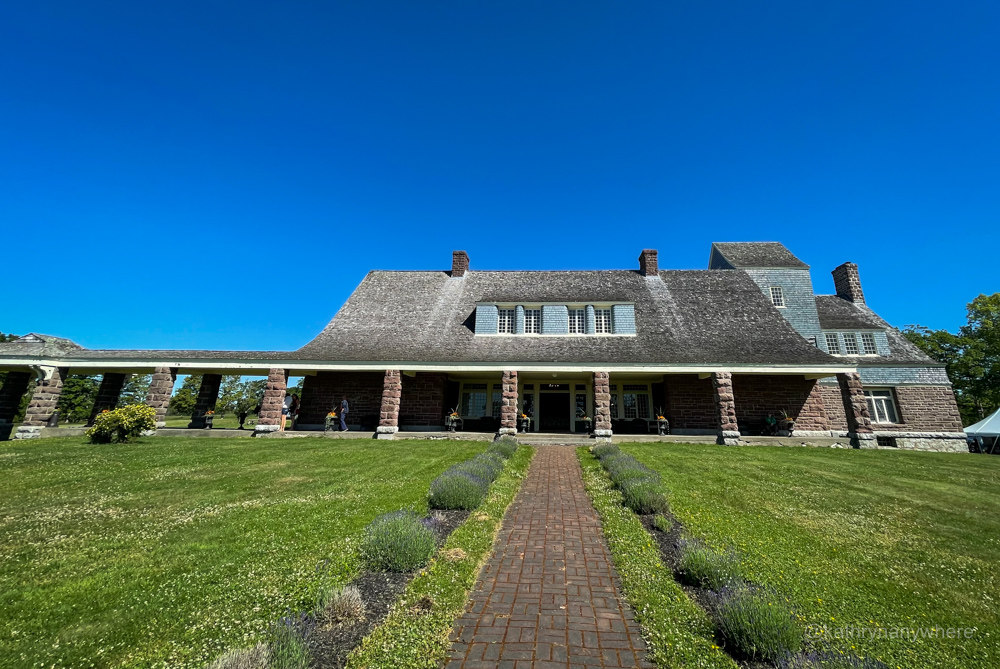 In addition to the mansion, Ministers Island boasts several other attractions. These include a carriage house, a stable, a boathouse, a farm, and other structures associated with the estate. Visitors can explore the island on their own or take guided tours of the mansion. Either way, there is plenty of opportunity to learn about the life and legacy of Sir William Van Horne (and his family, there was more than just the man of the house).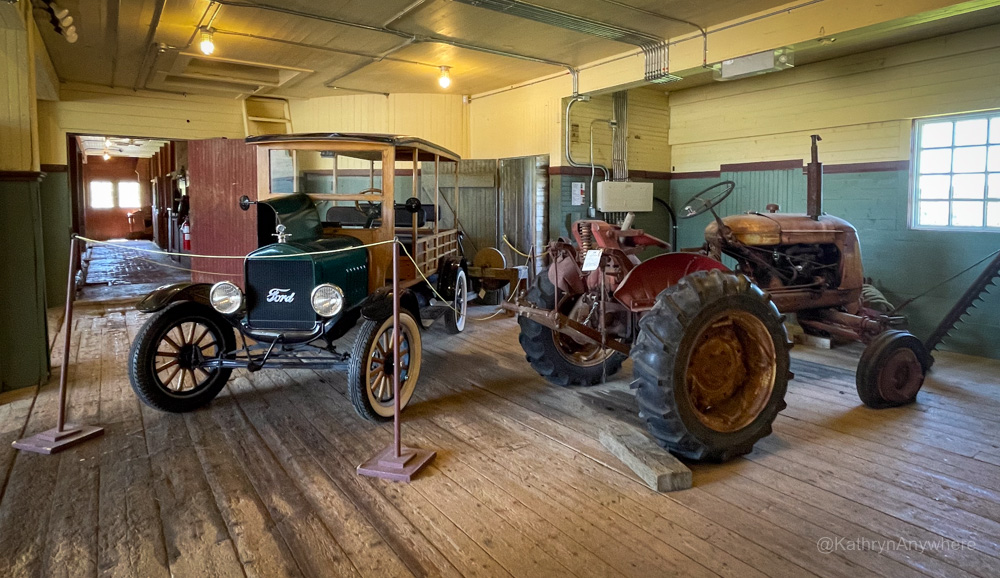 Visit Huntsman Marine Science Centre
Pay a visit to Huntsman Marine Science Centre to learn about the highest tides in the world – that are found in The Bay of Fundy – and all about the marine life that thrives there.
The Huntsman Marine Science Centre is a world-renowned facility dedicated to marine research, conservation, and education. It conducts scientific studies on marine ecosystems, species, and environmental issues. The centre features interactive exhibits that provide insights into the marine world. You can explore touch tanks filled with various marine organisms, such as sea stars, sea urchins, and crabs.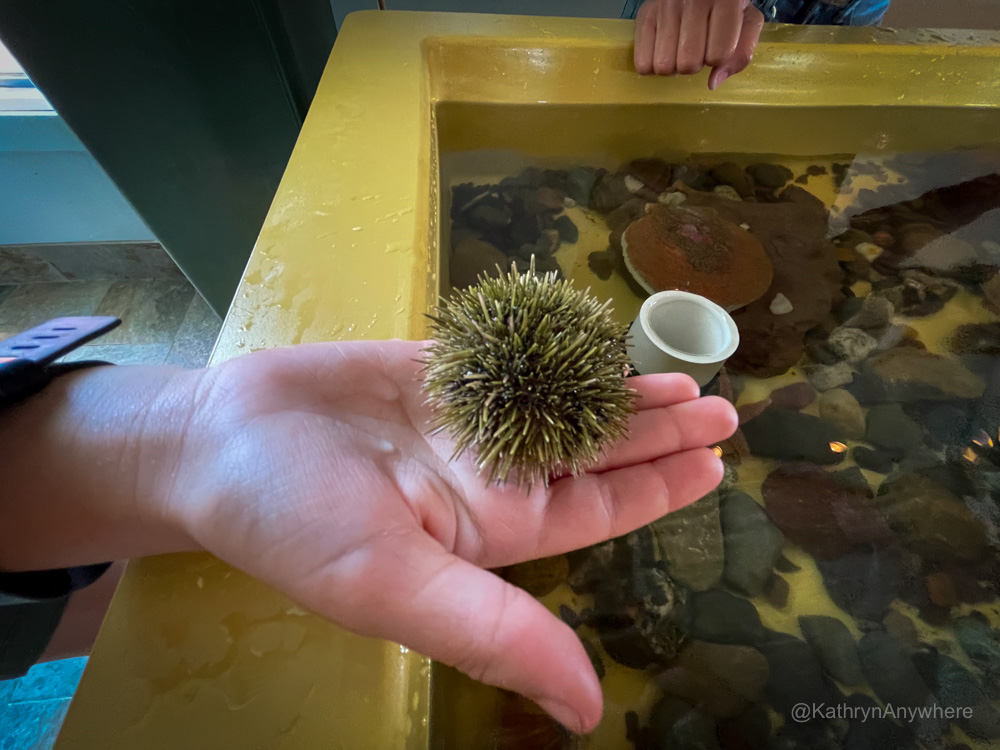 The Coastal Interpretive Centre at Huntsman provides information about the Bay of Fundy's unique ecosystem and the local marine life. You can discover the biodiversity of the area, understand the importance of conservation, and gain a deeper appreciation for the region's natural beauty.
The centre is situated in a picturesque location on the shores of the Bay of Fundy, surrounded by stunning coastal landscapes. The scenic views and peaceful atmosphere make it an ideal place to connect with nature and appreciate the beauty of the New Brunswick coastline.
Visiting the Huntsman Marine Science Centre offers a unique opportunity to learn, explore, and appreciate the wonders of the marine world. Whether you're interested in marine research, or conservation, or simply enjoy being in a coastal environment, the centre provides an enriching experience for visitors of all ages.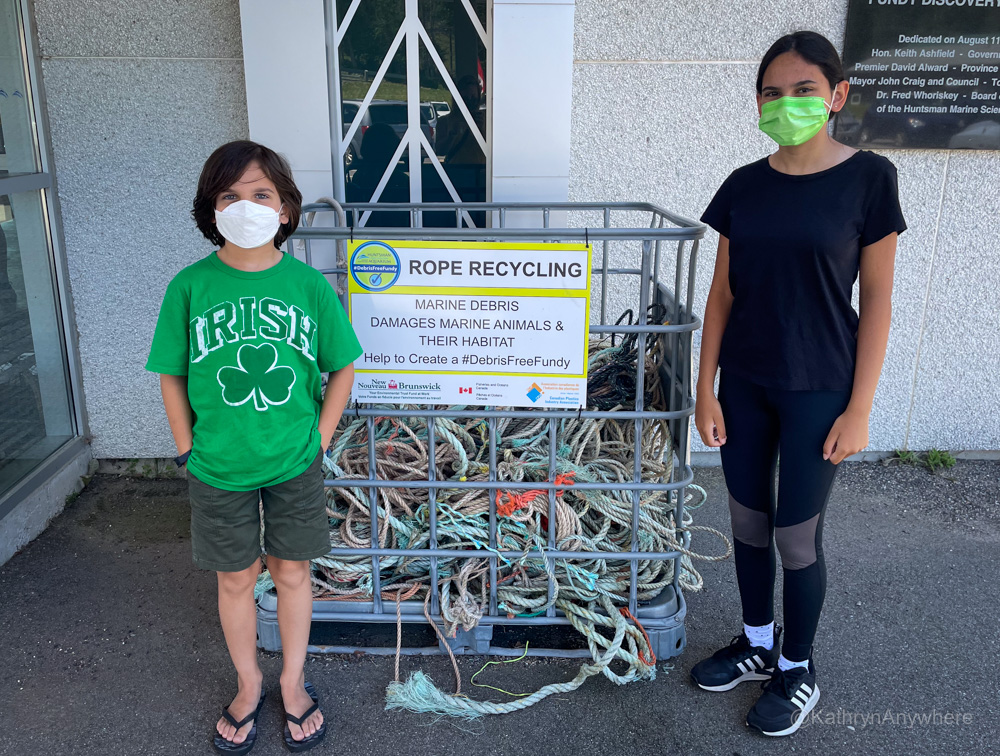 Drive to St. Stephen
Only 25 minutes away is St. Stephen, also known as Chocolatetown Canada. St. Stephen is home to Ganong, Canada's oldest chocolate and candy company. You can visit the Ganong Chocolate Factory and take a guided tour to learn about the chocolate-making process, indulge in tastings, and discover the history of this beloved Canadian brand.
This isn't something we did, but it was on my list of things to do in case we had a rainy day while in Saint Andrews.
Where to stay in Saint Andrews, New Brunswick
I believe we stayed in the most magical place in all of New Brunswick – the historic Algonquin Resort in St. Andrews. The Algonquin Resort was originally built in 1889 by the St. Andrews Land Company. It was designed as a luxurious summer retreat for wealthy vacationers from Canada, the United States, and Europe. It is one of the most prestigious resorts in the region.
The Algonquin Resort is a blend of Victorian and Tudor revival architecture. The exterior features a striking red-roofed tower, dormer windows, and a sprawling veranda overlooking Passamaquoddy Bay. The interior boasts elegant decor, grand ballrooms, and cozy sitting areas, capturing the essence of its historical charm. In recognition of its historical significance, the Algonquin Resort was designated a National Historic Site of Canada in 1986. 
This resort hotel is part of Marriot's Autograph Collection and it does not disappoint.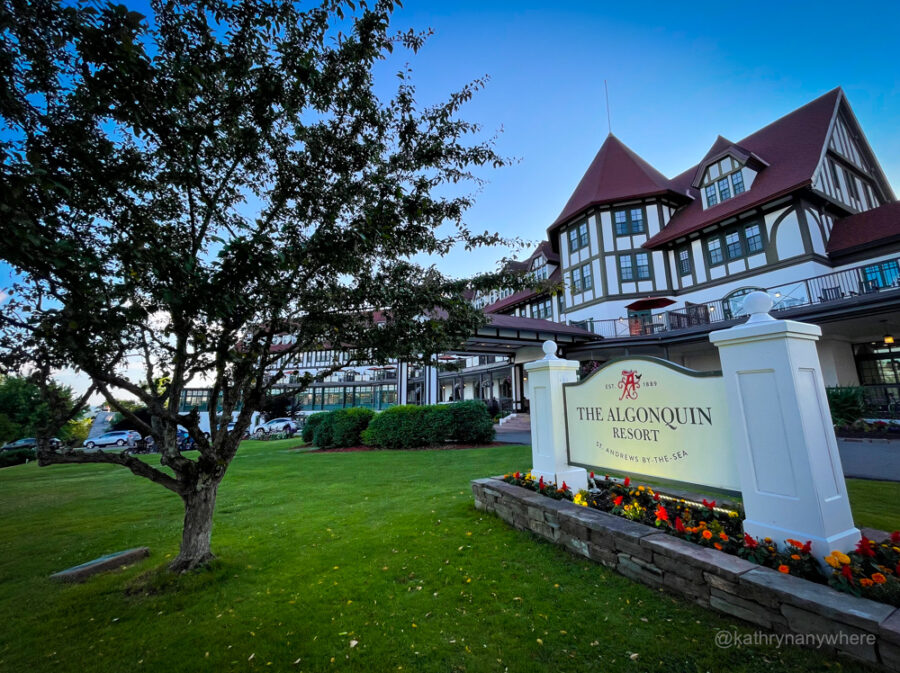 Rumour has it, the Algonquin Resort is Stephen King's inspiration for his horror book and movie, The Shining. The Algonquin Resort in St. Andrews has a reputation for being haunted! If you are afraid of ghosts, don't stay at this hotel! Some visitors and staff members have claimed to have experienced paranormal phenomena during their stays.
The most famous ghost story associated with the Algonquin Resort is the ghostly bride. According to the legend, a young bride died tragically on her wedding day in the hotel and is said to wander the halls in her wedding gown. Other reported paranormal activities include unexplained sounds, child-like laughter, flickering lights, and objects, like a red ball moving on their own. We were told more than one or two ghost stories while there!
Instead of hiding it, the Algonquin Resort embraces its ghostly reputation! The hotel offers free ghost tours from the lobby if you are interested in exploring the paranormal legends surrounding the hotel. They take you on a tour showing you all the spots and events that have led to the "haunts".
Whether you believe in ghosts or not, the Algonquin Resort is known for its historical significance, stunning architecture, and luxurious accommodations. It is super fancy, posh and comfortable. I'm not sure if I've ever been in a more cozy bed. 
For activities, there are bikes to rent, beautiful grounds to wander, an outdoor pool and an amazing indoor pool with a super fun waterslide. There is a spa. I did not get to visit because single-parent travel doesn't typically allow for that kind of indulgence.
The restaurants were beyond amazing and if you don't have a need to leave the grounds, you could stay put for a few days with everything you could want and need there.
Where to eat in St. Andrews, New Brunswick
The restaurants in Saint Andrews boast the catch of the day and seafood on every menu. You're in the Maritimes, so expect fish and seafood to be the main course. One of our favourite places to grab a bite to eat in Saint Andrews was the British-inspired Right Whale Pub (184 Adolphus Street) for dinner. It's inside the Algonquin Resort. Admittedly, we ate there more than once.
For breakfast, we ate at the hotel, but if you're looking for places to eat, these all come highly recommended:
Sea Breeze Restaurant (49 King Street) or Lumberjacks (246 Water Street)
For lunch: The Garden Café at Kingsbrae Gardens (220 King Street), The Gables Restaurant (143 Water Street), Char and Chowder Restaurant (182 Water Street)
For dinner: Rossmount Inn Restaurant (4599 NB-127), Braxton's Restaurant & Bar (184 Adolphus Street – also at the Algonquin Resort), The Chandler Room (129 Water Street) 
Why Should You Visit Saint Andrews?
The town of Saint Andrews is known for its friendly and welcoming atmosphere. The locals take pride in their town and are happy to share their knowledge and recommendations with visitors. Whether you're interested in history, nature, outdoor activities, or simply seeking a relaxing getaway, St. Andrews, New Brunswick offers a delightful combination of attractions and experiences. Its unique blend of history, natural beauty, and coastal charm makes it a destination worth exploring.
I hope you are inspired to visit and enjoy Saint Andrews.
Looking to explore New Brunswick as well? Check out this booking.com link (which will pay me a small commission if you make a booking and travel at no extra cost to you)


Thank you to New Brunswick's Department of Tourism, Heritage & Culture for hosting us and giving us the experience of a lifetime.
As always, while we are compensated for our travels, we like to provide truthful commentary. As no beer was provided, you can rest assured I speak the sober truth in this post.
Looking to continue your time on the east coast? Think about taking a ferry from Saint John, New Brunswick to Digby, Nova Scotia and visit Yarmouth. Here are the highlights and awesome things to do in Yarmouth, Nova Scotia here.
Heading west? Why not think about stopping in Quebec's Eastern Townships for a beautiful long weekend stay.