For the past three years, my family and the family of my daughter's best friend have taken our winter vacation together. In those past three years, we've enjoyed Beaches Resort in Turks and Caicos twice and Beaches Resort in Negril once. We can honestly say that we are completely blown away by the atmosphere, the service, the staff, the experience… EVERYTHING that the Beaches Resorts have to offer!
We have already booked our vacation for this coming winter – even though we are 9 months away and guess what, we're going to Beaches Resort in Turks and Caicos again. Why? Well, it's the Beaches Resorts difference.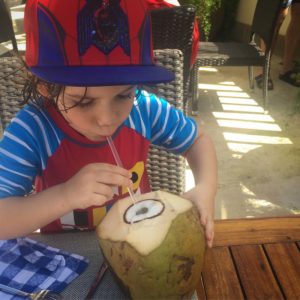 Here are my Top 5 Reasons why I think you should consider a vacation at a Beaches Resort: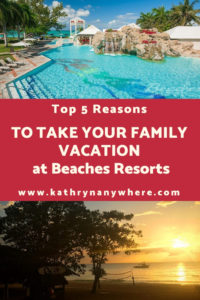 1.) Beaches Resorts reside on some of the best beaches IN THE WORLD.
No joke! I have been on beautiful beaches in Honduras, Mexico, Cuba, Bahamas. Then I step foot at the beach in Turks and Caicos and was impressed. Then… I walked on the beach and saw the sunset in Negril. That was it. It's the best ever, the sand is so soft, the water so clean fresh, no seaweed, no rocks.
When the resorts were built, they were smart enough to choose a location that sits directly on the leeward side of the island, protected by offshore reefs. The reefs create the clearest and calmest waters for leisure swims and every type of water sport. That said, I have seen quite a bit of yellow and red flag beach days there, even then the water was calm for my expectations.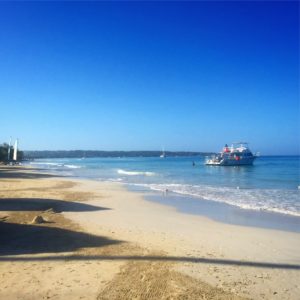 2.) Kids Camps and more!
Thankfully for parents who are travelling to the world class and award winning Beaches Resorts, they are going to a resort for families, not just a resort that happens to have a child care or kids clubs and adult only restaurants. Where you stay while you are on vacation makes a difference in the enjoyment and sanity of the family and I should know, I travel for leisure with my kids a few times a year!
Beaches Resorts offer choice to kids of all ages – Camp Sesame for the young ones, X-Box lounge for the ones who are a little older, Pirate Island Waterparks with slides and pools of various depths, lazy rivers, character breakfast and meet and greets with Sesame Street characters, learn to surf, learn to scuba, learn to golf… they kind of cover it all!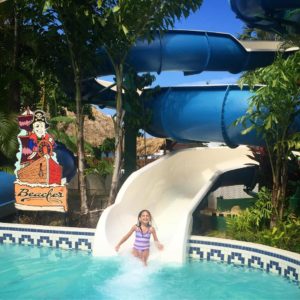 3.) Aside from the impeccable beach, lush gardens, amazing pools, well stocked bars and fun waterslides at Pirate's Island at Beaches Resorts, I have to tell you that one of our family's favourite thing aspects of the Resort are the actual ROOMS.
They're fancy. Like way nicer than what we live in at home, we were blown away when we first entered our room in the Caribbean Village in Turks and Caicos.
Each Beaches Resort has a myriad of different room categories to choose from to accommodate families of varying sizes, all very luxurious. The beds are comfortable, the rooms don't feel crowded, they're nicely appointed, contain mini fridges, coffee makers, hair dryers, safe for your passport and money. I'm really bad at taking room pictures before I never get in there before my own kids – so a photo from the Beaches.com website will have to do here.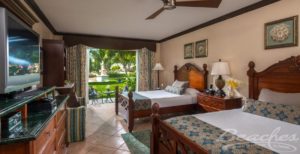 4.) All inclusive food and drink – not cheap wine, good wine.
The signature wine for Beaches and Sandals Resort is Robert Modavi – those are from Napa Valley in California. Included wines are Sauvignon Blanc, Pinot Grigio, Chardonnay, Merlot, Shiraz and Cabernet Sauvignon. Other bottles of wine are available to purchase.

We have been to two our of three Beaches Resorts, Negril in Jamaica and Turks and Caicos. Neither location had any dining choices that I ever would have deemed unacceptable, in fact, I would say that the dining is on or over par with some of the best culinary treats you can find in Toronto (where I live).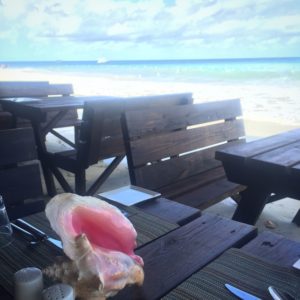 I have a favourite restaurant at each location! At Negril, there are 8 restaurants and a frozen yogurt hut. I couldn't get enough of Stewfish for both breakfast and dinner – it's right on the beach – menu link here.
Despite there being 22 restaurants at Beaches Turks and Caicos, and I have to narrow myself down to one choice, Sky Lounge is my preferred place. Menu link here. Note – breakfast is open to all ages, but dinner is only for those ages 16 and older… so it's a perfect location for mom and dad's night out.
5.) Unlimited water sports – unlike other resorts that will charge you for extras like snorkeling trips and scuba diving, it's included.
I honestly could not believe that all of the water sports were included. I have been to so many other resorts where you have to pay for air tanks for diving or pay to rent snorkel masks and fins. It's so lovely to be on vacation and not have to open your wallet or worry about extra charges to your credit card when you check out for the fun you are having… Unless you're going through a course to become a certified diver, then yes there is a charge, but if you are already a certified diver, NO CHARGE to dive!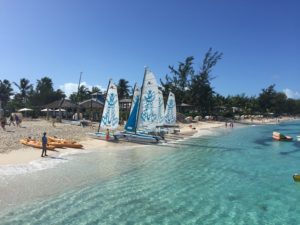 No charge for fins, no charge for masks or air tanks. No extra charge to visit Pirate Island, hydro bikes, windsurfing, paddle boarding, taking out a Hobie Cat or to lounge in all the pools.
It's truly incredible.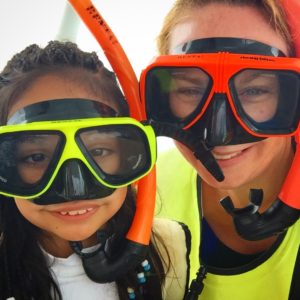 My family cannot wait for our return trip this winter. In the meantime, my son and I are looking forward to our trip to Turks and Caicos for social media on the sand in October! He and I might as well become honorary citizens of the Turks and Caicos islands.