Some of the best memories of my life have involved camping. Sadly, I can't say the same for my children.
Every summer growing up, my parents packed up our Bonair pop up camper trailer, hitched it to the back of our Oldsmobile and our subsequent Pontiac station wagon, threw us kids into the backseat and off we went for weeks on end, starting from our home in Belleville, Ontario mostly to the east coast going through Quebec, New Brunswick, Nova Scotia and Newfoundland. Some of the best memories of my childhood involved those camping trips.
I am not new to camping or even glamping. Back in March, I was lucky enough to spend a few days in a Yurt at Mew Lake in Algonquin Provincial Park. It was my first glamping trip.
My kids however… they are a different story and my personal failing as a parent. Miss M can count on one hand the times she has been camping in her life – two of them include Girl Guide camp and for Little Man, this was his first time. Yes, we are an urban family, but there's no excuse for an outdoor lover like me to have been so neglectful in my duty to expose them to everything. When Ontario Parks offered us one of their four rustic cabins to try out glamping at Bonnechere Provincial Park, I knew that would be the perfect opportunity to introduce my kids (ease them in) to the camping experience.
What is Bonnechere Provincial Park?
Bonnechere Provincial Park, which was established in 1967, is a smaller sized campground in the Ottawa Valley with a limited number of campsites and 4 rustic cabins. There is car camping in three sections of the campground – Tall Pines, River Loop and Sandy Flats (radio free and no electricity in this section).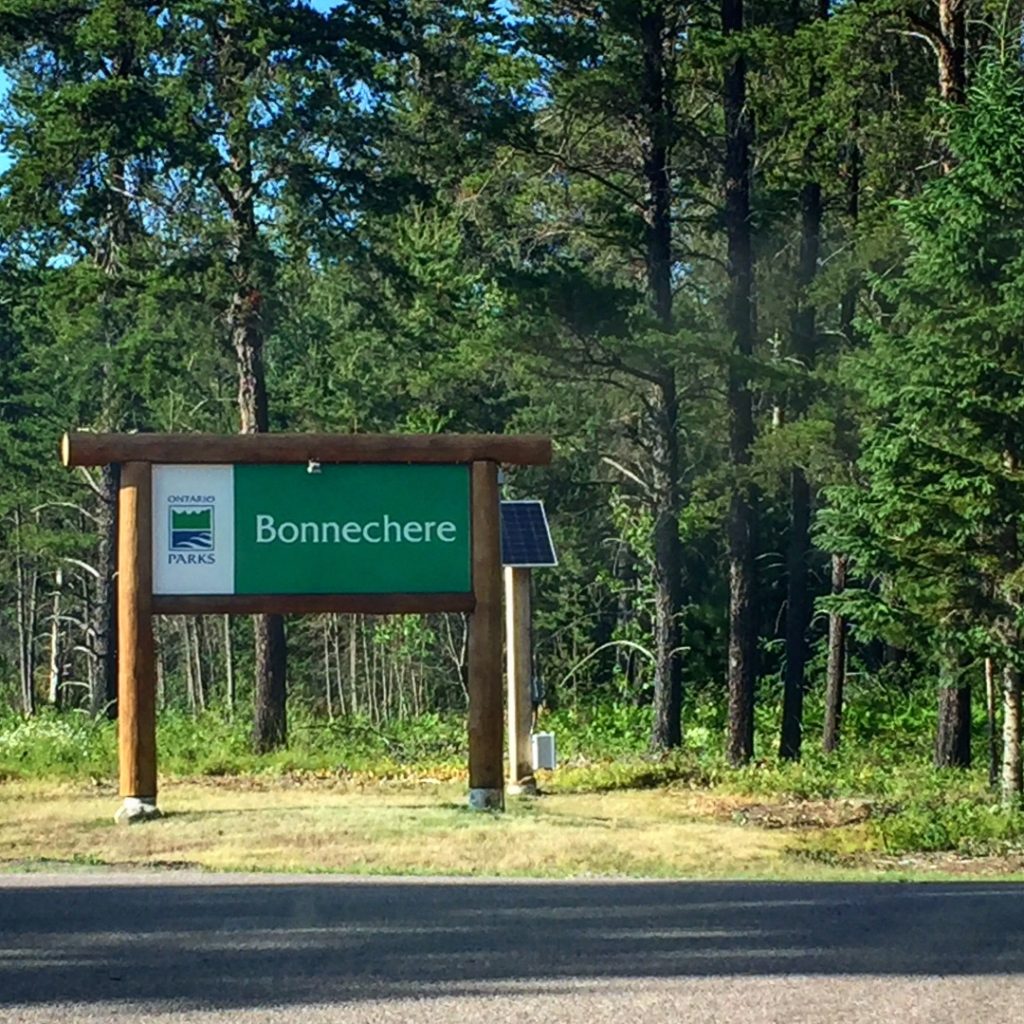 All campers have access to a large central comfort station (showers), laundry facilities and water taps. Mini comfort station are also available with showers. Facilities with toilets and sinks to wash hands and water taps also exist throughout the campground.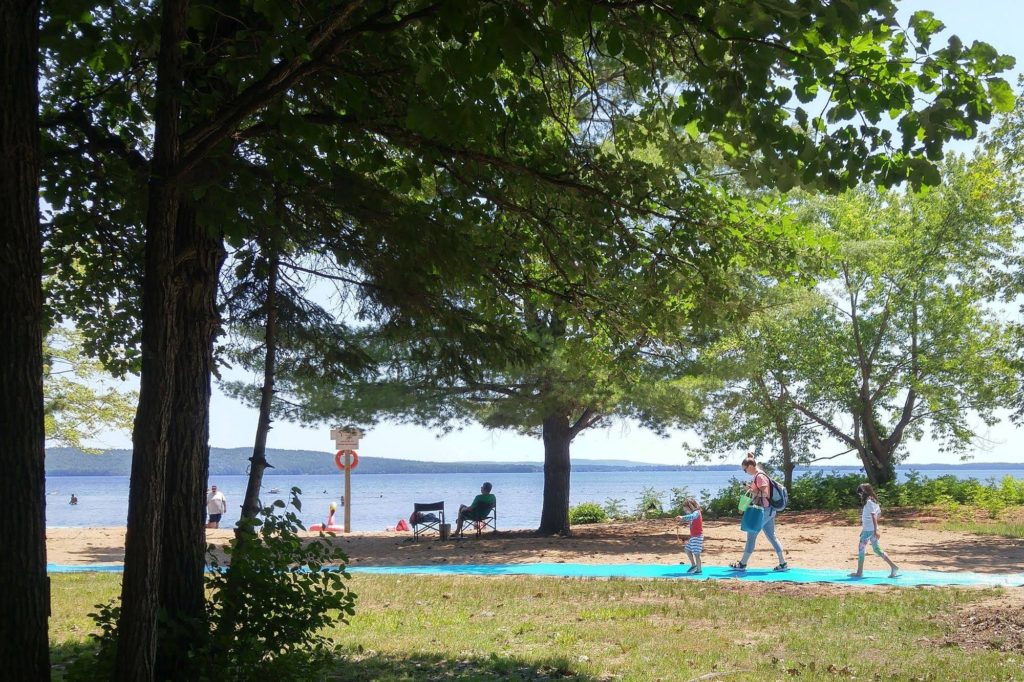 The beautiful and scenic Bonnechere River meanders through the park and one of the best features of the campground is the gorgeous, accessible beach on Round Lake. The park has floating wheelchairs that you can borrow from the camp store, there is a blue mat that makes a pathway from the day use area across the beach to the water to make the beach barrier-free for people with wheelchairs, walkers and parents with strollers. Big win for anyone who has ever had problems getting through the sand in the past.
There is a hiking trail called FIT (footprints in time). FIT is based on the traditional local First Nations way of teaching and explaining history. The trail takes you in stride with 13 giant foot prints, marked by posts with interpretive and educational text designed to be informative and engage you and your family along the hike. It's a 2km loop trail and super easy for all hikers – kids included.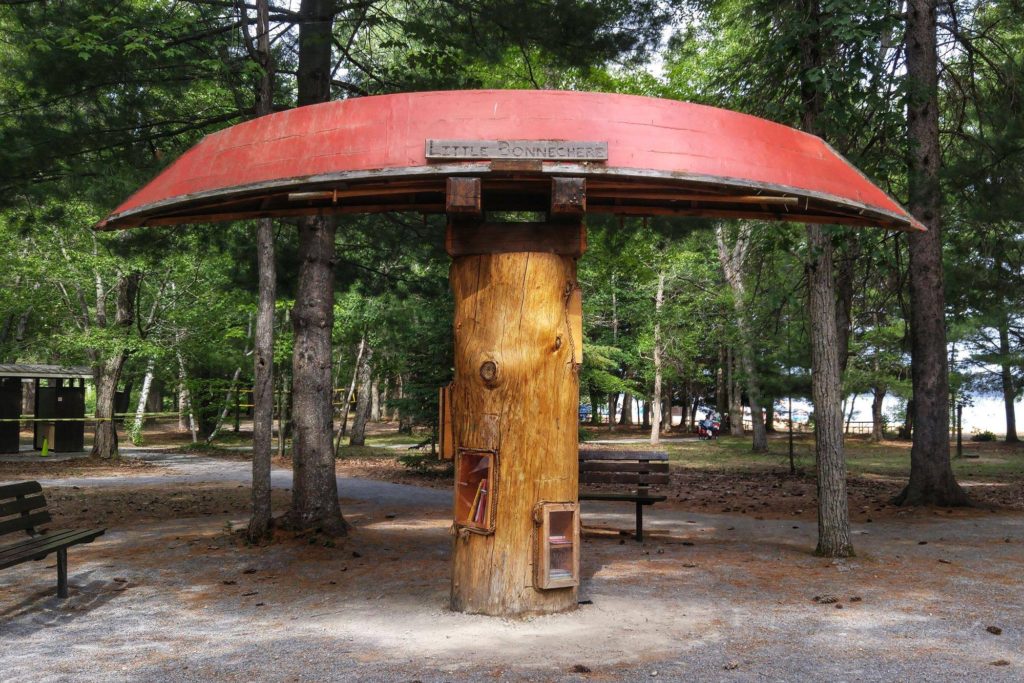 Another neat park feature is the "book tree" outside the park store near the beach. It's like a little outdoor open library and the windows and shelves are at the height of the intended reading level – my kids loved it and enjoyed taking the books out (they were returned as well).
Where is Bonnechere Provincial Park?
Bonnechere Provincial Park in Renfrew County is approximately 20 minutes north of Killaloe, Ontario and 45 minutes west of Pembroke, Ontario. It's also just south of the far east tip of the more well known Algonquin Provincial Park.
The Rustic Cabin Glamping Experience

The rustic cabins have two bedrooms, one has a bunk bed and they are full size mattresses, the other bedroom is a double bed. You will need to bring your own bedding.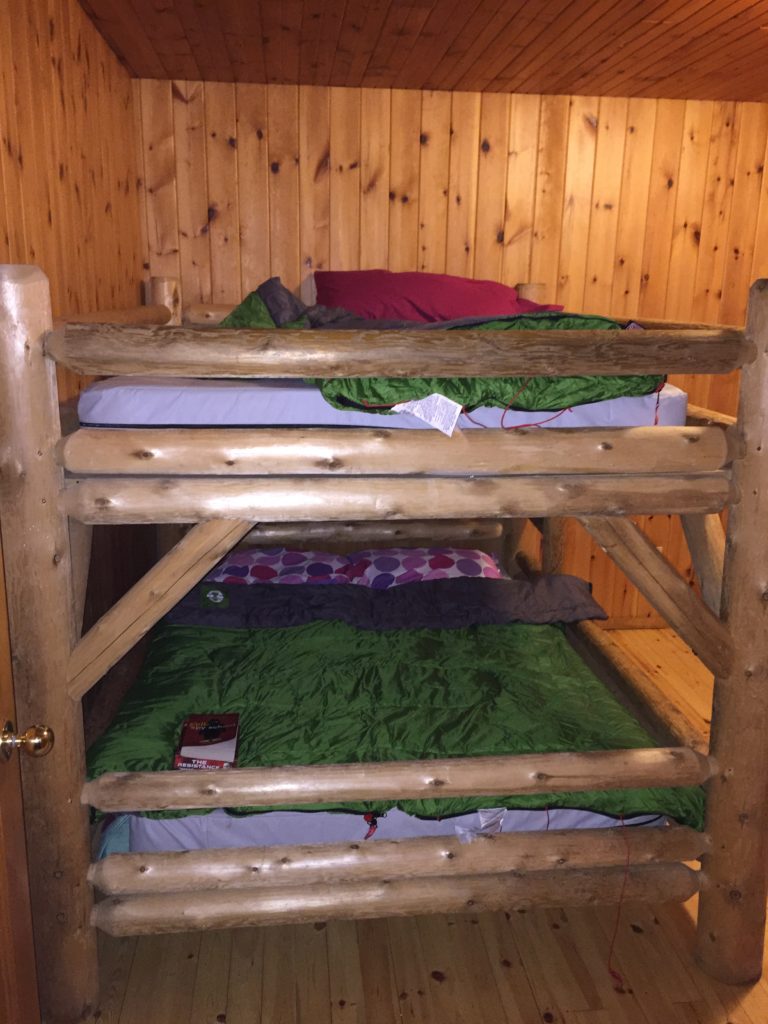 The bedrooms also have a functional wardrobe, score! You might be camping, but can actually hang up your clothes.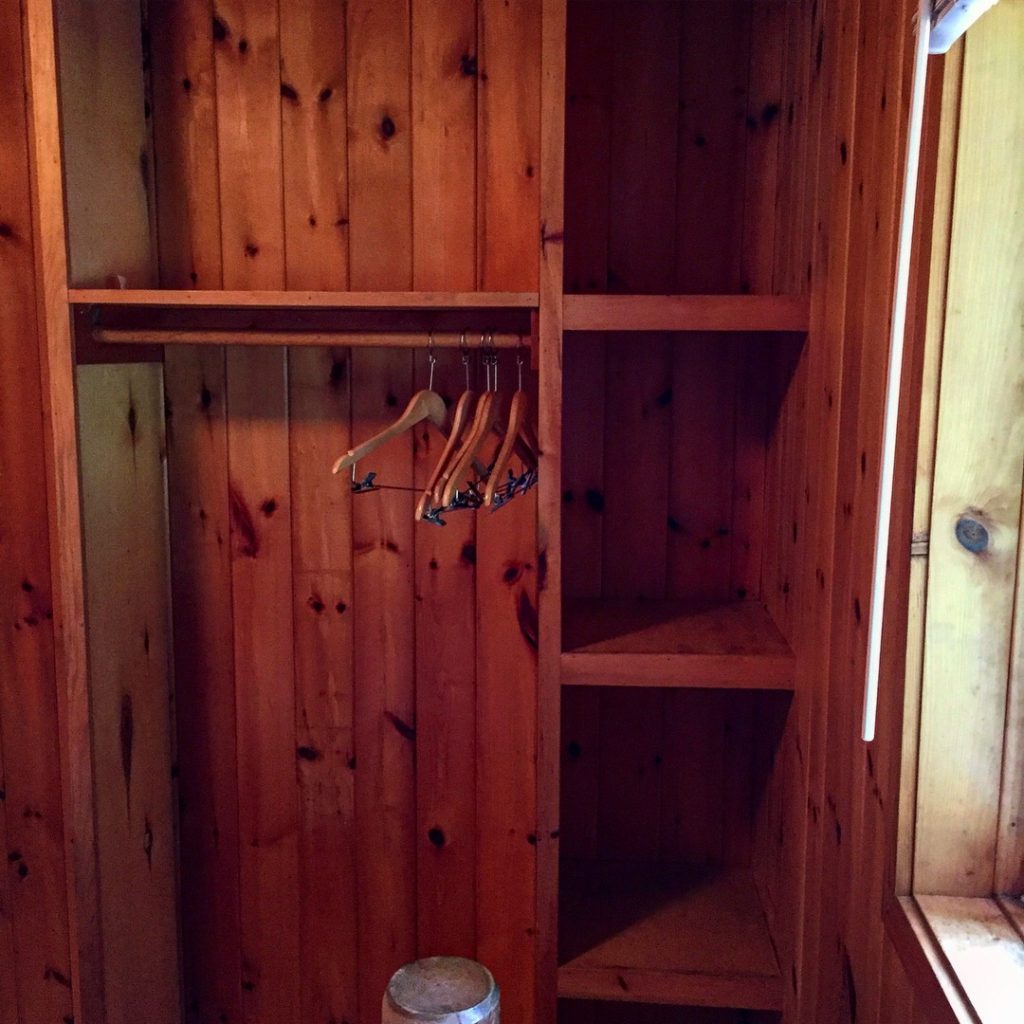 There is a small living area with sofa and a propane fireplace.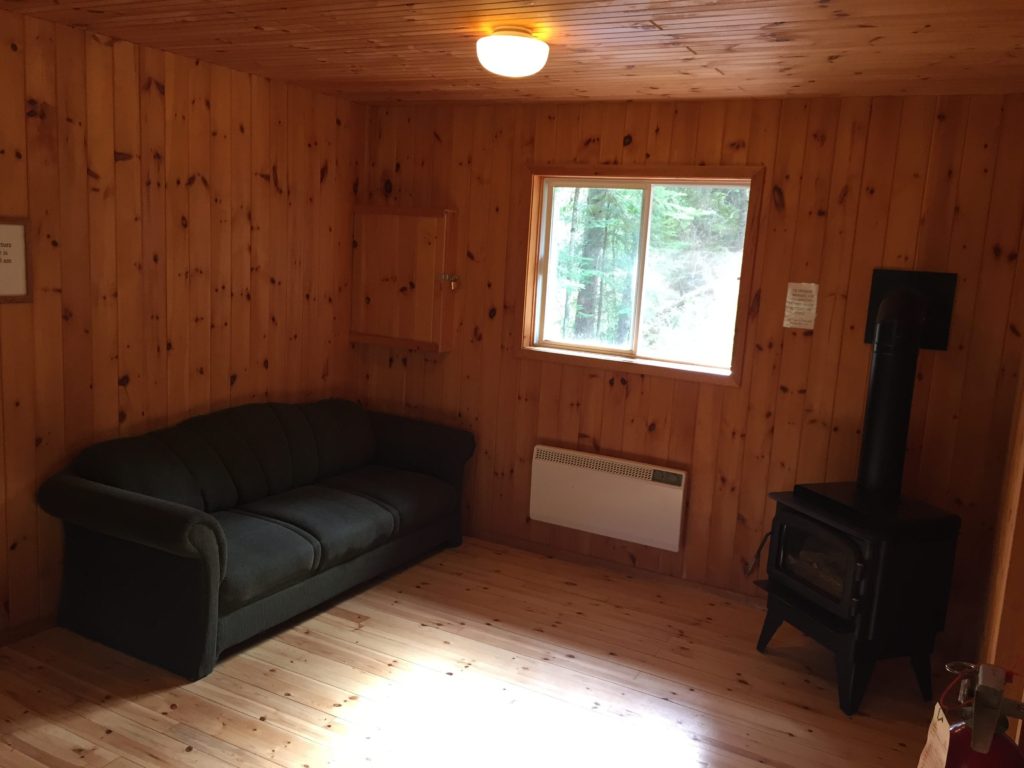 The kitchen has an electric bar fridge and microwave, seating is a custom pine dining table and there is an outdoor BBQ for cooking. There is no sink or running water – this is the rustic part!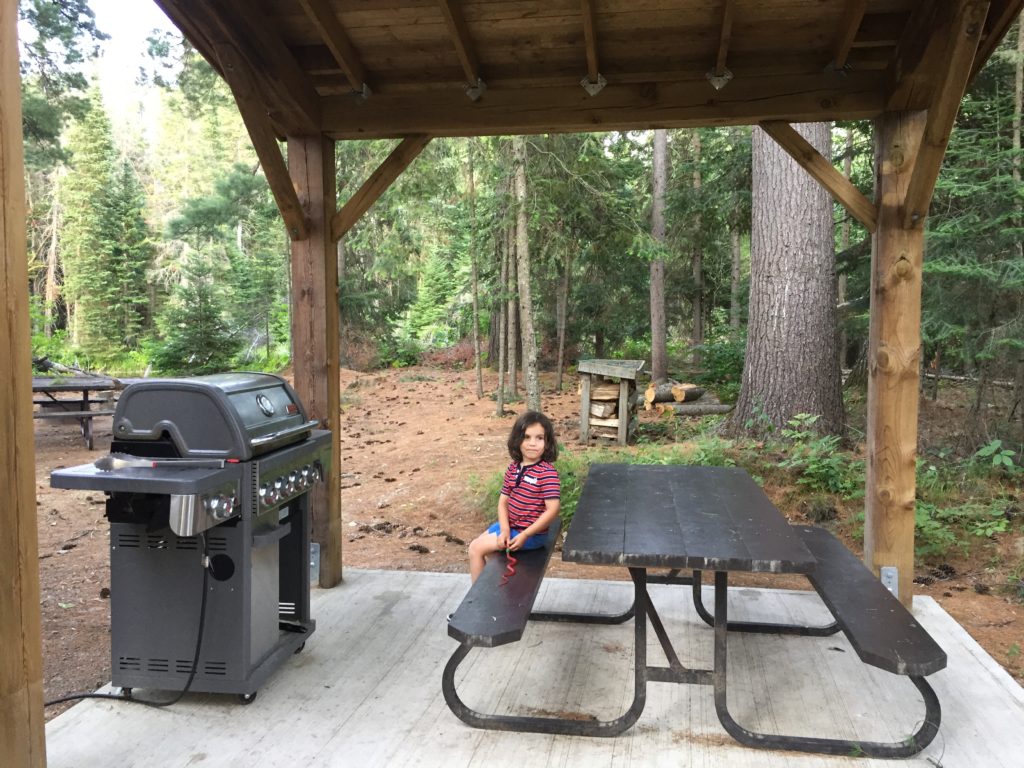 You are responsible for bringing all of your own camp cutlery and cooking equipment.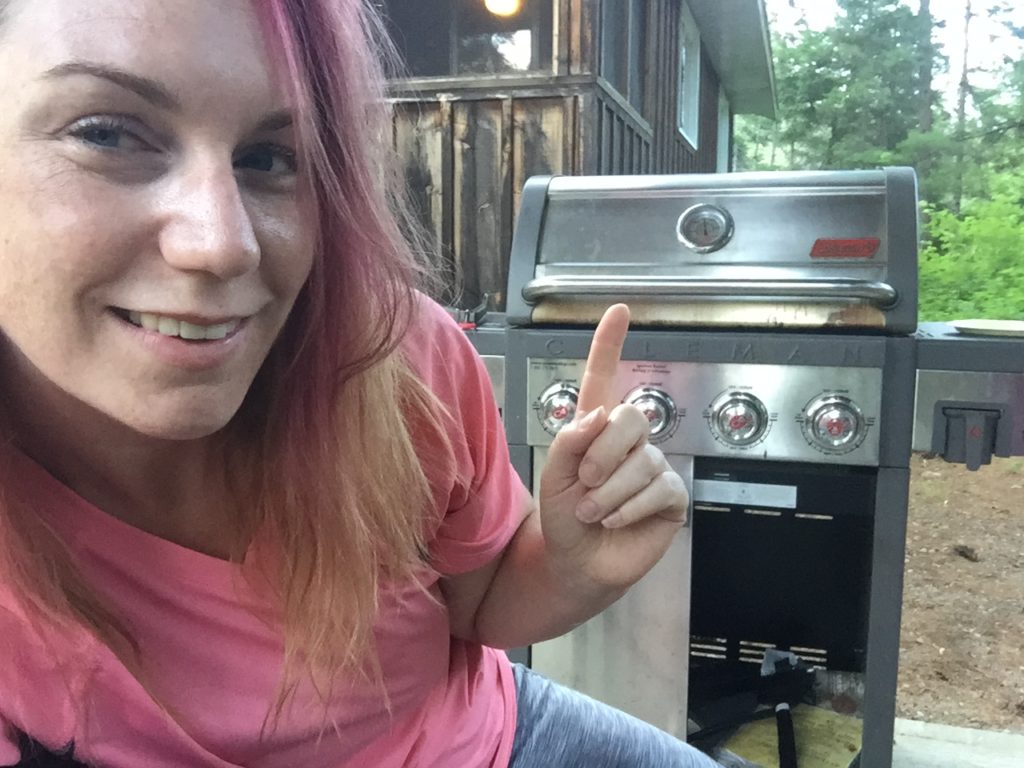 Bathroom facilities and water are not provided directly at the cabins – bring your own jugs of water to cook with and wash up dishes. The cabin we stayed was a short walk to a toilet and water tap.
As far as introducing the kids to the real camping experience, this was a good start. My daughter kind of has high standards for her tender age (read this as she has a lot of experience with high end resorts) and I knew that a tent would not be the best way to encourage a love of the great outdoors. My son is super content wherever he is, whatever he is doing, so I have a feeling he is the outdoors child in the family and he and I will have a lifetime of experiences together doing things like this. 
Our cabin, The Sandbar, was located right on the river and a canoe and paddling equipment are provided.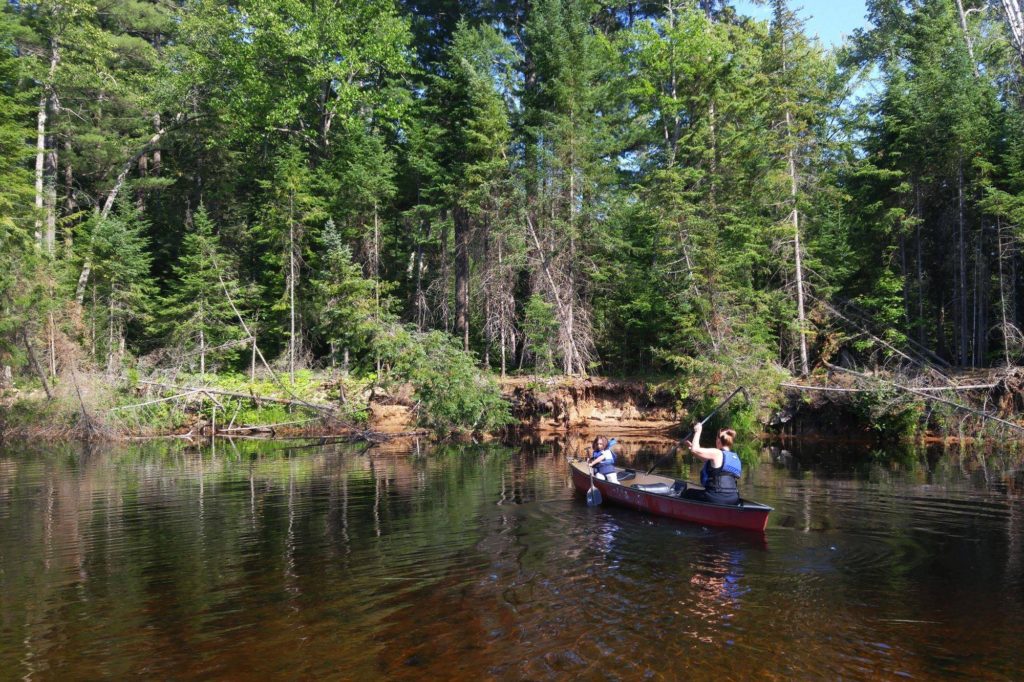 The canoe was utilized and enjoyed by my son and I! He shares the love of the outdoors with me and I'm so glad to be making these memories with him.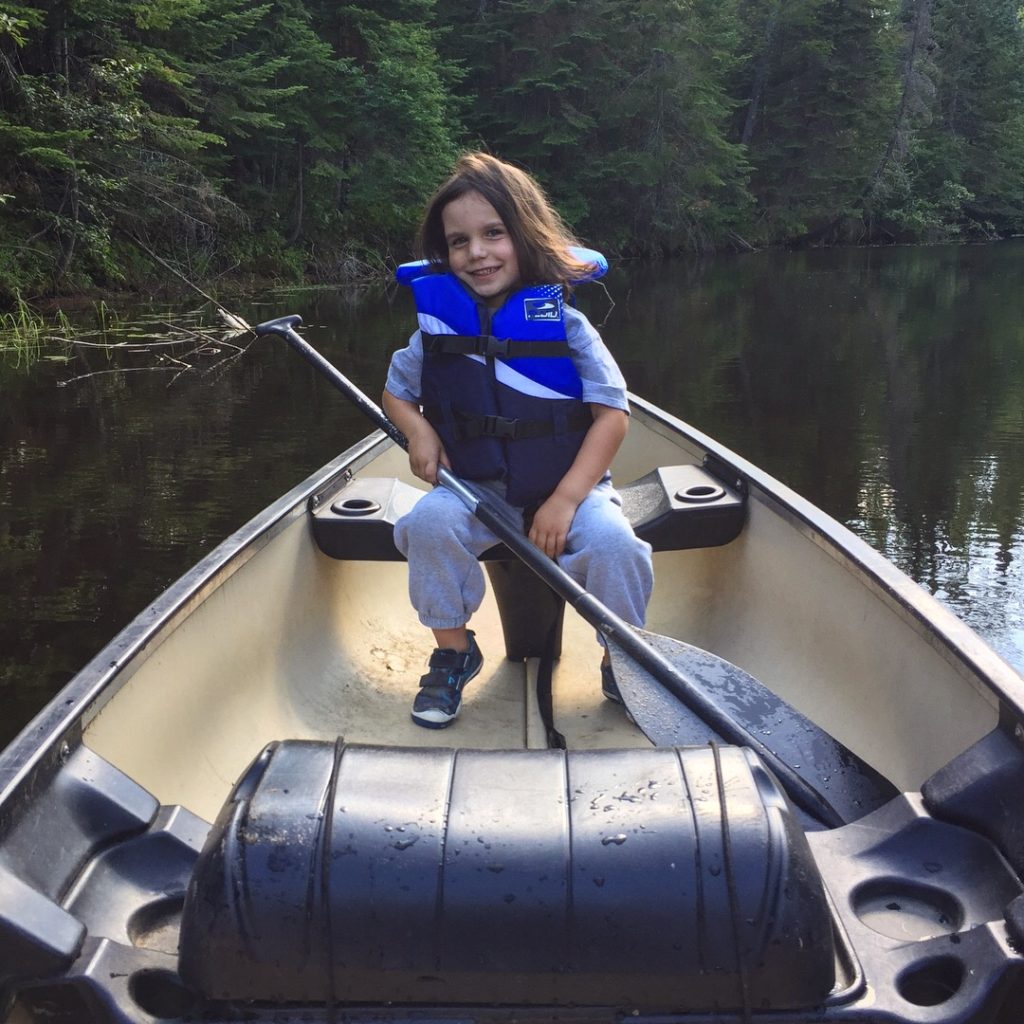 Firewood comes with the cabin, but unfortunately there was a fire ban during our stay so no fires and s'mores for us this time. Due to the fire ban, the BBQ got used a lot, we were really happy to have it. We had brought a propane stove too just in case, so we were not lacking any cooking options.
The park store does not sell groceries, so please make sure you have all the food you need or be prepared to go shopping.
Most important to note for tech junkies like me – cellular service on my network was pretty much non-existent at our cabin, which I found to be a blessing (YAY, I'm disconnected FOR DAYS!) and a curse all at once – that meant no scrolling Facebook, Twitter, Instagram or checking email after the kids were in bed.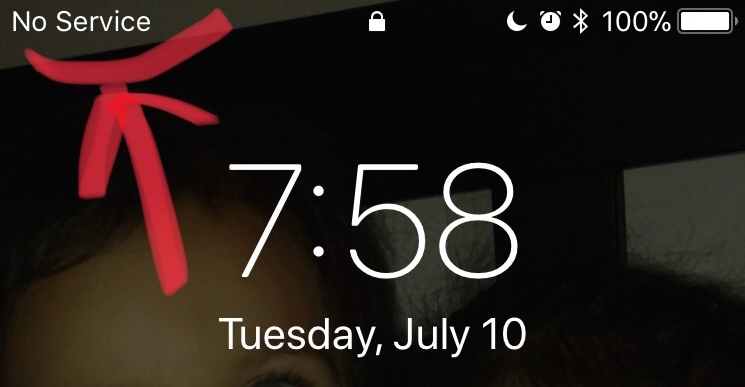 Once we were in for the night, I either had to go to sleep or read a book. A few places here and there I managed one bar 3G service, but they were very few and far between – I could maybe get a text message out and possibly receive one. The only place in the whole campground where I had LTE service was on the beach.
My kids did a video tour inside our cabin at Bonnechere you can see here (I apologize for the shaky camera work, it was done by the kids, not me):
Things To Do Near Bonnechere Provincial Park

If you are at Bonnechere Provincial Park for just a weekend or short stay, you'd likely not want to leave as there is enough to do between kayaking and paddling the river or hanging on the beach. However, if you are there for a longer stay like we were or if you're just like me and don't know how to sit still and you can fit many activities into a few days, here are some places to hit in the area that we did:
Visit the Birthplace of The Beaver Tail!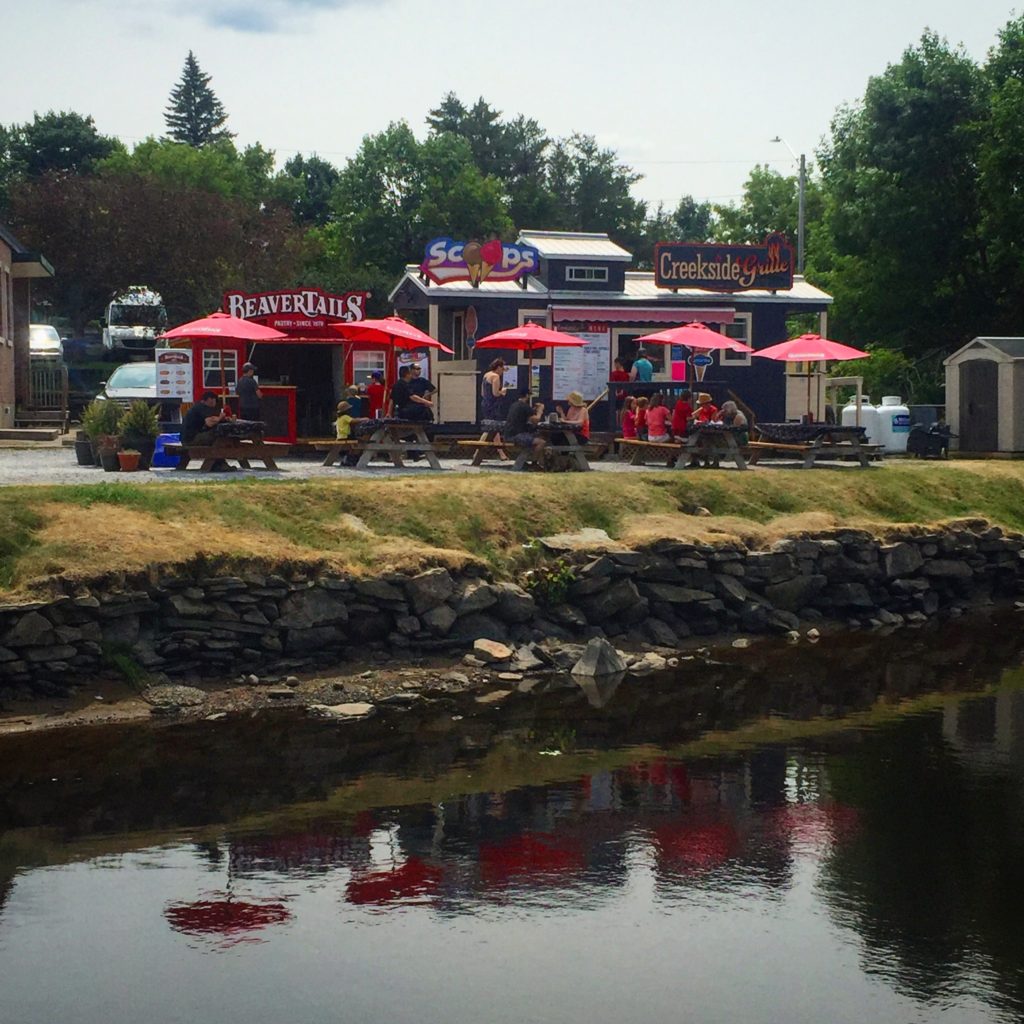 About 20 minutes away from the campground is Killaloe, a small and quaint town. This place is the birth of the Beaver Tail, a fried, dough pastry in the shape of a beaver tail that's been served to President Obama when he was visiting Canada in 2009. It's full of calories and trans fats and tastes like kindness.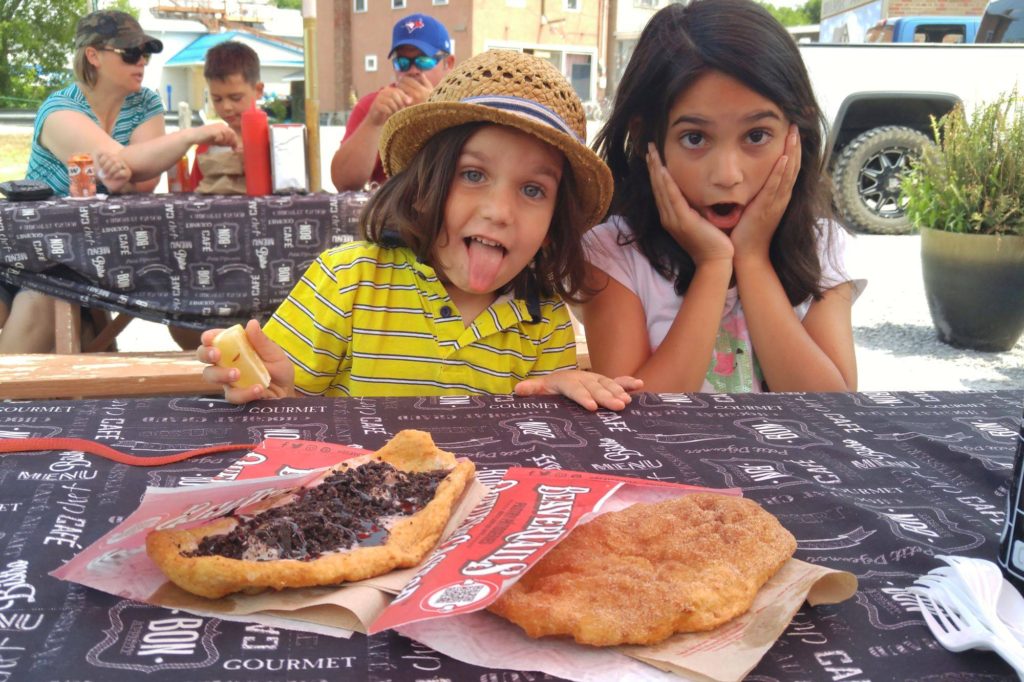 Spelunking in the Bonnechere Caves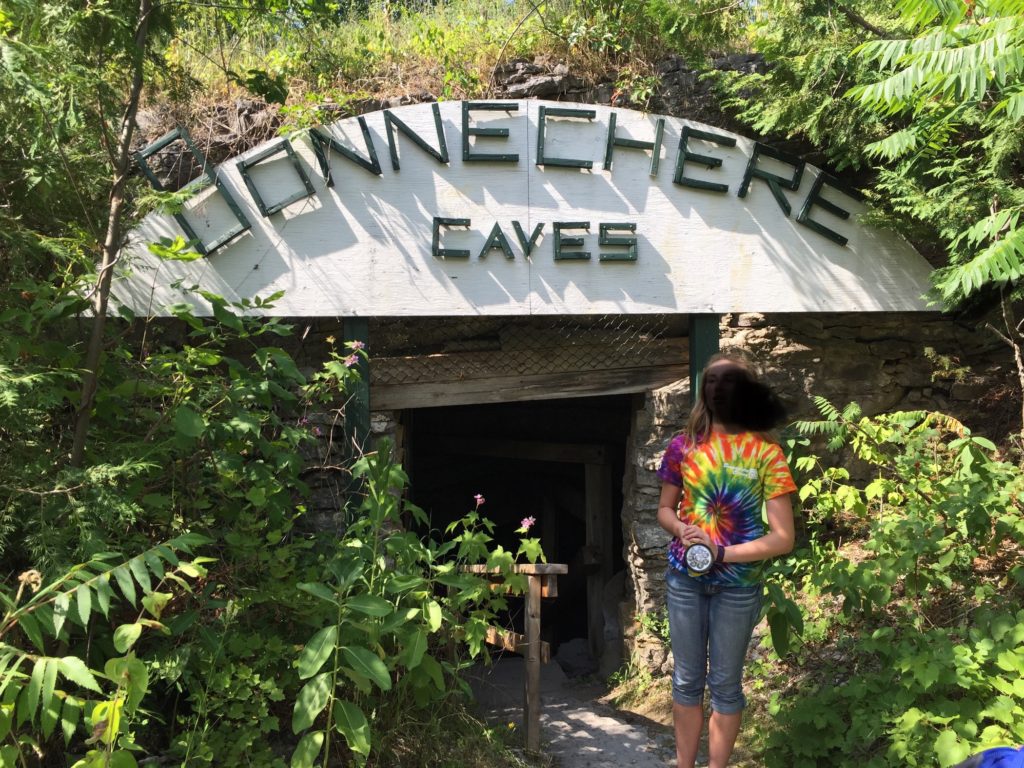 About an hour away from Bonnechere Provincial Park, close to Egansville is the Bonnechere Caves. Yes, I just took my kids to the Tyendinaga Caverns and Caves a couple weeks ago, but these ones are way longer, which means on a sweltering hot day, you spend more time in a cool place, literally and figuratively. Also, you can grocery shop at the Foodland on the way back to the park.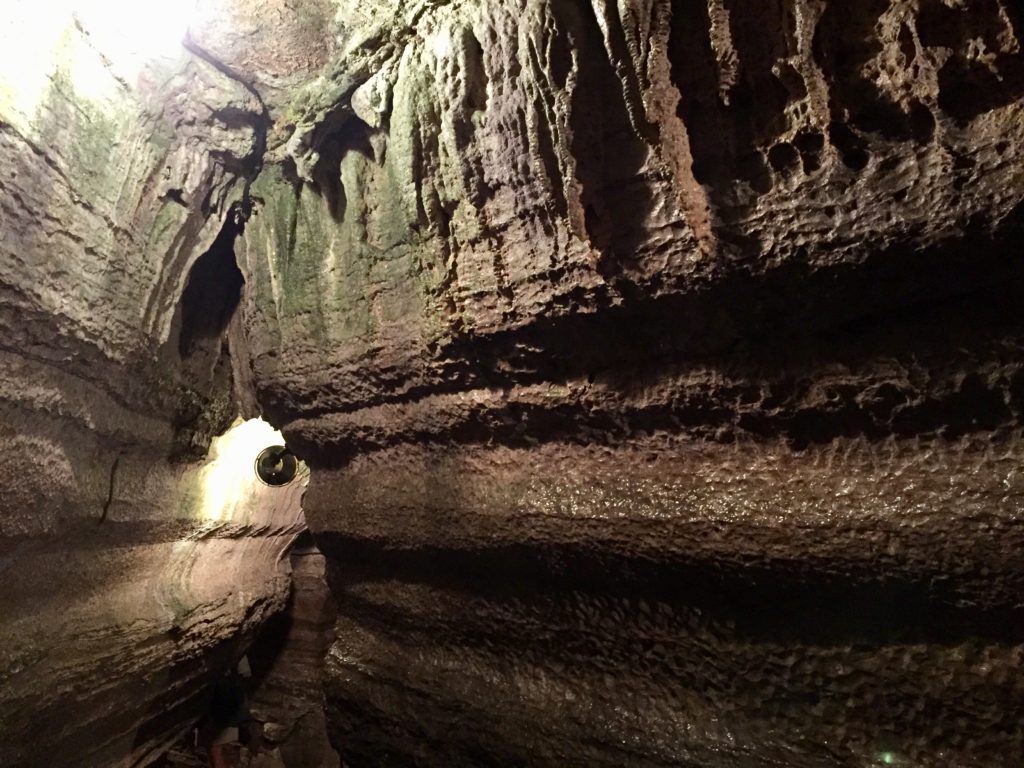 Hike the Barron Canyon Trail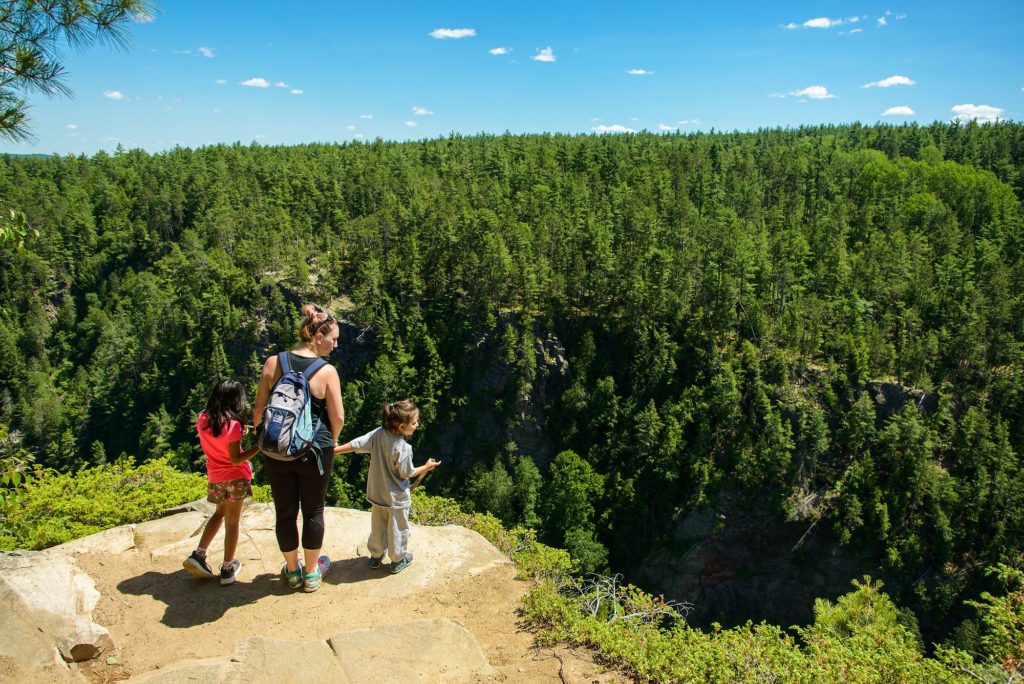 Despite the map showing the Barron Canyon Trail location as a straight shot directly north from Bonnechere Provincial Park, this is just over an hour drive away. It turned out to be one of the most awesome views I have ever had on a hike and it was a trail my kids could handle. HOWEVER, this trail visits cliffs and there is no barrier at all. KEEP YOUR KIDS AWAY FROM THE EDGE.
No, I didn't lose one of mine, but that ledge is hella tempting for a four year old who wants to urinate off it just like Mighty Eagle in the Angry Birds movie. Yes, I have a picture of this incident. No, you can't see it.
Do We Recommend Glamping at Bonnechere Provincial Park?
As far as a glamping experience for a family, this is a top notch place. The cabins have a lot of space and are clean. The windows are screened and did not hold the heat in too much. The temperature sleeping at night was comfortable and I typically like it on the cooler side at home. Having access to a canoe, paddle equipment and the river is great and is a nice way to take the kids to spend time together.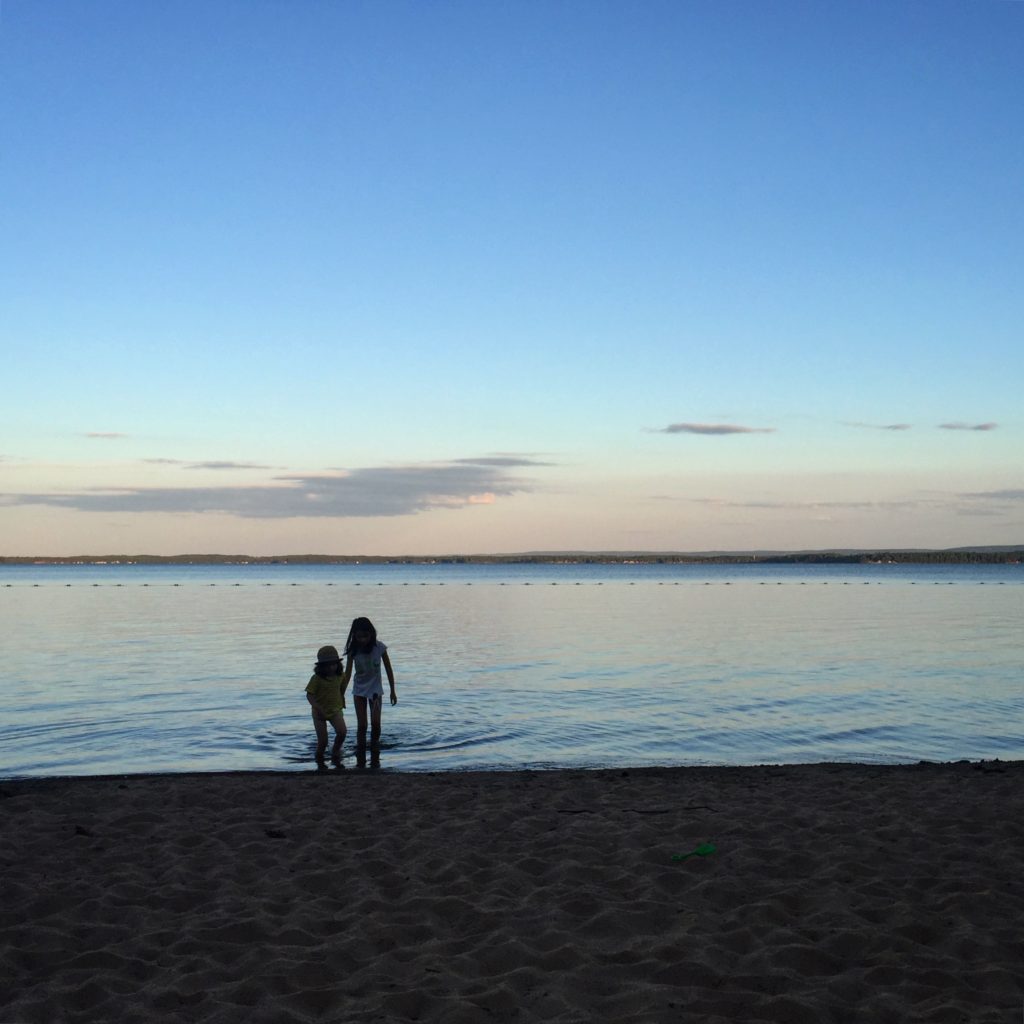 One thing I haven't mentioned at all is that the area by the cabins was super buggy. Like mosquitos and black flies everywhere, no escape. For my daughter, it was almost like a horror movie for her (a dark comedy for me) to get from the cabin to the toilets in the evening. We have super strong repellent that worked well and I have to warn anyone going there that you will need it.
Despite the bugs, the facilities, beach and amenities of the park make up for it tremendously. I highly recommend taking your family glamping at Bonnechere Provincial Park.
To reserve a cabin at Bonnechere, please call 1-888-ONT-PARK (1-888-668-7275) to visit online here.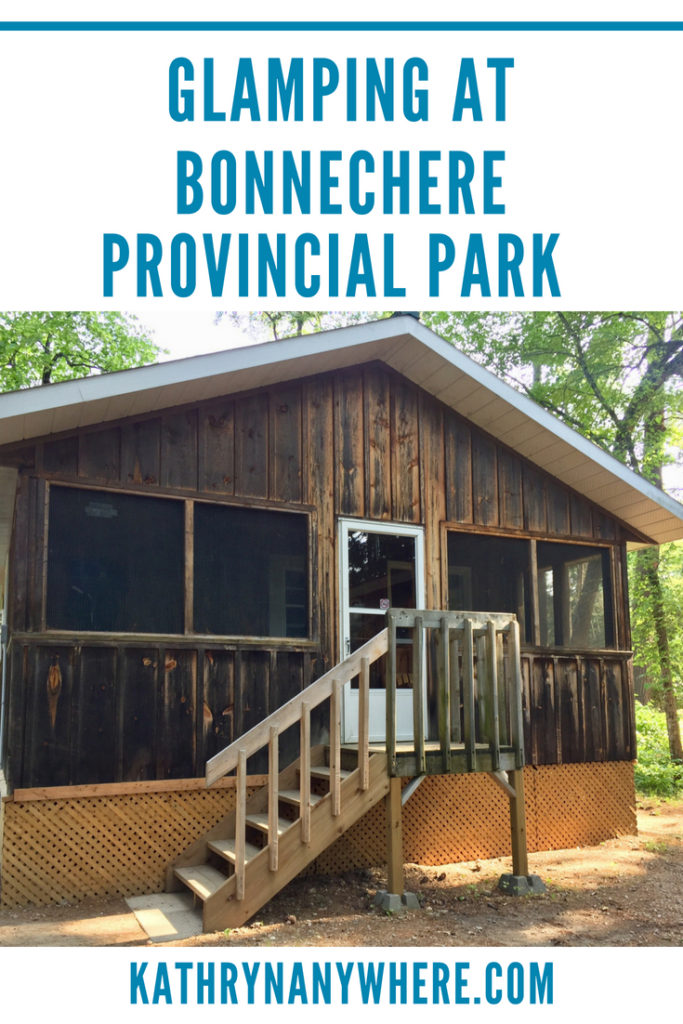 Disclaimer: We were guests of Ontario Parks during our visit in Bonnechere Provincial Park. Our views remain our own.
And a mega thank you to my friend, photographer and pseudo-uncle to my kids, Brian Tao for coming along!