Beaches Turks and Caicos Resort – What To Expect When You Arrive
One of the best things you can do before you go on vacation is to research where you are going and know what you are getting when you purchase your vacation. One of the worst things you can do is to know too much about where you are going before you go, set the expectation bar too high and then feel an overwhelming amount of disappointment in the end. Not like that could ever happen if you happen to be vacationing at Beaches Turks and Caicos Resort though! However, I'm going to give you the low down on what to expect when you arrive at this gorgeous all inclusive resort in Turks and Caicos.
I am lucky enough to have been to Beaches Turks and Caicos Resort four times now. Four times at Beaches Turks and Caicos Resort and one time at Beaches Negril Resort and Spa. At this point, I feel I am qualified to give you a very educated assessment of what you are walking into and it's really hard to be disappointed!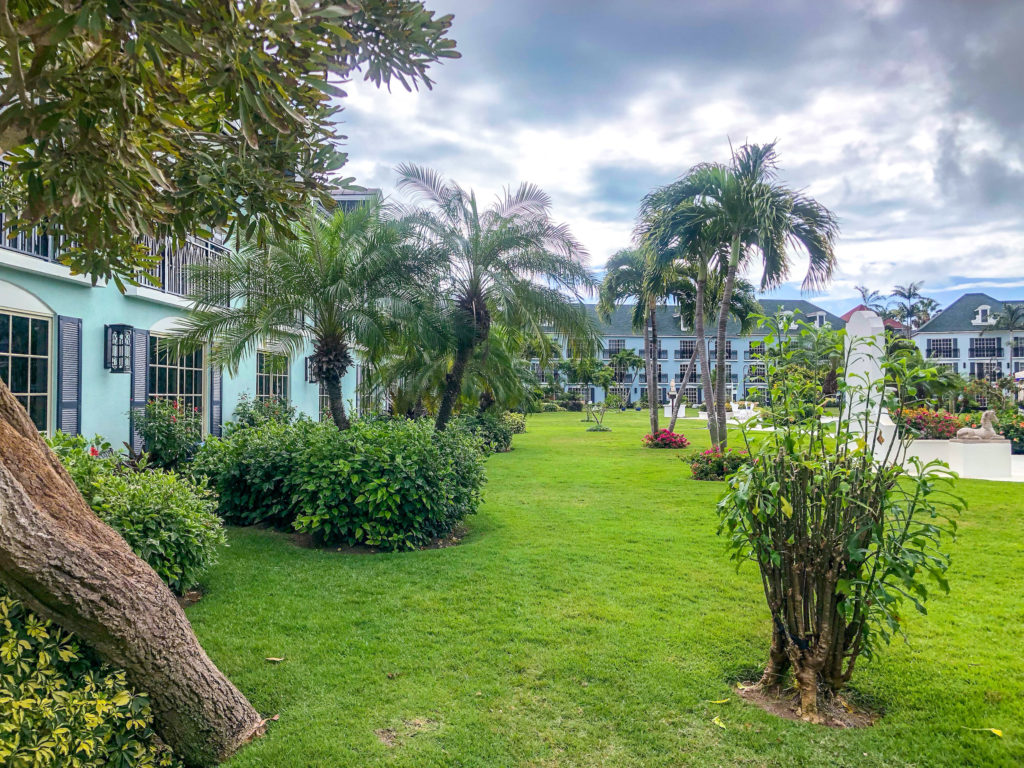 Our First Visit at Beaches Turks and Caicos Resort –
We Didn't Know What To Expect When You Arrive!
Our first visit to Beaches Turks and Caicos Resort was January of 2016. My family, along with another family with a daughter the same age as my daughter traveled together. We booked the trip 10 months in advance on a fabulous sale on the Beaches Resort website for 65% off and then flight on seat sale with Air Canada. All told, for my family of 4 (2 adults, 2 children ages 1 and 6), we paid just over $6,300 Canadian for 5 nights/6 days. We booked a Caribbean Village double room, which is one of the least expensive room categories. Worth noting, every year there is a price increase and therefore our package prices have gone up incrementally.
One of the keys to making your vacation at Beaches Turks and Caicos Resort a success is to book well in advance. As you get closer to the travel dates, the price rises as the less expensive room categories typically sell out first.
Arrival at the airport was very much like any other Caribbean island airport. You get off plane in the heat, walk down the stairs from the plane to the tarmac, get ushered into airport, line up at customs to be admitted into the country, then carry on to get your baggage. Round trip airport transfers from PLS are included in your resort price, so you do not need to worry about booking a separate shuttle.
We exit the airport, hang a left out the door and then follow other families to the Beaches Resort desk and line. It felt like was a little disorganized and here didn't seem to be any line up or structure, just check on with the gentleman with the clipboard and then he told you where to put your baggage. It seems the shuttles were packed in by number of people who would fit, a family of 4 would be sent with a family of 3 and a couple, etc. It's not a big deal. If you are travelling with another family, let them know and they will hook you up together.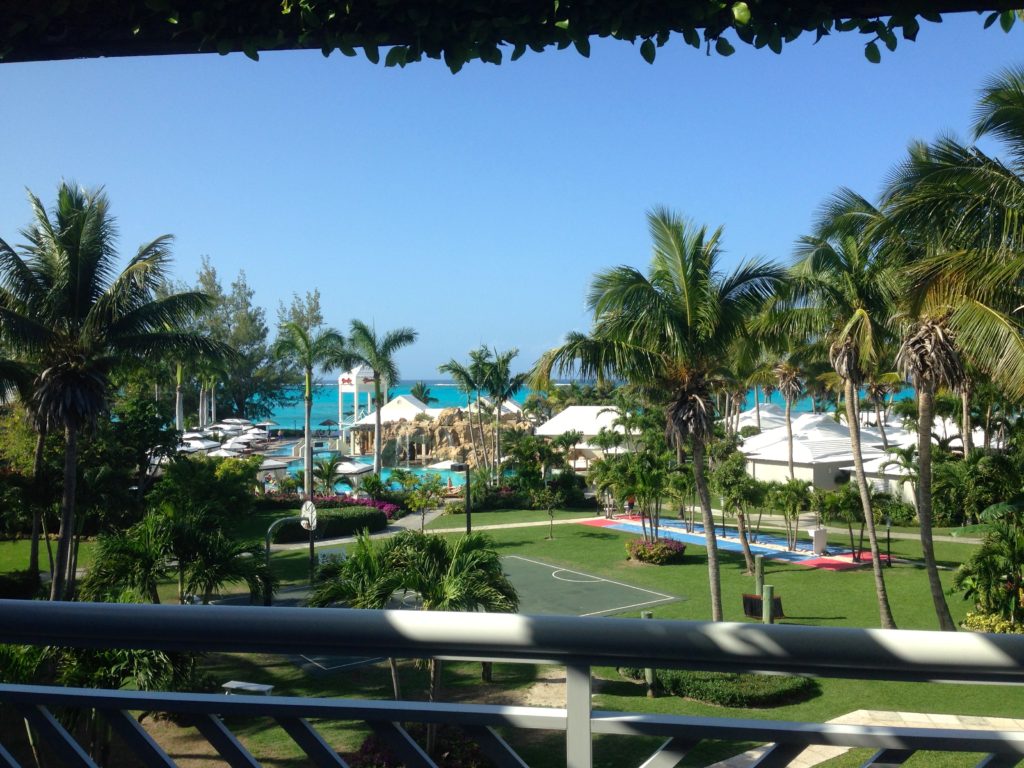 Let Me Tell You About The Rooms!
After dropping a couple off at the first stop, the French Village at Beaches Resort, we carried on to drop off at the Caribbean Village where our two families were staying. We were greeted with a "welcome punch", with rum for the adults! Boom, that's what I needed! That's something you can expect when you arrive at Beaches Turks and Caicos Resort! This is an an inclusive resort, so put your wallet in the safe in your room and don't take it out again until you leave.
If you do not check in online in advance, you will have to take the time to check in with all of your personal information on the iPad they provide to you. I highly advise you to take care of that in advance so you can get to your room faster and then into the pool or on the beach faster.
During our first visit, our west wing, third floor room was ready for us and off we went to drop our bags. Walking in, we were happily surprised by our ocean view. I've been to other all inclusive Caribbean Resorts in the past and unless paying for the upgrade, an ocean view was not included. Not only could we see the ocean, but we also could see the Iguana pool and bar, a basketball court and a giant chess board.
For our subsequent trips, we have stayed in rooms in both the French and Italian Villages
Twice we had a luxury walk out room in the French Village. I really like that room category for a couple reasons. One, it's easy access to the pool. Two, it's easy access to walk to Cafe de Paris in the morning to get coffee and pastries. Three, I can have my morning coffee outside on the patio and it's glorious!
If you would like a room tour of our double walk out room in the French Village, look no further! I have a video here for you.
Our stay in the Italian Village is one I would love to repeat if budget ever allows. I traveled with my son, my sister and her 2 boys. We had the pleasure of staying in an Italian Oceanfront Concierge Family Suite with Kid's room while at Beaches Resort for Social Media On The Sand! It wasn't the room we were originally booked into, it was a fluke upgrade.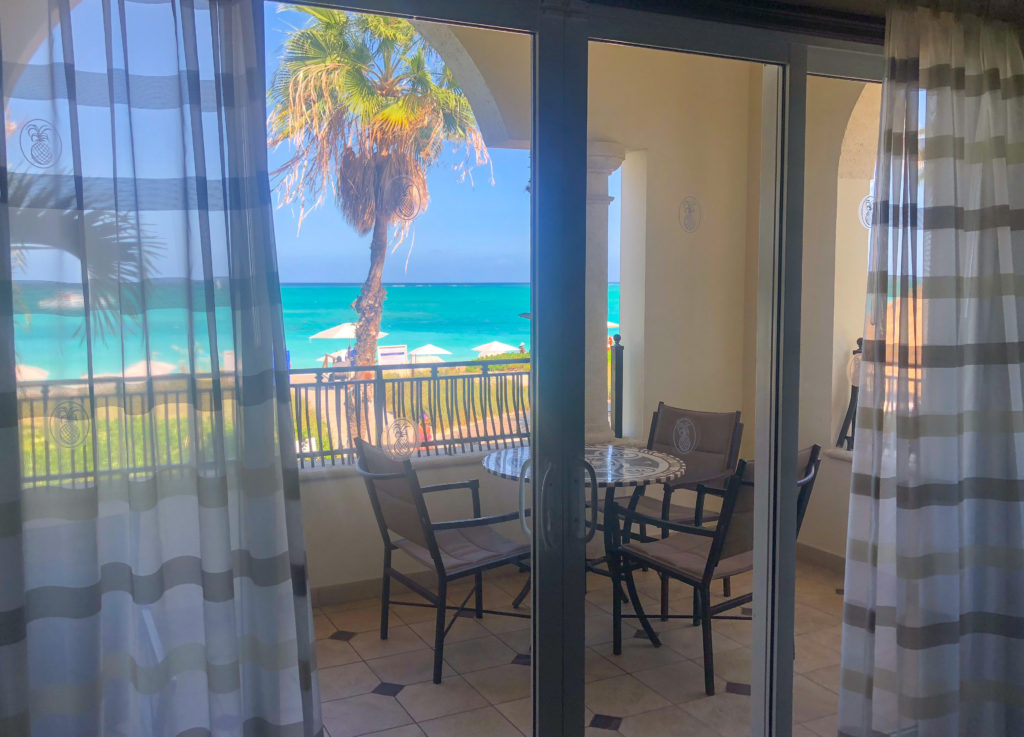 The room was PERFECT for us! This room features a king size mahogany, four poster bed, adorned with a plush duvet, lounge sleeping chair, 42′ flat screen TV plus a bar area with its own refrigerator and microwave. The kids enjoy mahogany bunk beds with a trundle; a 27′ flat screen TV; a multi-function game table; a built-in, nautical, mahogany storage wall unit; its own closet; and a vanity unit with basin and mirror. The bathroom hosts a two-basin mahogany vanity with a wall-mount makeup mirror and hair dryer; a whirlpool tub; a separate rain head shower; and a private water closet. It was nicer than our house. The ocean view was so calming! Our room number was 3205 in the Italian Village, Almalfi Building and it was beyond perfect! I'd book this room again in a heartbeat!
Room tour? Sure thing! It's right here:
What Should You Do First?
Well, there's a lot you could do first! My kids are normally really antsy by the time we have dropped our bags off in our room. They want to get dressed and get in the water. Honestly, I do too!
Pirate Island is a great first stop to get your feet wet. The kids all love it and they never, ever tire of it. The lazy river was a hit with the adults. Sometimes it does get busy there are we have been unable to find available loungers out of the sun, so we hop over to the next pool outside Bobby Dee's where the kids can get their first taste of a swim up bar. The pool water in that one is a little colder than expected considering the heat, but it is refreshing!
At Bobby Dee's, you can grab snack foods (onion rings, chicken fingers, fries, burgers) that will hold you over until dinner. Bobby Dee's is open really late so if you want a cheeseburger at midnight, this is where you go.
The pool closest to your room is also a great choice to hang out in. There is a feature pool in each village with a swim up bar. You can't go wrong, I swear!
While still on your first day, I suggest registering the kids in the children's programming through Camp Sesame for later in the week. You will need their passports to do this, so don't lock them in your safe yet. Oh and this is included – does not cost extra!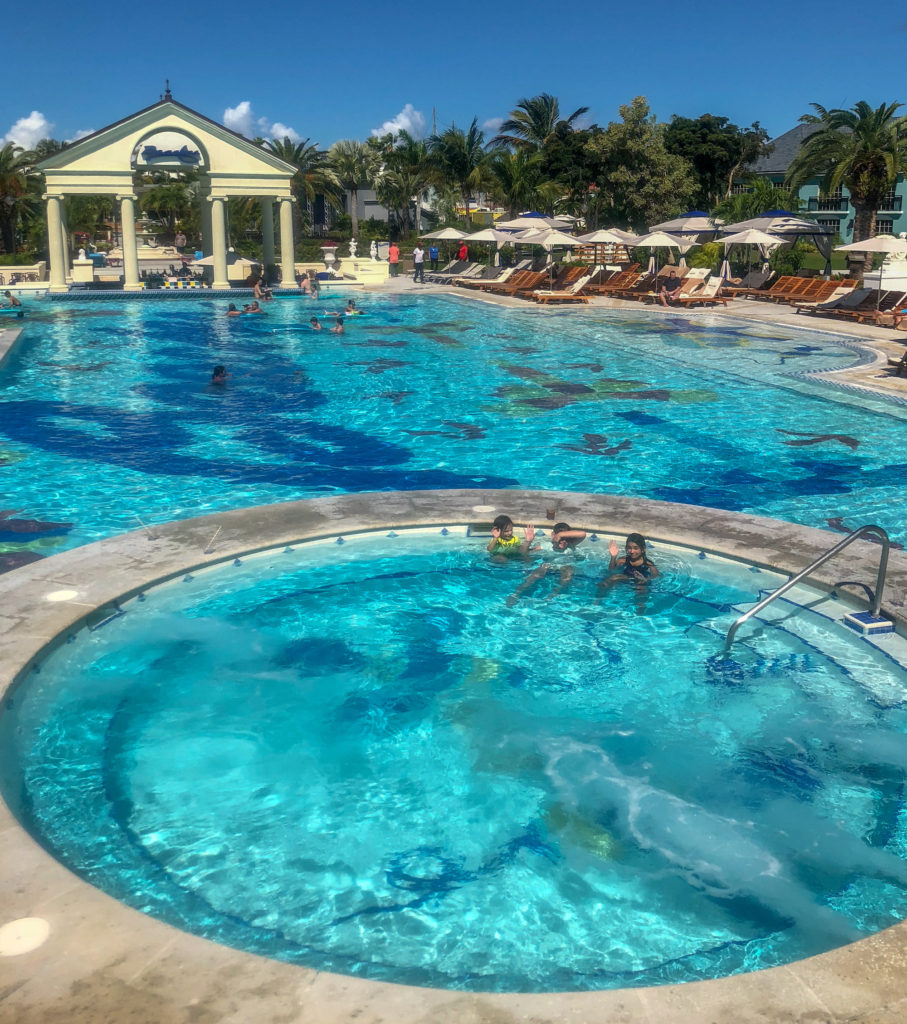 Where Should You Eat First?
The answer to where you should eat first is EVERYWHERE. Spoiler alert, there's not a bad meal to be had at this resort, or at least not one that we found. Service from staff everywhere was top notch.
There is a restaurant that requires reservations and that is Kimonos. Kimonos is a Japanese Teppanyaki restaurant. You can make that booking through the concierge in your village's "front desk".
The sleeper hit restaurant for dinner that we found on our last trip was Bombay. It's an Indian restaurant and the food was divine! It's tucked into a back corner, but it's worth finding. We loved it so much, we dined there twice.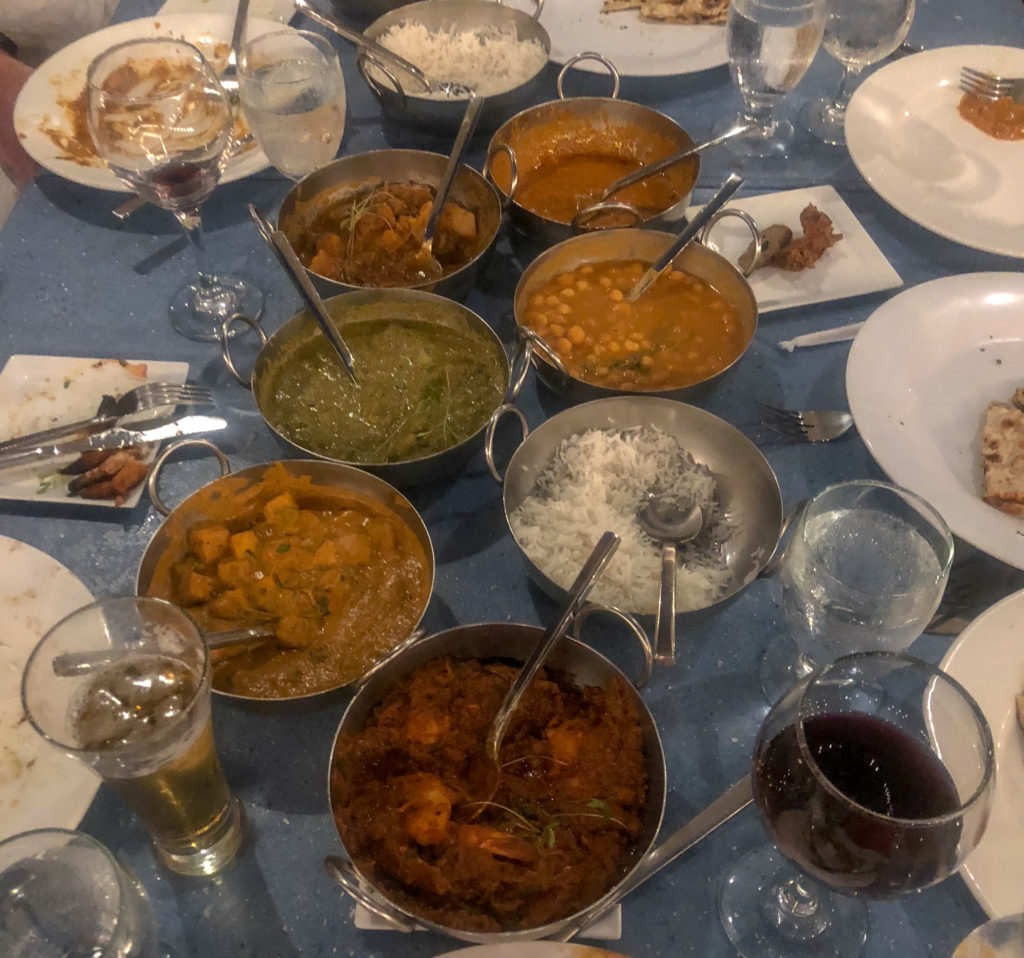 If you like buffet breakfasts, I recommend Mario's in the Italian Village or Guiseppe's in the French Village. One of my favourite restaurants there is Barefoot By The Sea. If you have food allergies or sensitivities, it's not a problem. Alert your server ahead of time and they can help you out.
If you're looking for an adult evening out, the adult only restaurants are Le Petit Chateau and Sky. If you're going to go to sky, get there in plenty of time to catch the sunset. Almost everyone else would have the same idea, so trust me when I say to get there in plenty of time. If the sun is going to be setting at 7:00pm, try to get there for 6:00pm.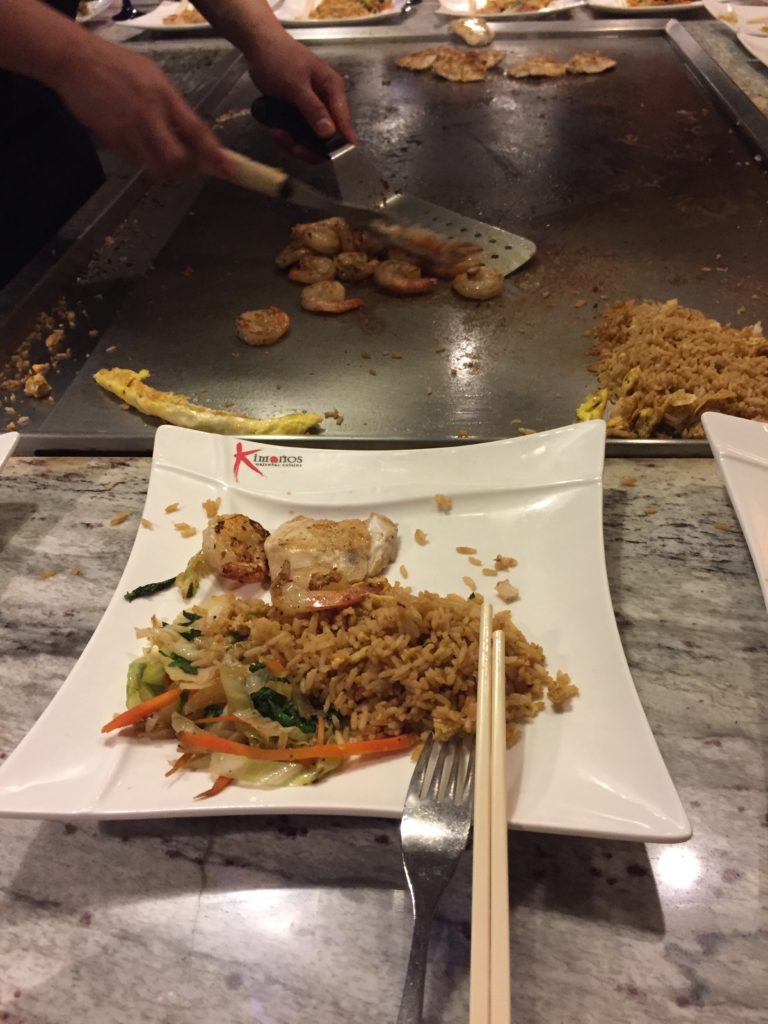 What Are The Best Activities For Kids There?
Swimming, swimming and more swimming! You need to know that most things on the resort are included. Yep, it does not cost extra to hand out at the swim up bar. Tire those kids out at the feature pool, going down the water slides at Pirate Island (be aware of some height restrictions), playing chess on the giant chess boards, send them to the free tennis lessons first thing in the morning, take them to build a bear (this costs extra). Pick up snorkel masks and fins from the dive shop and get the kids out looking for fish.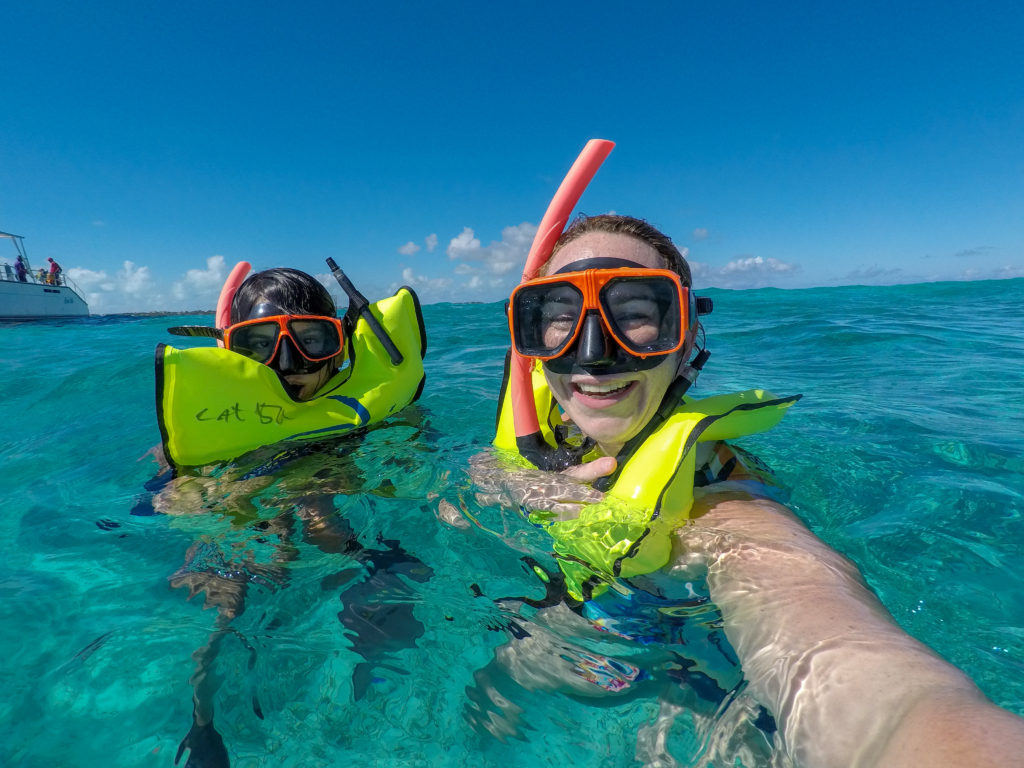 If your kids are confident to go beyond snorkeling and venture underwater, SNUBA is an option to try out! It's a hybrid of scuba diving and snorkeling. I was lucky enough to try it in October of 2018. Check out my SNUBA experience here.
Also, here's a secret that not everyone knows – during the week there is a train that goes from village to village and also stops at the entrance to Pirate Island. You can ride it around and around. The kids go nuts for it.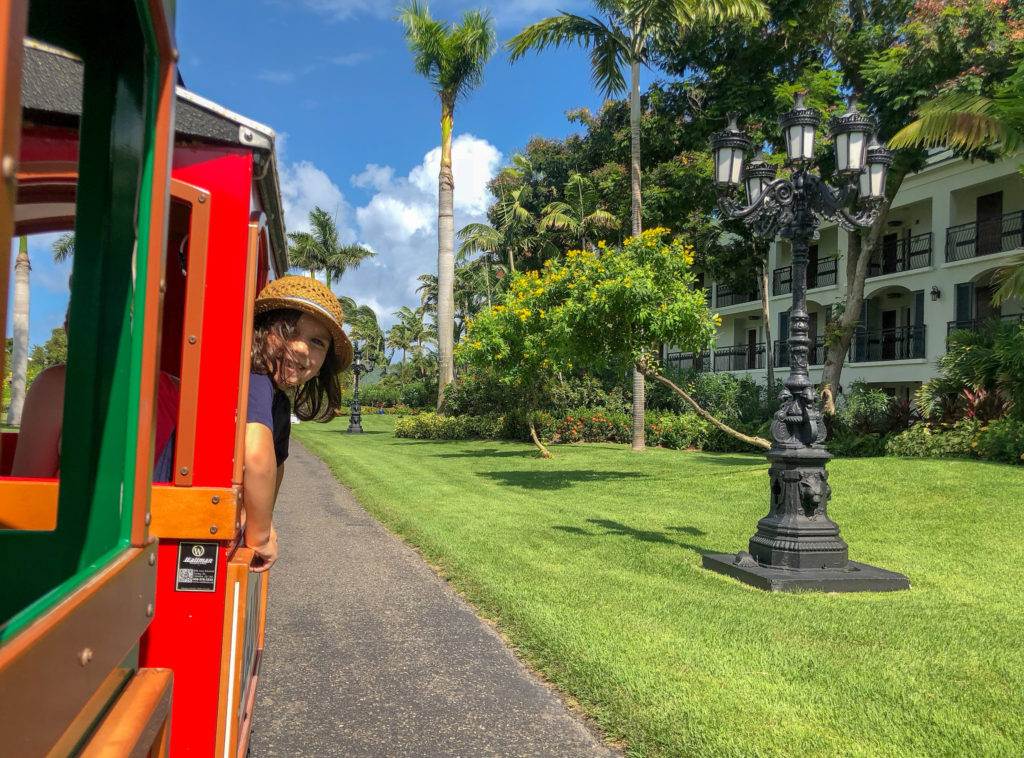 Best Time To Visit Turks and Caicos?
Turks and Caicos is in the Caribbean islands, so anytime that is not hurricane season is a good time to visit. Hurricane season is typically July to September.
I have been to Turks and Caicos once during October, the remainder of the times at the end of January. For me as a Canadian, escaping the cold is paramount, anytime I can get away from the snow, sleet and sub-zero temperatures in a good time. However, as there is a lot of demand to escape the cold from my fellow Canucks, the demand drives up the price. While weather wise, this is the best time period, price wise it is not.
It has been reported that the least expensive time of year to visit Turks and Caicos is April and May.
Beaches Resort is Environmentally Friendly
As of November 1st of 2018, plastic straws were eliminated from the resort. Sorry fruity, frozen cocktail straw-loving fans! In fact, the entire Sandals and Beaches brand is eliminating plastic straws. The company is performing a complete audit from front to back of house. They are looking to determine what other environmentally friendly changes can be made that leaves a better legacy for the next generation.
Back to our cocktail loving friends, eco-friendly paper straws are available at the bars upon request. However, maybe it's time to invest in a reusable metal straw and carry it there with you for your Pina Coladas because the Sandals and Beaches company loves the ocean and the ocean and all of it's inhabitants will love them back for it.
Rumours of Closure
There have been rumours of closure of this resort circulating on the internet. Beaches Turks & Caicos Resort Villages & Spa will be closed from September 3rd to October 15th in 2019 and from September 7th to October 22, 2020. Then beginning January 2021 for an indefinite period. This is by no means a permanent closure nor is the resort in financial trouble. I still encourage you to vacation with your family there outside of these proposed closure times.