Parenting your kids and figuring out how to play to their strength is tough. First of all, nothing with kids is ever constant, you get used to one method, and then they change. In that aspect, kids are kind of like flowers that change from season to season. No two flowers require the same amount of water or sunlight to grow. You have to nurture each one individually and figure out what they need to blossom. Then you feed that flower and watch it grow. That's what we are doing in our house, with our kids. One got to go winter camping at MacGregor Point Provincial Park and one did not.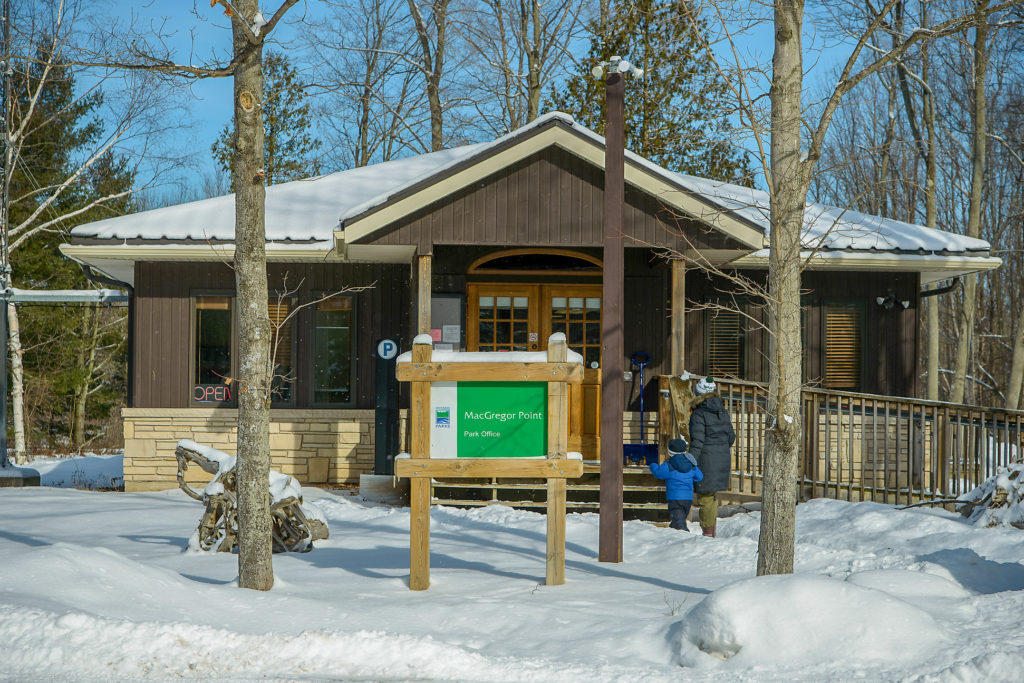 Winter Camping at MacGregor Point Provincial Park
I have a 9-year-old daughter (wait, she's almost ten as she will remind you) and a 5-year-old son with vastly different interests.  One loves and needs to be outdoors running around, the other would rather be indoors reading books, especially in winter. In order for each one to have their bucket's filled, they require a different amount of sunlight, food, and love. So we adapt to that. And this is how we devised the parenting hack of divide and conquer. Each child gets to spend a few days with one parent. It's often easier on the solo parent that way too.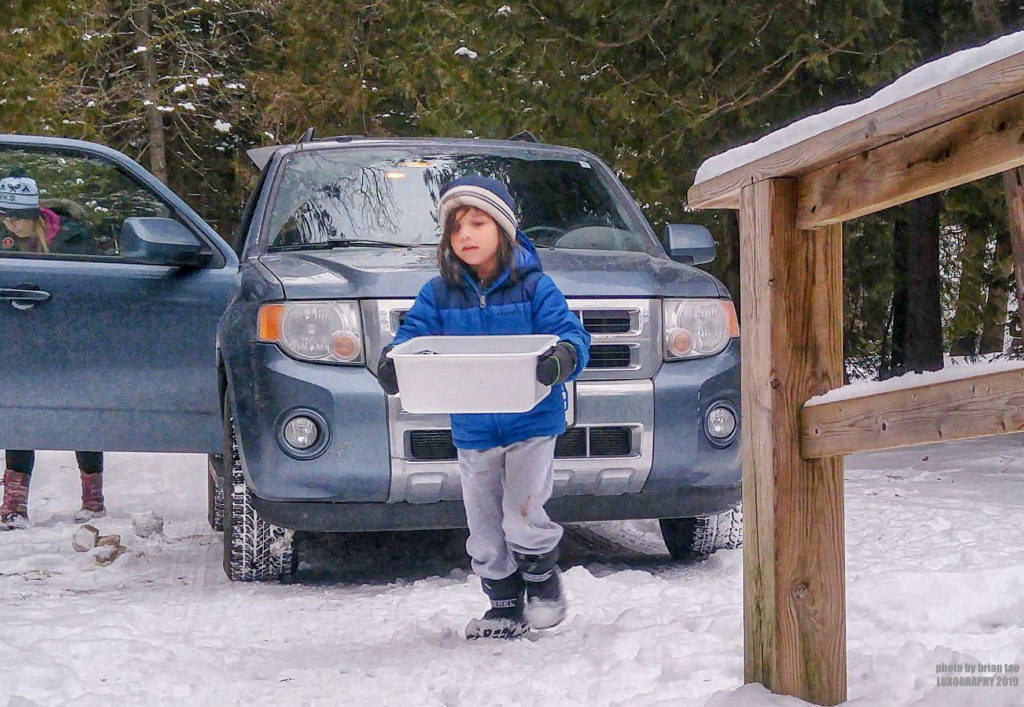 It's is pitched as one on one time to the kids and it makes them happy. Each child gets what they need for a few days and personally, I get to see my child thrive. Total proud mom moments.
When Ontario Parks and I initially discussed a yurt winter camping experience, I intended on bringing both of my children, but a week or so before we went, I changed my mind. This was not something my daughter was going to enjoy like my son was going to, so I let it go with her. She protested the trip, didn't want to miss school, her friends and instead of debating or arguing, or making her come I let her know she can stay home with her dad.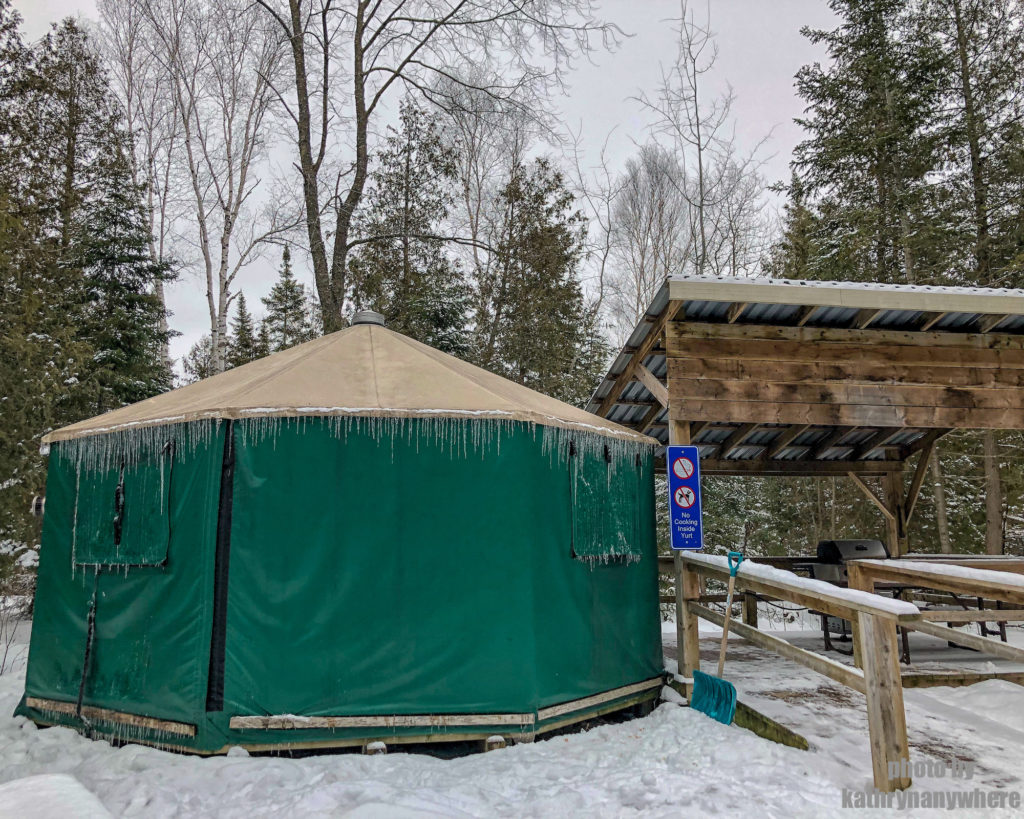 Just Little Man and I
Well, just Little Man, myself and "Uncle Brian". Brian is my friend and photographer who accompanies me on camping trips. He was my wedding photographer way back when! Side note – Brian is the reason why I actually end up with photographs of myself with the children that are not selfies. And mainly plans the menu, that's really useful because he's a good cook. I'm the Queen of hotdogs and burgers on the fire. He'll actually marinate steak in advance. More on food preparation and cooking while winter camping at MacGregor Point Provincial Park below.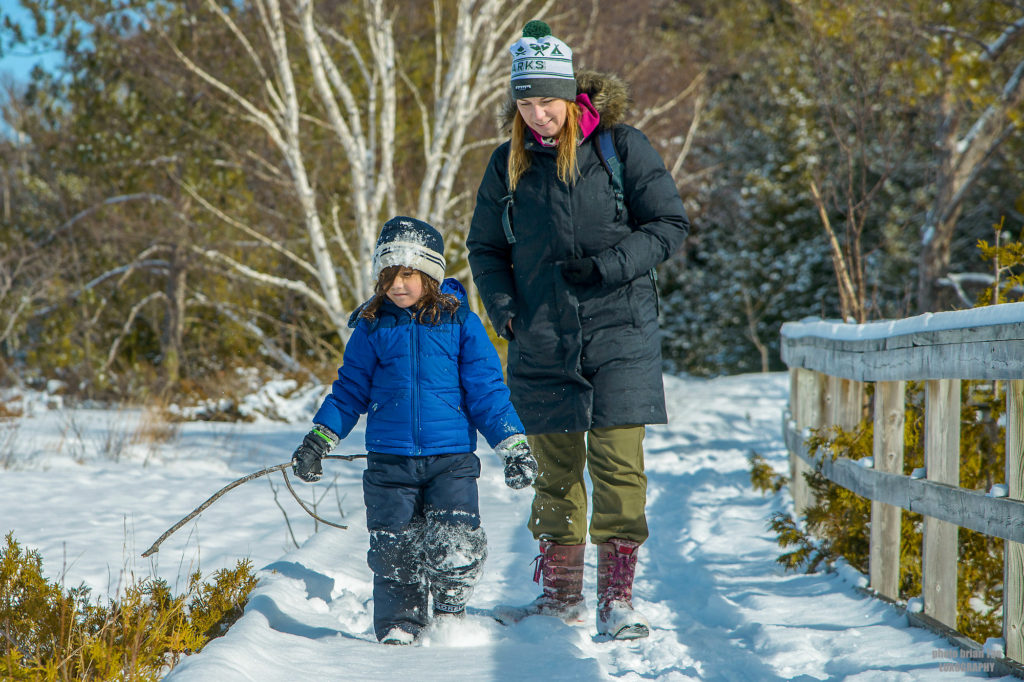 I really enjoyed my stay last winter in a yurt at Mew Lake in Algonquin Provincial Park. Yurt camping in the winter, aside from being in an RV, is pretty amazing. For people who like to be outdoors, but don't want to be cold when they sleep, winter camping in a yurt is the way to go! I don't mind cooking and spending the majority of my time outside as long as it's not -30 outside!
I plan on making this a winter tradition, especially after seeing my son enjoy himself for our few days out there, this is really well suited to his personality!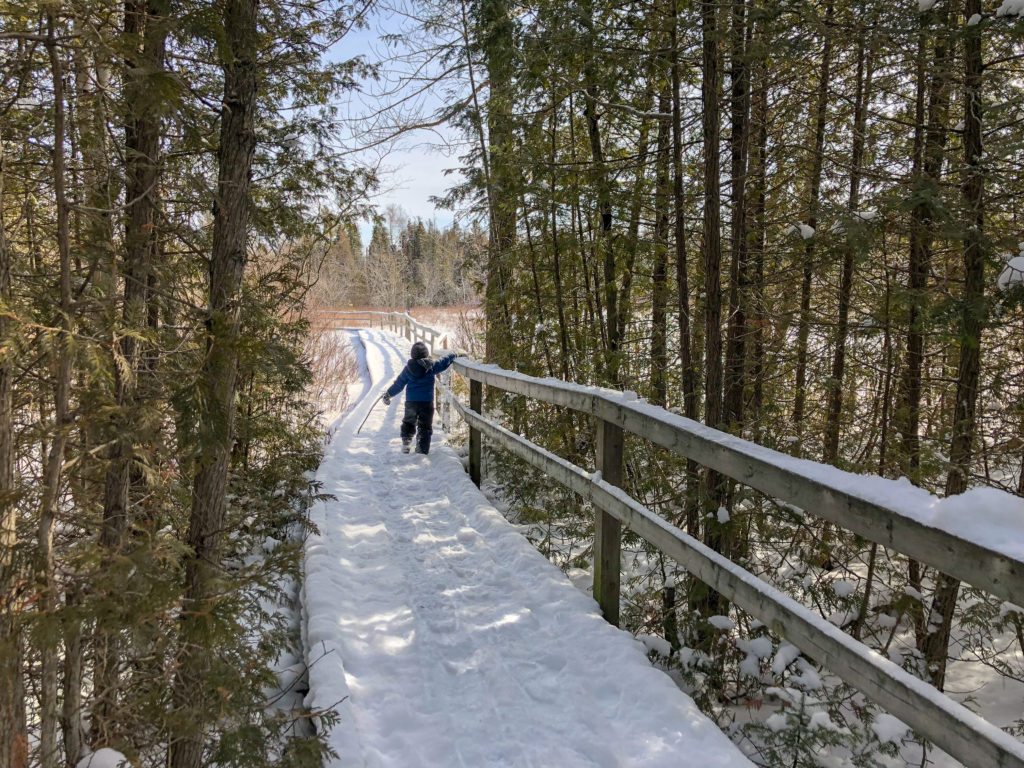 What's In The Yurt?
The yurts at MacGregor Point Provincial campground sleep 6. And they have electricity! There are two bunk beds, the bottom bunks are a double and the top is a single bed. I can see a family up to six people in there, but I can honestly say that a travel party of six adult friends might find the conditions cramped.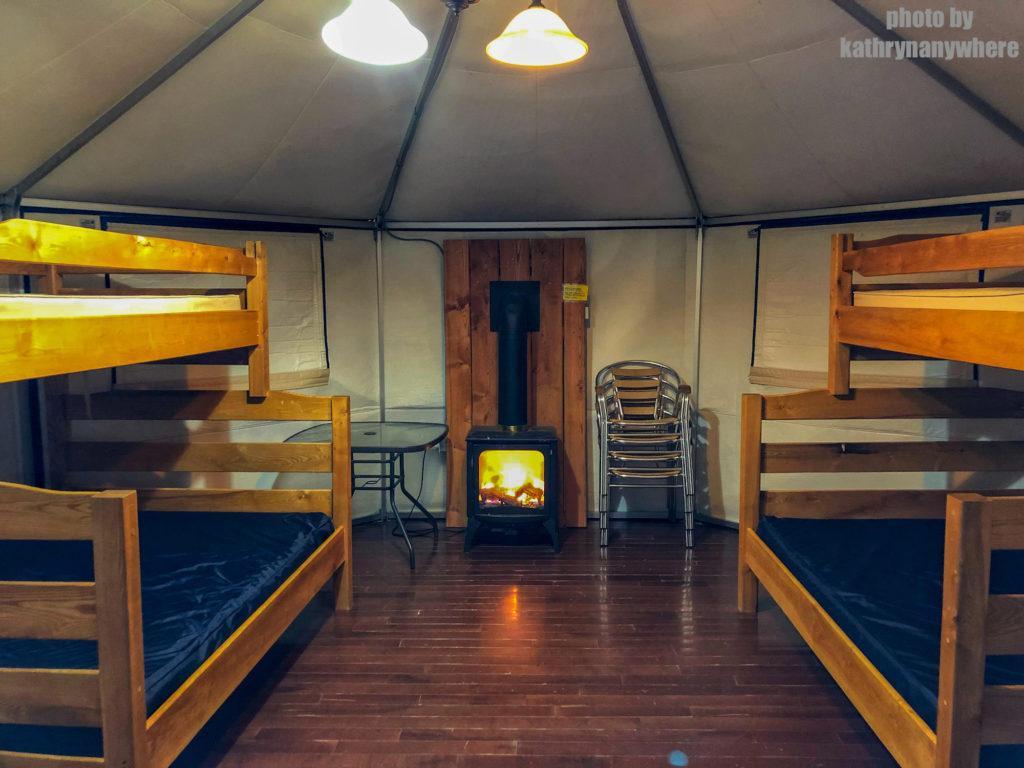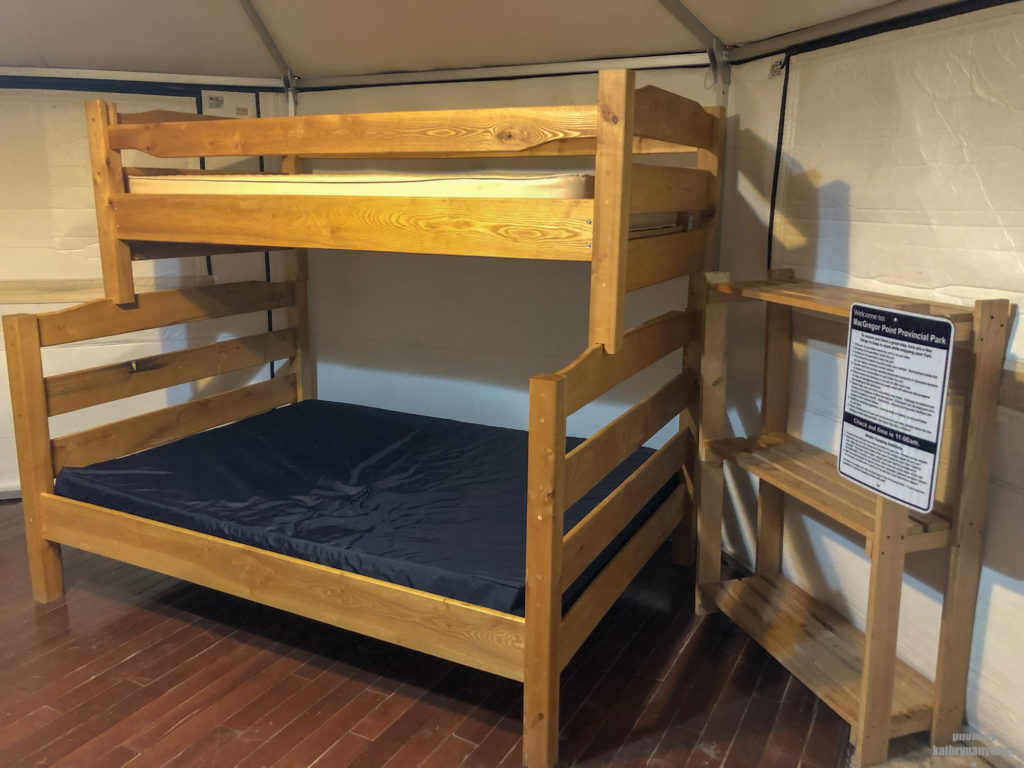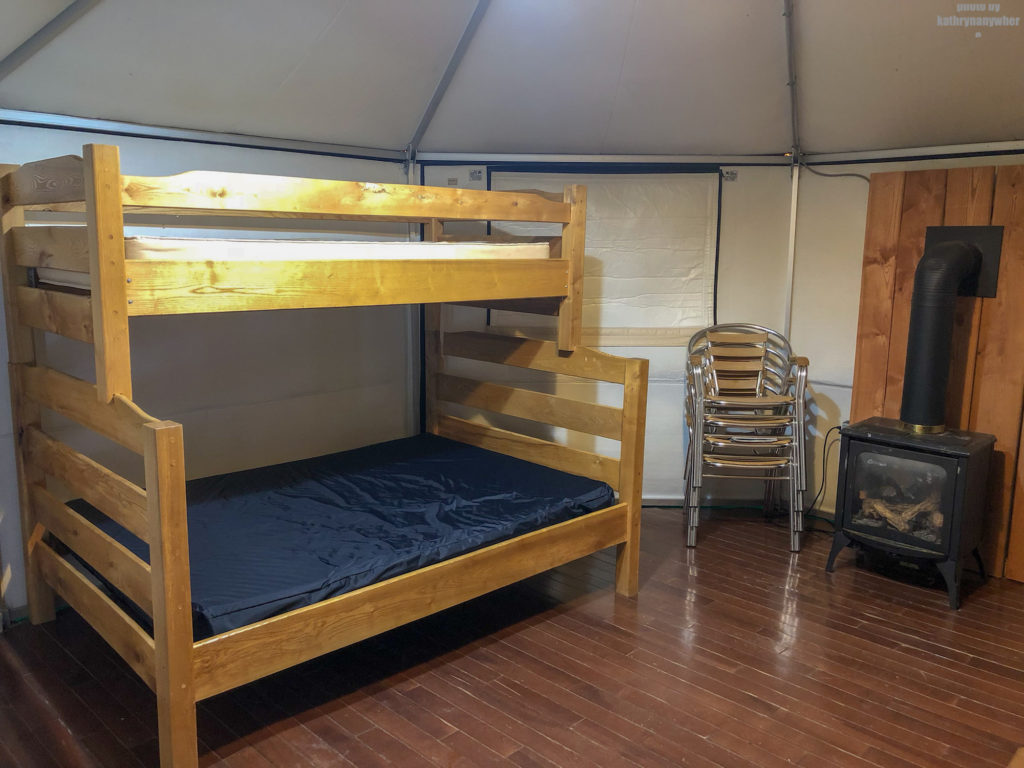 At the site next to us, there were four adults in a yurt and they seemed alright. We brought our own bedding, sleeping bags and pillows as the bunkbeds only have a mattress on them for campers. There is also a table, four plastic chairs and a gas stove for heat. The gas stove is temperature controlled and kept us very toasty through our stay! My nightly trick was to put the boots and socks in front of the fire to make sure they were dry and warm for the next morning.
Safety note: Never put your belongings directly on the fireplace and keep them a safe distance away.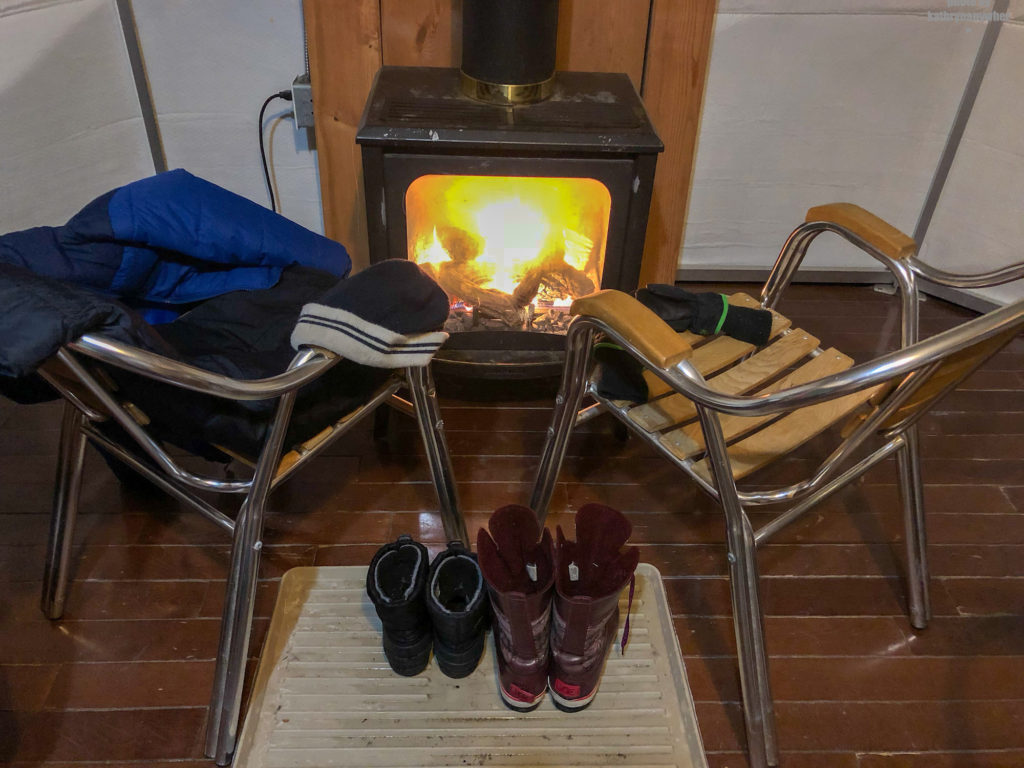 Outside the yurt, campers get a fire pit, kitchen shelter, picnic tables, and propane barbeque with side burner. The kitchen shelter is slightly elevated. You likely cannot notice in any pictures I post due to the snow, but there is a ramp up the shelter making the kitchen shelters and yurts accessible. Ontario Parks has really made an effort in terms of making their beach and roofed camping accommodations accessible to everyone.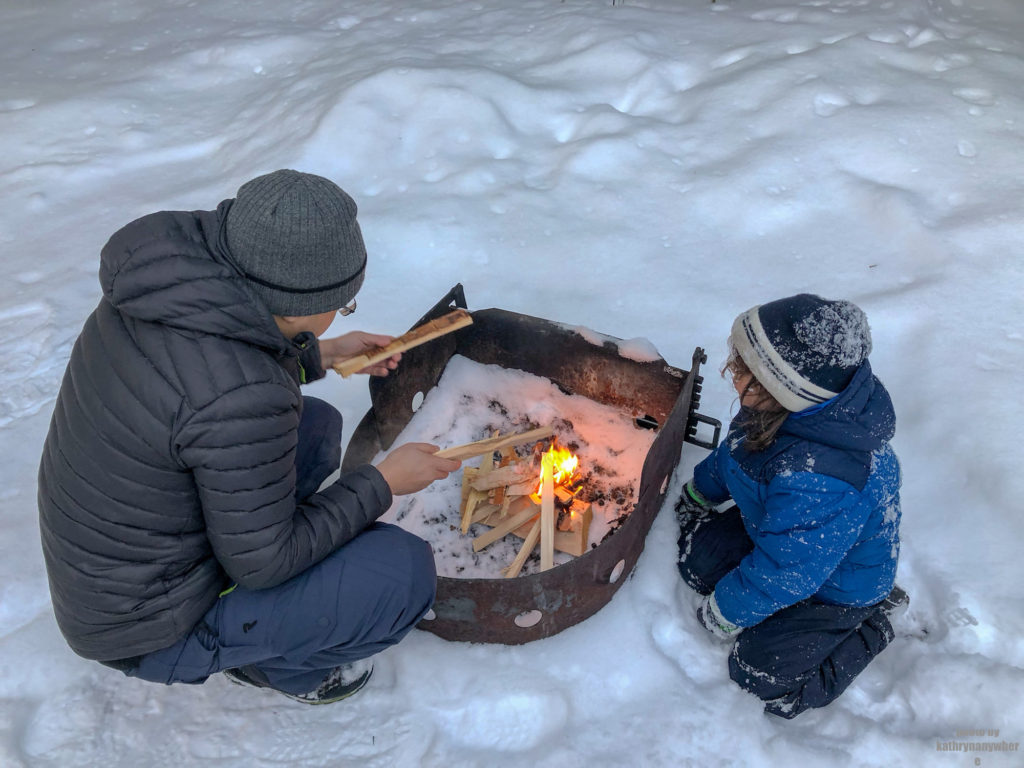 How Do You Prepare Food For Winter Camping in Ontario?
You will need to bring your own pots, pans and cutlery. Just like cooking at home, I like to keep the whole meal preparation process simple! Every morning I would boil water on the side burner of the BBQ for instant oatmeal. I actually forgot my instant coffee at home and was devastated. Have no fear! The park office sells coffee to winter campers if you are in a pinch! If you have to drive to Port Elgin to coffee, it's not very far. The closest Tim Hortons is a 10-minute drive.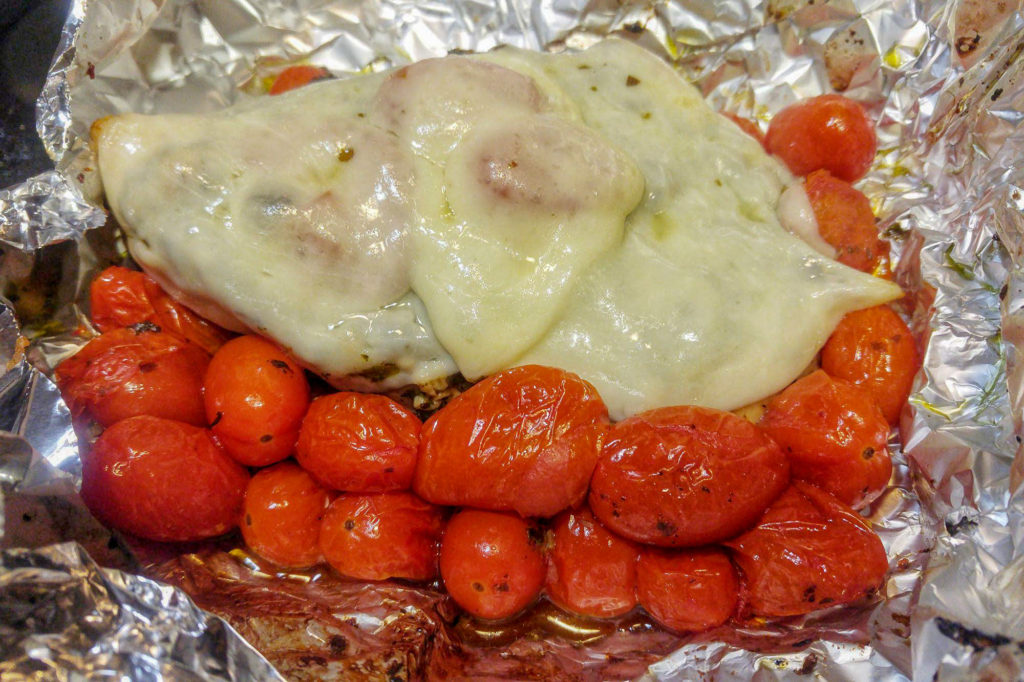 For lunch and dinner, we cooked primarily on the barbeque during this stay. We were hit with bouts of freezing rain and that made cooking on the open fire hard. Utilizing the BBQ in the kitchen shelter was easy for us. Brian had marinated and prepared some chicken and dumplings ahead of time. I had also brought some freeze dried and dehydrated goods from MEC that you just added water to. We drove into Port Elgin to purchase pre-made burger patties and buns on our second last day.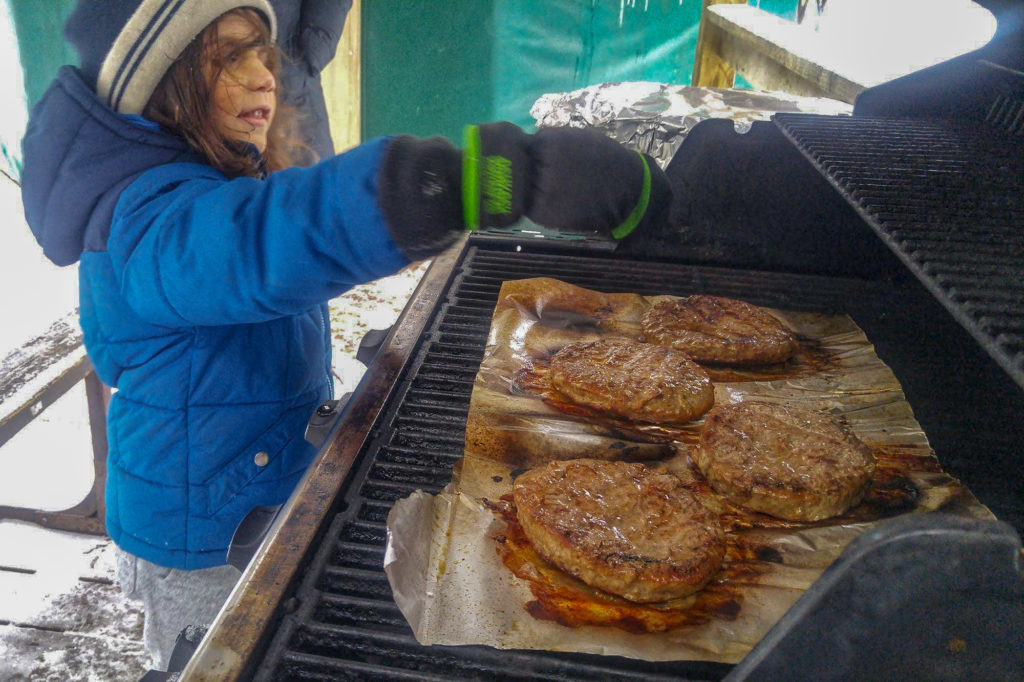 Winter Camping Cooking Pro Tips
Do not cook inside the yurt. It's not remotely safe. I am going to confess that we ate inside there a couple of times because it was really cold. We stored our food in a cooler that we kept outside during the day. At night, while bears are not a concern during the winter, we still locked up the food in the trunk. I actually stored Little Man's chocolate milk carton (accidentally) in the snow beside the ramp. You know when kids just put things down sometimes? Yeah…
Dishes get washed outside. Pro tip: Boil water while you are eating. Pour that water into a plastic tub with dish soap to wash your dishes after you eat. Dispose of the used water in the outhouse.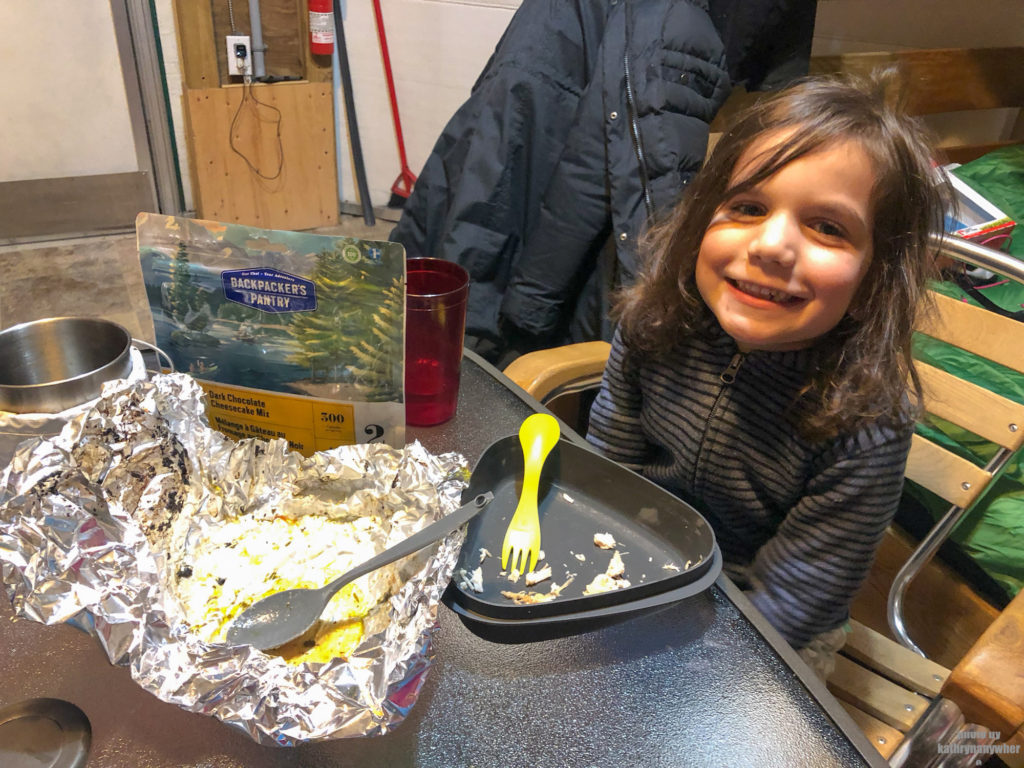 Where Do You Do Your, You Know… Business?
I'm sure by now you have noticed that washroom facilities and running water are lacking in this yurt. No worries! There is a comfort station with heated water for showering as well as two sinks, electric hand dryers and flush toilets a 2-minute walk from the yurt. The comfort station is also where you get your potable water from to wash your dishes and cook with in the laundry facilities.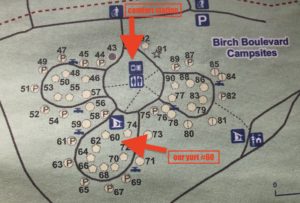 There was an outhouse right next to our site. We (I) used it once in a pinch, but not more than that as the water is turned off at the outhouses and you cannot wash your hands after doing your business. Oh the joy of the subzero temperatures!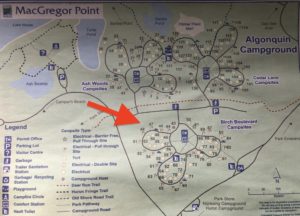 What Is MacGregor Point Provincial Park?
You'll find MacGregor Point situated on 7 kilometres of the shores of Lake Huron in southwestern Ontario. Get yourself to Port Elgin, then head south for a few minutes. It took 2.5 hours to drive there from downtown Toronto.
The Ontario Provincial Park is open year-round and is a popular camping destination. Known for being a hot spot to observe and view migratory birds and ecologically diverse natural places. I believe that translates to a pleasant dream for a geologist.
Like a lot of provincial parks in Ontario, summer activities that are popular at MacGregor Point Provincial Park are swimming, hiking, bird watching, canoeing, and biking. In the winter, it's a different spot! The hiking trails have turned to cross country ski trails and one of the campgrounds that closes off to campers open up to snowshoers! There is a skating rink by the visitor's center that is maintained by camp staff and a skating oval is created at the Cedar Lane Campsites.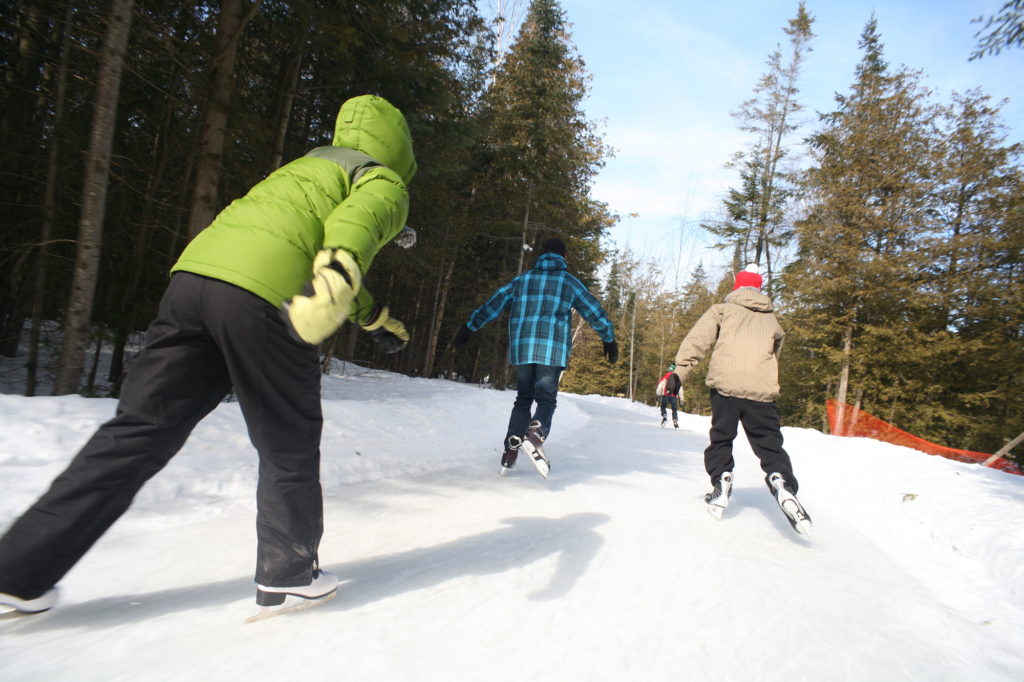 There are 16 yurts open year-round for campers in Birch Boulevard Campsites loop. It was surprising to find a lot of hardcore RV campers that actually live there for months on end in the winter. There were Christmas decorations still up at some sites. Looks like it would be a blast to have a community of folks who could meet and do that.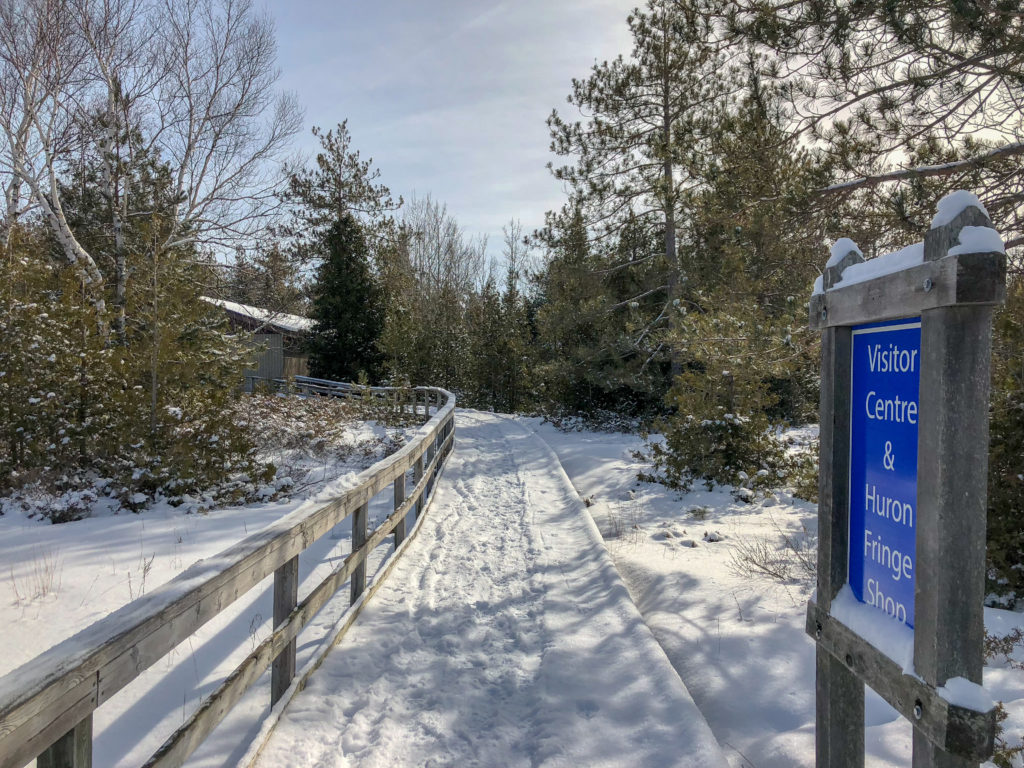 Get Outside!
My son and I spent so much time on our snowshoes and hiking the Old Shore Trail by Lake Huron. The Visitor Centre was not open while we were there, however it does open for select dates such a Family Day. We hiked past it a couple times on the trail and on our way to the playground.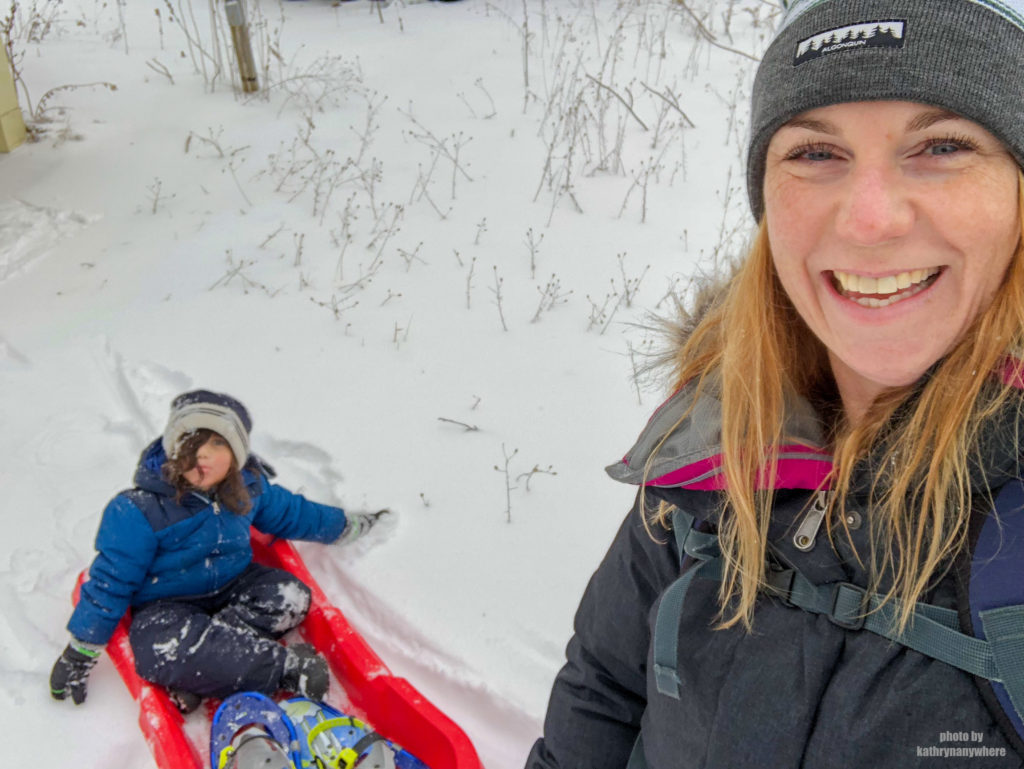 The hiking trails turn into cross country ski trails and they were being used a lot while we were there. We did not snowshoe on those trails as it would be dangerous to get in the way of the skiers. There are signs telling snowshoers to not go on the trails. It's best to snowshoe at the Nipissing Campground area as it's closed to campers for camping in winter.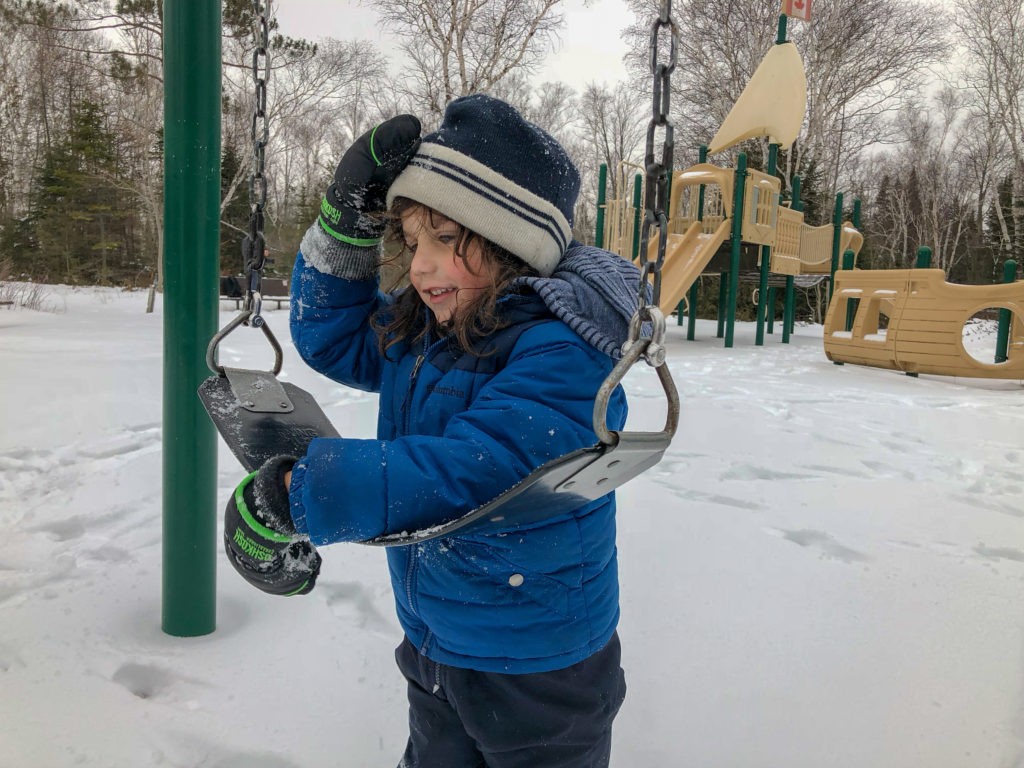 Little Man was really into running ahead on the trails and roll down any snow pile he could find! He was in his element of no walls, barriers or restrictions. We had nowhere we were in a hurry to be and that meant he had freedom to roll and laugh and play. He was so in the moment and carefree.
A New Yearly Tradition
I'd really like to make this a yearly tradition with my son. It's a great bonding experience for us and it's so lovely to see my downtown, urban kid thrive out in nature. I think he actually prefers it out there! I know I do.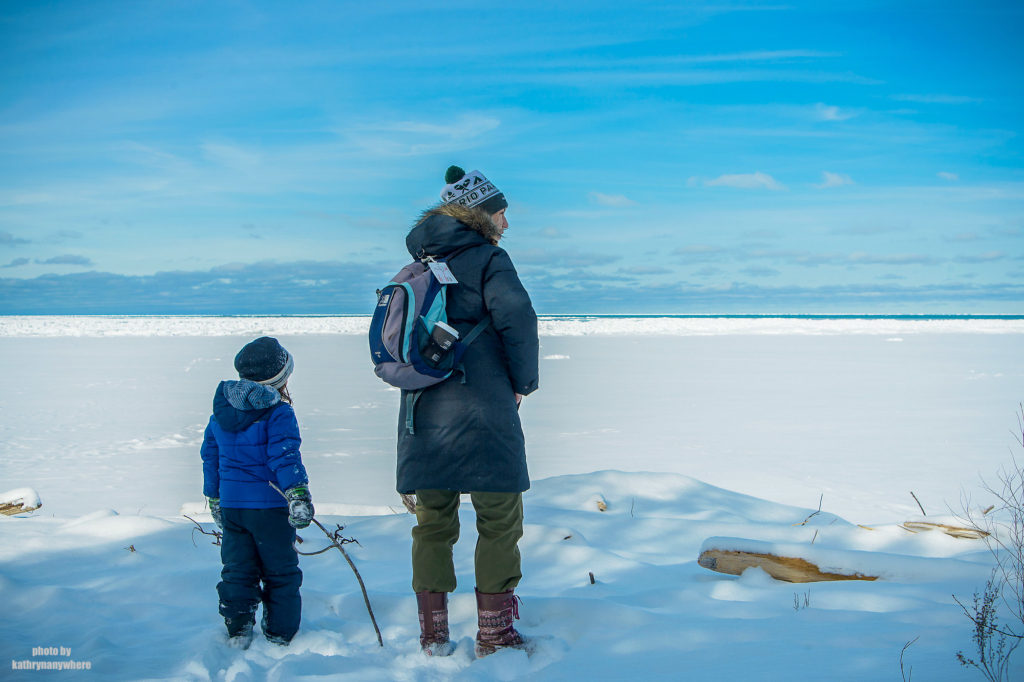 Not into camping at all, but still want to enjoy the hiking, skating, skiing and snowshoeing in the winter at MacGregor Point Provincial Park? Check out other accommodations in the area.

Want to reserve your Ontario Parks getaway? Check out upcoming events across the province in 2019 and go #FindYourselfHere, click here!
Happy camping!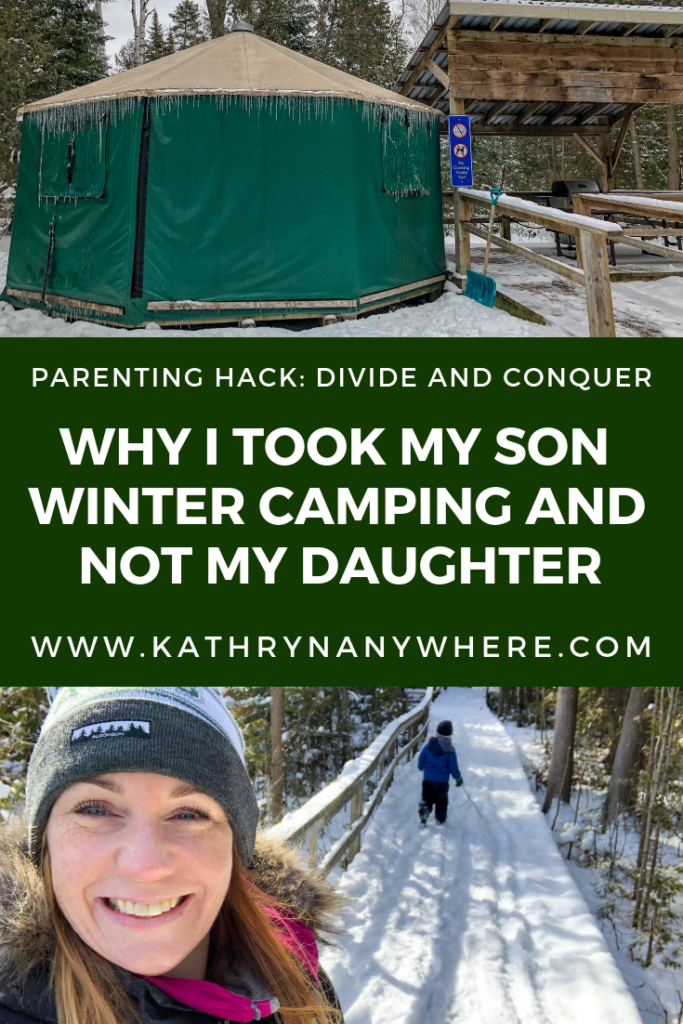 Disclaimer: We were guests of Ontario Parks during our visit to MacGregor Point Provincial Park, but in no way swayed us into having a good time.  Our views remain our own.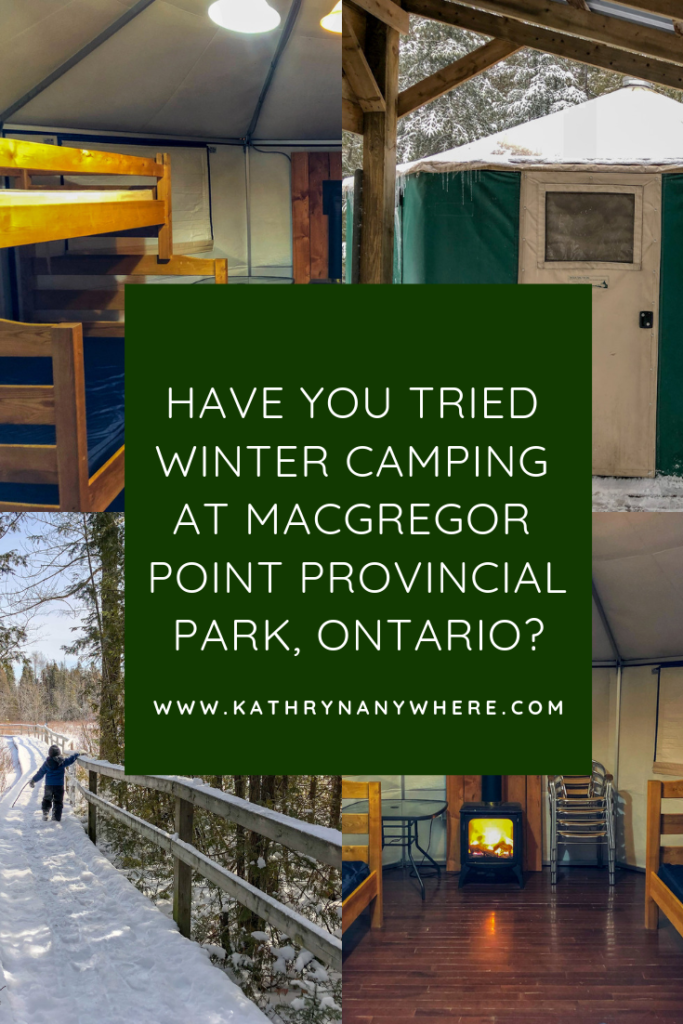 I'm no stranger to experiences in Ontario Parks. You can read up on my other camping and glamping trips here:
Epic Hikes With Kids – Barron Canyon Trail, Algonquin Provincial Park
Yurt Winter Camping in Algonquin? Yes Please!
Glamping in Bonnechere Provincial Park
20 Photos That Will Inspire You To Snowshoe at MacGregor Point Provincial Park With Your Kids
Serpentine Loop in Kawartha Highlands Provincial Park – 20 Photos to Inspire You To Canoe That Route
Canoe Portage With Friends: How To Have A Successful Back Country Camping Trip
KathrynAnywhere is a participant in the Amazon Services LLC Associates Program, an affiliate advertising program designed to provide a means for sites to earn advertising fees by advertising and linking to amazon.com, amazon.co.uk, amazon.ca. Amazon and the Amazon logo are trademarks of Amazon.com, Inc. or its affiliates.