Here's a cold, hard fact about Canada. Winter comes every year and it's not an excuse to stay inside. Winter hiking is a lovely and calming way to be active in cooler temperatures. It's also my favourite way to spend the first day of the year. True story – I have to take myself on a hike within the first couple of days of the new year to feel like I started the year off right. There's something incredibly fascinating about the quiet and stillness of the woods in winter. It can be so serene, the sounds of the trees creaking in the wind almost have a tune. Winter causes many people to hibernate. Especially in Canada, it can be cold!  In my eyes, fun in nature doesn't end with the first temperature dip below zero or the first snowfall. Here are some of my winter hiking tips for hikers of all levels.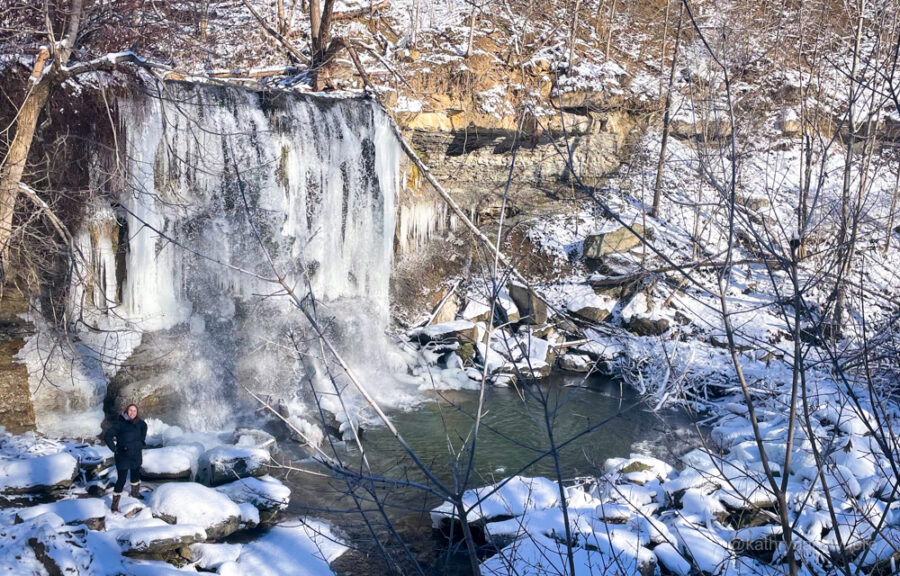 Tips For Winter Hiking
Before you head out into nature in winter, there is additional preparation work required. Always look ahead at the weather and choose trails that aren't in mountainous regions that are prone to avalanches. Then, your preparation generally starts with how you treat your body before you go.
Do You Need To Hydrate When Hiking In Winter?
How much should I hydrate before hiking in the winter? Fuel up and hydrate the day before and the morning of with more than you think you might need. You might sweat more in layered clothing than in a t-shirt in the summer. For example, I will try to drink at least 1L electrolyte mix the day before and again on my way to a hike. I do this because when wearing gloves or mitts, it's harder to unpack water bottles from your pack unless you're using a bladder and a hose. I do love bringing a thermos of a hot drink like cocoa to encourage myself to drink more. Also helps to get some extra calories in and warm up my core if needed. 
Same with food. Normally, I love to take breaks and eat while hiking in the warmer seasons. However, if it's really cold, my hands aren't happy taking my gloves off to look in my backpack for my granola bars or hard-boiled eggs. I'll load up on protein on my way to the hike and take a couple of smaller items I can easily access and don't require much outdoor care to eat along the way.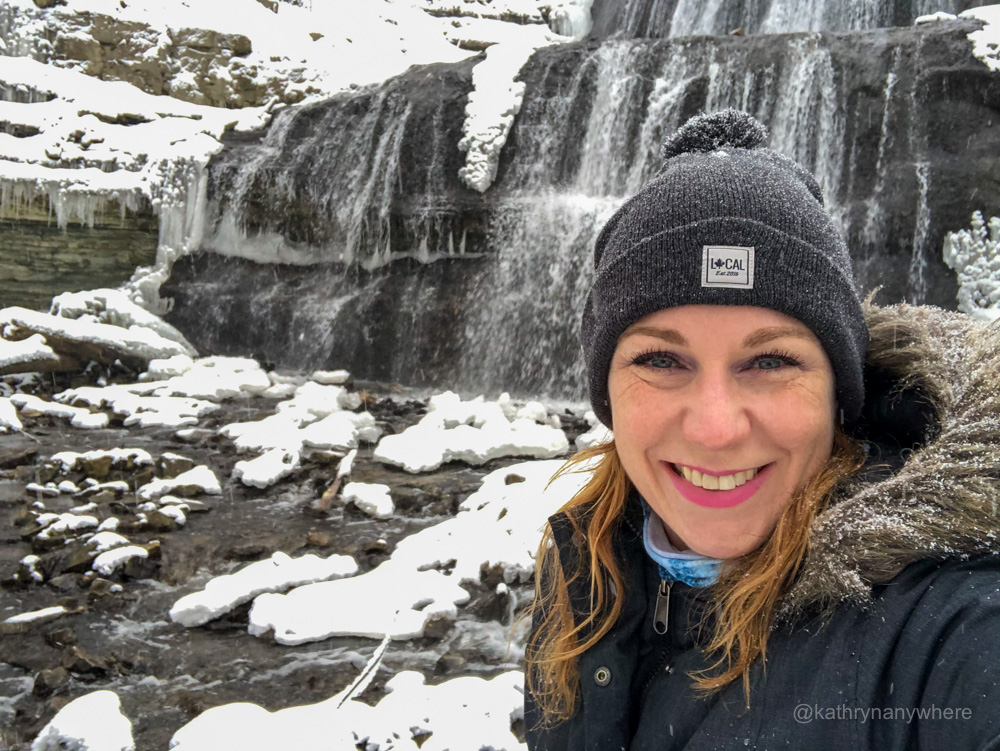 What Should I Wear While Winter Hiking?
First thing first when it comes to clothing when hiking in the winter – layers. – Start with a non-cotton base layer. Trust me on this – clothing made of cotton is not good for cold weather. The reason is, it will absorb moisture and will trap it next to your skin. During winter, cotton is a killer as you could be a victim of hypothermia. Winter hiking tips – the best fabrics to wear as a base layer in winter are wool, polyester and polypropylene. They will keep you warm when wet and they dry out quickly. Be sure to choose socks made of these materials as well.
On top of the base layer, follow with a mid-layer like fleece/wool, both on your top and your bottom. And then a snowsuit. A down or a synthetic blend is a great option for materials, but be sure it's water resistant. 
Always pack yourself choices to change into. Have them in your vehicle or if size permits, bring a change or an additional layer in your backpack. Temperatures can vary quite a bit in the winter. It depends on windchill, sunlight and time of day, so be prepared to either take a layer off or add another one on.
If you have cold hands and feet like I do, be prepared and bring toe and hand warmers with you. Even if you don't have cold extremities, bring them anyway. Regardless of the amount of snow there is or how high the temperature is in the winter, these are good to have on. They're lightweight and if you do find yourself cold mid-hike, you can warm yourself up.
Pro Tip: pay attention to how long you've been holding onto the toe and hand warmers on a shelf or in a drawer. Their effectiveness wears off the more time has passed. After a couple of years, you could be the proud owner of completely ineffective toe and hand warmers.
Winter boots, toques and mittens complete the outfit. For winter hiking boots, you want a pair that cover above your ankles and are water resistant. The higher they are, the better for keeping snow out of your socks. Toques are a necessity so that you don't lose heat out of your head. Mittens or gloves or a combination of both of them keep hands shielded from the elements. Leather gloves that are fleece lined are a personal preference.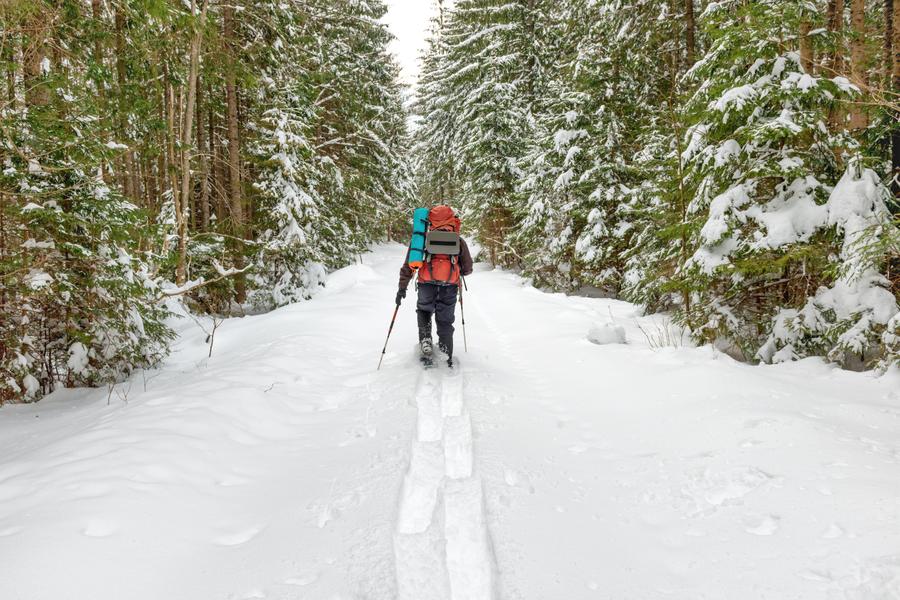 What Should You Pack for Winter Hiking?
If you are heading out for a winter hike, I strongly advise you carry a backpack with you. In this backpack, I recommend packing the following items as staples for winter hiking:
Gaiters – these can be rolled up and tucked into a pocket or put at the bottom of your bag. Gaiters are worn over non-waterproof pants or leggings. But not over waterproof trousers. These are not essential items to wear or use, but are incredibly useful in wet weather. This is because once moisture gets into your boots, it's difficult to dry them out while you're on the move. Gaiters help keep moisture out.
Microspikes or crampons – these are essential items. Ice can be treacherous and while microspikes or crampons won't guarantee that you don't fall, they will certainly help prevent you from falling or taking a tumble down a steep, icy hill. These traction devices strap onto boots and use metal points to plunge into ice. Crampons are bigger than microspikes. Crampons are best for steeper, icier terrain like glacier hiking or ice climbing. Microspikes are good for everyday hiking.
Trekking poles – just because I don't use poles, doesn't mean I can't recommend them to others. Some people find trekking poles as mandatory items to help with their balance and keep them stable on unstable terrain.
First Aid Kit – a first aid kit doesn't need to be extravagant for hiking, but it's good to have some of the bases covered such as disinfectant, bandaids and of course treatments for blisters on your feet (moleskin). Winter doesn't make your feet immune from blisters. A foil blanket and emergency whistle should be items in this kit as well.
Knife – a small utility knife is also an essential item to have in your backpack. Knives have so many uses I won't go into all of them here. 
Rope – chances are good an experienced outdoors person has this in their kit. For the new to the outdoors folks, a rope is super useful in a few situations. A rope can be used as a support line for an emergency shelter, as a rescue line in case a fellow hiker falls into water, as a travel aid if you're having problems with a hill.
Firestarter – in the off chance that you get lost or stuck in the woods, a firestarter will help you get a fire going to help you stay warm.
Can Kids Go Winter Hiking?
Winter hiking is a family activity. Children can absolutely be part of the trek. They need to be dressed properly for the elements. Kids should also visit the trail hydrated and well-fed. 
I regularly take my children on the trails (as well as camping) in the winter. In our house, there's no such thing as bad weather. There is being unprepared for the cold though. Items such as crampons come in kid sizes as well, so it's possible to also take kids waterfall chasing in the winter. Just remember to exercise caution and remember that simply because it's below zero, doesn't mean that the water is frozen so watch where you step or you could end up standing in a wet, cold creek.
There are many trails in Ontario I take my children on year-round. If you'd like to check some of them out, please read:
Best Hiking Trails For Families in Southern Ontario and Best Waterfalls Near Toronto To Hike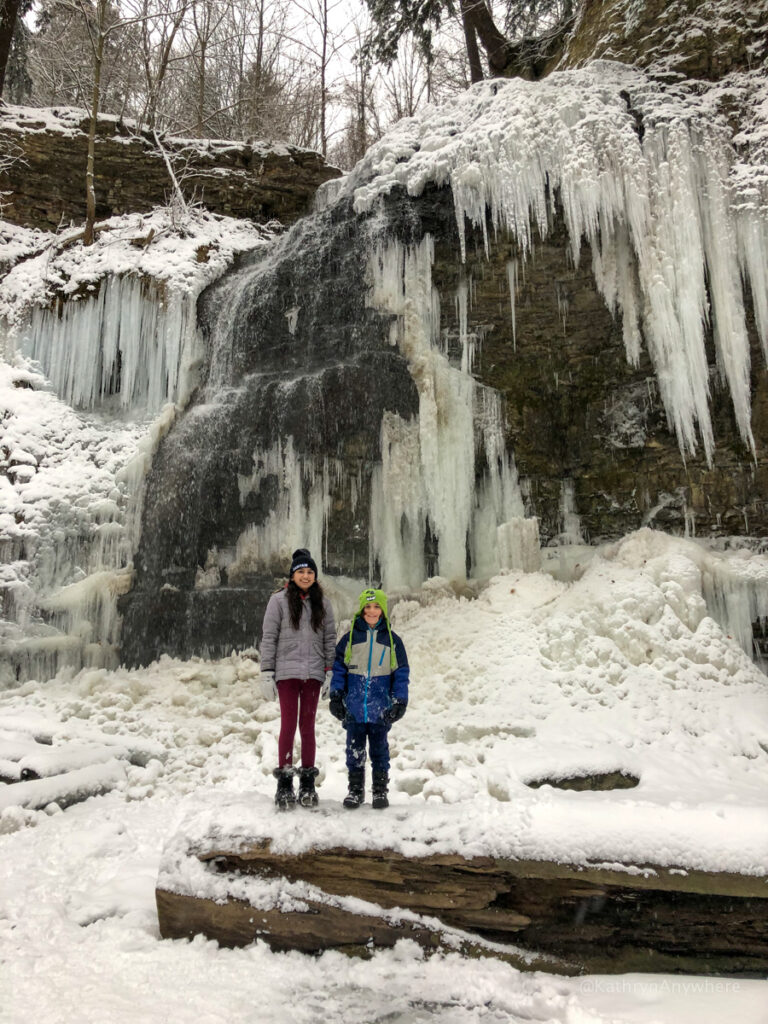 What Apps Should I Rely on For Hiking?
Aside from the preparations above that should be undertaken with your body, wardrobe and backpack, some other work is required. If you intend on hiking solo, my biggest recommendation is to let someone know where you are going and at what approximate time. Even if you are hiking as part of a group, leave the details of your journey with a trusted source not attending the hike. You need a map. Always.
 An app such as What3Words is an easy way to communicate exact locations and it utilizes Google Maps. Giving someone a postal code or where you parked your car won't help you if you're lost on the trail. What3Worlds can share your exact location.
Cell phone and data reception cannot always be relied on when out hiking. If you subscribe to an app called AllTrails, you can download a trail map ahead of time.
What Considerations Do You Need To Take On The Trail While Winter Hiking?
In terms of picking a trail for more novice hikers, in case of weather changes or it turns out you or your hiking partners just not in the mood, pick a trail with multiple loop options and turnback points. On this same train of thought, use well-marked trails. Blazes (painted tree markers) and elevated signage are your friends in the woods as snow can cover worn trails. Snow can also cover ground level rock markers that are easy to see in other seasons. 
During the winter, bridges and stairs are not your friend. These can become incredibly icy. Walk around in the snow if possible. Take the hill instead of the stairs. Pay attention to area where you find more ice than snow and these can become more treacherous than enjoyable as the hike goes on.
Lastly, I would recommend that you pace yourself as a hike is not a race. In the winter, you want to stay warm, but not profusely sweat. This is an issue I encounter frequently – I sweat easily and I move quickly. Once you stop moving, your body temperature lowers and the sweaty, moist clothes you are wearing will get cold. This is why it's important to not wear cotton. There's nothing that will end your day faster than not being able to recover from being too cold.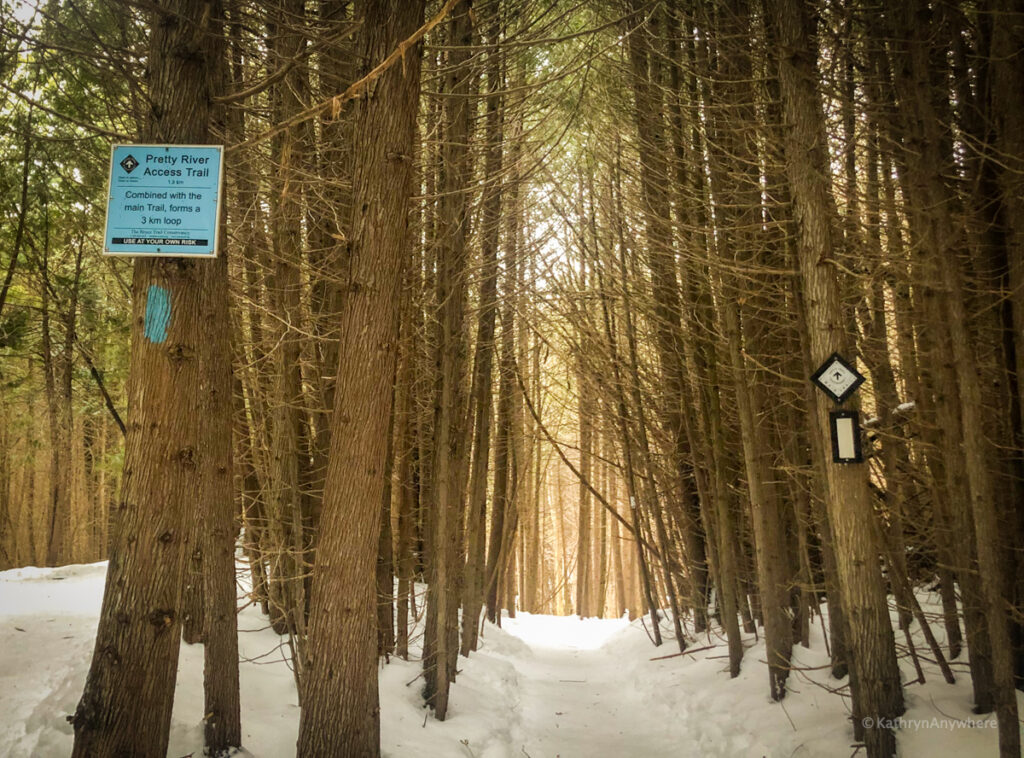 Should I Prepare My Vehicle For Winter Hiking?
As it is likely you will be driving to a trailhead, it's important to also have a vehicle that is prepared for the elements as well. Pay attention to the weather and if there is snow or rain in the forecast, be sure you angle your windshield wipers off the windshield so they do not freeze on.
I drive a Jeep Wrangler (JKU) and it's the most failsafe vehicle out there for adventure seekers. Starting to snow? No problem, I can drive out in 4WD. In case of an emergency, I keep the following in my trunk and if these are items you do not have, I recommend you get them – a blanket, cell phone charger, tire pump, small shovel, salt and a snow brush. Jeeps have a spare tire on the back. Knowing how to change a tire, get ice off your windshield wipers and having a service such as CAA gives you added security.
I sincerely hope these winter hiking tips are helpful. Winter is one of the most amazing seasons, but it can also be the most unforgiving to those who are unprepared. Being prepared will ensure you have as much fun as possible and stay safe!
*** Always remember to practise leaving no trace. What you bring in with you, must also leave with you ***
Read more on leave no trace here: Hiking Etiquette; A Guide To The Trails