Bay of Fundy Itinerary: New Brunswick Road Trip
New Brunswick is an eastern, Maritime province in Canada that I've been sleeping on for too long. It's the place where I least expected to have an epic road trip. Until I experienced the shores of the Bay of Fundy myself, in southern New Brunswick, on this Bay of Fundy itinerary, I had no idea what I was missing out on. My kids and I got to experience this little slice of heaven and we were not disappointed.
When I was a kid, my family drove to Newfoundland from Ontario every summer to visit extended family. New Brunswick was the place we camped in for a night and carried on. Unfortunately, we did not spend much time investigating the province. I'm happy to say that I have now explored a sliver of New Brunswick. There is no hesitation, the Bay of Fundy area should be on your New Brunswick bucket list travels. It's a special and wonderful place. Read this Bay of Fundy Itinerary to find out why!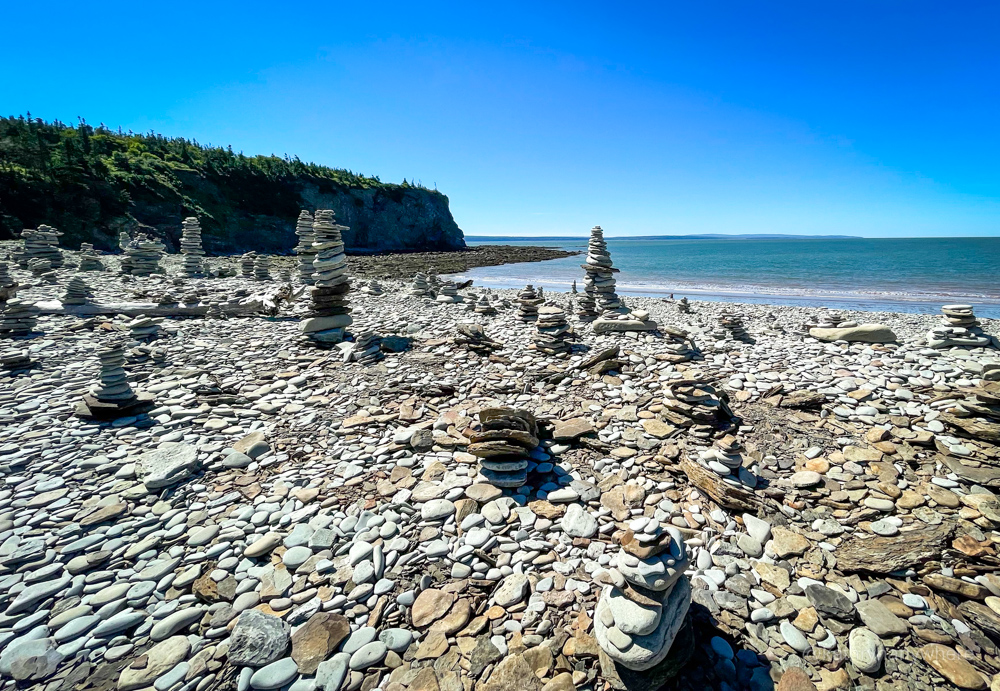 Where Is The Bay of Fundy?
The Bay of Fundy is an inlet of water between the province of New Brunswick to the north and west and Nova Scotia to the south and the east. Basically, the Bay of Fundy is the body of water between New Brunswick and Nova Scotia. This bay is known for the highest tides in the world. The Bay of Fundy coastline is rugged and has amazing whale-watching opportunities. There are picturesque panoramic scenes around every corner. Delicious food and welcoming people.
This Bay of Fundy itinerary drives along the coastline of the Bay of Fundy on the New Brunswick side.
How Do I Get To The Bay Of Fundy?
First of all… Welcome to New Brunswick! If you arrive in New Brunswick via the Confederation Bridge from Prince Edward Island, I recommend a stop at the Cape Jourimain Nature Centre. This way you can stretch your legs and have a picnic snack or meal. To get to the first stop on the Bay of Fundy road trip itinerary, there is still a couple of hours of driving to go!
At the Cape Jourimain Nature Centre, there are some short walking trails through the woods along the ocean and one leads to a lighthouse. Another trail leads towards the Confederation Bridge. The Nature Centre also has washrooms and is a great spot for kids to take in some quick learning opportunities about the area without realizing they are learning.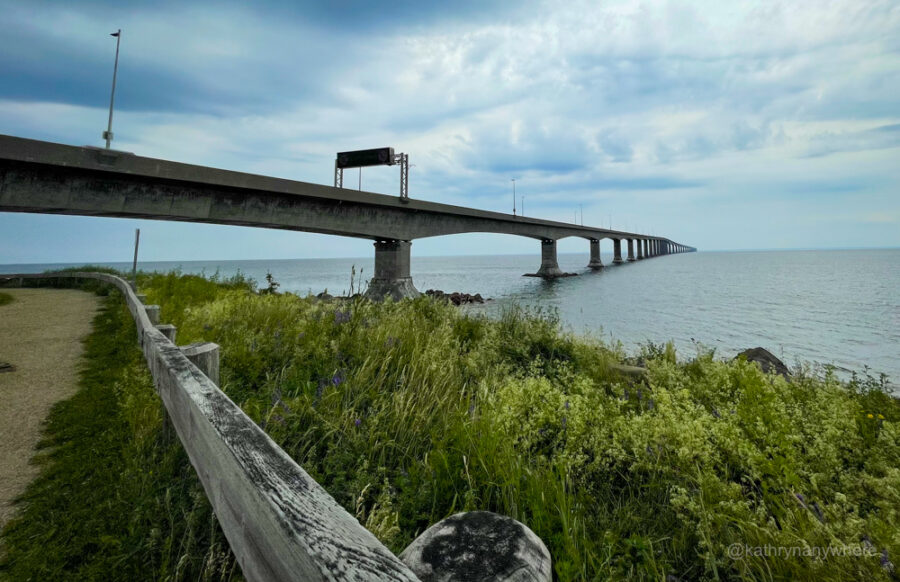 If you arrive in New Brunswick from Quebec or the state of Maine in the United States, head to the town of St. Andrews by the Sea. If you arrive in New Brunswick via Nova Scotia, start in the town of Moncton and do the Bay of Fundy road trip I'm about to lay out in the reverse order.
The locations I am going to highlight on this Bay of Fundy itinerary are St. Andrews, Ministers Island, St. Martins, Fundy Trail Parkway, Alma, Cape Enrage and Hopewell Rocks. This is a road trip and covers some mileage through southern New Brunswick!
One item to mention, I personally found the roads on the Bay of Fundy route to be a little rough. Please note, I drove a Jeep, which is not the most comfortable ride for the majority of people.
Bay of Fundy Itinerary – Road Trip Route
If you're looking for scenic drives in New Brunswick, the Bay of Fundy is one of the best places to go. Here is my suggested Bay of Fundy itinerary and list of things to do and see:
Town of St. Andrews, New Brunswick
The first place to start on this Bay of Fundy itinerary is the town of St. Andrews By The Sea. From my experience, the drive from Cape Jourimain to St. Andrews is about three hours and a half hours. St. Andrews is a beyond charming and historic little seaside community. While this is a small town, there are so many things to see and do here. We spent two nights there. I would recommend staying for three to four nights if time allows.
Here are the family activities I recommend in St. Andrews:
1.) Visit St. Andrews Blockhouse National Historic Site – this is a really cool piece of history. It is free to visit for youth, is part of Parks Canada and you can also walk on tidal flats right here at low tide. Just a lovely little experience and you can see the state of Maine (yep, in the U.S.A.) across the water.
2.) Wander Kingsbrae Garden – where else can you see more than 50,000 perennials in themed gardens, ponds, streams, old-growth Acadian forest and various animals and birds? There's a lot of love, talent and planning that goes into creating a garden as spectacular as this one. You'll never see another one like it.
3.) Whale Watching Tour with Island Quest Marine – local guides take you out through the Bay in search of seals and whales and other marine wildlife. Worth every cent and minute of your life. The moment a beautiful mammal breaks through the water and you're only a couple hundred feet away on a boat and get to witness it is one of the best moments you will ever live.
4.) Take a walk along the main waterfront street, check out the shops, and cafes, buy local fudge and have ice cream. Take note – the shops generally close around 5:00 pm and nothing except restaurants are open after that. Even then, the restaurants tend to close more on the early side. Sunsets are brilliant here, but come out on a full belly. You might also see deer roaming freely through neighbourhoods after dusk.
5.) Take a 25-minute drive to St. Stephen – Chocolatetown Canada. St. Stephen is home to Ganong, Canada's oldest chocolate and candy company
6.) Visit Ministers Island, Canada's largest tidal island and a historic place. You have to drive across the ocean floor to get there, so pay attention to the tidal schedule! Vehicles can get stuck in the sand and rock, so be prepared.
7.) Go to Huntsman Marine Science Centre – Mainly geared for kids, learn about the highest tides in the world that are found in The Bay of Fundy and learn about the marine life that thrives there.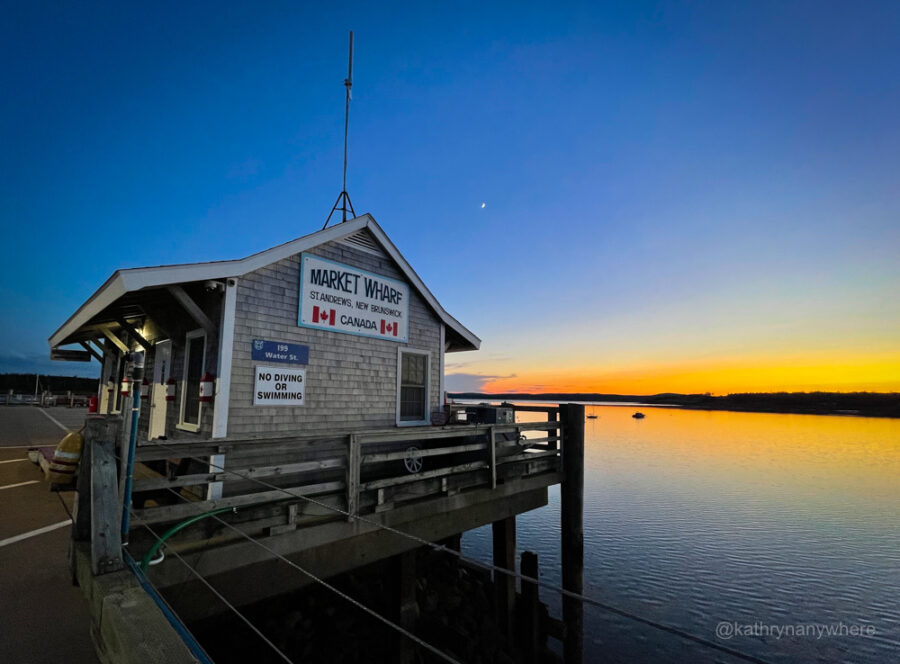 Honestly, St. Andrews By the Sea is a magical place to visit and it deserves its very own post. I go into it much further in-depth here: The Magic of Saint Andrews, New Brunswick; What To Do and See in This Seaside Resort Town
Where to stay in St. Andrews, New Brunswick
I believe we stayed in the most magical place in all of New Brunswick – the historic Algonquin Resort in St. Andrews. Rumour has it, the Algonquin Resort is Stephen King's inspiration for his horror movie, The Shining.  And, because it's a historic property, there's a ghost tour every night at the Algonquin Resort.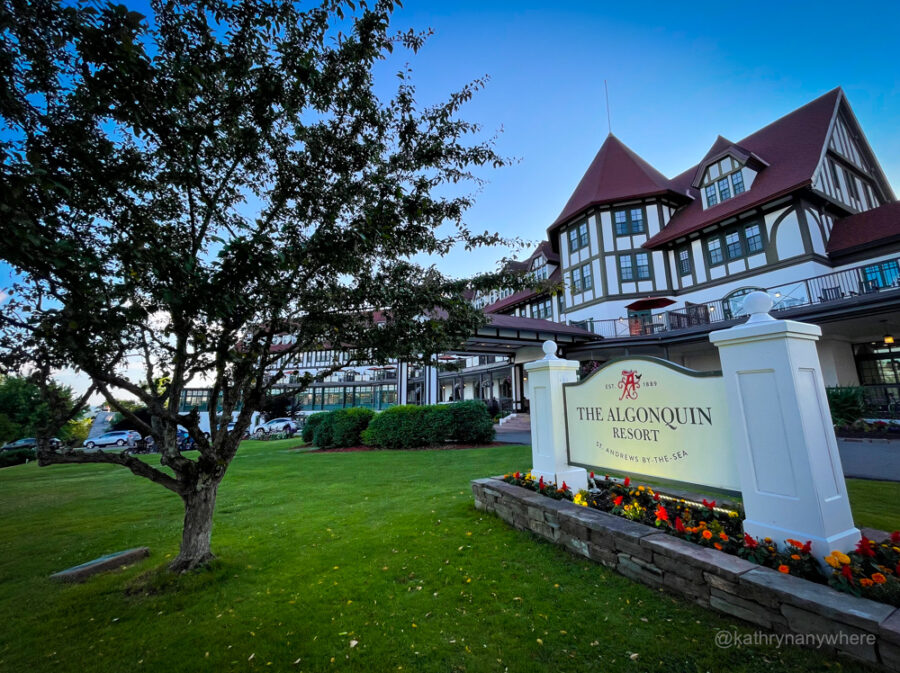 Saint John, New Brunswick
Next on the Bay of Fundy Itinerary – Just under two hours by car, driving east is Saint John. Saint John is the oldest incorporated city in all of Canada. For real! While parts of what is now known as North America was being established, Saint John was an important fort in the industries of shipping, shipbuilding, fishing, lumbering and paper milling. So that means Saint John can claim to have Canada's first bank, first high school and quite possibly, first museum.
Now that I have visited Saint John, New Brunswick, I have figured it could be one of the next destination cities in Canada. No lie, this is a city that's been a little rough around the edges. As of lately, Saint John has been flexing some muscle and is using some elbow grease to polish itself up. It's never been considered a place you'd want to linger in, but truly, it's going to be a place worth exploring.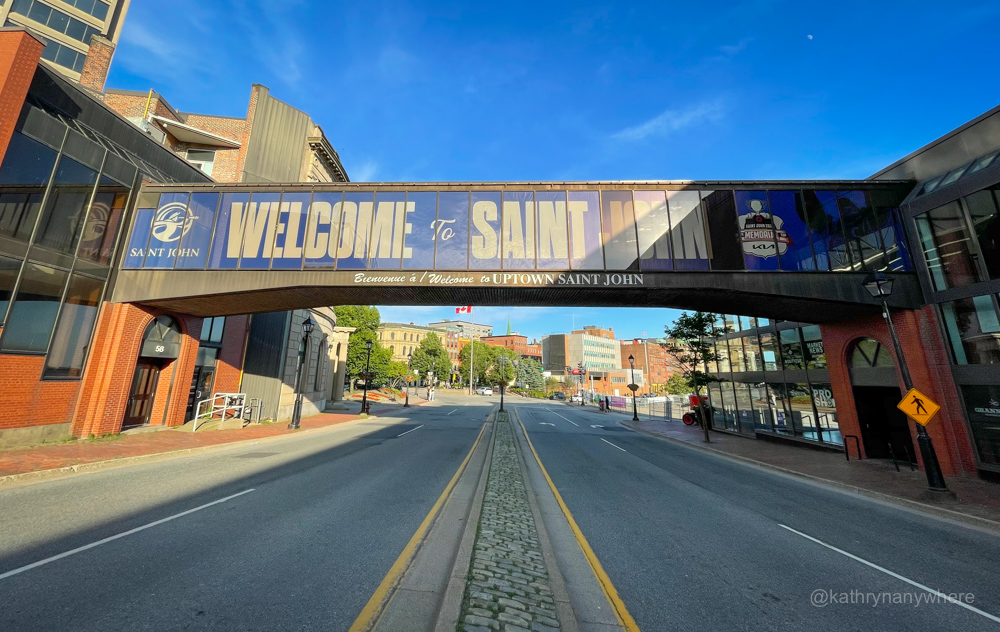 I recommend visiting the downtown area of Saint John. As you walk the old streets, take a minute to check out the old architecture that overlooks the harbour. If you're a history buff, there are walking tours you can take. This area also includes art galleries (our hotel had artistic salmon installations everywhere), independent shops set up by the next generation of entrepreneurs and the Saint John City Market – the oldest continuously running market in Canada. If you're into food and drink, there are 80 bars and restaurants in an area of 10 blocks.
A cool place to visit during the summer months is the new Waterfront Container Village – Area 506. Shipping containers have been converted into stores, a beer garden, public art and a concert stage. A big tourist draw is the Reversing Falls, which is an amazing wonder to see. The Reversing Falls are not waterfalls running backwards, they are rapids created by underwater ledges, but incredible to see.
Where to stay in Saint John, New Brunswick
We stayed two nights during our Bay of Fundy road trip in Saint John. Our accommodations were at the Hilton Saint John on Market Square. The hotel rooms have phenomenal views of the Saint John River. It's a decent place for families to stay with a small pool. Quite a bit is within walking distance and there is parking attached to the hotel underground.
A closing thought on Saint John and really all of the Bay of Fundy area – while this is a summer tourist area, the hours are still a Monday to Saturday type schedule. Do not expect much to happen on Sundays or after 6:00pm anywhere.
St. Martins, New Brunswick
Continuing east on the Bay of Fundy route, head to St. Martins. This is a charming little fishing village on the shores of the Bay of Fundy. This is the place to go for a beach walk when the tide is out in St. Martins and enjoy the scenery as you look at the towering cliffs and sea caves.
Due to construction at the time, I didn't get this photo, but St. Martins is the only place in the world where you can take a photo that includes two covered bridges and a lighthouse.
A popular activity to do in St. Martins is to go on a guided sea kayaking tour with Red Rock Adventure. You are able to paddle along the coast of the Bay of Fundy and get really close to the sea caves and the towering cliffs. As the weather on the day we were booked was not ideal, our kayak adventure was cancelled. It wasn't safe for the kids. I think I still would have braved it, but Red Rock Adventure played it safe and said no. This means I will have to return another time to paddle this UNESCO World Heritage Site. 
I did, however, hike along the ocean floor when the tide was out to get close to those towering cliffs and sea caves. These rock formations are picturesque and something to see up close. When the tide comes back in, it's not slow about it. One minute you're standing on a rock. The next moment, your foot is submerged.
Proclaimed as one of the most amazing places on Earth, this is a town and experience to take in.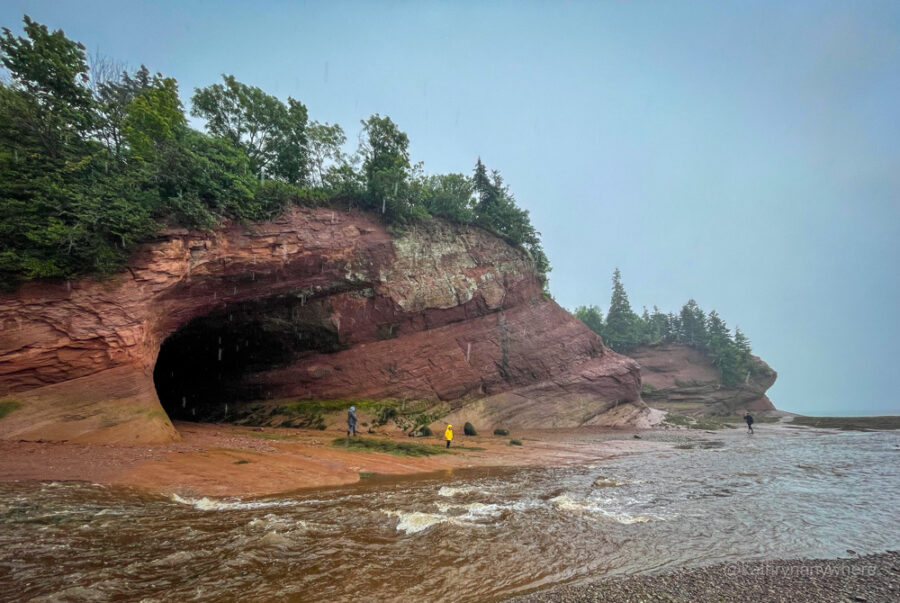 Where to stay in Saint Martins, New Brunswick
We stayed at the really charming Beach Street Inn. It is a boutique hotel that faces the Bay of Fundy located at 16 Beach Street. The kids and I had a room with a queen size bed and a day bed with an en-suite bathroom, so we were very comfortable.
This day, in particular, we struck out on the weather. It was raining, windy and cold, so we were limited to indoor activities. It was a Monday, so, unfortunately, the town was quiet. We ate dinner at the restaurant located at the Beach Street Inn, called Periwinkles Restaurant.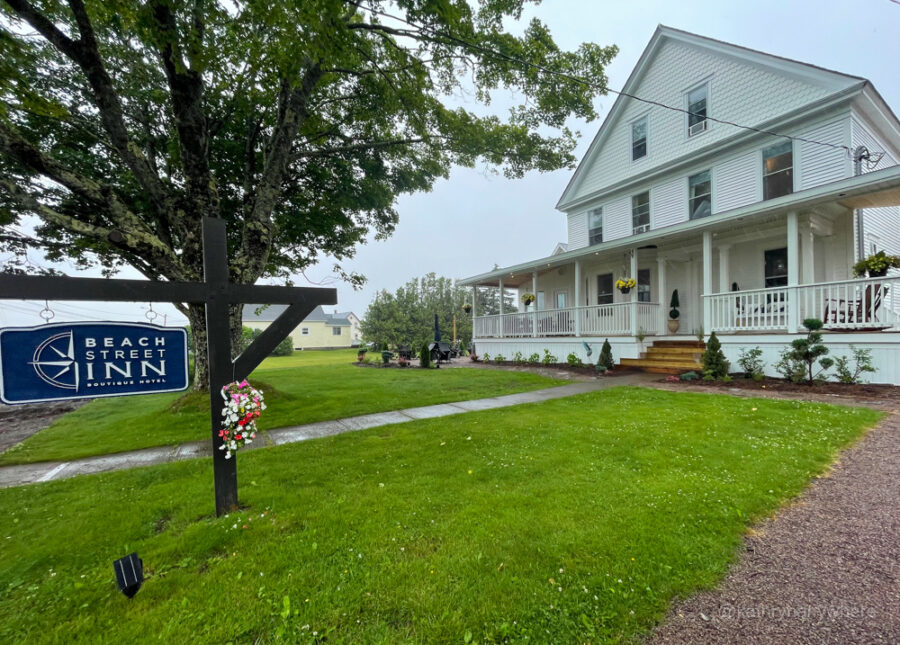 Fundy Trail Parkway 
Are you ready for one of the prettiest drives in all of New Brunswick? Not to be missed on the Bay of Fundy itinerary is The Fundy Trail Parkway. The Fundy Trail Parkway is a 30-kilometre coastal roadway, east of St. Martin's. Driving along the Fundy Trail Parkway gives you the opportunity to stop and see the tides from any of the 20+ scenic lookouts or take a hike on one of the trails there or see local history up close.
Here's why it makes for a memorable family adventure:
As you drive along the coastline, you'll be treated to awe-inspiring vistas of rugged cliffs, pristine beaches, dense forests, and the sparkling blue waters of the bay. Some of the stops we made along the way on The Fundy Trail Parkway are

Melvin Beach Lookout, the

Sea Captain's burial ground – hike up the hill and explore – these are shipbuilding families who settled in the area in the 1700s!

Be sure to stop at the suspension footbridge over the banks of Big Salmon

River,

Martin Head Lookout and

DO NOT MISS: Walton Glen Gorge. Take a quick

trail hike through the woods to Walton Glen Gorge. This is known as the Grand Canyon of New

Brunswick. This is your bucket list item for the Fundy Trail Parkway. There's a viewing platform to

check New Brunswick's version of the Grand Canyon – 1,000 feet across, 525 feet deep and 550 million years old. This

beautiful phenomenon of nature was created by a series of volcanic eruptions. Just stunning!

Picnic Areas and Beaches: Along the route, you'll find several designated picnic areas where you can take a break. Pack your food and drink in your car and plan to picnic. Some of these areas have direct access to beautiful beaches, providing an opportunity for the kids to play in the sand or explore tidal pools. Please note – there is not a single fast food joint or coffee shop along the way. Take your garbage out with you.
The Fundy Trail Parkway is designed with safety in mind. The road is well-maintained, and there are clear signs and markers throughout the route.
Fundy National Park
Continuing east on the Bay of Fundy road trip itinerary is Fundy National Park. A Parks Canada location, Fundy National Park is a place of incredible natural beauty and diverse ecosystems. You can skip Fundy National Park if you wish and head to the town of Alma, but there are reasons why you should go to Fundy National Park. The combination of the park's scenic beauty, tidal phenomena, old-growth forests, diverse wildlife, and recreational opportunities make Fundy National Park an amazing destination for nature enthusiasts, outdoor adventurers, and those seeking tranquillity amidst spectacular natural surroundings.
Fundy National Park is home to old-growth Acadian forests, which are rare and ecologically significant. To see them in person is worth the cost of admission. The park features an extensive network of hiking trails, catering to various skill levels and interests. The Dickson Falls Trail is particularly popular among visitors and the waterfall is a reward! So be sure to stop there. And I'm not just recommending this spot because of the name. Granted, I did see the name on the map and say "I'm going there!"
A well-maintained hiking trail leads visitors to Dickson Falls. The hike is just over a kilometre in length and is a loop. The trail features a wooden boardwalk and stairs, and while I would say for the most part the trail is fairly accessible, I wouldn't recommend trying to take a stroller if you can avoid it.
You can easily combine a visit to Dickson Falls and a visit to the world-famous Hopewell Rocks in a day. Hopewell Rocks on the Bay of Fundy is where impressive rock formations are revealed during low tide.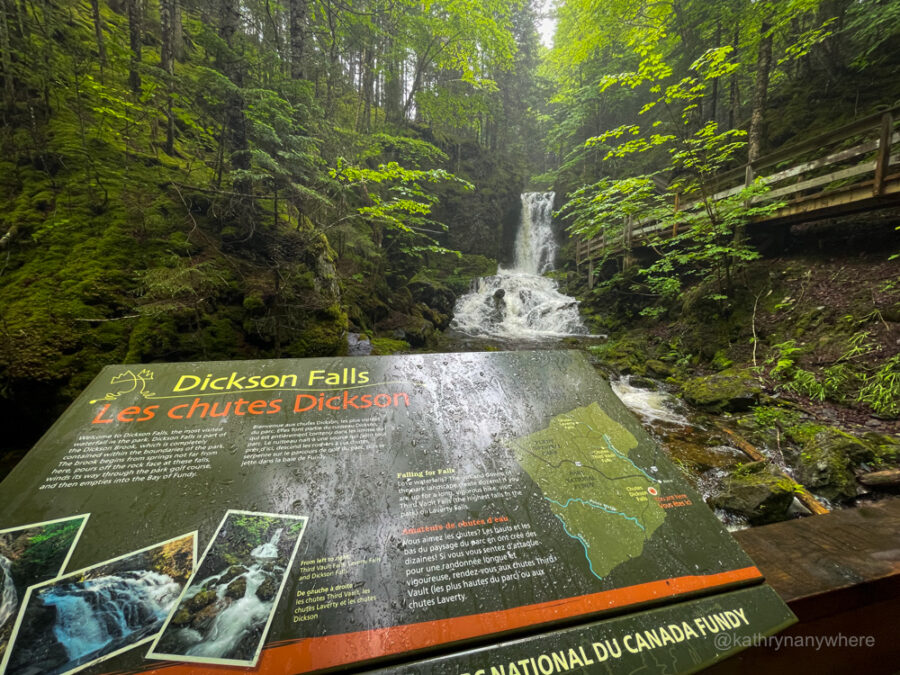 Alma, New Brunswick
When you finish the Fundy Trail Parkway at Walton Glen Gorge or from Fundy National Park, continue east to Alma – a pretty little fishing village on the Bay of Fundy. Alma boasts a population of a couple of hundred people. It relies on tourism and the ocean to keep the village running.
What is there to do in Alma? Well, walk around the cute village of Alma, and enjoy the scenery. There's one main street with a couple of shops, a couple of restaurants and a cafe. While there, you might want to try a sticky bun from Kelly's Bakery. It's a great place to sleep and take a walk. We ate dinner at the pub across from the Inn called Muddy Rudder and while it wasn't a meal that's outstanding, it was okay.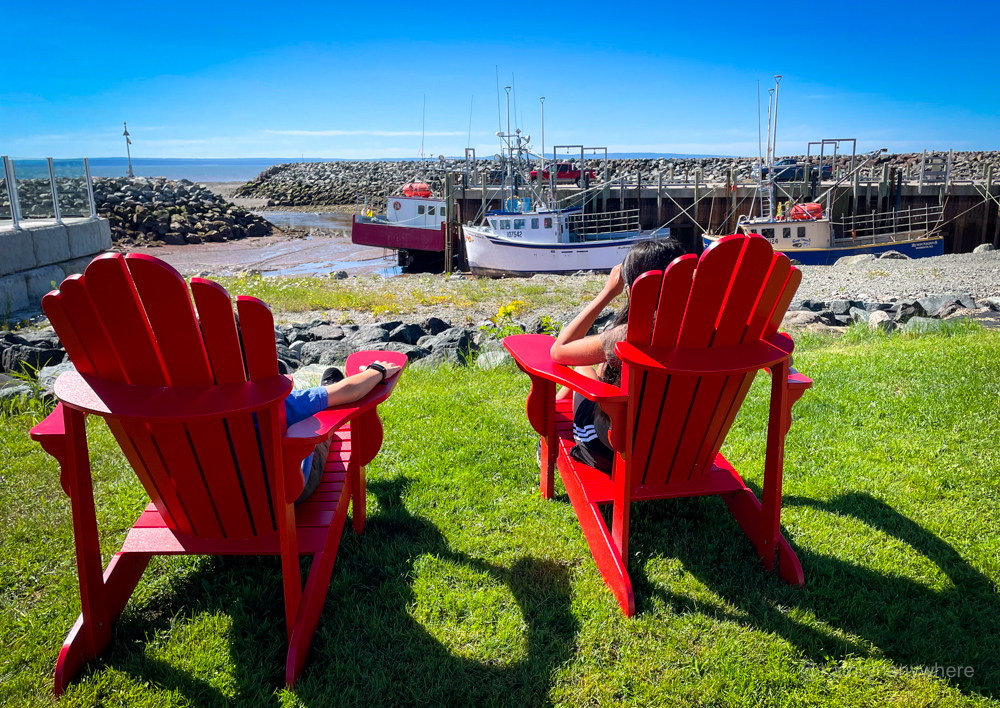 Where to stay in Alma
Our accommodations were at the Parkland Village Inn in Alma on Main Street. We had an ocean view room, but really almost everywhere can be an ocean view in Alma. Our room also had a kitchenette which was really handy for breakfast on the road. It allowed us to save time in the morning so we could carry on with our adventures.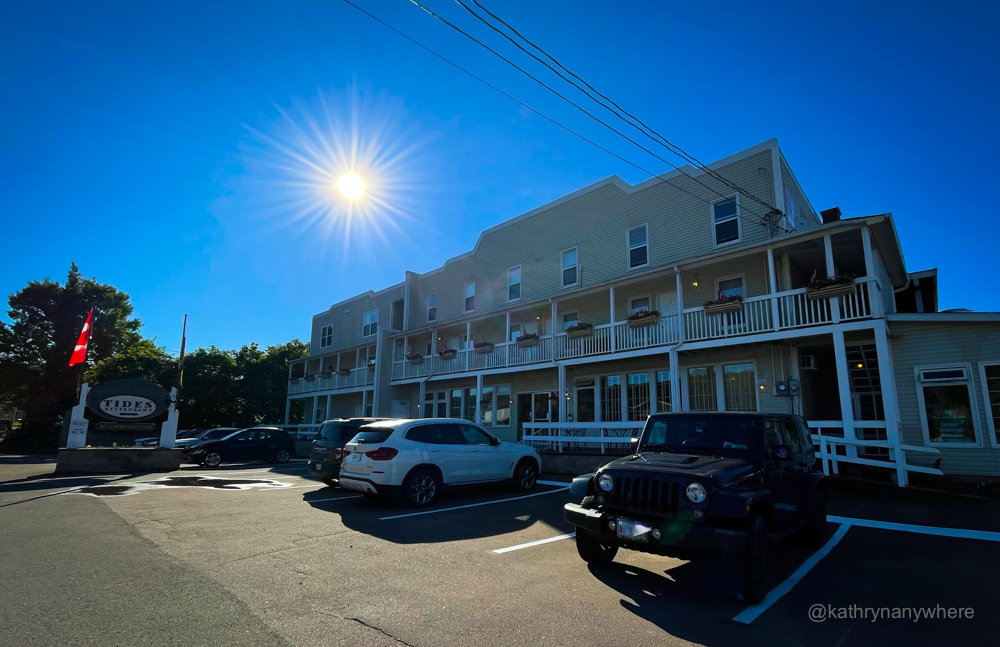 Cape Enrage, New Brunswick
Just east of Alma is Cape Enrage. Cape Enrage can be a half-day destination, a full-day stop or simply leave there by noon. Cape Enrage is a striking setting on the Bay of Fundy. This is a place where people go for activities such as ziplining, rappelling over the cliffs and beach fossil tours. The cape also features a historic lighthouse, which was built in 1840 and is now a designated Canadian Heritage Site. The lighthouse provides panoramic views of the surrounding area and serves as a landmark for visitors.
We didn't end up doing any of those fun activities. My kids played with rocks and stacked them the entire time we were there. I ate my sticky bun from Kelly's Bakery while watching them.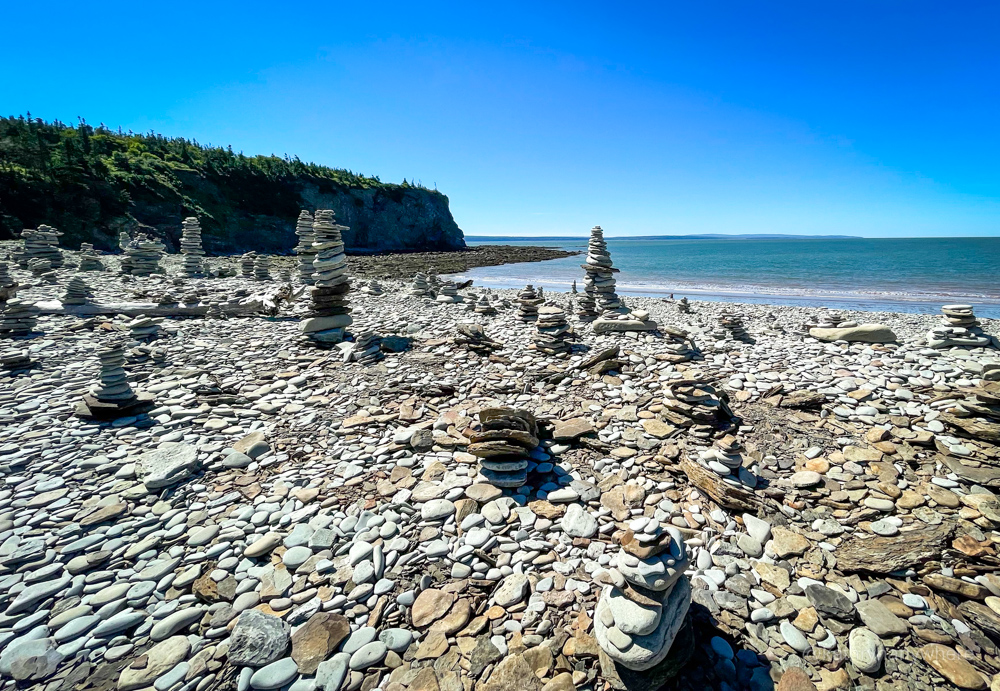 The name "Cape Enrage" is said to have originated from early sailors who found navigating the treacherous waters around the cape to be particularly challenging. While it sounds ominous, it's not a terrifying place coming from land.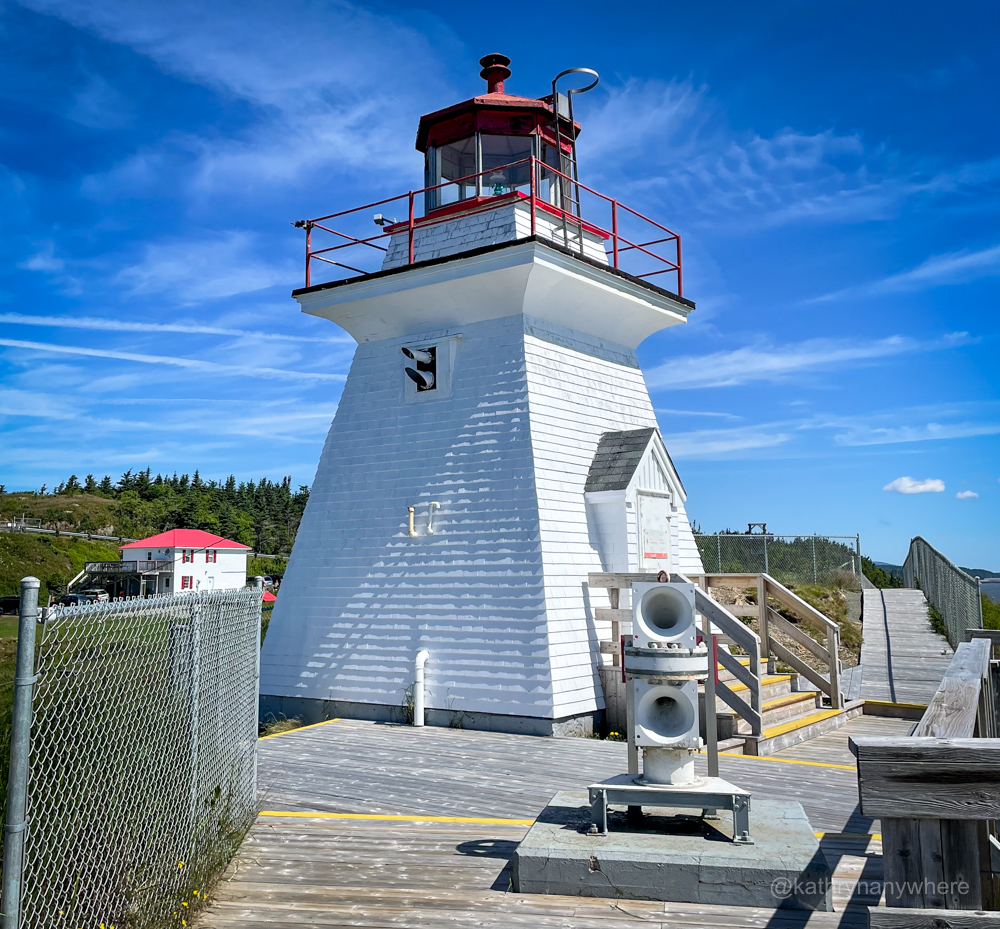 Hopewell Rocks, New Brunswick
Can't get enough of walking on the ocean floor? You're in luck because Hopewell Rocks is a place you can walk on the ocean floor in an arresting setting. Hopewell Rocks are an awe-inspiring natural wonder AND a designated provincial park with walking trails, observation decks, and interpretive exhibits. It offers visitors a chance to learn about the geology, ecology, and cultural history of the area. No lie – it is a VERY popular tourist destination and attracts thousands of visitors each year who come to witness the stunning tidal changes.
You have to check the tidal calendar and plan accordingly to that you can explore the unique beauty of the Hopewell Rocks. during low tide, you can walk on the ocean floor around the famous Flowerpot Rocks and among the sea caves and towering cliffs. This is an iconic place and you'll definitely experience the world's highest tides on the Bay of Fundy.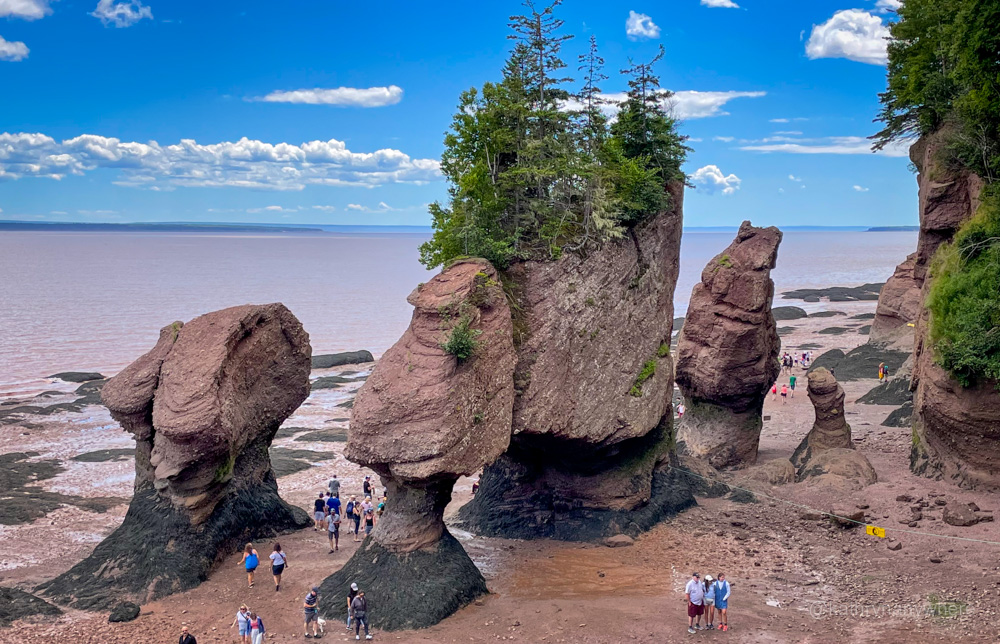 Depending on where you get a parking spot, you have to hike a distance to get to the Hopewell Rocks. There is a shuttle if you have slow-moving kids or simply need a lift.
The tallest rock formations stand around 21 meters (70 feet) high and are topped with trees and vegetation. The rocks are composed of sedimentary sandstone and are millions of years old. Here, the tides of the Bay of Fundy can rise up to 16 meters (52 feet)! During high tide, the water level rises and submerges the majority of the rocks. What a thought that within a span of a couple of hours, you can walk on the ocean floor and then take a boat around the flowerpot rock structures that are Hopewell Rocks.
And on to the last stop of the Bay of Fundy itinerary… Moncton, New Brunswick!
Moncton, New Brunswick
Only a 35-minute drive from Hopewell Rocks is Moncton. Whether or not Moncton is considered a "cool" place can depend on individual preferences and interests. Moncton is close proximity to the Hopewell Rocks and all of the other awesome places on this itinerary in the Bay of Fundy.
Moncton offers a range of attractions and amenities that may appeal to different people. It has a vibrant cultural scene with theatres, art galleries, and museums. You can explore Magnetic Hill, a unique natural phenomenon where cars appear to roll uphill. The Tidal Bore, another natural wonder, is worth witnessing as the high tides of the Bay of Fundy create a powerful wave that moves up the Petitcodiac River. Both of these places I visited close to fourteen years ago with an infant so my memory is foggy, to be honest.
Road Trip on the Bay of Fundy
This concludes our Bay of Fundy road trip itinerary. Are you inspired to take a trip to the New Brunswick side of the Bay of Fundy? One thing that stuck with me while we were on this trip is that kids grow up fast and our summers with them are limited. We get eighteen summer holidays with kids if we are lucky.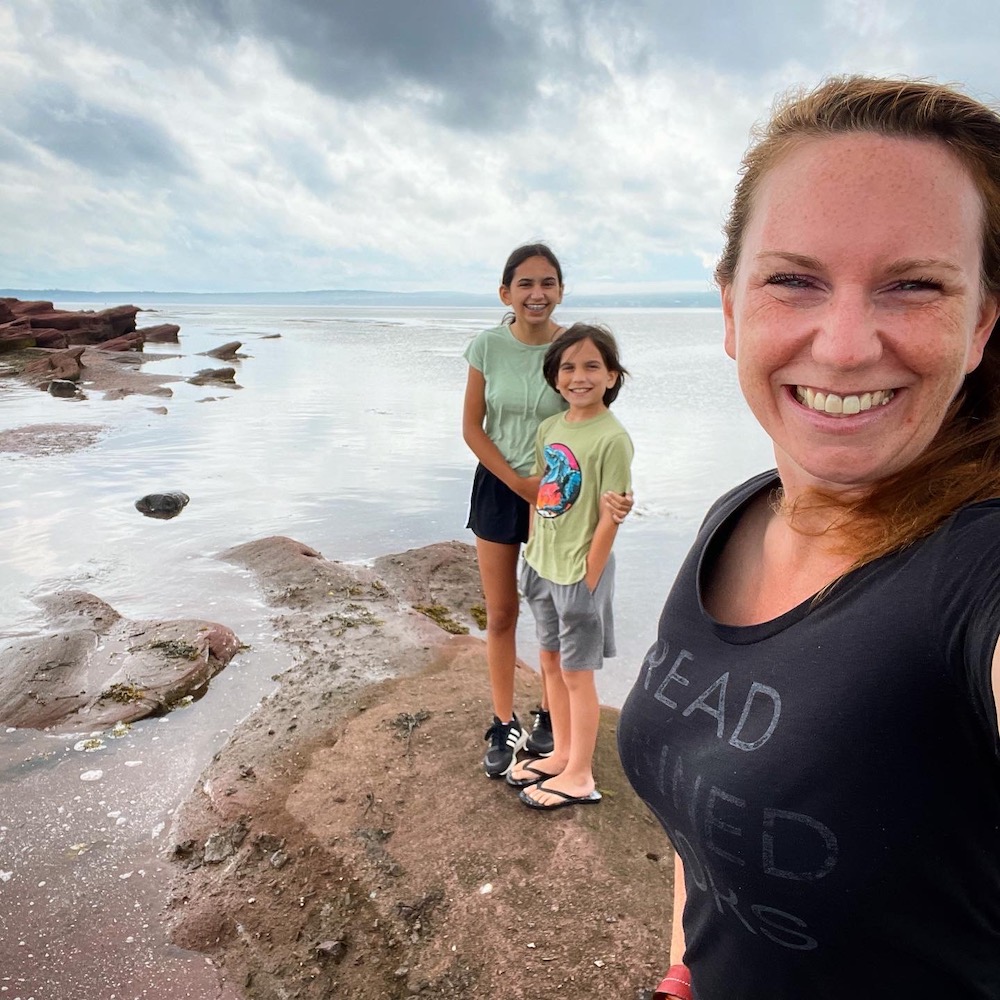 Thank you to New Brunswick's Department of Tourism, Heritage & Culture for hosting us and giving us the experience of a lifetime.
As always, while we are compensated for our travels, we like to provide a truthful commentary. As no beer was provided, you can be rest assured I speak the sober truth in this post.
Looking to explore New Brunswick as well? Look for accommodations in this booking . com link and see if there is anything you like. Please note I will make a very small commission (at no extra cost to you) if you book and travel if you confirm here:
And if you're looking to continue your time on the east coast, think about taking a ferry from Saint John, New Brunswick to Digby, Nova Scotia and visit Yarmouth. Here are the highlights and awesome things to do in Yarmouth, Nova Scotia here.
Heading west? Why not think about stopping in Quebec's Eastern Townships for a beautiful long weekend stay.