What You Need to Know About West Bay, Roatan, Honduras
I have a secret destination… and this destination has been gaining traction slowly and I wish it wouldn't. It's the island of Roatán in the Bay Islands of Honduras. I've been there twice! The first time I travelled there was for my "Baby-moon" and the second time was for a belated honeymoon. I love it so much there that I want to keep it all to myself because it's that great. Here's what you need to know about the area of West Bay, Roatan Honduras if you are considering a trip there.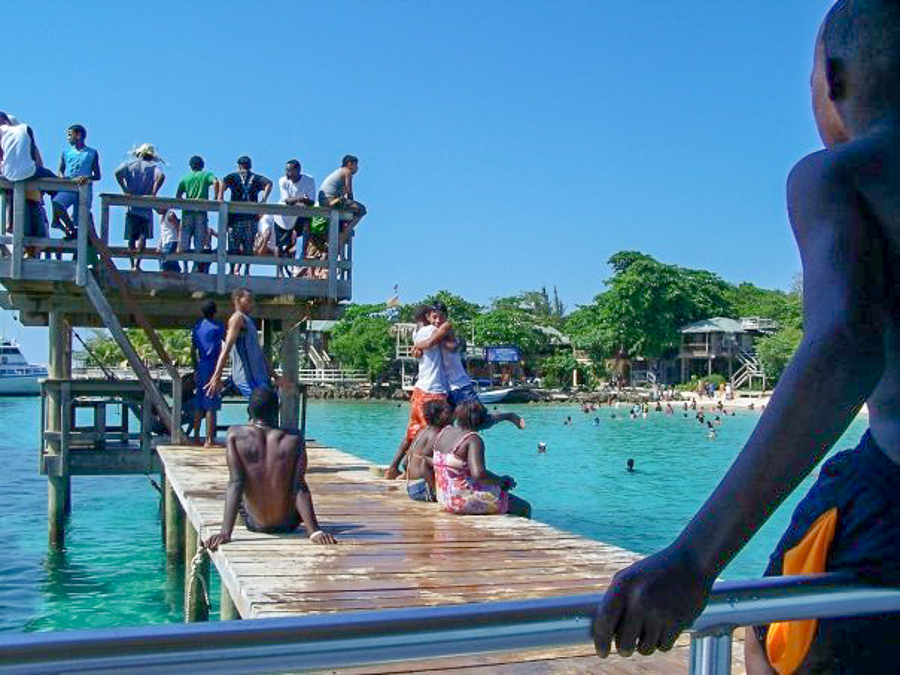 Where is Roatan?
Roatán is an island in the western Caribbean, about 65 kilometres off the northern coast of the country of Honduras. It is located between the islands of Útila and Guanaja, and is the largest of the Bay Islands of Honduras.
West Bay is the western tip of the island.
Honduras borders Guatemala, El Salvador and Nicaragua.
How To Get To West Bay in Roatan, Honduras
If you are departing from Toronto or Montreal, the only airlines that fly direct to Roatán are Sunwing and Air Transat and they are seasonal.
From USA cities, American Airlines flies to Roatán from Miami and Dallas. Delta Airlines flies to Roatán from Atlanta and United Airlines flies there from Houston.  Alternatively, you could fly to the mainland of Honduras and then take a charter to the island.
Roatán Juan Manuel Galvaz airport is in Coxen Hole. West Bay is a half hour from the airport. In Roatán, they drive on the right side of the road, just like in mainland Canada and the United States.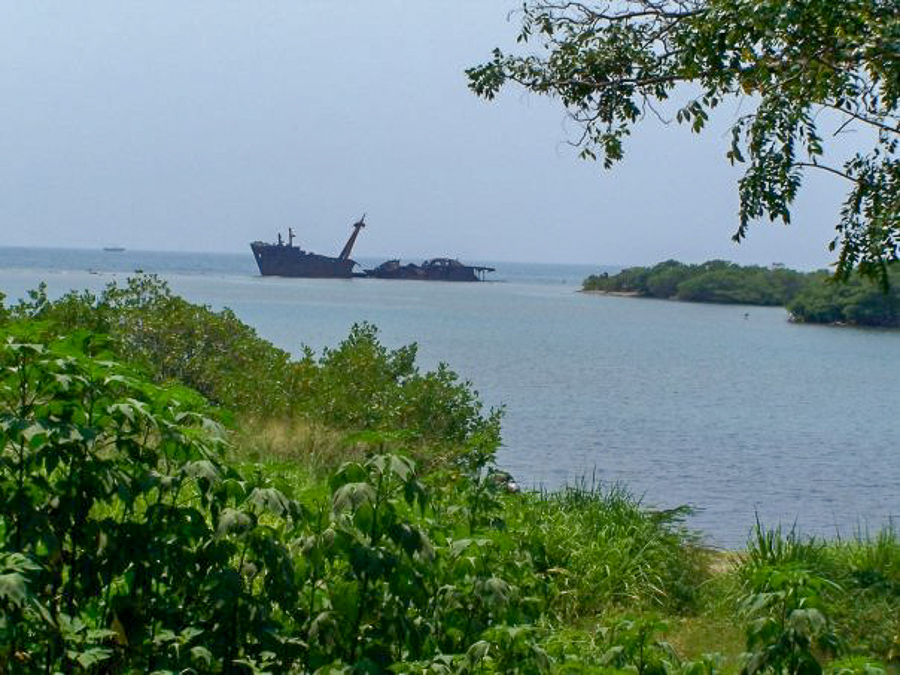 What's So Special Here?
The island of Roatán is steeped in hundreds of years of pirate lore, buried gold, slaves, and settlers from Spain and England. Both Spanish and English are main languages spoken on the island. Tourism is the main industry in Roatán and scuba diving is world-renowned.
I have been fortunate enough to fall asleep on the beach daily in West Bay and also pass my Open Water scuba diver certification. Mega props to the guys at TGI Roatán (it is an SSD dive shop, although it used to be PADI when I was certified) and to Ruben – the instructor who was so patient with me. The team at TGI Roatan was top notch and I highly recommend them for your diving needs. The dive masters were fun and interested in everyone else having a good time and diving safely. Pro-tip for travellers looking to do diving certifications – do all your classroom lessons at home and save the open water work for the destination. Trust me when I tell you that you don't want to spend any time in a classroom when you could be experiencing paradise.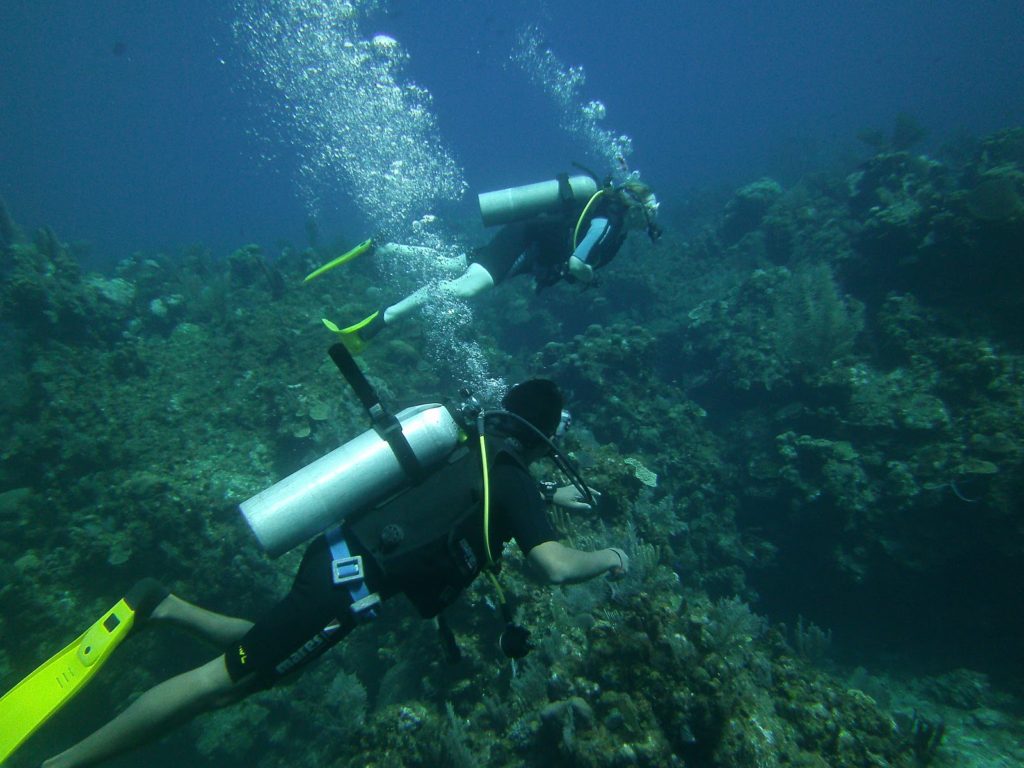 The coral reef around Roatán is the second largest in the world behind the Great Barrier Reef. It also keeps sharks out of the swimming area. According to scubageek.com: "Roatan's reef is home to an amazingly diverse population of aquatic life. The island has a fringing reef system: the coral reef extends directly from the shoreline. As a diver or snorkeler, this means that all the best sites are mere minutes from the shore." And I will attest as a novice, that it was the perfect environment to get my certification – everything felt so safe.
This is the same coral reef that you would access from areas of the country, Belize.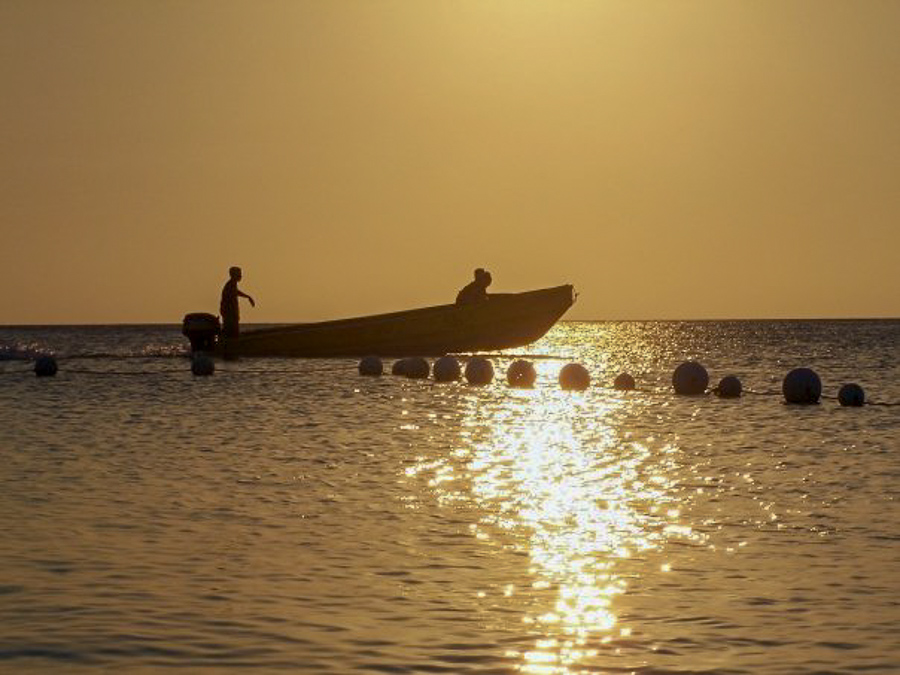 Where To Stay In West Bay, Roatan
Both times I have travelled to Roatan, I have stayed at the Henry Morgan Resort in West Bay. The Resort is all-inclusive. There is a beach bar area that serves buffet lunches which is pretty much the same thing every day. There is a restaurant inside which is open for breakfast, lunch and dinner at specific times. The staff is very friendly and will go out of their way to serve/assist you or even just to smile and say hello. They get to know your names and they greet you. It's like a first-class operation despite the lack-lustre food.  Drinks are a-plenty though and there's never a complaint on that!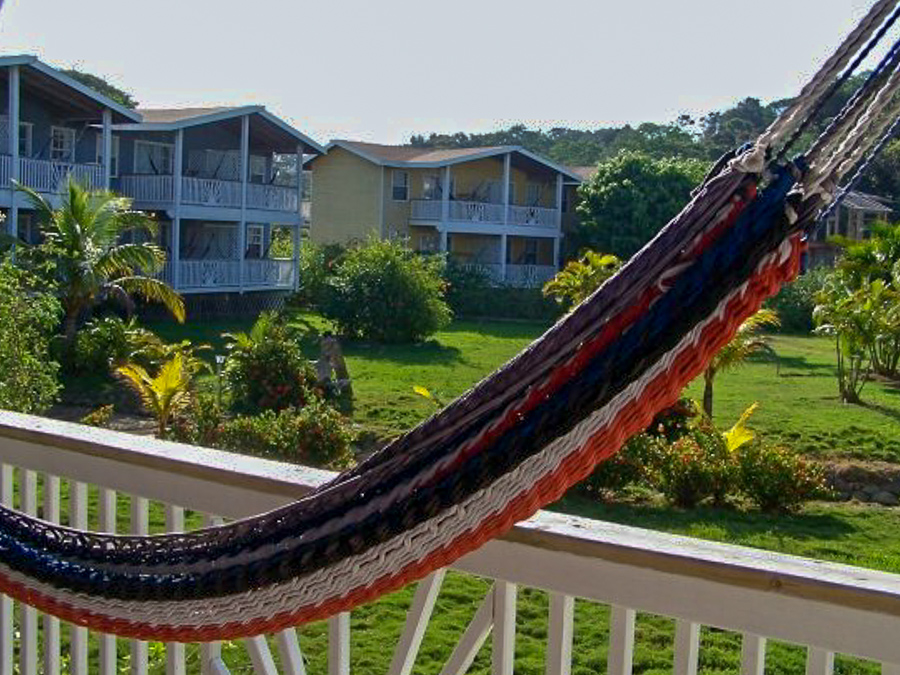 Next time I return, I would like very much to try the Mayan Princess Resort next door to the Henry Morgan Resort or swing around to the the Sandy Bay area and try Anthony's Key. The Henry Morgan Resort and Mayan Princess Resort are located in the perfect location on the beach to walk either way for shops, bars, more beach, more diving, great swimming, fantastic water, everything. You cannot beat the location.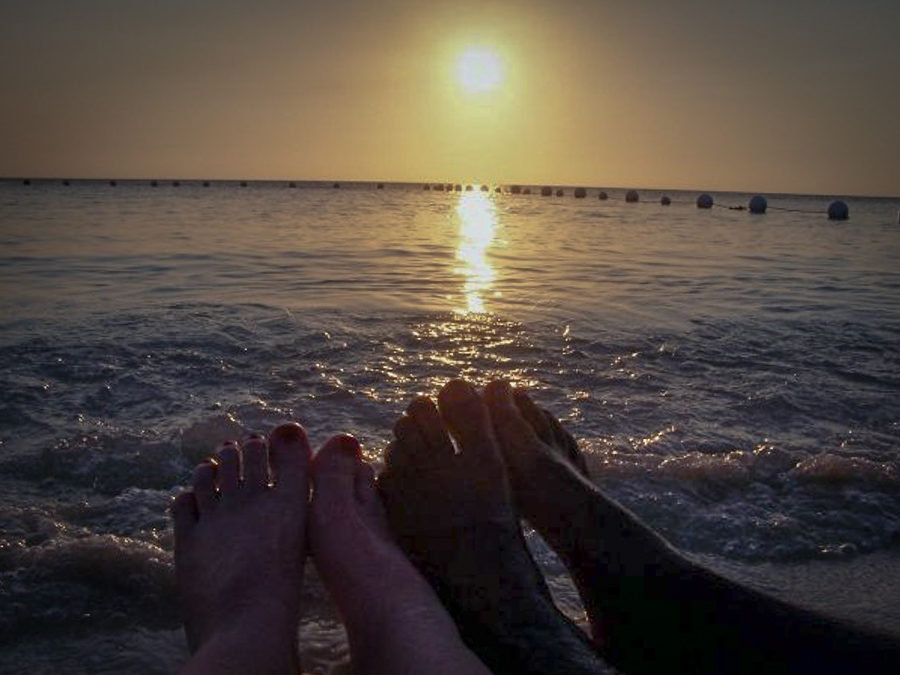 If you would rather do a more self catering type stay in West Bay, a quick search brings up the following locations on the beach: Coconut Tree West Bay and Bananarama Dive and Beach Resort.
Want to know some of my thoughts on staying in all inclusive resorts? Check out this article linked here.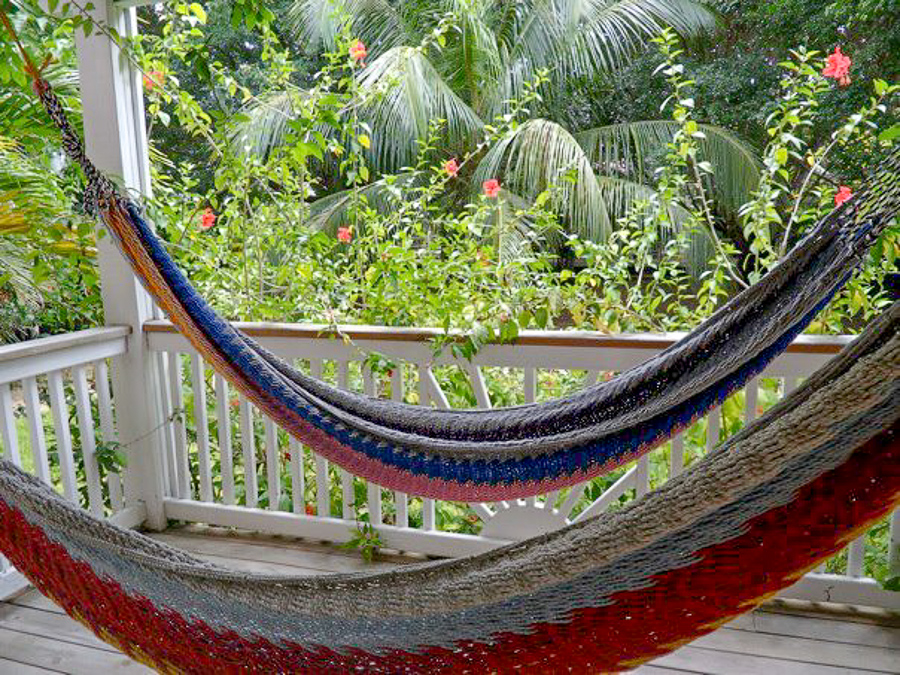 Where To Eat in West Bay and West End
West End, West Bay? What's the difference? West Bay is the resort area and just east is the town of West End.
WEST BAY:
For the best food in the area, there's a super addictive pizza joint at Bananarana Dive Resort called PizzaRama Brick Oven Pizza. If fine dining is more your speed, check out Vintage Pearl Restaurant and Wine Cellar. It's a lovely upscale restaurant.
WEST END:
If you're feeling ambitious, take a water taxi to West End and go to Sundowners. It's owned by Canadians and I will vouch for the best cheese burger on the island there. Try it, you won't be sorry!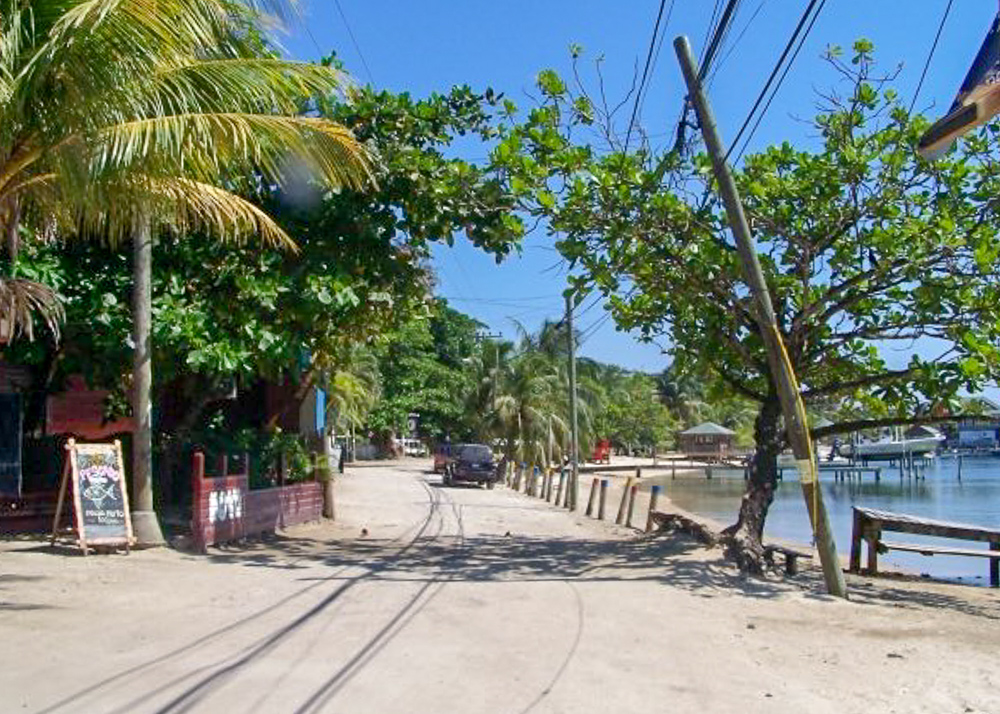 Prefer to stay in the town of West End over the resort area of West Bay where you can hang at an authentic beach bar?


What Else Is There To Do In Roatan?
Aside from diving all the amazing ship wrecks and walls, swimming, snorkeling over the coral reef, sleeping on the beach and eating, there is an Iguana Farm to visit, zip-lining and dune buggies to rent on the island. You can also charter boats to hang out on and also take a glass bottom tour.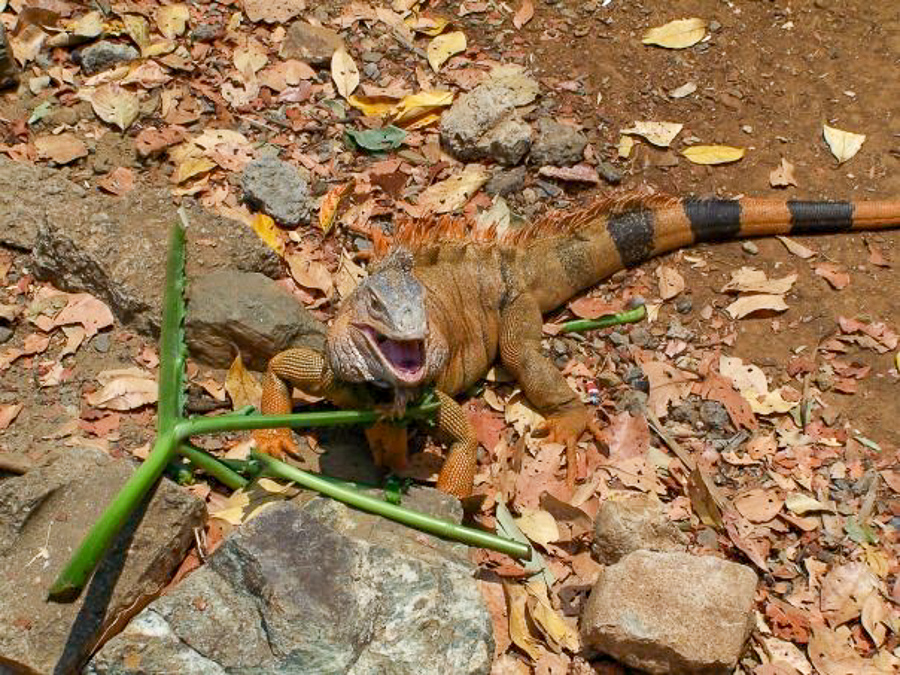 As my own personal disclaimer, neither time I visited the island with my children. I was not looking for family friendly activities or things for kids to do.
The currency used in Honduras is called lempira. US dollars are widely accepted if you can bring it with you when you travel there. If you use an ATM (of which there are NOT many – there are only 2 ATMs in West Bay, one is in the lobby of the Mayan Princess and there are 3 in the West End), they will give you lempira.
As with any destination you visit, you need to mind your personal safety. Take proper precautions to enjoy your identification, money and credits cards are safe. Do not hitchhike or walk alone at night.
Both times I visited, the trips were a week long. The end of the week made me sad to depart, but I am always happy to get home.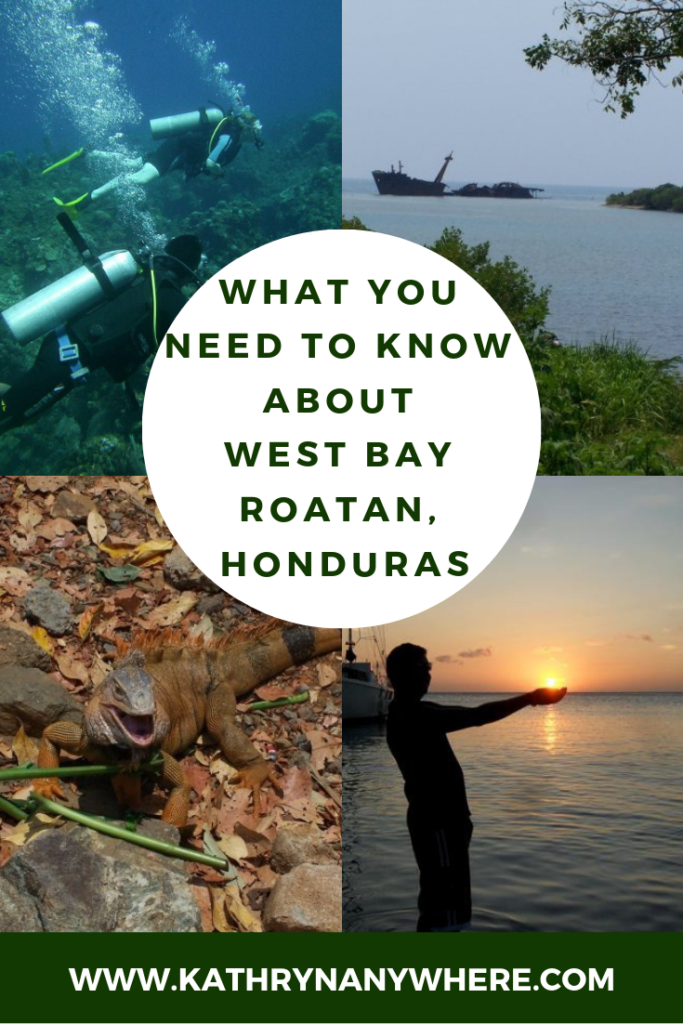 KathrynAnywhere is a participant in the Booking.com affiliate advertising program designed to provide a means for sites to earn advertising fees upon guests booking reservations at the accommodations listed.