Awesome Things To Do In Yarmouth, NS
If you haven't been to Yarmouth, Nova Scotia in your lifetime, you are definitely missing out. Make plans as soon as possible to get yourself to the Acadian South Shores of this Maritime Province in Canada!
Yarmouth is incredibly photogenic and I'm not talking about this awkward model in the shot that you are about to see below. From shipyards to wharves, murals, museums and picturesque Main Street, this town has it all for the eye! If you're looking for a visual journey, the incredibly colourful Acadian South Shore is for you. In fact, it's such a cool spot to be, the area's history predates Samuel de Champlain's introduction to the shores of Nova Scotia.
Yarmouth is the kind of place where everyone talks to everyone, no matter where you are from. Usually, the conversations open up with where are you from and who's your father? Sometimes there was "what's your mother's name"? And if you are going to cross the street, that car almost 2 blocks back is slowing down to give you ample time to cross the street. They take it a little slower out there and I like it.
Have I sold you on Yarmouth, Nova Scotia yet? I will take you on a deep dive into the awesome things to do in Yarmouth.
I was graciously hosted along with many other travel writers and content creators in Yarmouth for media tours before and/or after the Travel Media Association of Canada conference.
Things to Do And See in Yarmouth, Nova Scotia
The first thing you'll want to do to really get to know the town of Yarmouth is to explore on foot. My personal favourite ways to get a feel for places are walking tours or taking turns down back roads on my bike. The history of Yarmouth is full of architecture, history, folklore and legends. As it's a marine town, it has a deep connection to the fishing industry and to this day attributes the vast majority of its revenue and employment to the working wharves, working fish plants and working Museums.
Yarmouth Walking Tours
Should you take a walking tour of Yarmouth? Yes! Meet a local and take a 90-minute walking tour with Yarmouth Walking Tours. Candice Phibbs guides tourists (and residents) through the Town of Yarmouth's Heritage District and waterfront area. Learn about the ghost at Frost Park, the rich founding families, the shipbuilders, their careers and the homes they built. You can also listen to some of the family drama stories along with their homes. Included in my tour was a visit to The Yarmouth County Museum.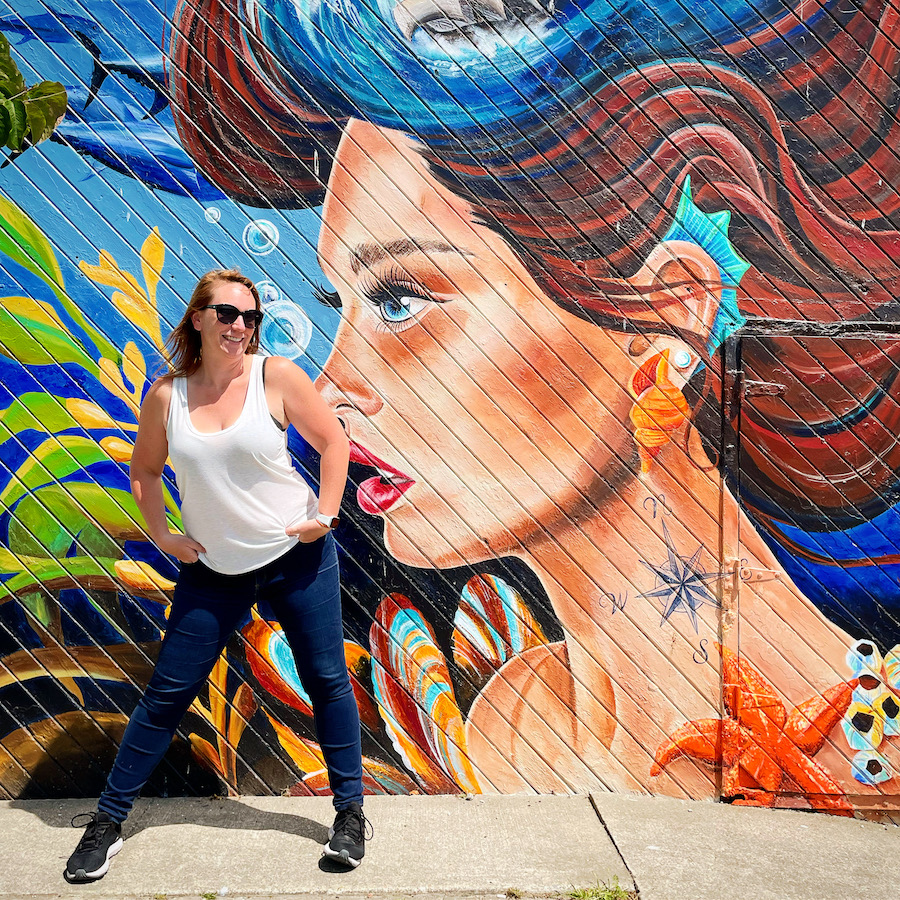 Take a Bike Ride
One of the first things I did when I arrived in Yarmouth was pop into a local bike repair shop to pick up new lights and a tire pump. I asked the guy where he likes to ride and Cape Forchu Lighthouse was his recommendation. So that's where I went on my first ride! 11.9 km each way from my Airbnb. There are some hills and I met a headwind going in. Made a stop at Fish Point for the Lost At Sea memorial to catch my own wind and found some great views. I lucked out with a gorgeous day and great ocean views all around! 
The second time I was heading out with my bike, I stopped at Heritage Brewing and solicited bike route advice there. Heidi recommended Pickney's Point. It's a fishing wharf that is relatively flat to get to. A longer ride clocking 19km each way. On a calm weather day, it's a good ride. 
So, the moral of the story – ask the locals. Don't be afraid to inquire – "What's your favourite bike ride here?"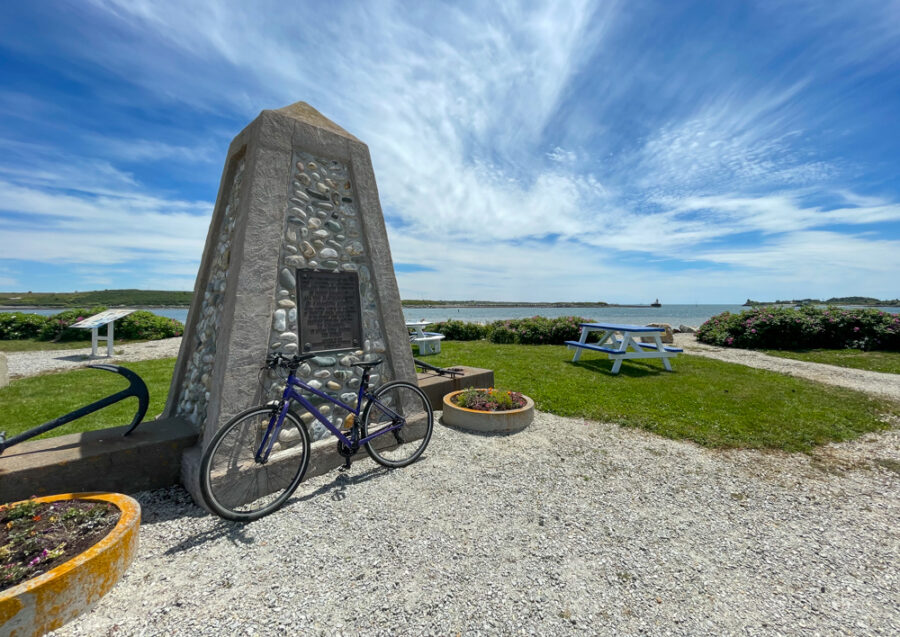 W. Laurence Sweeney Fisheries Museum
Are there museums in Yarmouth? Yes! Located at 112 Water St., if you're looking for an authentic and preserved piece of shipping history, this is it. At the W. Laurence Sweeney Fisheries Museum, displays have been reassembled to reproduce the waterfront of Yarmouth's past.
You will walk across a floor built of authentic wharf planks, head up to the second floor and stand at Laurence Sweeney's original desk and imagine you are in charge of the wharf! Even better, head up to the wheelhouse and pretend to be the ship's captain.
Firefighter's Museum
The Firefighter's Museum is the place to come in Yarmouth to discover the history of firefighting in Nova Scotia. Here you can see the different fire engines that were used in the area from the 1800s to the 1930s. From antique hand-drawn and operated engines to a Chevrolet pumper.
Head up to the second floor to see the photos of the ill-fated Fleurus and see the life preservers saved from that ship. I will not give too much away about this story. However, there were elephants walking the streets of Yarmouth in June 1963.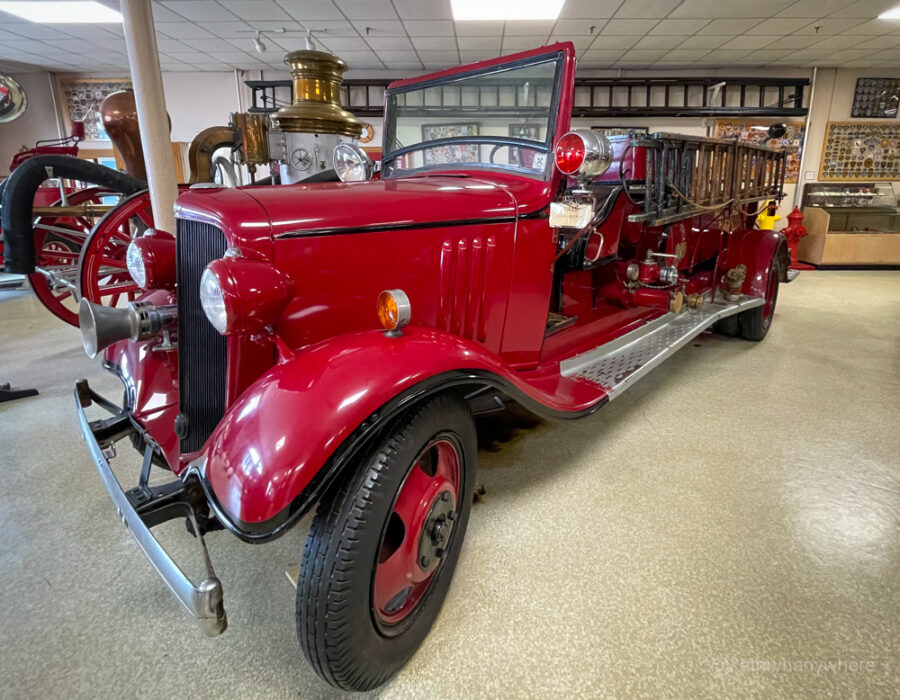 Taste the Wine & Beer of Nova Scotia
Is there craft beer in Yarmouth? You bet. It's no secret that I'll travel for good beer. If you're thinking the same, I'd highly suggest you check out Tusket Falls Brewing Co, Rudder's Seafood Restaurant & Brew Pub and Heritage Brewing in Yarmouth. There must be something about the proximity to the saltwater that makes these brews so good. The ales and sours were very palatable and mild. These flavours can only be found in this part of the Maritimes, so run to Yarmouth!
Among my favourite beers are:
Crack of The Rock Blonde ale at Tusket

Wheat King Pineapple Wheat at Heritage Brewing

Kilometre 0 cream Ale at Heritage

Blonde Rock at Rudders
Each brewery features pouring samples, glasses and flights along with merchandise for sale.
If you choose not the drive and want some local guidance, enlist Wine & Beer Tours Of Nova Scotia – you won't be sorry!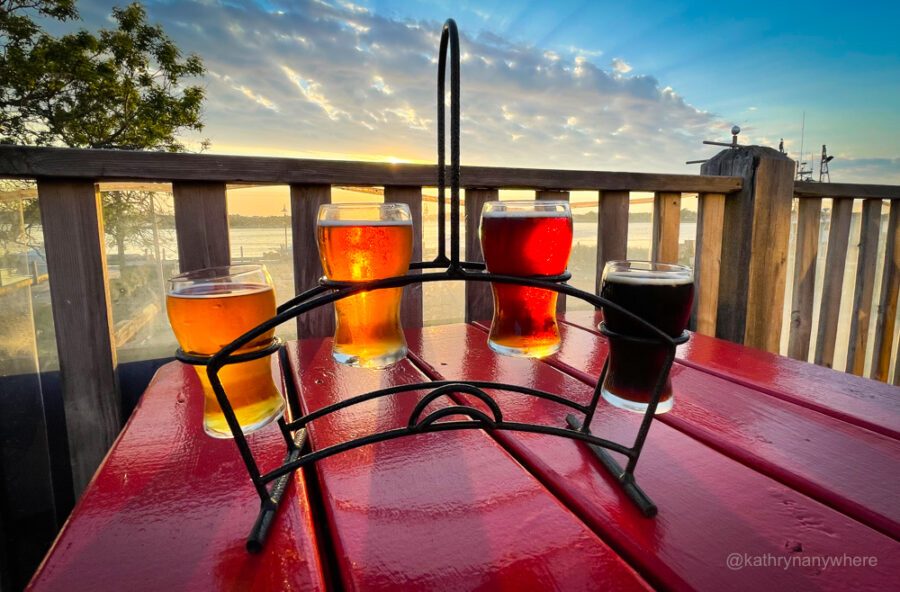 Climb The Light House at Cape Forchu
What is the lighthouse at Yarmouth? It is the Cape Forchu Lighthouse! IF you ever have the chance to visit – here are some highlights of this apple core lighthouse you can take it in:
– Climb the Light!  Take a guided tour into the lighthouse tower, learn some interesting facts about Cape Forchu and enjoy spectacular views. It's only 77 steps! Don't forget to get a selfie from the top.
– Discover the Leif Erikson Park with walking paths, picnic sites and benches, providing front-row seats for amazing sunsets.
– Meet "Foggy" the 50' whale skeleton on display in the park. Yes, it's real.
– Tour the lightkeeper's residence It is a provincial heritage property complete with museum artifacts.
– Finally, have lunch on the deck or inside the Keeper's Kitchen café. The smoked salmon sandwich is great. Others enjoyed the lobster roll.
This is one of the destinations I visited by bike on my own. I also returned with my guided group.
Go Foraging
Can you go foraging around Yarmouth? You can definitely forage along the side of the road and we did along Yarmouth Bar. These are all plants you can eat and add to a salad or use as the base to your greens or add as flavour to your cooking. I'm not one to go out of my way to pick weeds to eat, but my interest certainly peaked when I learned what we could find. We found lamb's quarter (pigweed), sea oats, sea rocket, beach peas and more!
Does anyone have any good recipes?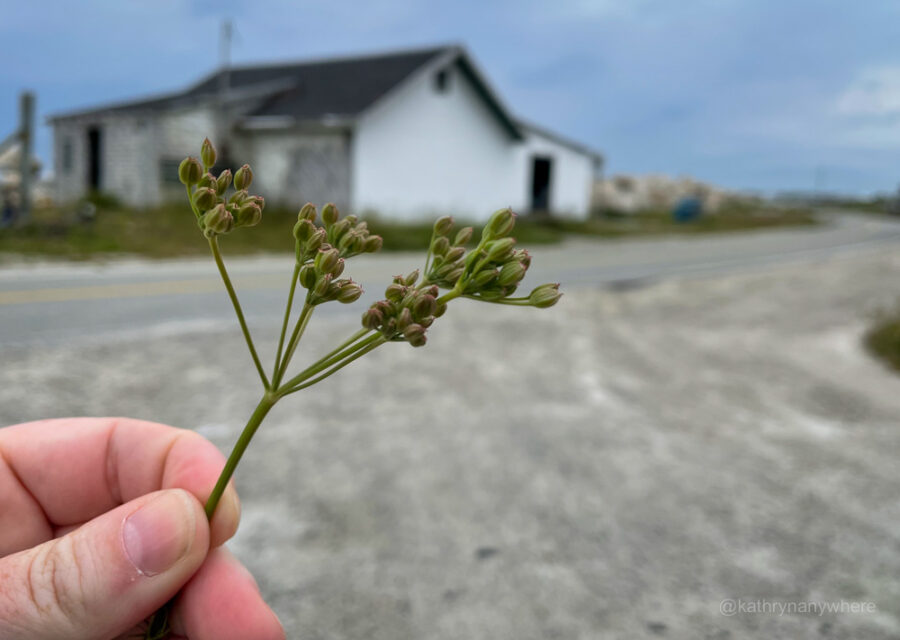 Discover The Night Sky
If the weather allows, see the night sky the way it was meant to be seen with the naked eye. Take a trek to Deep Sky Eye Observatory on 338 Frotten Road. Long before light pollution was a problem, the stars used to dance and shimmer off the water. The Acadian South Shores is North America's first certified Starlight Tourist Destination (as issued by the UNESCO-backed International Starlight Foundation).
Sadly, the weather did not cooperate during my time there. I was unable to capture fantastic photos of the sky and stars at night at the Deep  Sky Eye Observatory. Rumour has it, late, on a clear night, you can see the Milky Way, Saturn's Rings, and the spiralling arms of distant galaxies. Of course, it's best done in an indoor, 9-foot dome that houses a Celestron 14" Edge HD telescope on a CGE Pro mount. I'm no expert, but that's my wager and I wish I had more time in Yarmouth to go back and try again! Next time.
Where to Eat in Yarmouth
This is not the place where I am going to list a bunch of restaurants to dine at in Yarmouth. Pretty much every food establishment serves lobster. And seafood chowder. It's fresh and from the sea right outside the door. For those who do not eat seafood, you can order chicken and meat. Fairly basic fair. What is lacking is the abundance of fresh fruits and vegetables. It's hard to find a bell pepper anywhere or a decent salad. You can definitely get french fries and potatoes.
You will not find large chain restaurants or a Starbucks in the main area. Be prepared for restaurants to close before 9:00 pm in the evening, so plan your dining and evenings accordingly.
What To Do Outside of Yarmouth?
The maritime history of Yarmouth is quite legendary and to this day, shipbuilders and lobster fishermen still call Yarmouth home. And operate from their docks. The town is built around the proud traditions of the sea. Keep that in mind when you visit.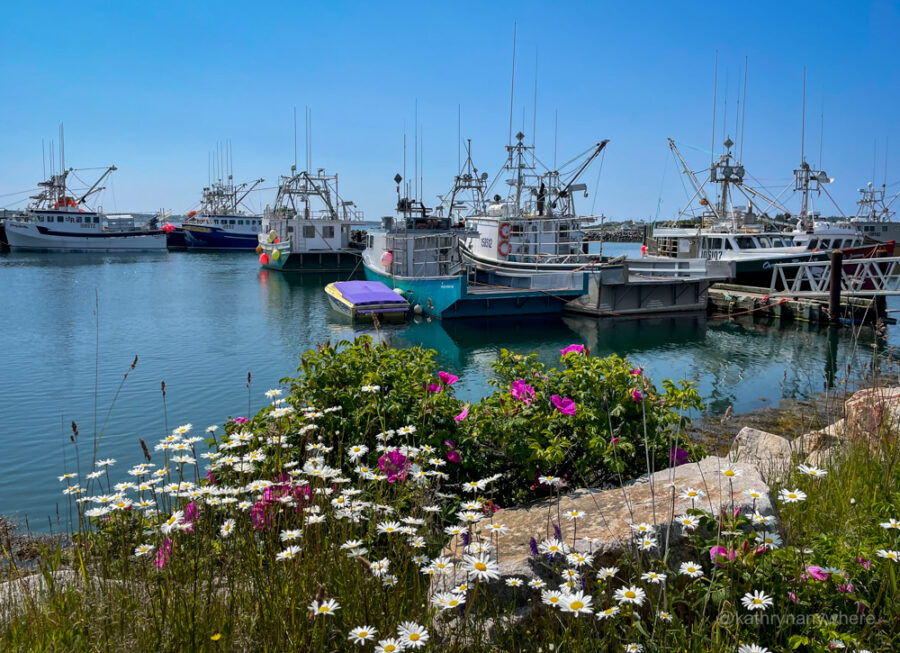 If you are flying to Halifax, Nova Scotia in order to visit Yarmouth, there are a couple of places along the way I recommend a stop at.
The first is Boxing Rock Brewing Company in Shelburne for lunch and a pint. Local folklore says that Boxing Rock in Shelburne Harbour is where bickering seaman were left by their captain to sort out their differences. The choice: box until only one could return to the ship or shake hands and share a beer. Either way, there are only a few short hours until high tide and the choice would be made for them.
The second stop is the Black Loyalist Heritage Centre in Birchtown. Birchtown was the first free black settlement in Canada with the arrival of the United Empire Loyalists. Loyalists are those who were loyal to the Crown (England) and were promised land in return for their loyalty. These black settlers weren't treated very kindly in many situations. If you have descendants who escaped slavery in the 1780s and made their way to Nova Scotia, this is one of the best places to do your family history and tree.
I hope this inspires you to travel to Yarmouth and the Acadian South Shores of Nova Scotia! If you're interested in travelling there, please do consider booking through this booking . com link (where I will make a small commission if you book and travel on this accommodation confirmation – AT NO EXTRA COST TO YOU!)
Please do say hi to David Sollows when you get there. He's a retired school principal, sings in a Celtic band and was my tour guide.