*COVID-19 TRAVEL ALERT – I am writing and providing you information on Watkins Glen Gorge Trail. I am not encouraging you to travel there right now * ⁠
Where am I happiest? Outside of course. Take me on a trail and I'll love you forever and ever and ever. Take me to Watkins Glen Gorge Trail and we are on like Donkey Kong!
Total disclaimer – I am out of love with the guy I hiked the Tuckerman Ravine on Mt. Washington in New Hampshire with. I was in my early 20's and he's ancient history. That hike was great though!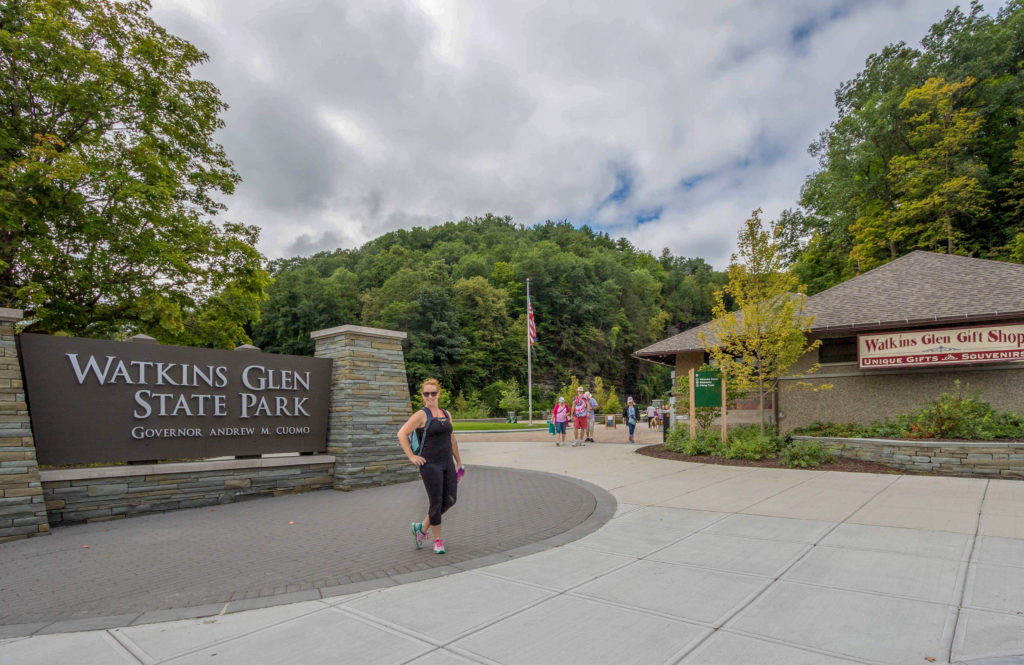 Prior to my registration and attendance at TBEX, which is a travel blogging conference that was held in Corning, New York in September in 2018, I was honestly not very familiar with the Finger Lakes area of New York State. And I'm a little ashamed of that because it's only a 4-5 hour drive from Toronto.
In my defence, it is a different country.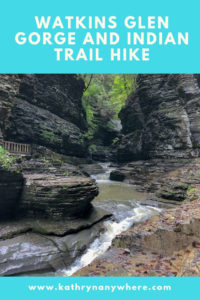 I can tell you that after spending a week in the area, it's a place worth knowing. And the Fingers Lakes is a place worth revisiting. Between wineries, breweries, cute small towns, scenic lakes, a thriving arts community, stellar local cuisine and drool-worthy restaurants in Corning, you can easily create a 7-10 day itinerary and still not see it all.
The Finger Lakes are 11 glacial lakes, all of which are shaped like fingers. Located in the central region of New York state, the region is best known for its impressive gorges. The gorges were shaped by water and ice over some 10,000 years.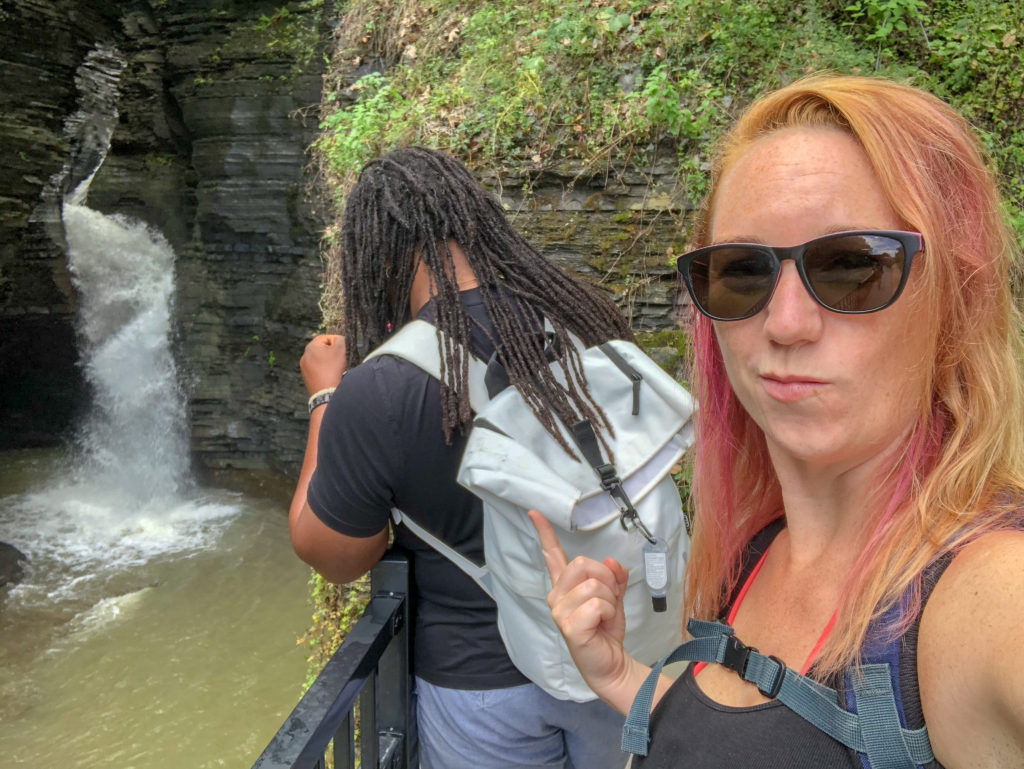 Where is Watkins Glen?
Watkins Glen is an Upstate New York village in Schuyler County. When I think back about what I remember most of the village of Watkins Glen, it is the deep and proud race car history and Watkins Glen State Park. For a half-day activity, hiking the Watkins Glen Gorge Trail is one of my top recommendations.
If you haven't done the Watkins Glen Gorge Trail hike yet, it's definitely worth the trek. This was my first time there and I say "first" because I did this with my friends, Kevin from the Wandering Wagars and Chris from Rudderless Travel, you may also know us from the spectacular web series, Wait What?! I know I'll be back with my kids one day so they can experience the majestic waterfalls and scenery as well. There are some really iconic places there to take pictures! The experience of walking under the waterfalls, seeing the rock faces and formations from erosion, hold on… I won't get ahead of myself.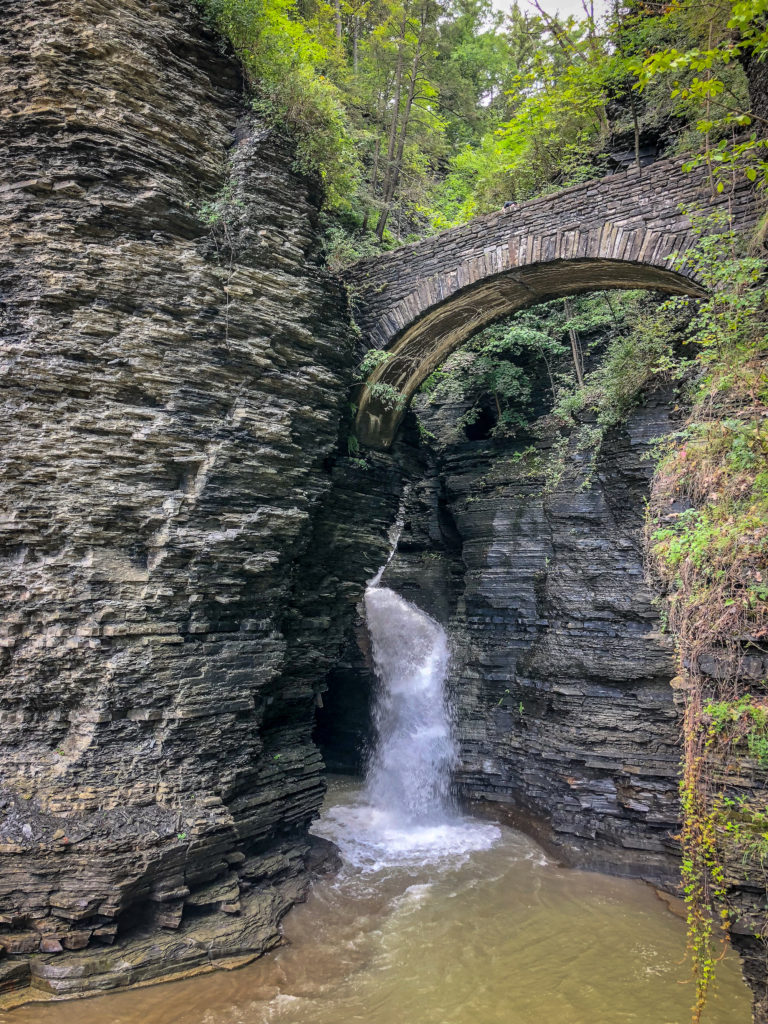 Watkins Glen Gorge Trail
The trail starts at the Entrance Amphitheatre. Head up the stairs, cross the Sentry Bridge over the Entrance Falls into a section called Glen Alpha.
Watkins Glen State Park is one of the most well known in the Finger Lakes Region. Within the 2 miles of the trail, hikers can see nineteen waterfalls – 19! It's truly amazing to see.
It took us approximately 4.5 hours to do the trail. I'd say 2.5 hours of that was dedicated to stopping to take pictures and some video clips. And moments of making fun of each other, we do that a lot.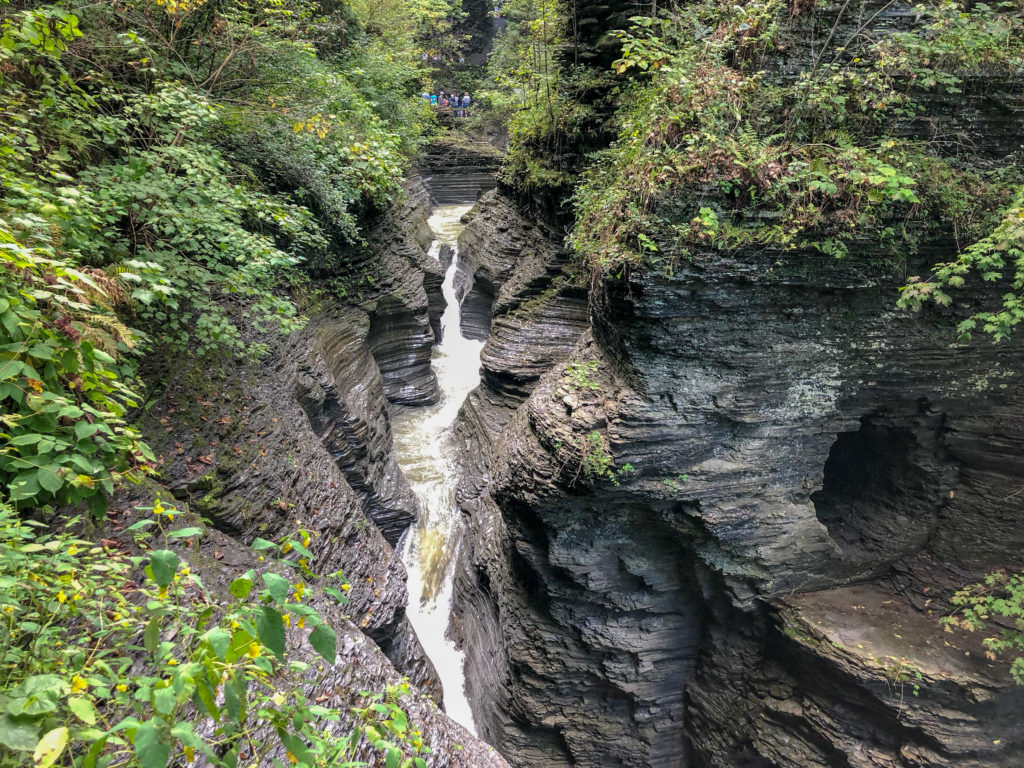 The entrance is located right in the Village of Watkins Glen on Franklin Street. There is a pay parking lot on site ($8 for the vehicle). If you're up for an additional walk, you can park on residential side streets and walk over to the park entrance.
You can hike the gorge trail to the end and then turn around and go back the way you came. Or hike the loop – you can hit the end of the gorge trail and then head up the Indian Trail. From the Indian Trail, check out the gorge from above and come back to the park entrance. The hike is approximately 2.4 miles, which equals 3.86 kilometres.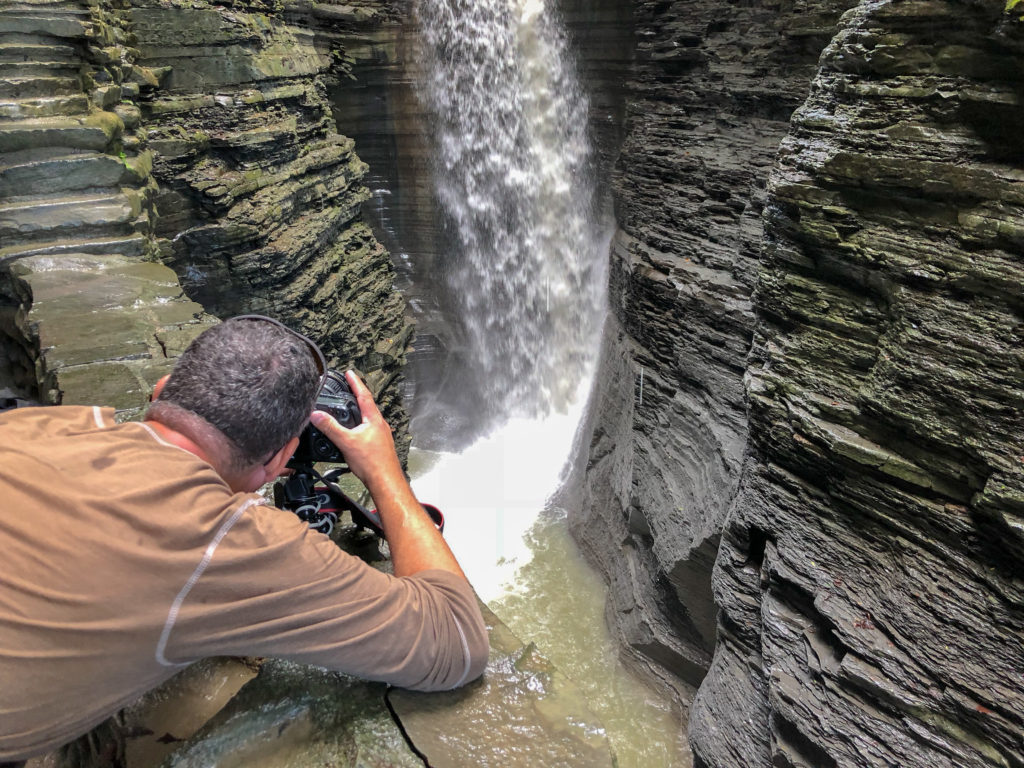 It's Classified as a Moderate Hike
This Gorge Trail hike is listed as a moderate hike. I found it to be quite easy as I'm in decent physical shape and I'm confident my four year old son and nine year old daughter could do this hike without issue. I would say that they have done more difficult treks with naked Barbies and Thomas the Tank Engine trains in their hands.
It's a moderate hike because of the number of stone stairs that you are required to climb through the gorge – there's a lot. I didn't count them, but they were the thorns of my friend Chris's existence that day. The terrain isn't exactly even either. If you are not wearing the right shoes, the trail could be slippery as there is water everywhere.
Indian Trail is classified as an easy hike.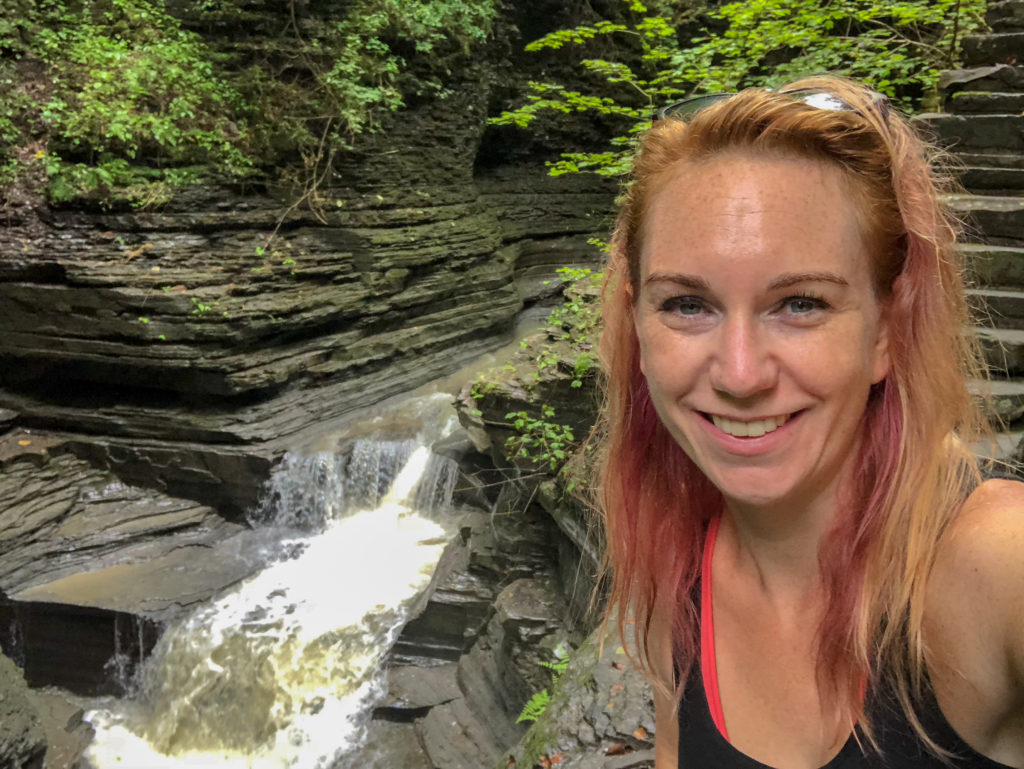 Bring A Change Of Clothes
Do not expect to stay dry on this hike. If you have non-cotton clothing suitable for the outdoors to wear that keeps moisture away from your skin, that is best to wear. Clothing like that can be purchased at MEC. Also, prAna has clothing for outdoor adventurers that I love as well.
Have a change of clothes and shoes in your waterproof backpack or in the car so you're not travelling anywhere after with wet underwear and socks.
Yes, I'm telling you this as a Mom. And as a decent human being who knows how awful it is to sit in wet underwear.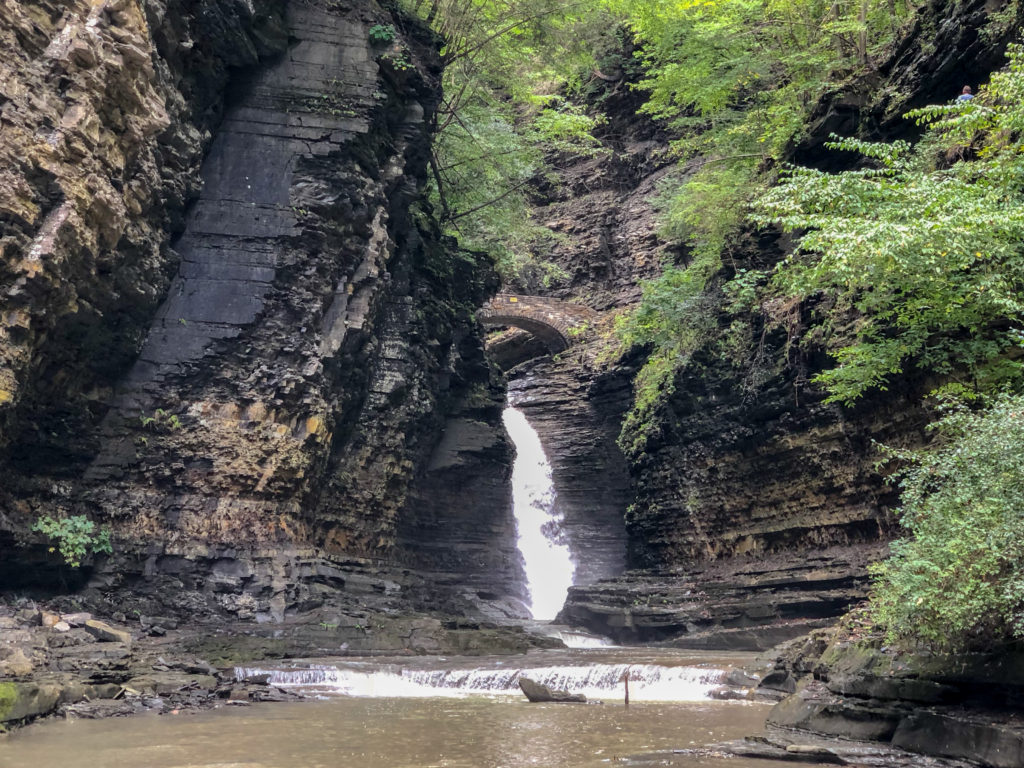 When Is The Best Time To Go?
The Gorge Trail is heavily trafficked. We arrived there on a Friday, the second week of September, close to noon and I wish in hindsight that we had gone earlier in the day to avoid the crowds. Unfortunately, we were all out the night before partaking in some libations with friends, so…. I've never been one to wake up early to see sunrises, but I've heard being here as early to dawn as you can is something to behold.
Due to the crowds, we waited to get the right picture and that often meant waiting for quite a few people to walk through at their pace.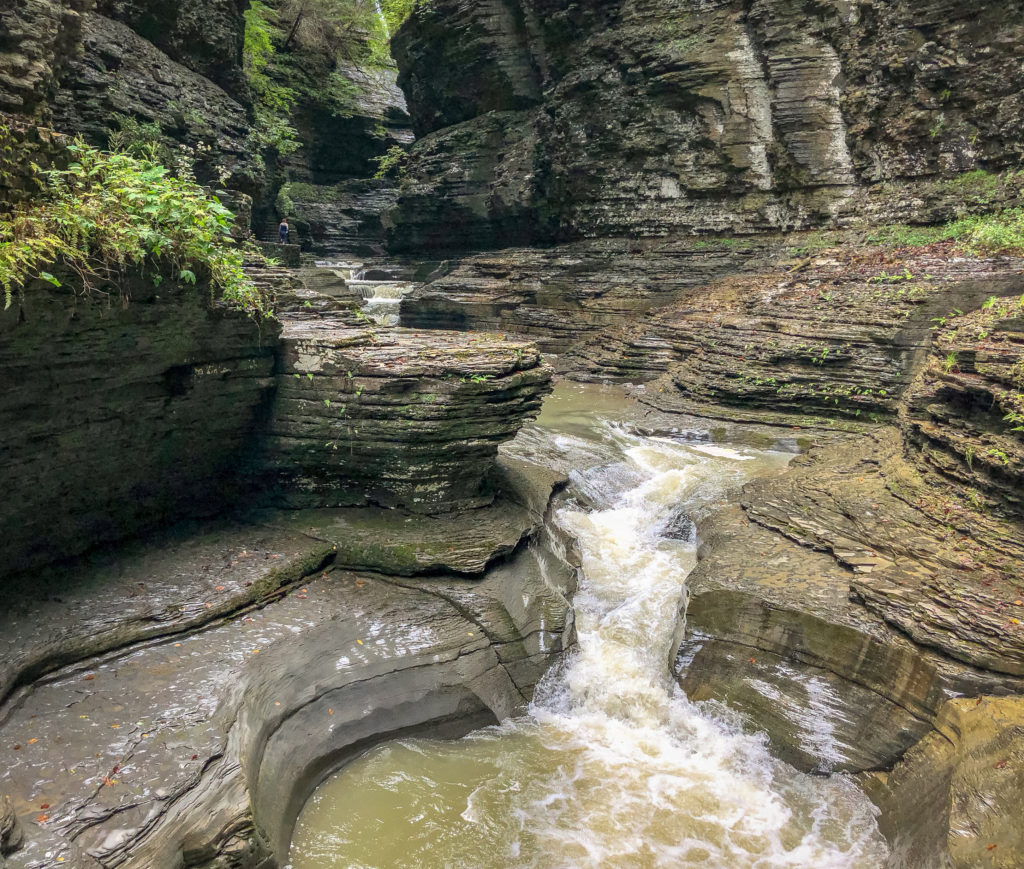 While it does look like you could dip your feet in the water here, but please note that swimming is not permitted in the gorge.
If you do the Watkins Glen Gorge Trail hike early in the morning you might find it less populated. If you do have an emergency, you need to make sure you have mobile phone service to call for help.
Important to note: we did have cell phone service through the Gorge Trail and Indian Trail loop. We all had Roam Mobility SIM cards in our phones which worked well in the larger population areas, but in some of the small towns and rural roads we passed through, our service was spotty. It's fun to disconnect, but not when you want or need to have the service.
The Most Iconic and Picturesque Shot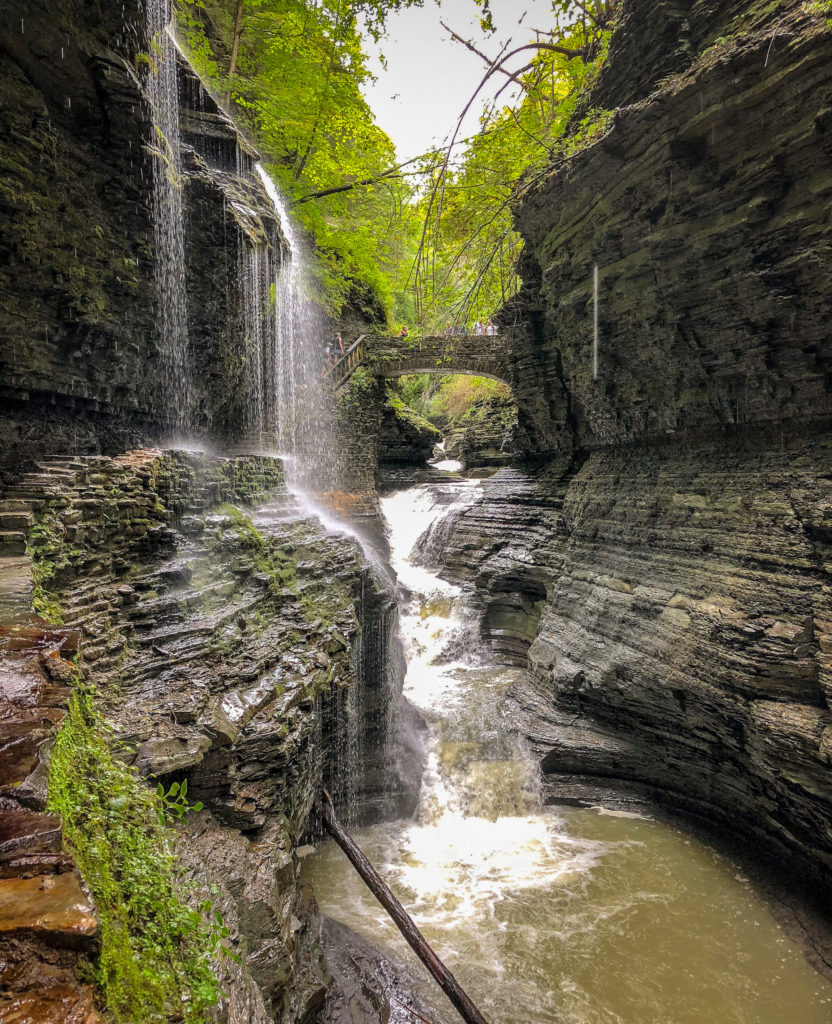 Here it is, it is THE PICTURE everyone must get when going into Watkins Glen Gorge Trail.
I'm including a ton of pictures in this post as I am hoping to inspire others with the awesomeness that is Watkins Glen State Park so they can get out and see it for themselves. The pictures of this gorgeous hiking trail do not do it justice at all. There are so many layers of erosion that you can touch and examine, there is moss and new tree growth everywhere. It's quite amazing.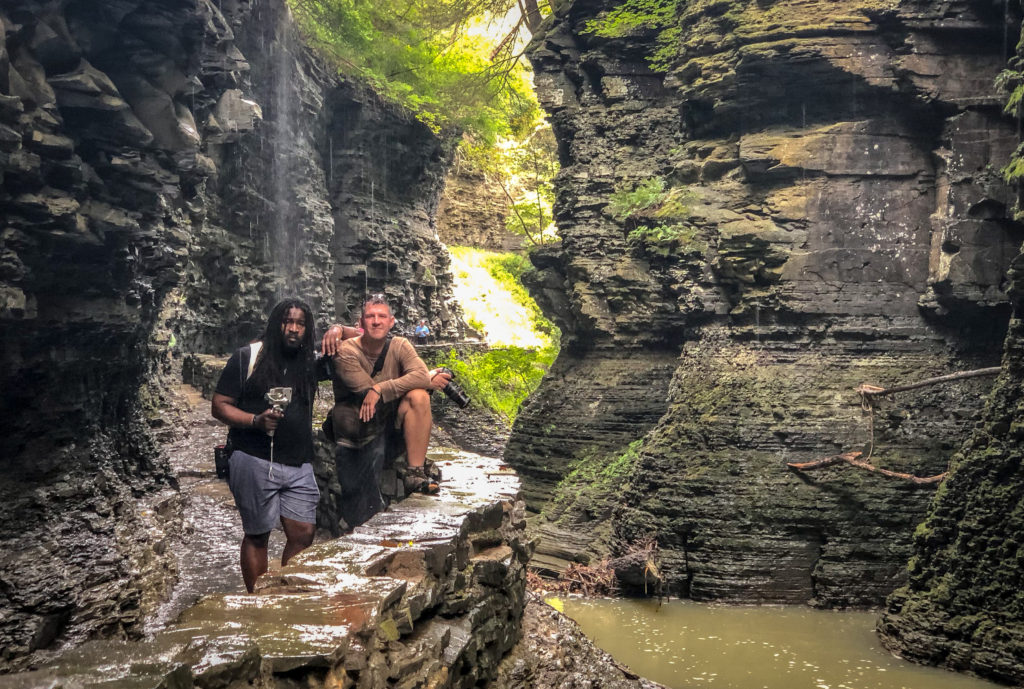 I'd like to thank my friends Kevin and Chris for spending the day out there with me. It's amazing that we survived that week of road-tripping there, wine tour, the few days at the conference, eating almost every breakfast, lunch and dinner together, the day of hiking and then driving home. And we're still friends.
What was awesome about being with them is I actually got pictures of myself that aren't just selfies! Well, I took some of those too, but they also took pictures of me. They substituted as the perfect Instagram husbands for the day, hahaha.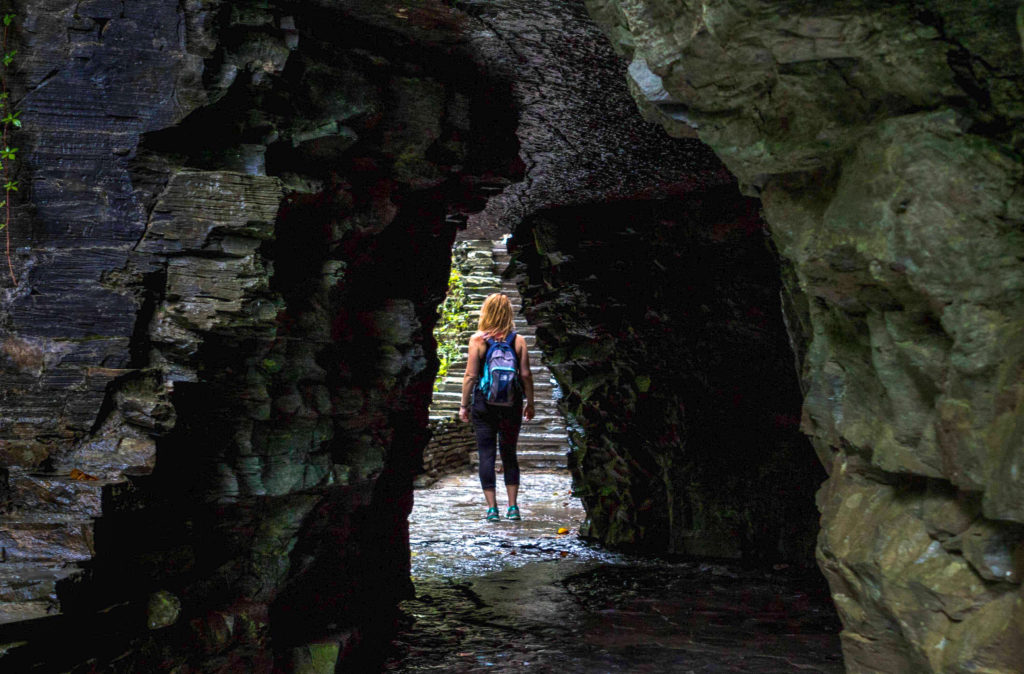 The Places You Will Go
I read to my kids a lot and a fallback story that I reach for is "The Places You Will Go". It contains one of my favourite Dr. Suess quotes:
"You have brains in your head, you have feet in your shoes. You can steer yourself in any direction you choose. You're on your own, and you know what you know. And you are the guy who'll decide where to go."
That way. I'm just going to keep going that way.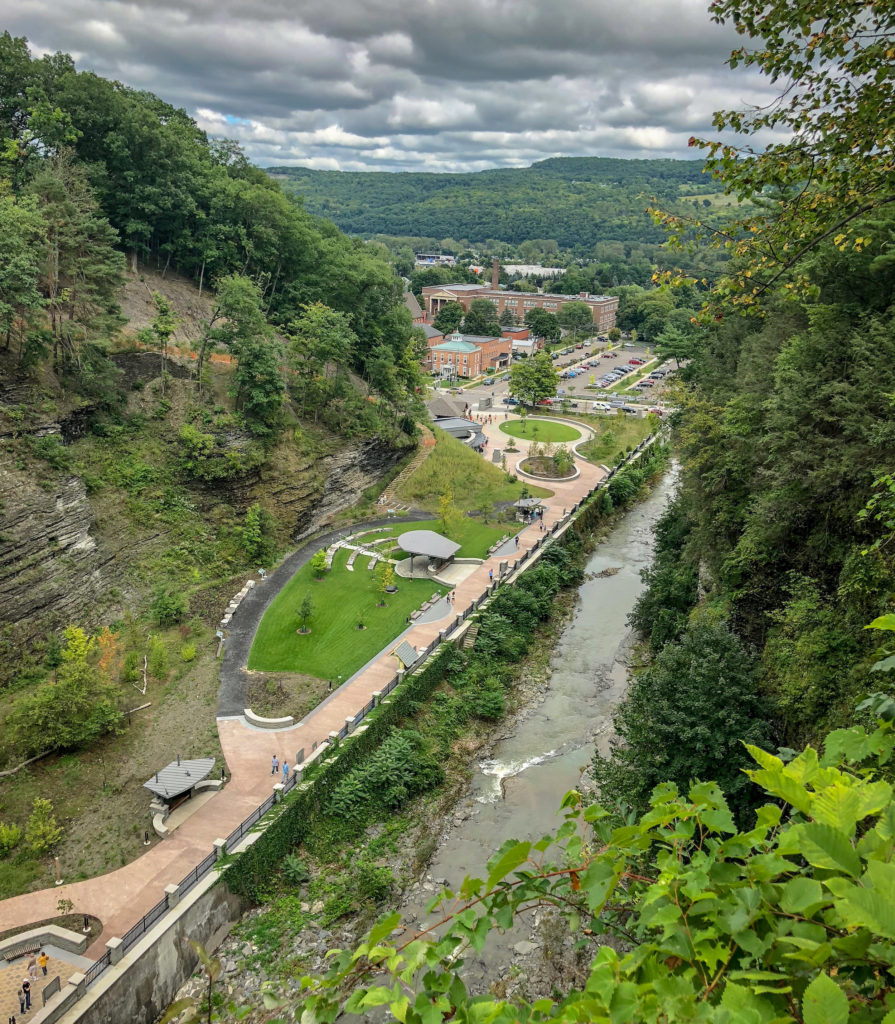 This hike is a seasonal one and the park closes in November for the winter. It will reopen again in April. This is not a place you'll want to be sliding around when it's frozen as gorgeous as I bet it would be.
Travelling to Watkins Glen and want to stay in the area? Check out some accommodation options (this Booking.com site pays me a commission for booking at no charge to you!):


What is the most epic hike you've been on? I've seen some great waterfalls and blazed some amazing trails around the world (like in Latvia and France), but I have to honestly say that my favourite people and places are within a five-hour drive from my home in Toronto.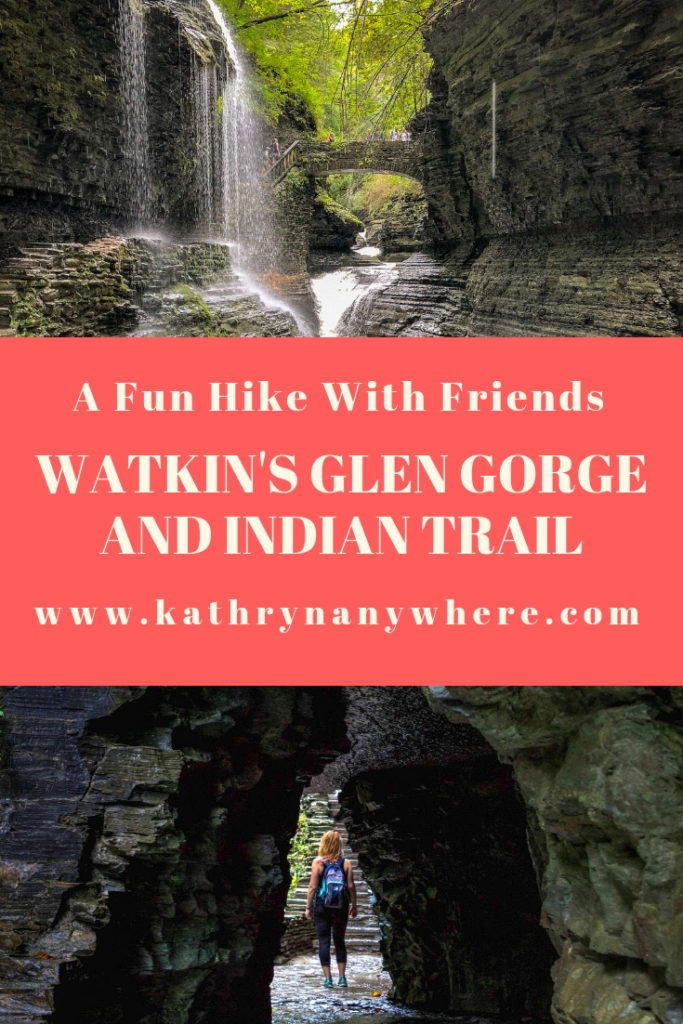 Note: This post contains an affiliate link. If you click through and make a purchase, we receive a small commission, at no extra cost to you. Thank you for your support of my website!