The Grotto, in Bruce Peninsula National Park, has become one of Southern Ontario's most popular tourist destinations in the summer. Located near Tobermory, it's close to lots of other tourist destinations such as Fathom Five National Marine Park where you find Flower Pot Island. I have been the poor soul who once tried to get into The Grotto and was turned away due to the volume of people already there for the day. I learned the tactics and did make it in the following summer! Seeing quite a few posts on Instagram and Facebook during summer months from others who attempt to go to the Grotto and are turned away, I decided to put together this question and answer article of What You Need To Know About Going to The Grotto at Tobermory for other travellers before they attempt the journey and are disappointed.
What You Need To Know About Going to The Grotto at Tobermory
The Grotto is a shoreline sea cave with beautiful blue waters. It looks like it's straight out of the Caribbean! The Grotto is a unique natural wonder and memorable place to experience. An underwater tunnel extends from the pool inside the cave through the cliff to Georgian Bay. This often makes it appear as though the pool is glowing on sunny days.
I do not believe there are other grottos located in Canada. If there are some that anyone else knows of – please let me know.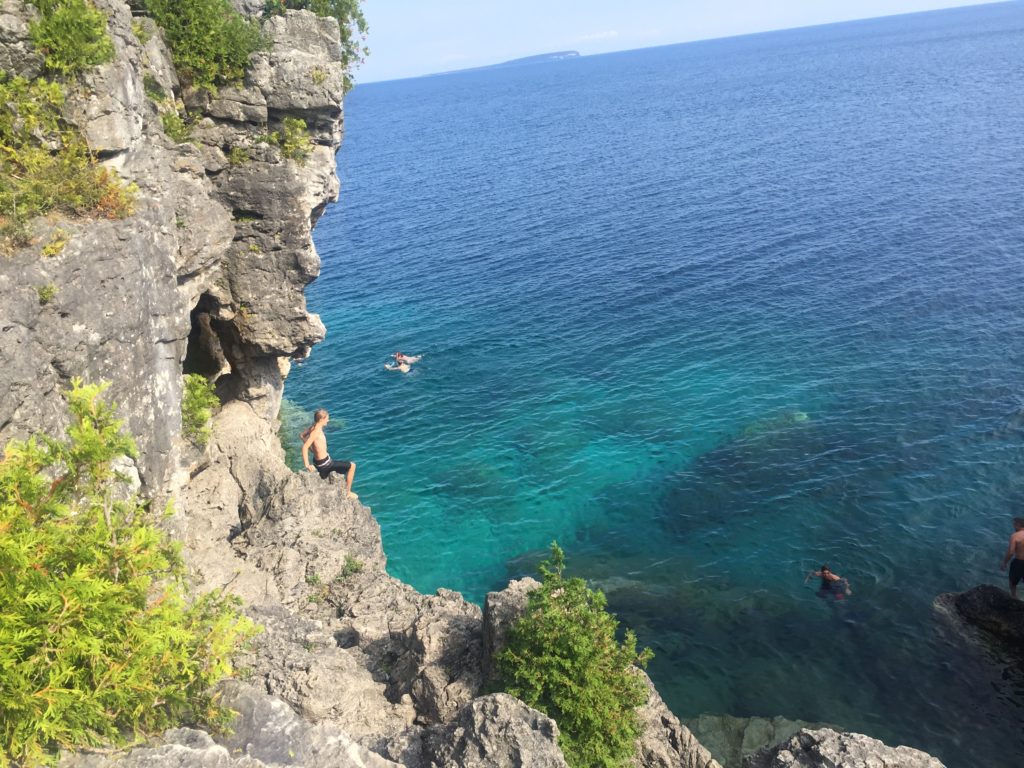 Where Is the Grotto?
The Grotto is specifically located close to the Cyprus Lake Campground in Bruce Peninsula National Park. The national park is on the northern tip of the Bruce Peninsula, just outside of Tobermory, Ontario. It is about 300 kilometres or a 4-hour drive northwest of Toronto. It's on the Bruce Trail.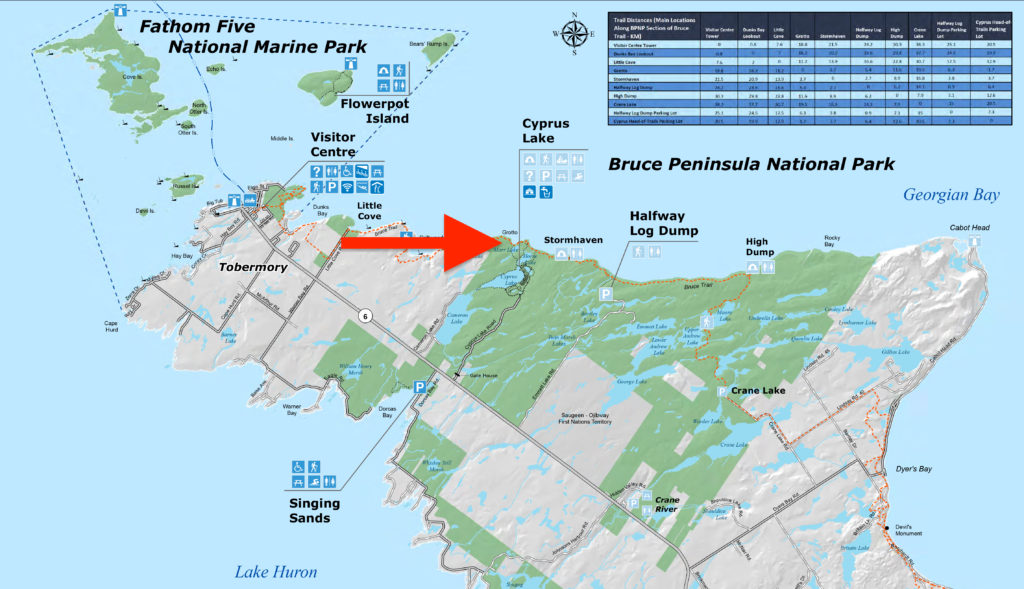 How Do I Make Sure I Can Get Into The Grotto?
During the peak season of July and August, there are a couple of ways to make sure you are in Bruce Peninsula National Park and can access the Grotto:
1.) Be there already as a camper at one of the backcountry sites along Georgian Bay or in Cyprus Lake Campground, then hike over from your campsite via the Cyprus Lake Trail.
2.) Reserve parking in advance if coming from outside the park. The fee to park is $11.70 per vehicle plus an applicable reservation fee ($6.00 online, $8.50 by phone) and an individual fee. Parking is assigned by time blocks and only a certain amount of cars are permitted per time slot. Parking does book up well in advance on weekends. You might have more luck during the week if you can try to go then.
3.) Head up there in the off or shoulder seasons of April/May/June or September/October when the demand to visit is much less.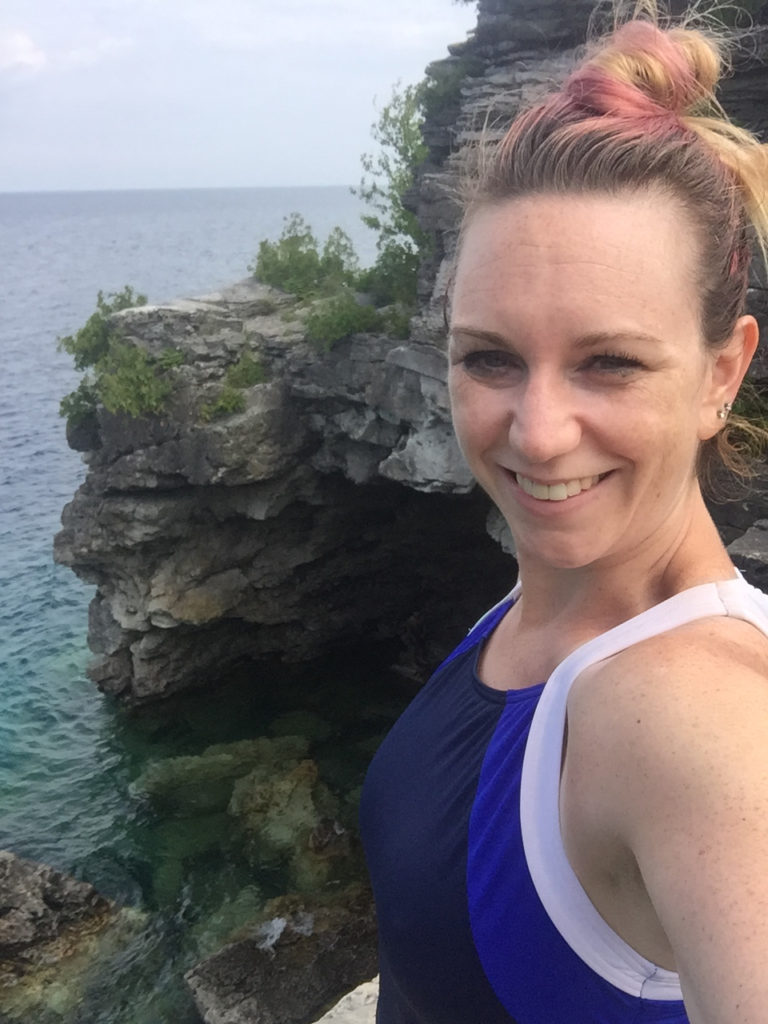 How Do I Get To The Grotto?
To get to the Grotto, you will have to hike the Georgian Bay Trail from P1 of Cyprus Lake Campground. It takes roughly 45 minutes with younger kids. It can be done in 30 minutes if walking at a good pace. The trailhead to the shoreline at Indian Head Cove is rated as easy. It's a man-made trail that is wide and scenic. Once you get to the shoreline, it's a rocky hike. It is not wheelchair or another mobility device accessible. Watch your footing and keep children supervised. The portion of the Bruce Trail leading to the Grotto does require some climbing over slippery rocks and tree roots.
Once you reach Indian Head Cove, the Grotto entrance hole is approximately 100 metres away to the west, so don't be confused when you arrive. Indian Head Cove is a great place to swim. As you carry on to the west, you will come across the Natural Arch, you can see the water through the hole, you're still not there yet. Keep going.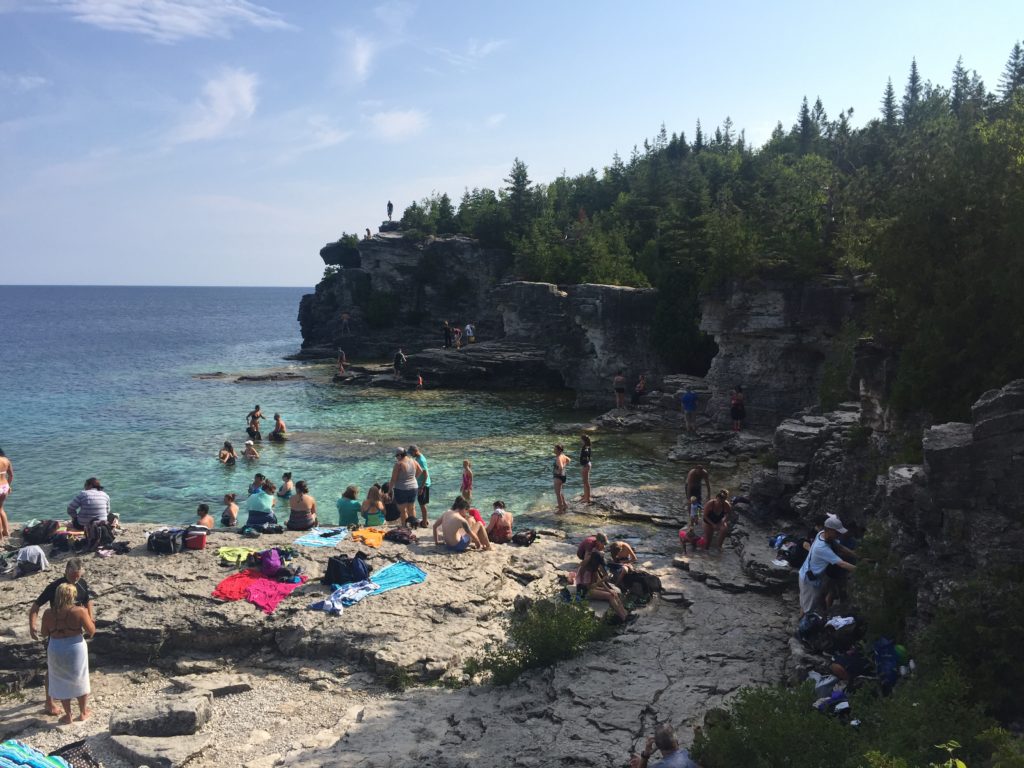 How Do I Get Into The Grotto?
There is a hole that you have to slide down to get into the actual Grotto and it's not marked, no signposts. Watch for others going in and out. Once you corkscrew down through the hole, you have to climb down a small escarpment.
I had to remove my backpack and have it passed down to me as I did not fit with it on my back.
Side note – the climb in and out is not something you can do if you are excessively overweight. You won't fit through the hole. You will have to attempt a climb down and back up the rock face, which is not safe. Alternatively, you can attempt to swim around from Indian Head Cove.
The climb can be done wearing running shoes or barefoot if you are comfortable. I do not recommend attempting this with flip-flops or water shoes that do not have good grips.
If you are not physically fit, you might need to rely on assistance from others to get back up and out. I'm not saying this to be rude, I am stating a fact. I had to push a couple of people up ahead of me through the hole to get out as they did not have the upper body strength to hoist themselves out. You will need to assist your children. Send them up ahead of you.
Hiking To The Grotto In Winter
The Grotto is open all year round and you can also access it in the winter! The big differences in hiking in the winter versus the summer are your footwear, conditions of the terrain and the weather. The colour of the water will be the same unless it's covered in ice. The rocks are icy now as the water that would have normally washed over the rocks is frozen. This will deter inexperienced hikers and there will be fewer people in the area.
The trail from the Head of Trails at P1 was slightly icy in some areas. We hiked in wearing krampons (ice cleats) but had to remove them as there was no snow on the rocks. We would have ruined our ice cleats had we continued to wear them.
Weather on the Bruce Peninsula does change frequently and can be unpredictable. Please do not plan on hiking out there later in the afternoon unless you want to hike back to the Head Of Trails in the dark. Use caution when approaching the shoreline as it can and will be slippery.
It should go without saying, but it will be stated anyway: please stay off the ice on the bay.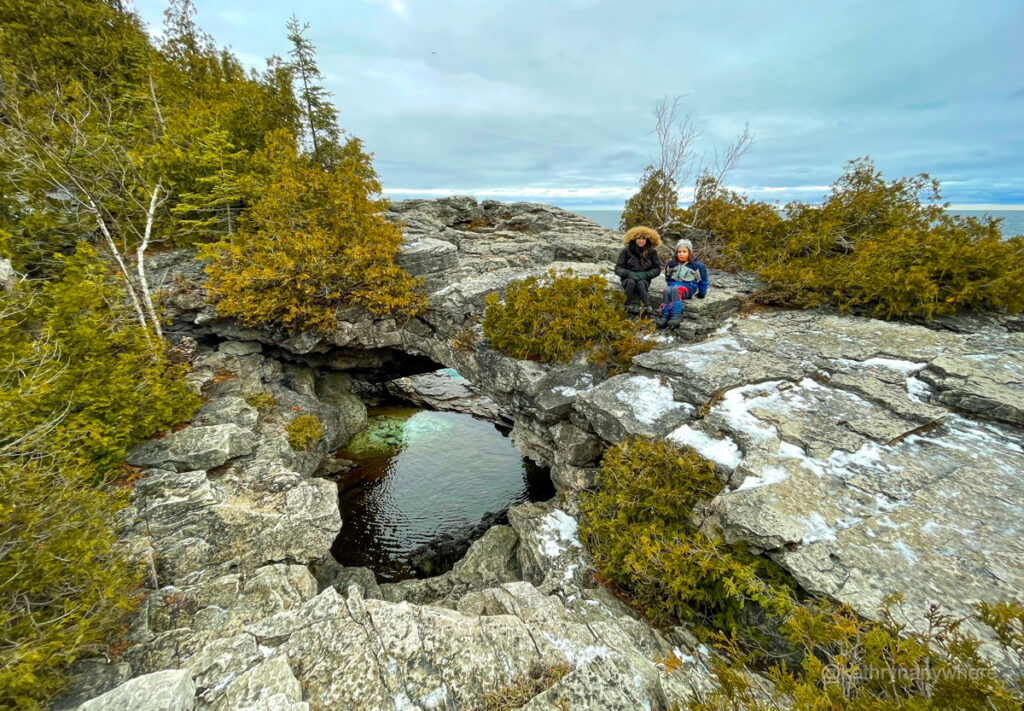 Is The Grotto Safe For Kids?
The hike from Indian Head Cove to the Grotto can be challenging for children, the elderly and those with mobility issues. Kids have to recognize that there are dangers to running off on their own here and parents need to understand that there is a risk of injury or serious consequences if children are not kept under control. There is no barrier on the hike and there is no lifeguard to supervise in the water. 
As mentioned, you have to slide down a hole and climb down an escarpment to get into the Grotto. My children, aged 9 and 4 at the time, did it with assistance from myself and their father. We are both fairly fit (gym rats) and assisted the children with no problem. This is not something the kids could have done on their own.
We did have to assist other kids with families coming into the Grotto through the hole and climbing back out.
The water will be cold for them and the rocks are slippery. Please keep your children close to you at all times. The water is shallow enough close to the cave that they can walk around and the water won't be past most older kids' shoulder height.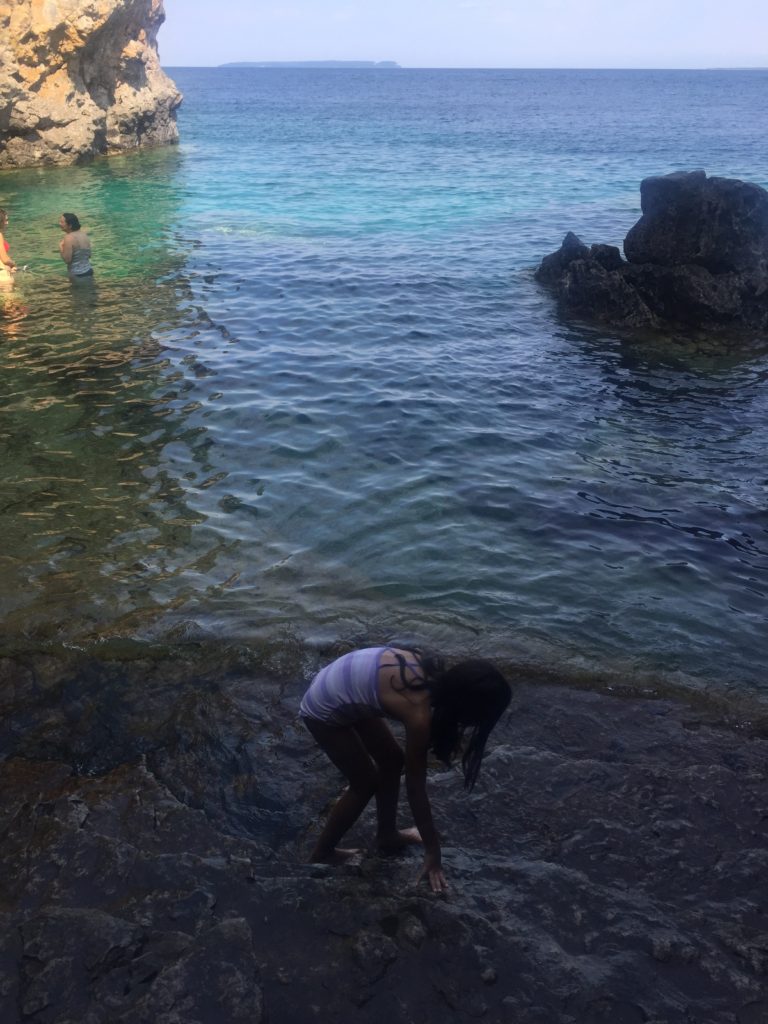 How Cold Is The Water At The Grotto?
We visited the second week of August and I found it cold, but tolerable. I'm also a hearty Canadian who can swim in lakes and bays, so take my opinion on this with a grain of salt. My kids froze, their dad froze, they enjoy pools heated to over 80 degrees. If I could have carried more items in my backpack, I would have brought a wetsuit for the kids as well as floatation devices.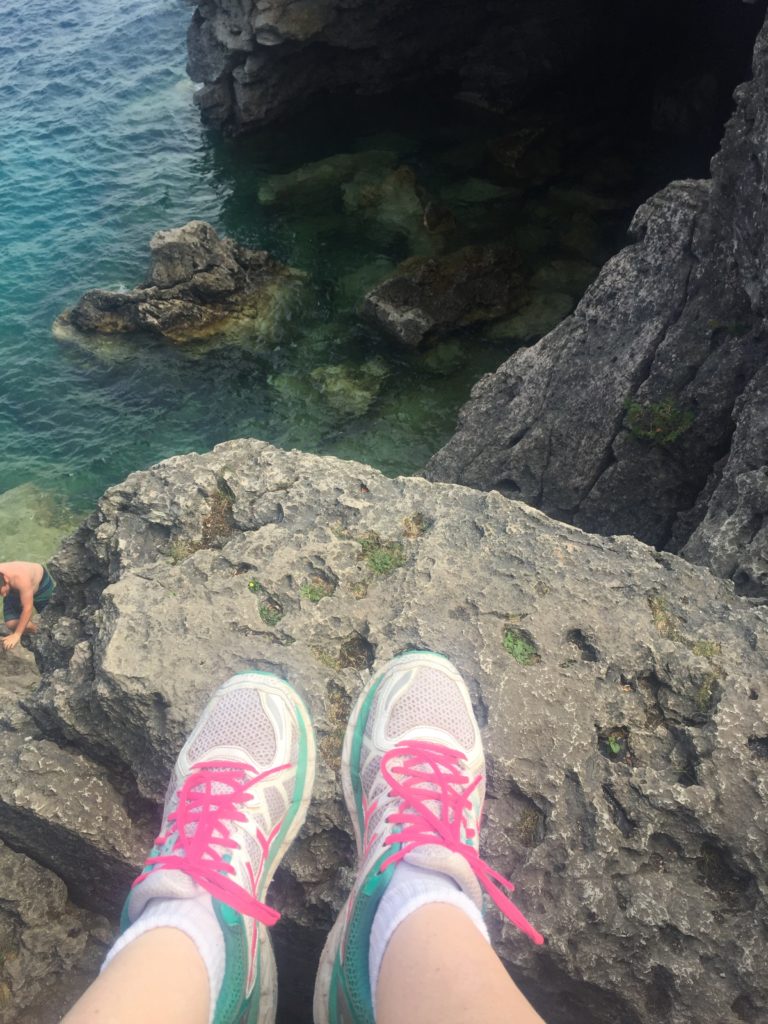 And a final note on washrooms – there are compostable toilets at the parking lot that are open. Toilets along the trail are closed in the winter but normally open in the summer.
Where Else Is There To Stay In The Area?
If you are not camping in Bruce Peninsula National Park, there are many BnB's, AirBnb's and motels in the Tobermory area. We've stayed at Cedar Vista Motel and also at the Blue Bay Motel. We recommend Blue Bay Motel. Accommodations in Tobermory fill up fast in the summertime. Be sure to plan and book your trip in advance or try going in the shoulder seasons of spring and fall.
BOOK YOUR ACCOMMODATIONS IN TOBERMORY HERE:
What other hikes are in the area?
If you are not able to get into the Grotto for whatever reason – I suggest going to The Halfway Log Dump Shoreline. It sounds rather awful, but rest assured, it's pretty nice.
Also, you can look into Little Dunks Bay as well. It's a cute, short hike and good for the whole family. Happy Hiking!
I hope this helps you with What You Need To Know About Going to The Grotto at Tobermory. Did I miss anything you need or want to know? Ask below! I'll get back to you.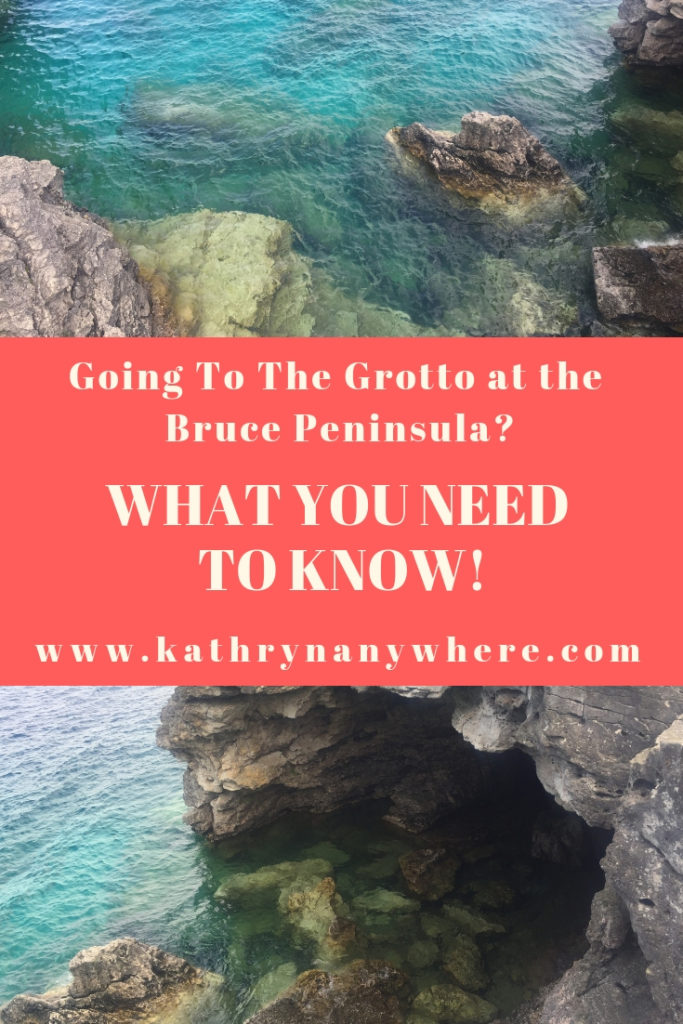 *** This post contains an affiliate links that supplement my income if you chose to make a no-obligation booking or purchase ***