Everything about this moment on the Bonnechere River with my son is perfect.
Still water.
Perfect light.
It's oh so quiet.
I took him out of daycare at the end of June and in two short weeks, he'll be heading off to junior kindergarten, my daughter into grade 4 and I'm having all the feels. There isn't enough time left. I know some moms are so looking forward to the end of summer, enjoying the hustle and bustle of the shopping and preperation and sending their kids back to school, but not me. I'm not looking forward to lining up for drop off and getting that Pumpkin Spice Latte.
I'll miss the outdoors, the fresh air, the wind in my hair, the sun on my shoulders. I'll miss the exploration and hiking. I dread the routine, the alarm clock, the lunch packing, the rush to finish work to make it for pick up at the end of the school day.
I don't care that these past couple months it's been hard to get things done. Simple video fixes take me 5 hours instead of one because I'm refereeing between him and his nine year old sister or that I am the snack maven or maker of entertainment or Netflix supervisor. Cleaning the house has been a challenge. Laundry has taken a backseat. My coffee gets cold a lot.
I've worked full time for the past twenty years and I've had a really good time with my kids not doing that.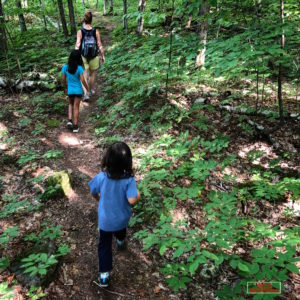 No strict deadlines, no pressured phone calls. There is no one telling me how important their work is and how much I have to care. No rebooting computers or swapping drives. No juggling USB keys.

This is what life is, adventures everyday. Sleeping in. Snuggles on the couch. Wandering where the wifi is weak and in some cases, completely nonexistent. Teaching them about the outdoors. Jumping over poison ivy.

I don't think I could ever work full time through the summer again. 
Please summer, don't end.