Some women run off to the spa for a weekend getaway to indulge in pampering. I've tried doing that and it's fun. However, it's not my idea of a getaway when I need a girl's weekend. For some of us, our idea of a fun time away involves distillery and brewery tours and the opening weekend of a film festival. My friend, Kasia from Kasia Writes and I traveled from Toronto to Windsor, Ontario to attend the 15th Annual Windsor International Film Festival (WIFF) opening weekend. Our extra highlights included touring and tasting at the J.P. Wiser Distillery and Walkerville Brewery. Of course, we ate and drank our way around Windsor too! It's not every day we get to see where 80% of Canada's whiskey is made and then taste it on site.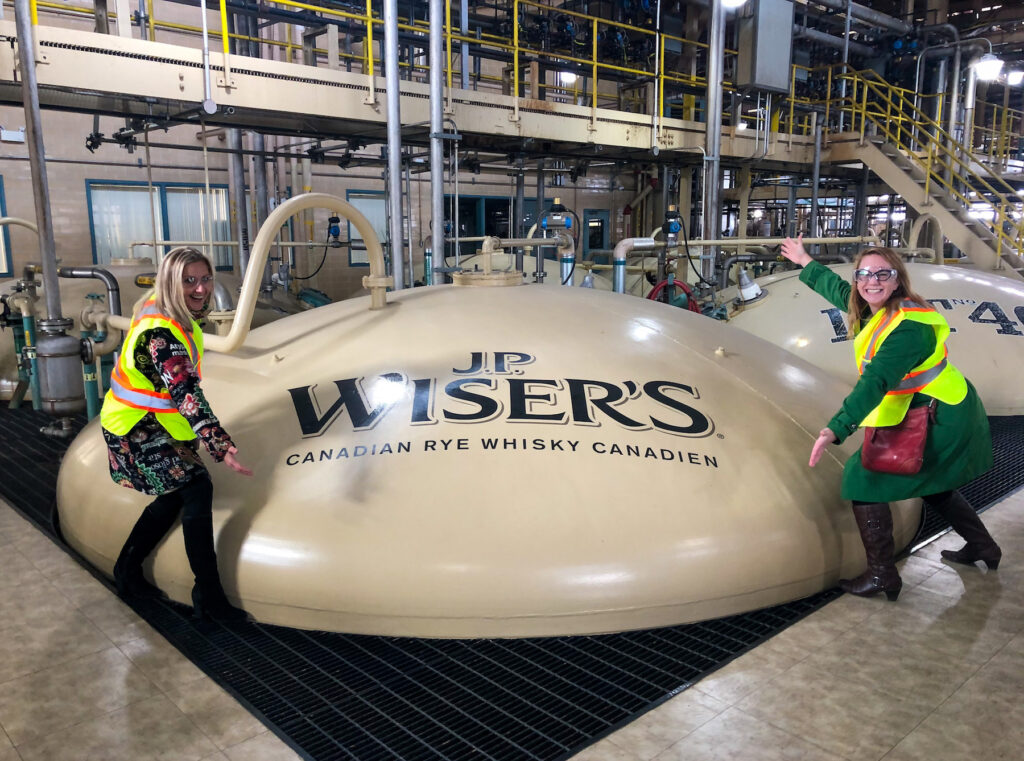 The Windsor Film Festival
The Windsor Film Festival 2019 is a cultural event that is now in its 15th year! So that's fifteen years of running Canadian and international films. Fifteen years of showcasing international films and filmmakers. Fifteen years of bringing exceptional experiences through film to Windsor. That means fifteen years of the people of Windsor enjoying all that the film festival has to offer. And of venues being transformed into movie theatres.
It's by no means the size or scope of the Cannes Film Festival or SXSW Film Festival. But, if it wasn't offering value, it wouldn't still be going. So safe to say, it's getting bigger and better every year. WIFF 2019 is the biggest yet.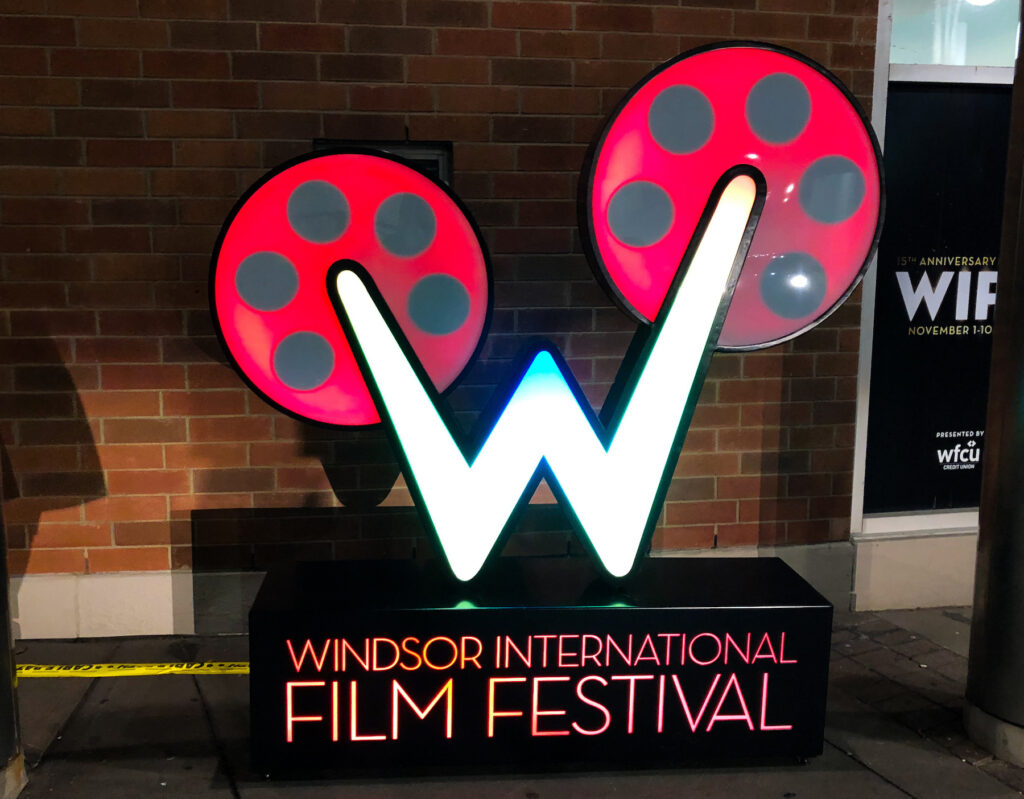 Where Is Windsor?
Windsor is the farthest southwest area of Ontario. The city is on the Detroit River and faces the city of Detroit, Michigan. There are a couple access points to the United States. It's approximately a 4.5-hour train ride or a 4-hour drive from Toronto depending on traffic.
Did you know that Windsor, Ontario is known as the Rose City? Windsor was chosen to promote the heritage of new English settlers in the city and to recognize Windsor Castle in England.
Windsor has a reputation for being gritty and scrappy. The automotive industry that powered Windsor for so long has tanked over the years. Chrysler, Ford, and GM are not the money makers they once were and therefore Winsdor has not been as prosperous. The downtown area fell on hard times. Windsor also has not been known as a destination to visit. Although lately, it's going through a period of regrowth.
No longer only known for auto manufacturing, the downtown core has some modern and trendy bars and restaurants going up. The surrounding area is seeing wineries sprout up and prosper.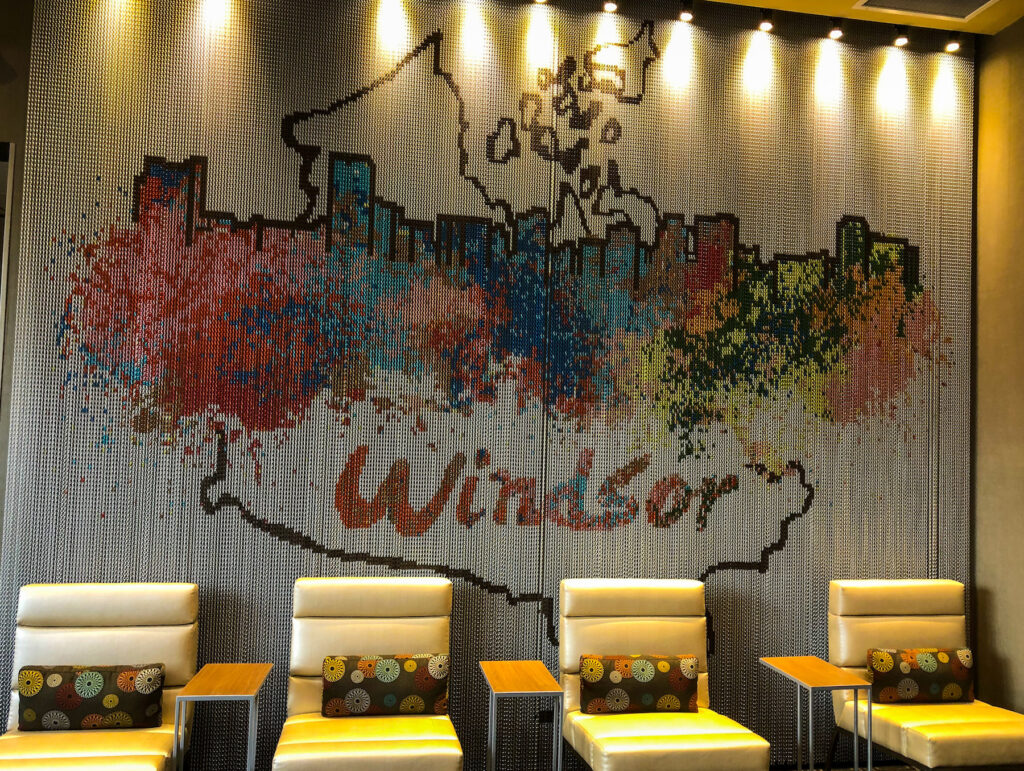 Friday – Day 1
Friday morning, we boarded a 6:45 am Via Rail train from Toronto to Windsor. It was shortly after 11:00 when we arrived in Windsor.
First stop – lunch! We hit Grand Cantina in the Ford City area of Windsor. Ford City is a newly developing area close to the train station. The restaurant, Grand Cantina is described as a Central American and South Asian fusion street food joint. I'm a sucker for a good taco and the tacos I had there are the bomb.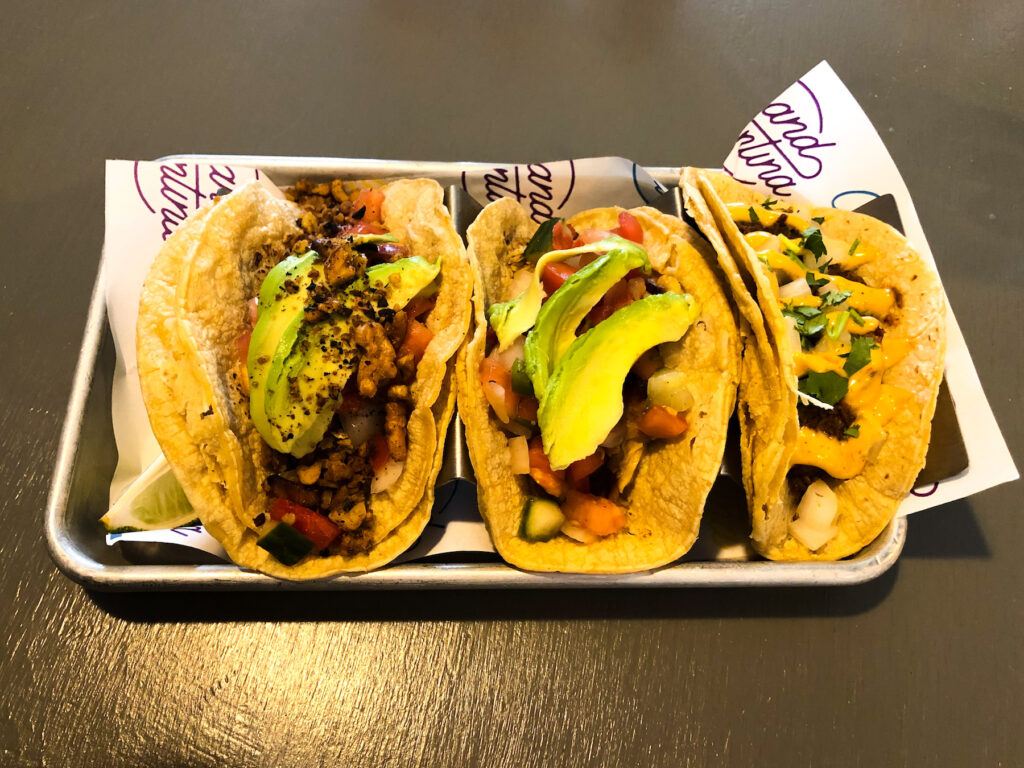 Too bad it was too early for tequila.
It was on this street corner that Grand Cantina is located that we noticed the presence of some amazing street art and then we saw it everywhere.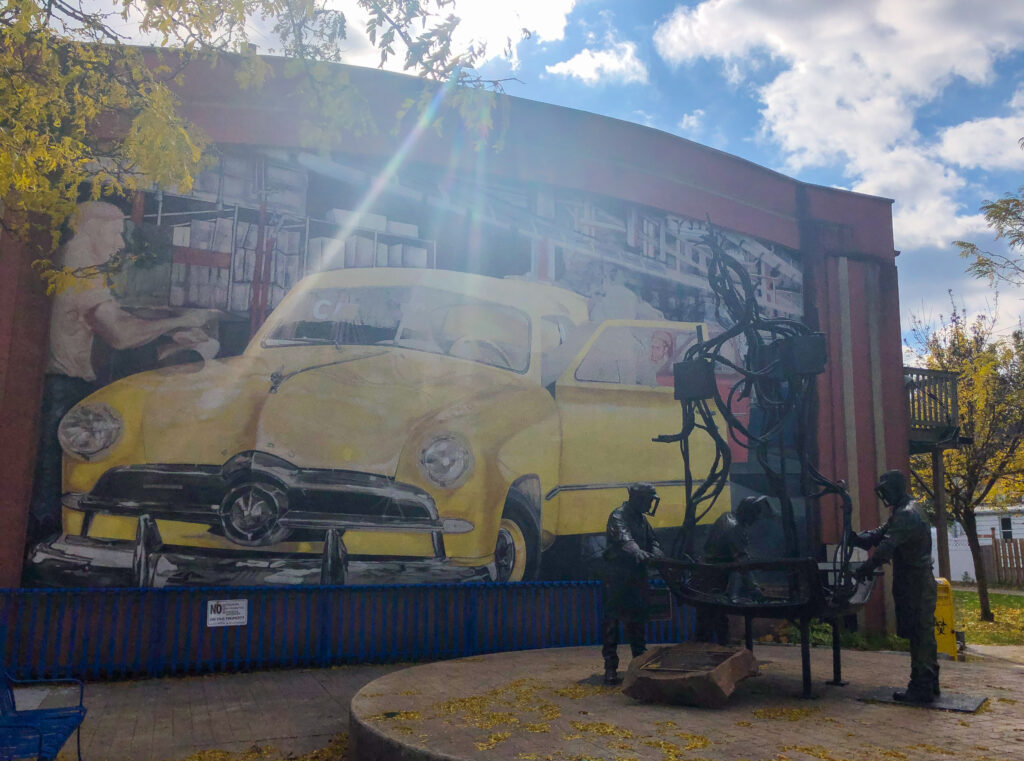 Street Art
I was on a work trip to Windsor at the beginning of October. I did not have time to explore then and did not get a feel for the city, but I did notice the street art. Strolling around the downtown core, it was hard to miss. And it's outstanding. The street art that is found around Windsor is not messy graffiti. Every mural tells a story from the history of the auto workers to the present day of unifying races. Toronto folk are tough to impress and I'm impressed.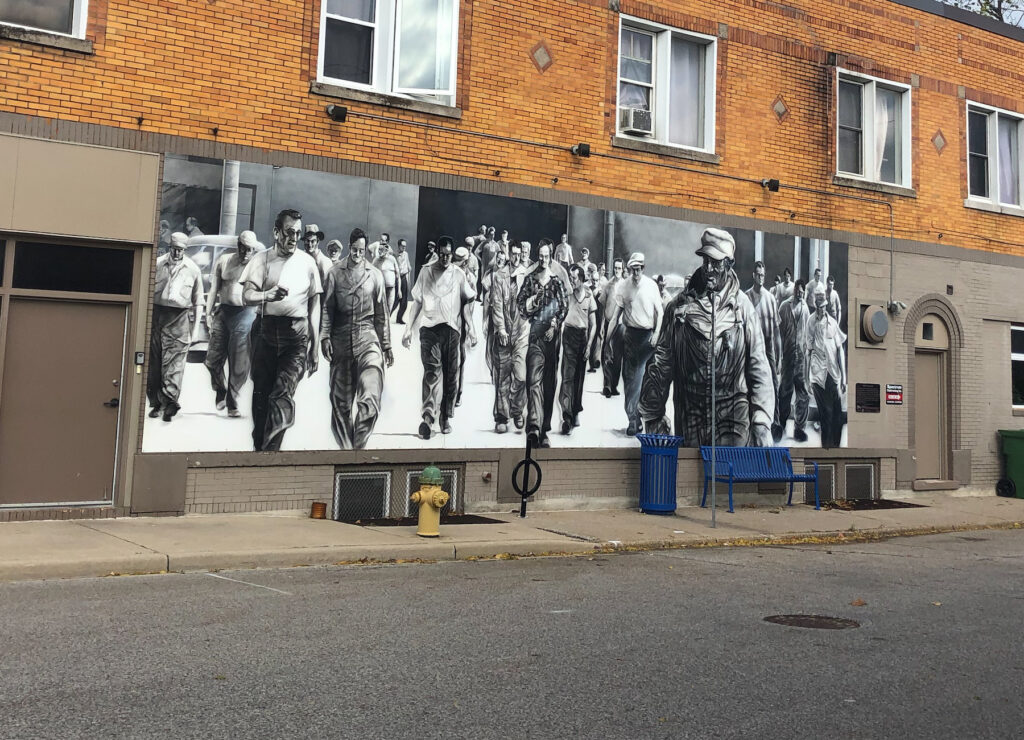 Who knew that Windsor was such a hotbed for artistic talent? Straight up, Windsor has a reputation of being gritty and scrappy. Let's just get it out of the way that Windsor has seen some ups and downs throughout its life. Currently, the Walkerville area is seeing huge gentrification and is attracting a lot of buyers to the housing market. The downtown core has some modern and trendy bars and restaurants opening up. Both the University of Windsor and St. Clair College have opened campuses in the downtown area. It seems like Rose City is about to bloom.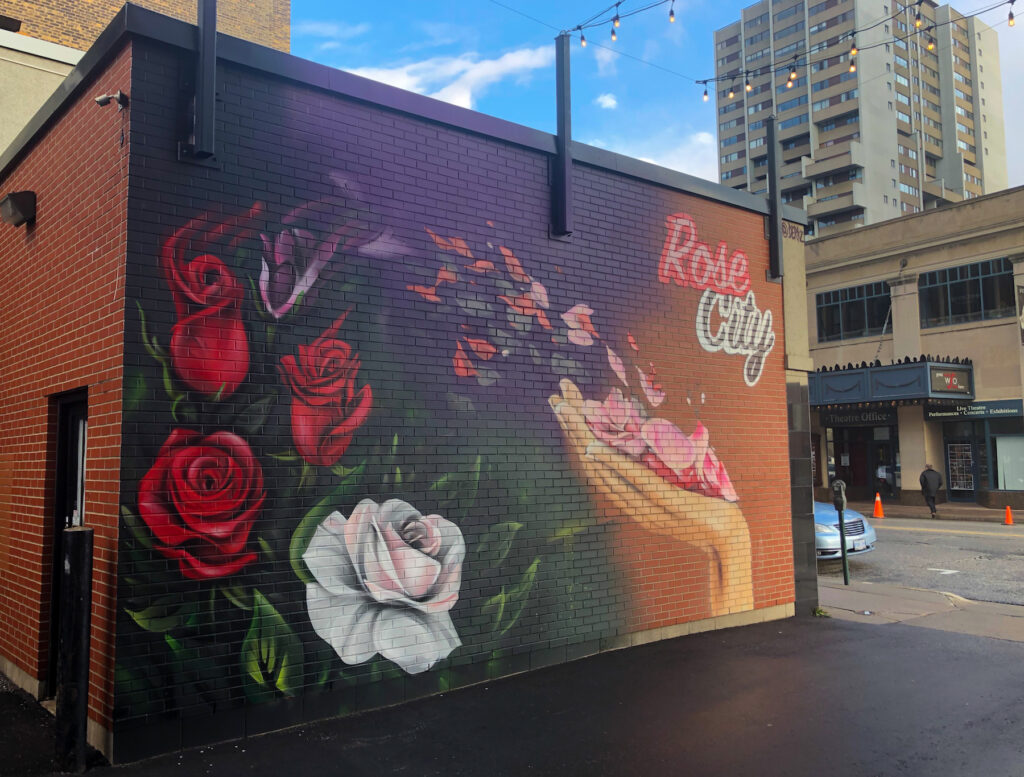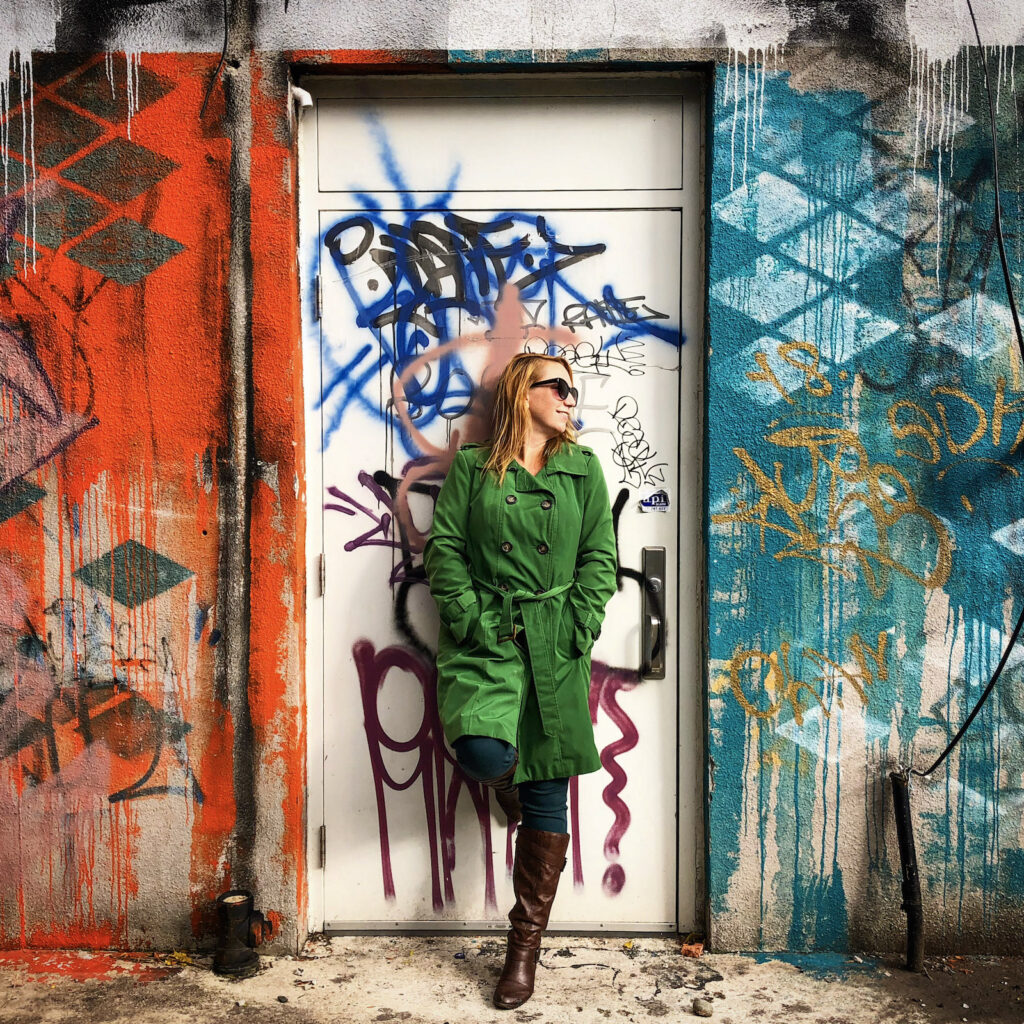 J.P. Wiser Distillery Tour
From Grand Cantina, we took an Uber down to the Walkerville area. Destination: the J.P. Wiser Distillery for a behind the scenes tour and experience. This Canadian institution of Hiram Walker's legacy has been in operation since before Canada was even a county and long before we paid taxes. And this is where 80% of whiskey in Canada is made. J.P. Wiser's is not the only brand made here. They can not tell us what other brands are made there because some are competition!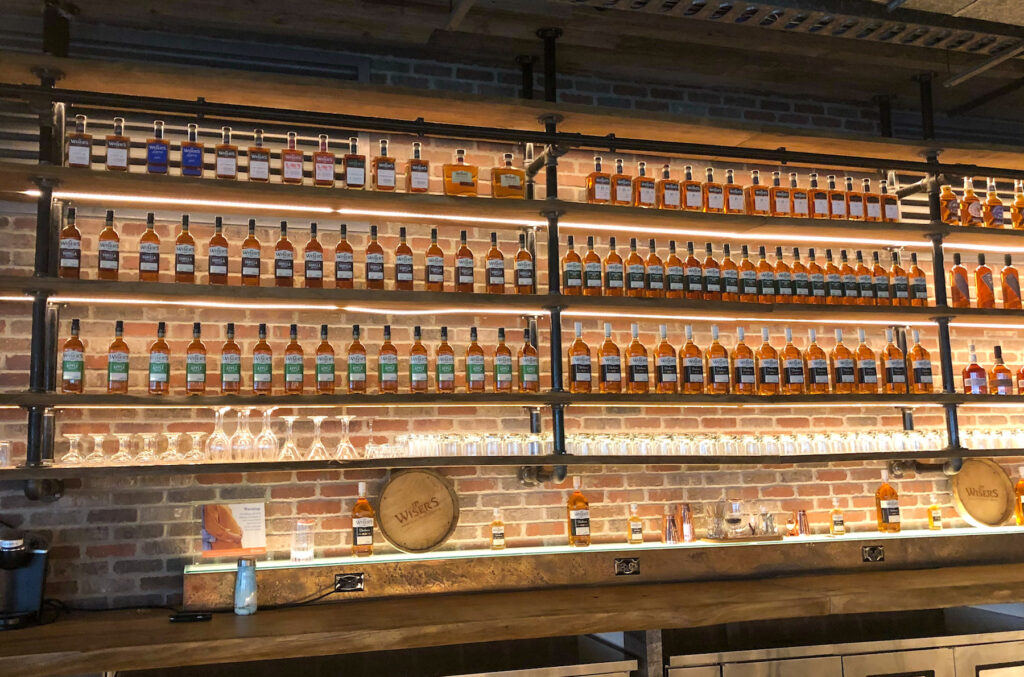 At J.P. Wiser's you learn all about the steep and rich history of whiskey is not just the Windsor area, but also throughout Canada. We had a guide for the group – obviously, we cannot just wander aimlessly! While hearing the stories of prohibition in Windsor and Detroit, how this location was selected over Detroit or anywhere else and the industry of whiskey, you're taken through the cooking, fermentation, and distillation process.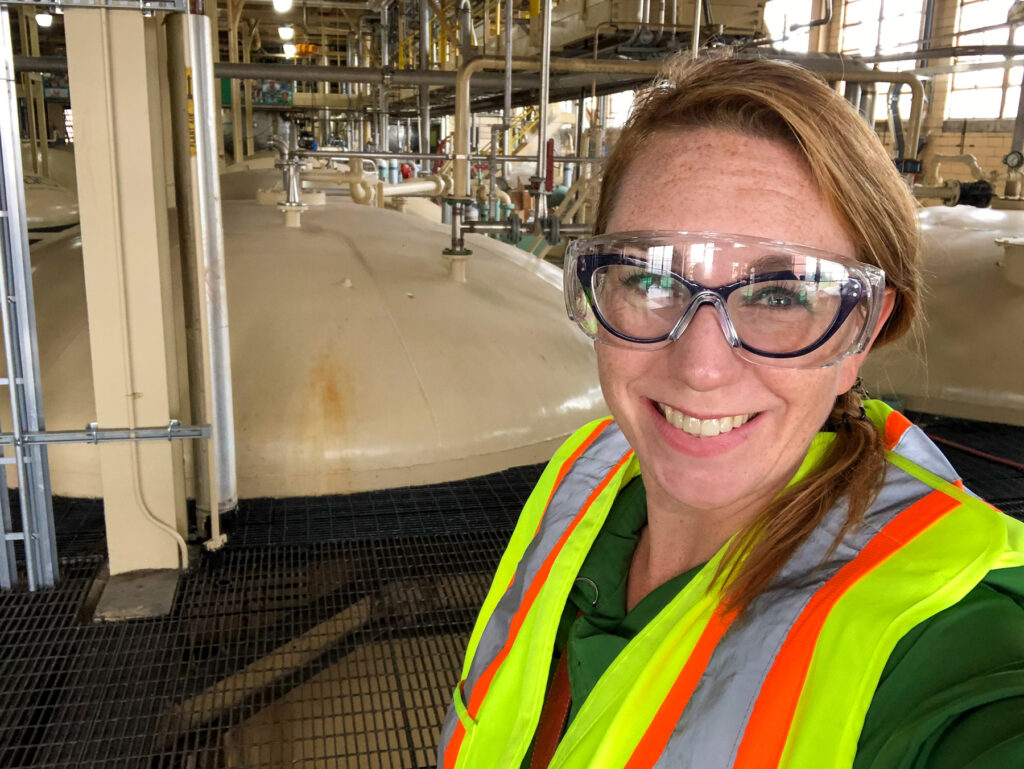 I can't give away too much of the information, because it's very top secret. You need to take the tour to learn about how they distill the rye, wheat, corn, and barley and how those grains are milled to a fine flour.  but I did get to stick my finger into the "mash", which is distilled corn. It tasted awful. I seriously need to stop volunteering to do things first.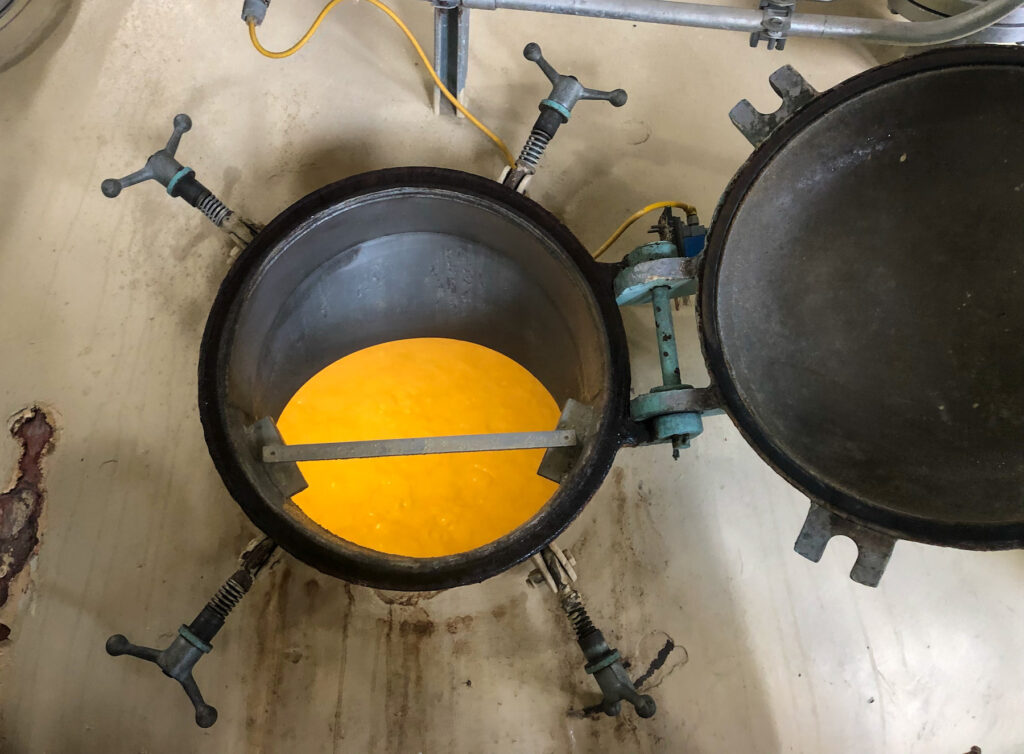 When the time came to sample four different kinds of whiskey in the tasting room, it was like years of sweet history in my mouth. We tasted J.P. Wiser's Deluxe, J.P. Wiser's 15-year-old, Lot 40 and Pike Creek. I think Lot 40 was my favourite. I completely lacked all appreciation for how to properly taste whiskey prior to this tour. It's art!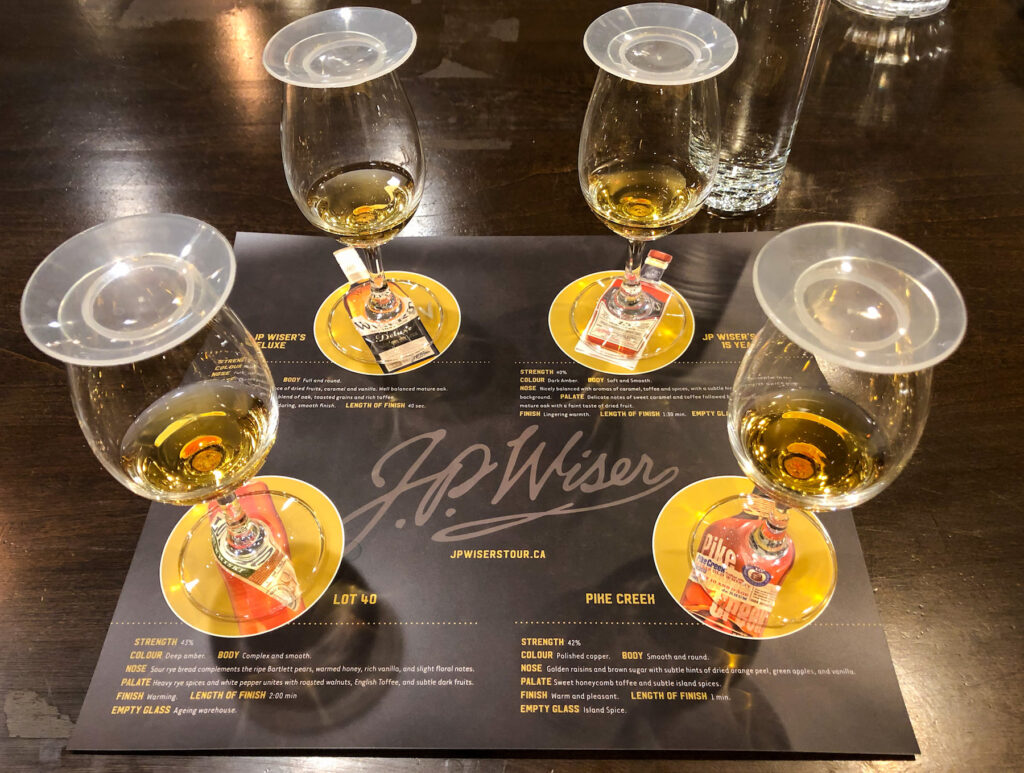 WIFF Themed Cocktails
After checking into our sweet accommodations at the Marriot Townplace Suites, it was time for pre-show cocktails at Maiden Lane Wine & Spirits. Each night of the film festival, Maiden Lane is serving up a special WIFF 2019 cocktail. The night Kasia and I visited, they were serving up the "Rose". Paired with a charcuterie board for me and vegetarian snacks for Kasia and we were happy ladies out for a night on the town in Windsor!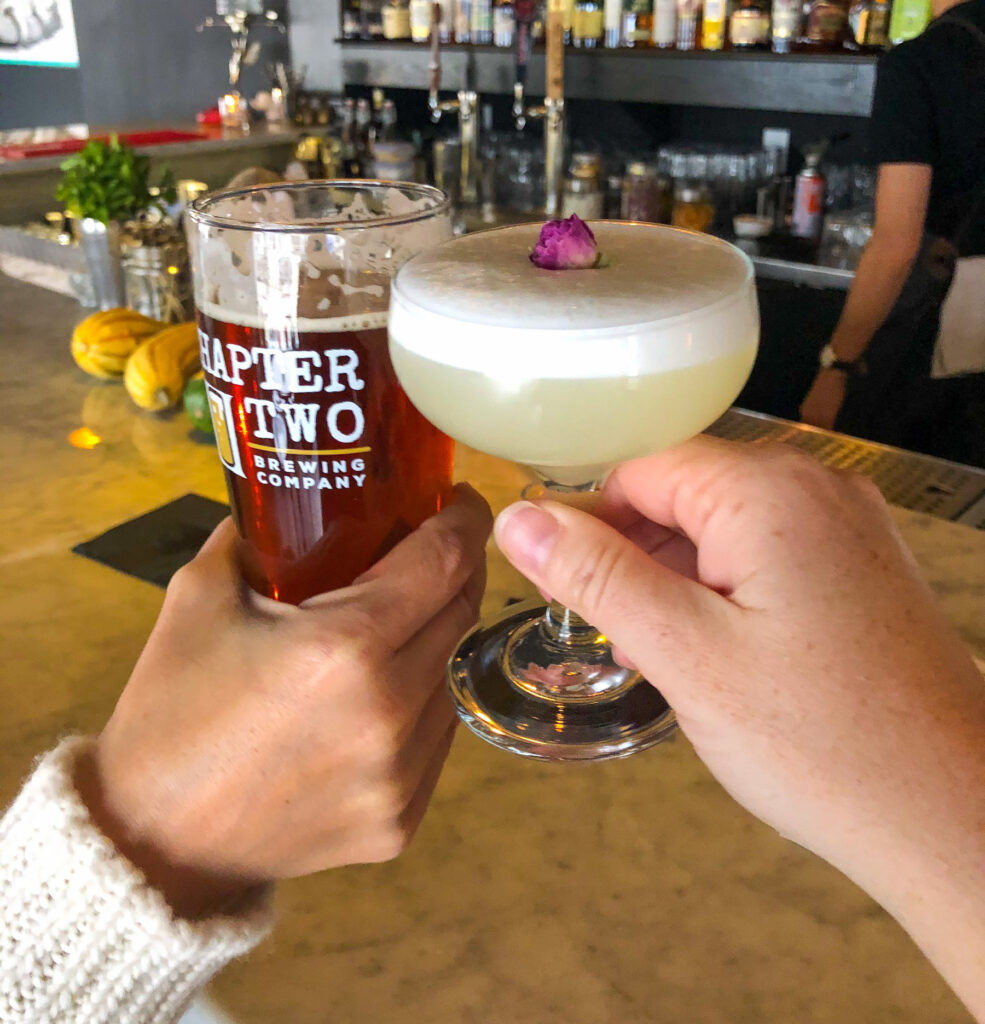 Windsor Film Festival Opening Night
Walking north on Ouellette Street to the Chrysler Theatre on Friday night, Windsor has a buzz in the air, there is excitement! Could it be because WIFF was named the number one volunteer-run film festival in the country? Or that there is about to be 21 local films in the programming calendar showcasing how much talent comes from the area? Or that 42 films selected for the festival are Francophone of that 46 films were shown at TIFF, one of the world's leading film festivals showing off how strong the selections were that WIFF volunteers were able to attract.
Also, a really cool fact about the Windsor Film Festival is that all the venues where the screenings take place have been transformed for this use as they actually aren't theatres.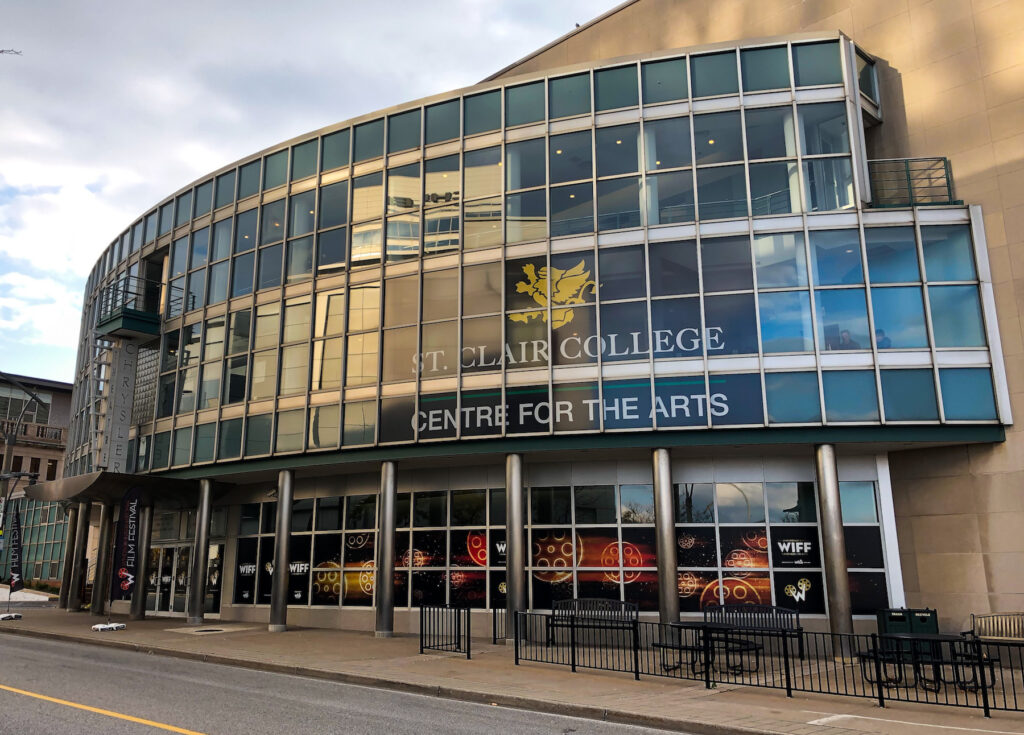 The opening night, Kasia and I attended Les Invisibles at the Chrysler Theatre in the St. Clair Centre For The Arts, a French film from France heavy on the feminist anthem, with a side of comedy and a feel-good theme of empowerment. It follows homeless women who transform their lives.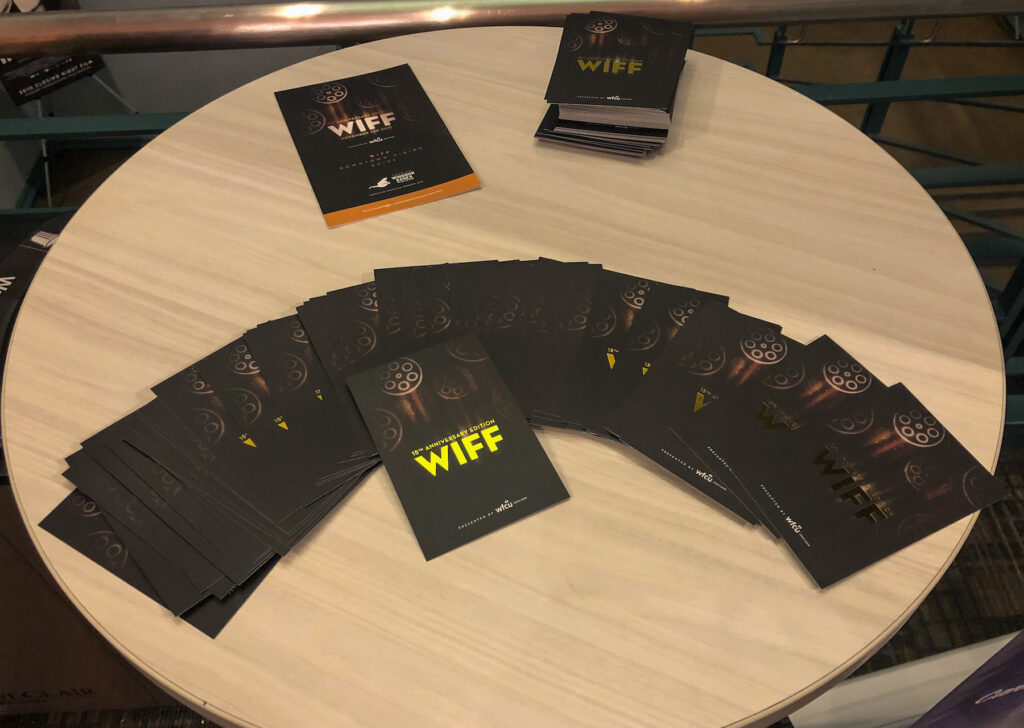 Following the opening night party, we journeyed over to the Capitol Theatre through WIFF Alley for a screening of Slut… In A Good Way. What a delightful surprise that film was – hilarious feature movie out of Quebec of a teenage girl getting over her ex-boyfriend by getting under numerous other males in her workplace. I had not heard of either film before I saw them in the program and I can say I would recommend both of them if you see them on Netflix or any other streaming network you subscribe to.

What is WIFF Alley?
WIFF Alley is an amazing corridor of art and culture as a tribute to the film festival in the alleyway north from University Street, almost right in front of the Capitol Theatre. The transformation to this alleyway includes lights and was made possible as a joint project between local businesses and the City Of Windsor.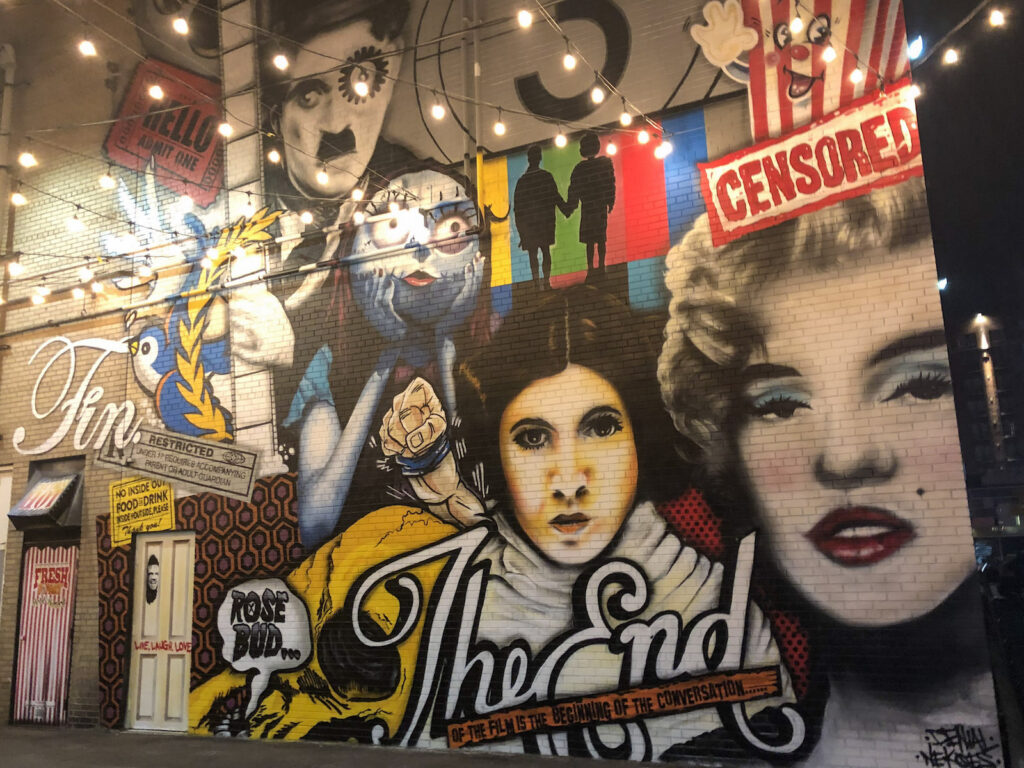 Saturday – Day 2
After an amazing sleep in our really comfortable queen-sized beds at the Townplace Marriot and having a great hot continental breakfast in the lobby, I was up and out for the screening of I'm Going to Break Your Heart. It is a documentary on the martial struggles of Raine Maida and Chantal Kreviazuk through the creation of their newest musical collaboration. You don't need to be fans of these Canadian musical legends to relate to this film and what the couple is going through after 19 years together. Hi, getting a divorce right here.
I can say this, as a documentary and television editor, I know there are a million and one ways you can slice and dice the moments that were captured in the midst of their creative process and in their couples counseling sessions. I don't like seeing reviews or reading too much about films before I see them, but I did read an interview after with Raine and Chantal that pretty much said they fired three editors who made it look like they hated each other and were amping up the conflict. I'm going to say that often the editors are not the problem and if three editors saw the conflict in a certain way that you don't agree with, well…
Lunch at Bread Meats Bread was fast and delicious. This is one of those trendy new restaurants resurging Windsor's downtown core. Bread Meats Bread is a little gem gleaming in the rubble. Once we finished up my Italian Job sandwich and Kasia's salad, it was off to a screening of Last Call.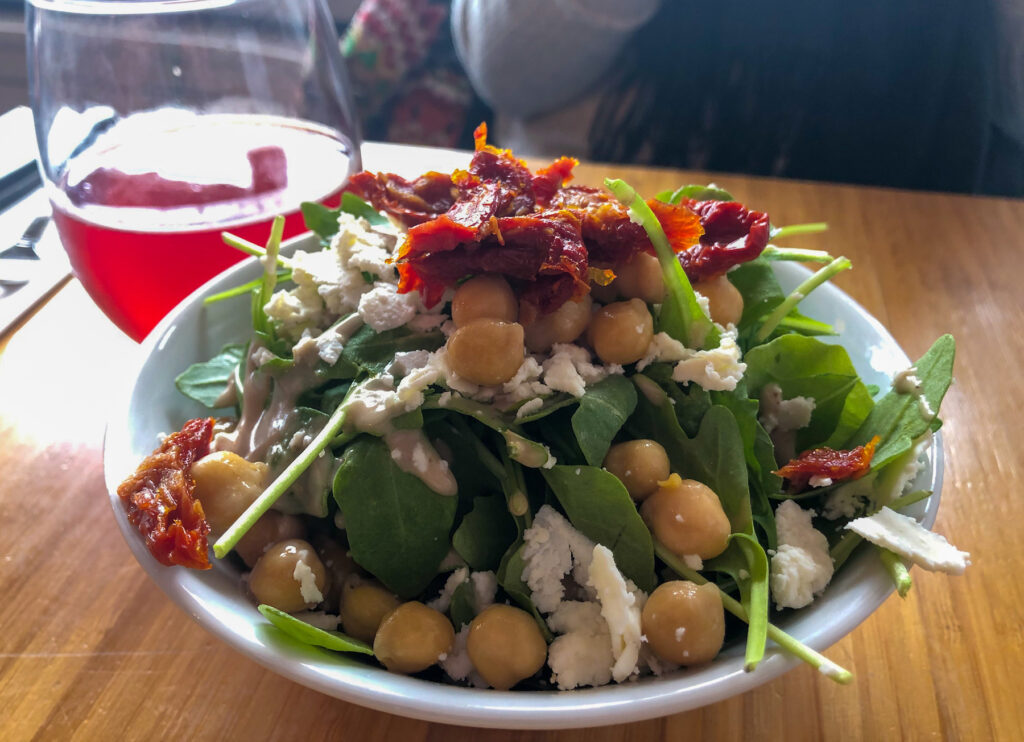 Last Call and Scotch: A Golden Dream
Last Call is a Windsor made, intense and dark film about a suicidal alcoholic who accidentally dials a wrong number trying to call a helpline. I think, and I'm sorry if I speak out of turn on this, that a lot of us find stories like this hitting close to home. Without divulging too many of my own family secrets, I've definitely been on the receiving end of a family member looking for help. I found myself halfway through the film on the edge of my seat, desperate to see what happened next. The emotions felt at the end of this were tough to compartmentalize.
The director, Windsor's Gavin Michael Booth, was there for a Q&A and chat after the film, so it's nice to see the hometown hero do well.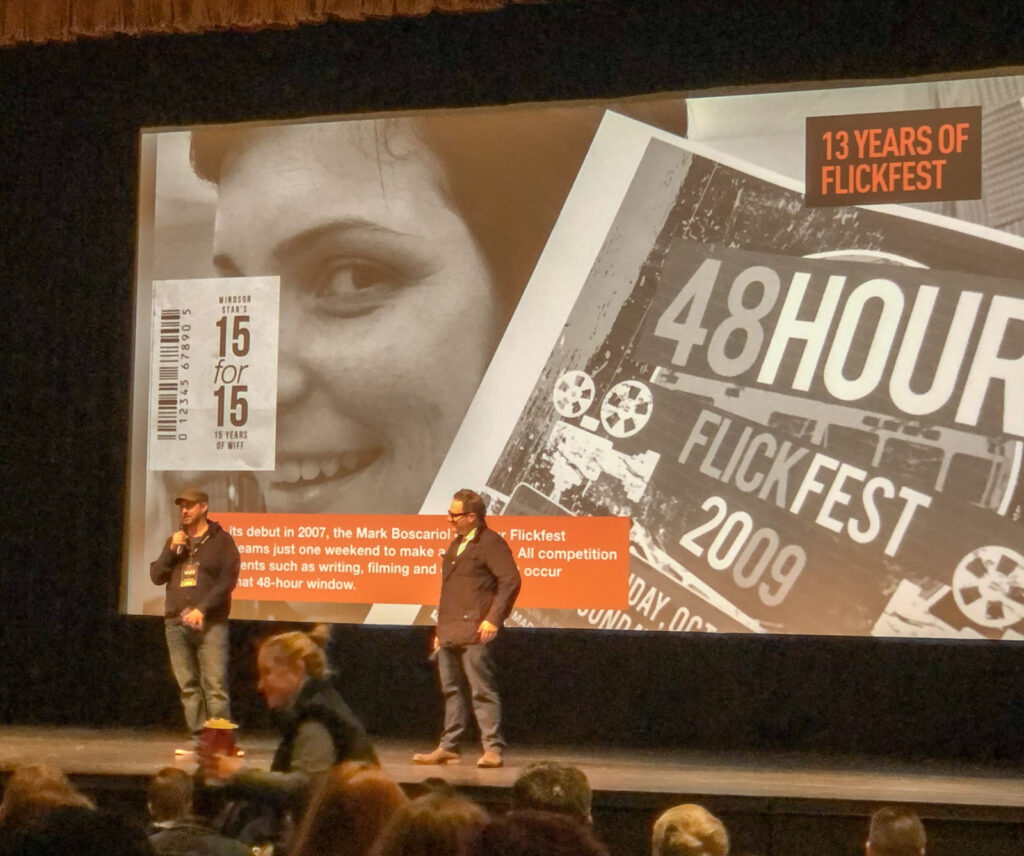 Almost immediately after, we turned to the delightful documentary Scotch: A Golden Dream. This was the sleeper comedy hit for me. Scottish men are funny. Especially ones who make Scotch. None of them looked like they belong in the Outlander, but I'll forgive that. You will too if you see the film. And kid you not, someone has a nose insured for 2 million pounds. You'll learn about that in the film. So see it!
After our education on the who's who of the Scotch industry in Scotland, we make out way to Vito's Pizzeria in Walkersville for an authentic Italian Wood fried pizza and pasta for dinner. It is really cool to see the nightlife out of the downtown core of Windsor. This restaurant was packed and when we left, there was a line up at the door waiting to get in. The blossoming rose, I'm telling you…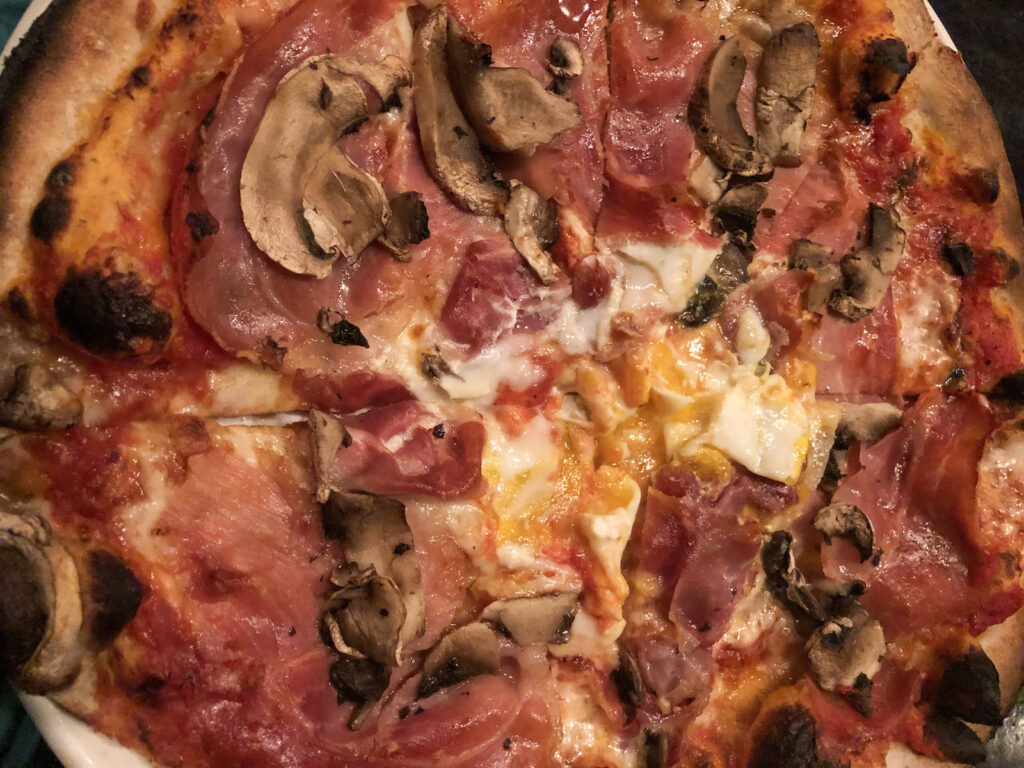 Saturday Night Is Alright…
A quick Uber ride back to downtown brought us to Craftheads for a flight of Windor's finest craft beer. This is the place to go to find the collection of all that is craft and local.
Then, over to the Capitol Theatre for David Crosby; Remember My Name, a raw throwback to the musical for sex, drugs and rock and roll. And by the sounds of it, it was a lot of sex and a lot of drugs with familiar musical characters like Joanie Mitchell and Momma Cas showing up in the archival film that illustrated the scene so well. David Crosby says he has no idea how he is still alive. Like Keith Richards, I guess. Music fans of the 1960s and '70s will enjoy the neighbourhood tour Crosby takes the viewers on. He recaps his triumphs, regrets, and shows where the iconic Joanie Mitchell window picture was taken.
The rest of the moviegoers attended Parasite. Parasite is a Korean film that could be the front runner for the People's Choice award.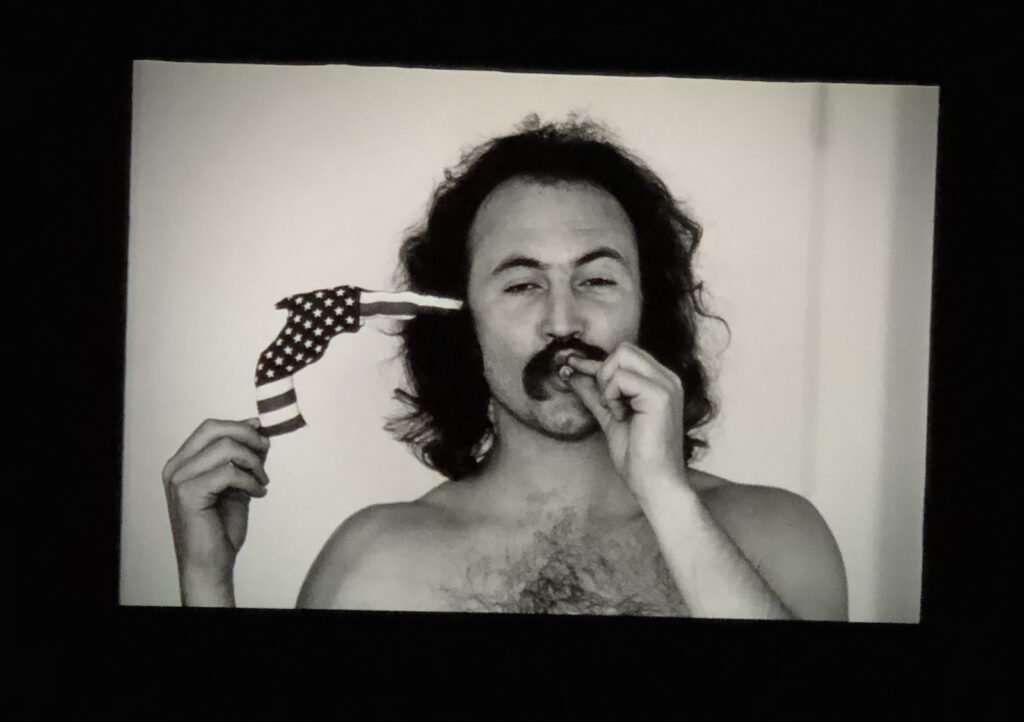 Sunday – Day 3
 Lucky for us, the opening weekend of the Windsor International Film Festival coincided with daylight savings time and the clocks falling backward on Sunday morning. For us, that meant an extra hour of sleep. Since I'm a Mom and I was enjoying a weekend away from my kids, that's a welcome reprieve. It allowed me the opportunity to actually get up, have coffee and be on time for the 9:00 am screening of La Belle Epoque on a Sunday. Really thought-provoking for a Sunday morning too. See this film well-caffeinated.
Once that finished, it was over to The Squirrel Cage for Windsor's most amazing brunch in Maiden Lane. You know a place is good when you walk in and there's a line-up of locals all bustling and jonesing to get in. The food, atmosphere, and service does not disappoint. Hands down, this is where you want to go in the morning for a chill time. The meal was great, service excellent and space offers some home decor inspiration. The wooden tables have me lusting for a dining room makeover.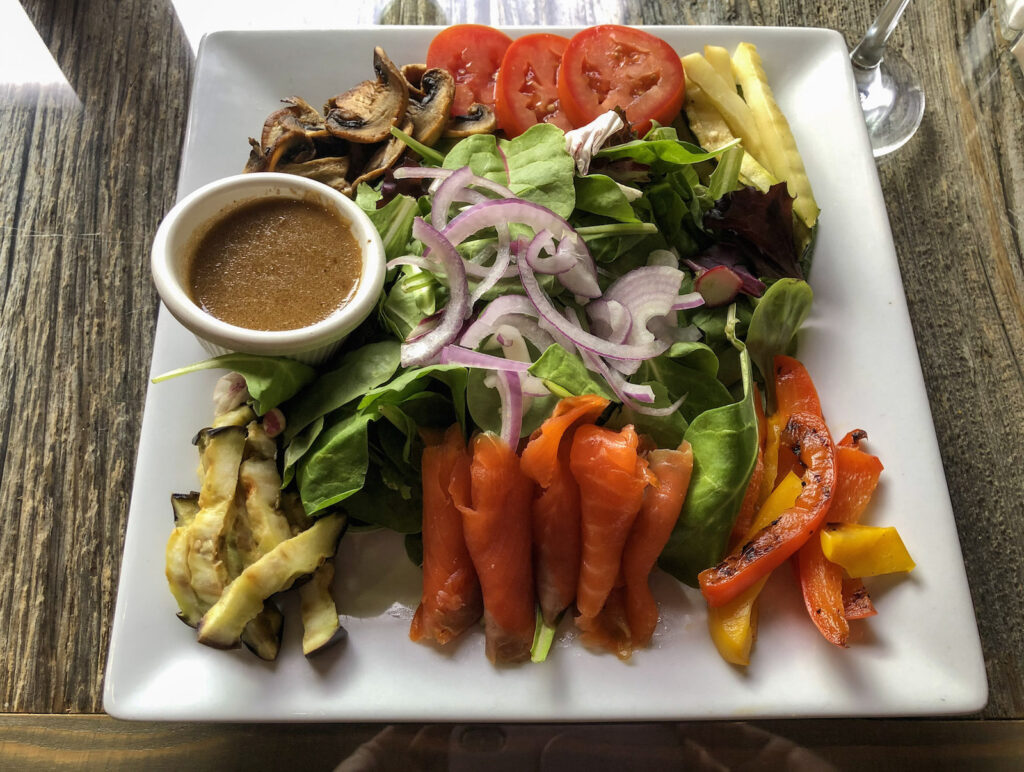 With still a few hours to go before our 5:45 pm train home to Toronto, we took in Willie. Willie is the story of hockey great Willie O'Ree, the first African Canadian player in the NHL. It chronics the long road of his induction into the Hockey Hall of Fame. It's a wonderful profile of the man, his legendary career and his continued work with coloured youth and hockey.
Walkerville Brewery
With a bit more time left before our train, we knew we had to hit up the Walkerville Brewery. Walkerville Brewery is a craft brewery in the area developed by Hiram Walker over 150 years ago. In fact, this craft brewery is in a building that once housed whiskey distillation. Geographically, it's not far from J.P. Wiser's at all. One of the brewery partners, Ian was kind enough to show us around! We pretty much started in whiskey barrels at the J.P. Wiser's experience and ended our weekend in them too! Yes, that's right, there are used whiskey barrels housing stout beer. This is part of a brewmaster technique to flavour their special brew.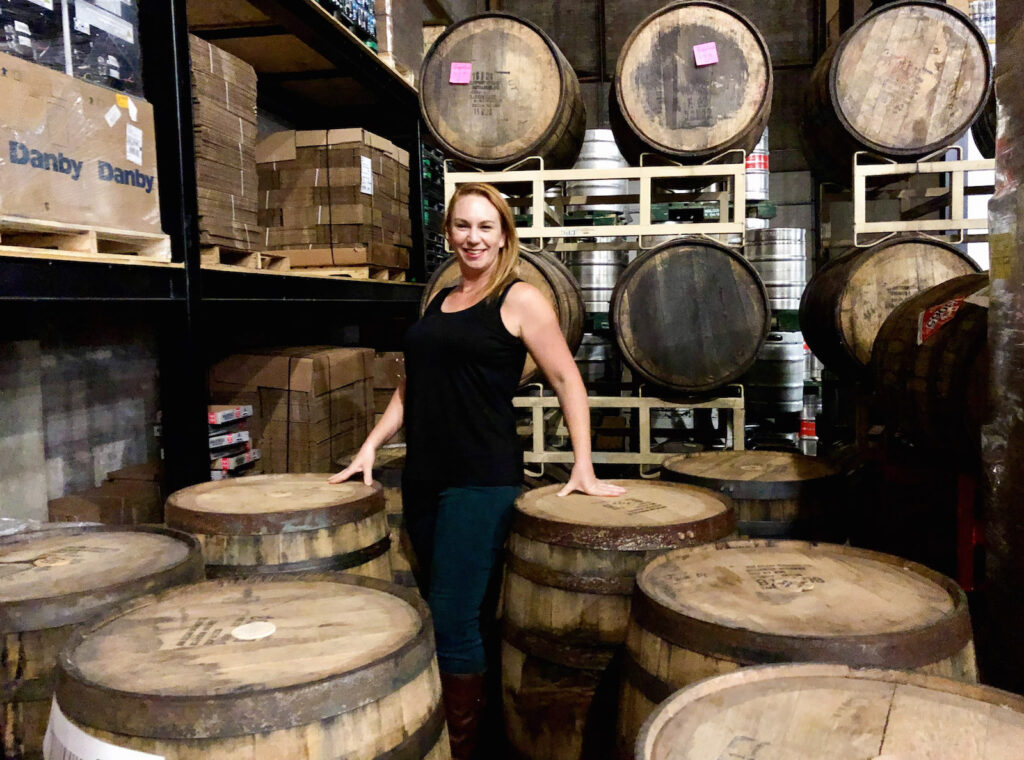 And all I can say about that beer is wow! Nose that stout beer like you nose a whiskey or scotch and be impressed. They have three types of stout beer currently in their manufacture – the milk stout, the Russian imperial which is a seasonal, limited edition as well as Road Block Dopplebock. The taste is a rich vanilla and heavy smokey barrel with a whiskey splash on the tongue. It was unlike any stout beer I've ever drank in my life. This is also Walkerville Brewery's first year doing cider. Ian was eager to share his new knowledge on which apples are the best and the techniques they are using to perfect their formula.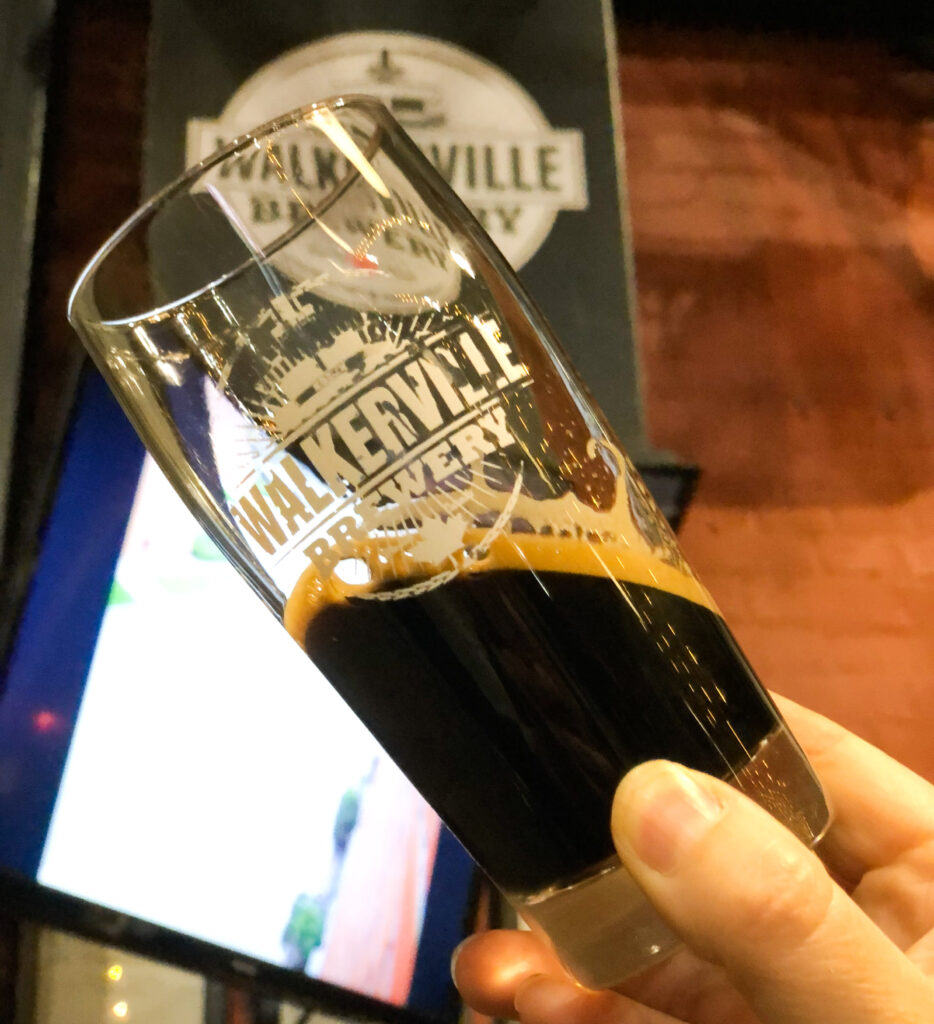 Ending our Windsor Film Festival girl's weekend at Walkerville Brewery was an absolutely perfect wrap up. Let's be real – it was because we were able to purchase cans of beer to take home with us on the train! I had every intention of enjoying them later in the week, but it's off to Latvia for me!
Tourism Windsor Essex Pelee Island compensated me for my coverage of the opening weekend of the Windsor Film Festival. Opinions are always mine.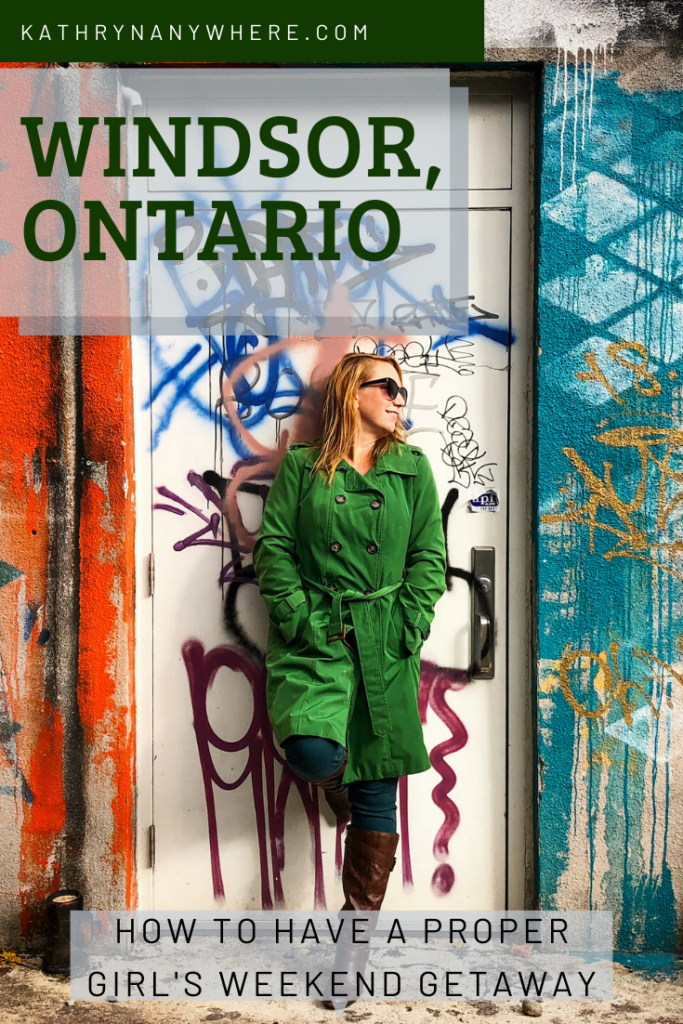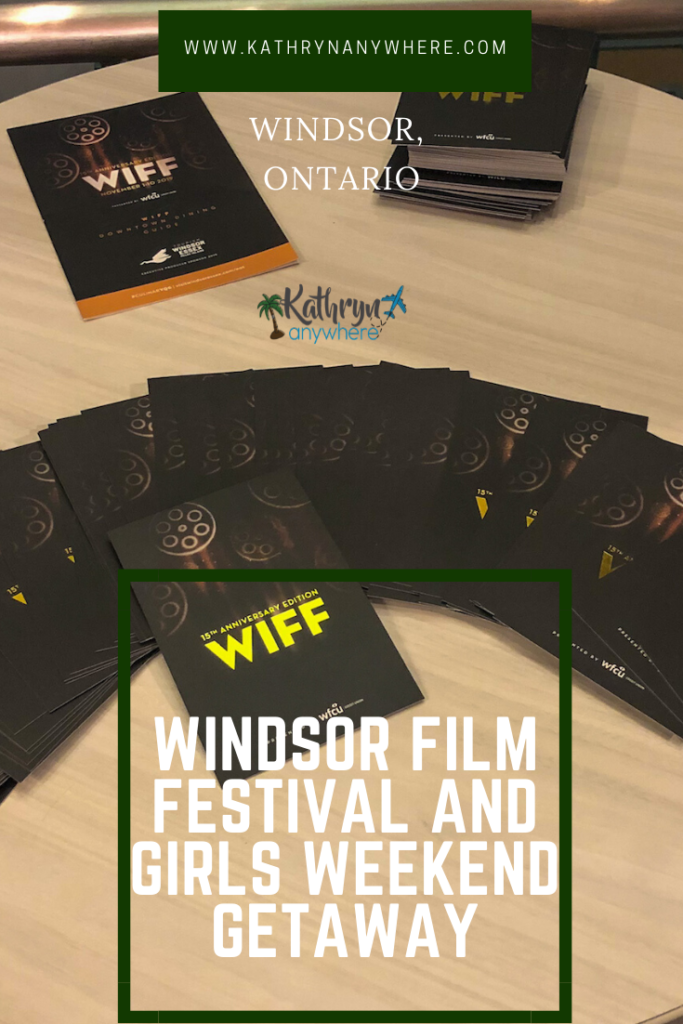 I don't really travel much with my friends (as in I have not really blogged about it), but perhaps you'd like to read about What You Need to Know About West Bay, Roatan, Honduras or Why I Do Adventure Self Care (Without My Kids)