My camping and canoe portage with my awesome friends and fellow travel writers was taken with The Land Canadian Adventures on The Serpentine Loop in Kawartha Highlands Provincial Park and was hosted by Peterborough & the Kawarthas Tourism.
Canoe portage and camping go hand in hand. Like peanut butter and jelly. Mix in some of your best friends and suddenly it's the best trip ever… or is it?
There is a ton of planning that goes into making a camping and canoe portage with friends successful. Food, tents, sleeping bags, cooking gear, washroom habits all need to be taken into account and planned accordingly. You could decide to do this trip with a couple of your closest friends and return enemies if it doesn't go according to plan.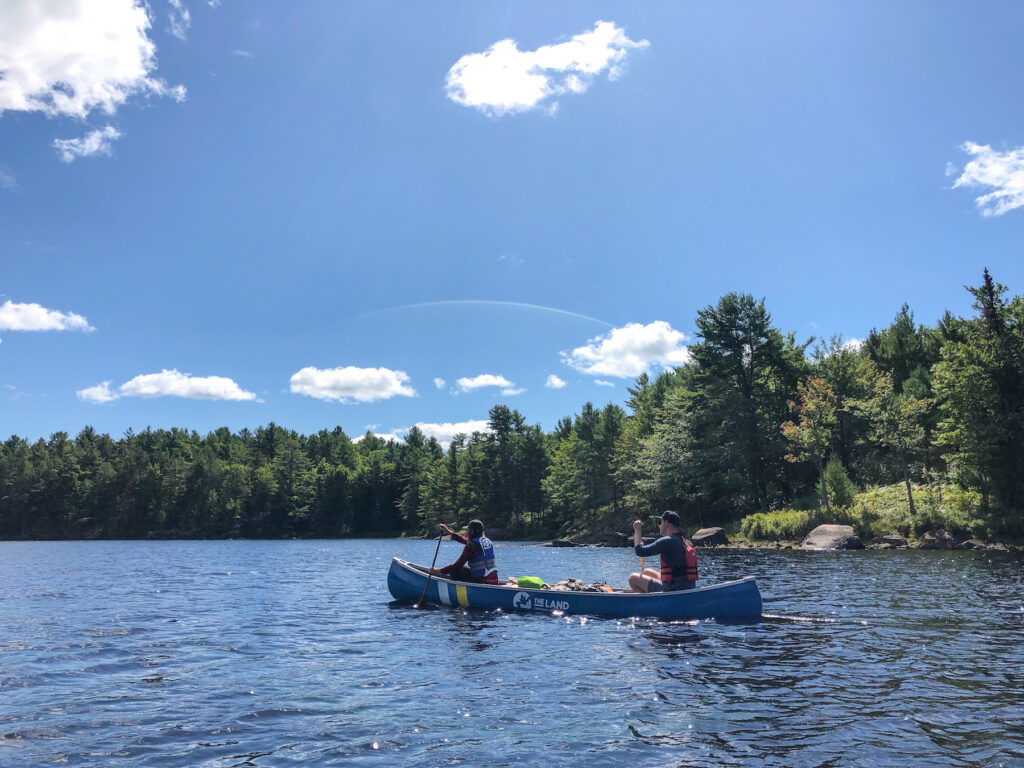 Canoe Portage With Friends
Luckily, my friends (Kim from Walkaboot Travel, Ryan from Out With Ryan, Chris from TravelingMitch and my steady stern, Kevin from The Wandering Wagars) and I survived and thrived on one of these fabled camping and canoe portages and you can read all about the Serpentine Loop in Kawartha Highlands Provincial Park here. We returned home closer friends than when we left. Want to know how we did it? Read on!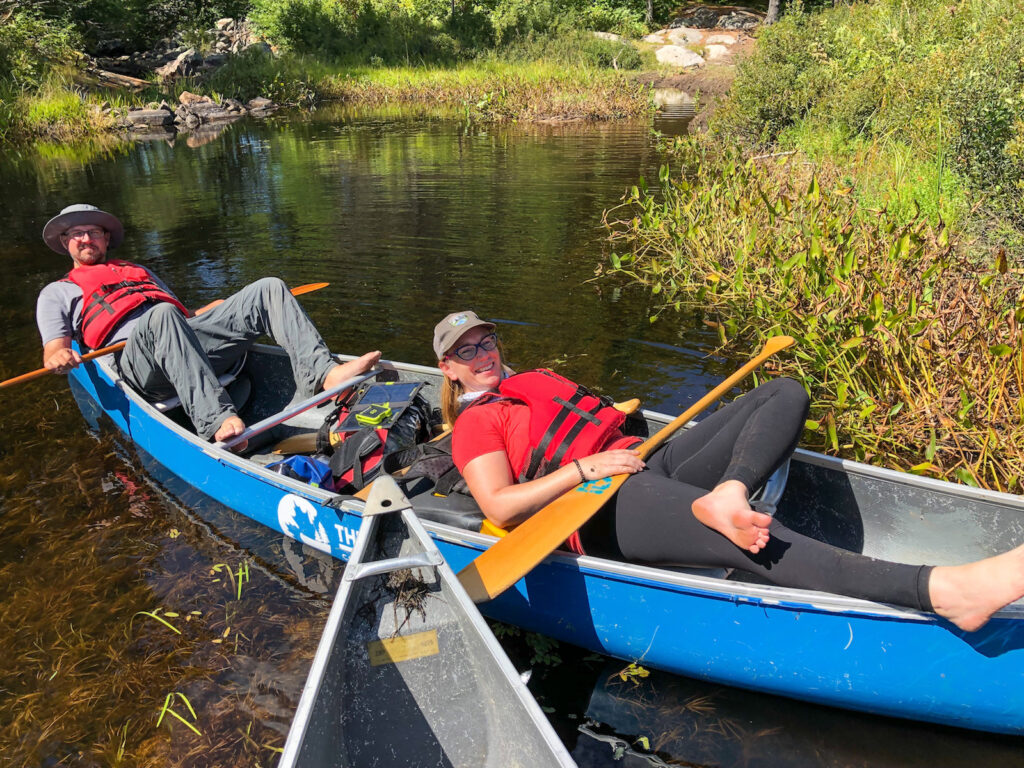 Pick a location like Kawarthas Highlands Provincial Park
This newest Ontario Park is made for adventures, canoes portages, and back-country campers. It's also home of some of the best sunrises and sunsets Ontario has to offer those who wander. Be sure to reserve your sites in advance and obtain a park map with portage routes for ultimate success.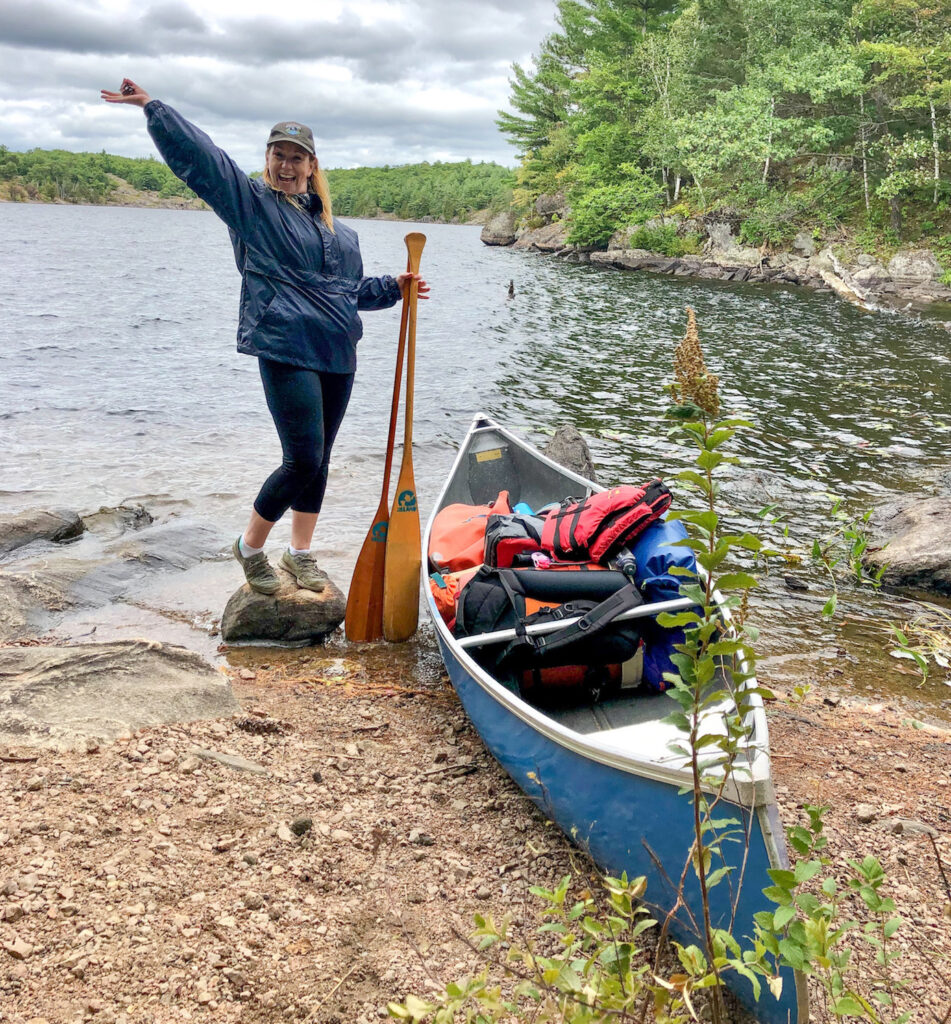 Rent the gear and camping equipment you need from an outfitter like The Land Canadian Adventures
Even better, take along a couple of their guides too. It's a safe bet to ensure you don't get lost, have someone who will bring a guitar and sing campfire songs with you and know how to cook gourmet food in the wilderness. The guides are expert canoe paddlers who can help you sharpen your own paddle skills as well. The Land will have everything you need from dry bags to keep your camera gear waterproof to sleeping bags and tents to barrels for food and all your cooking gear and they're super cool people too.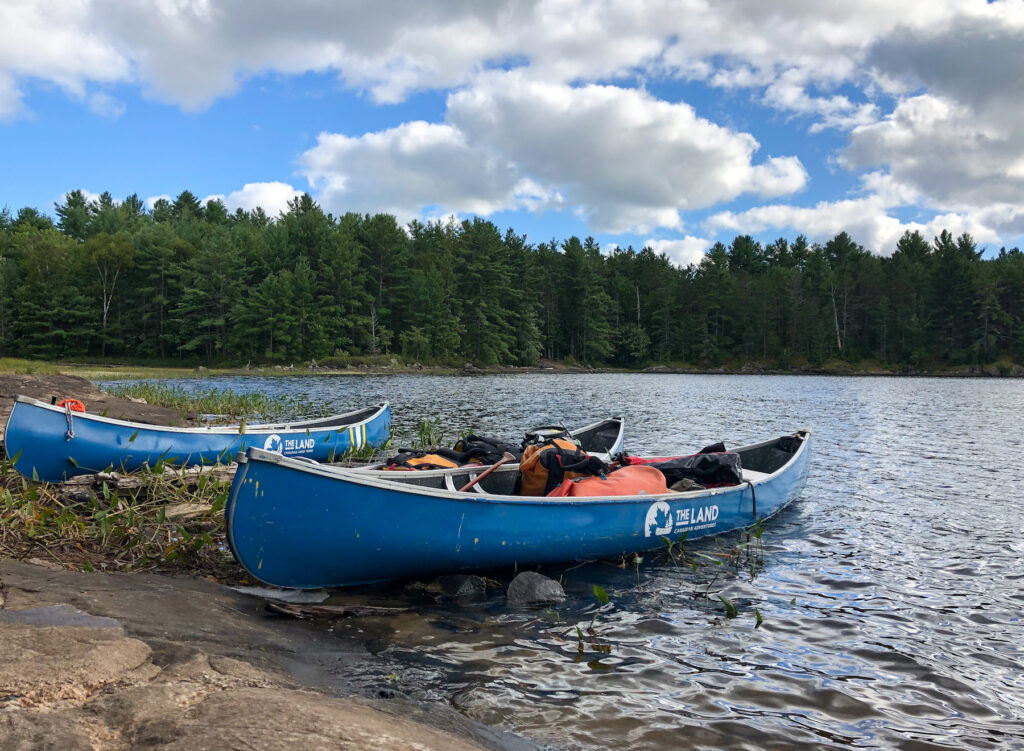 See Our Day 1 Video blog here:
Figure out your roles ahead of time
Pick a paddling partner and know who is going to be the bow and who is going to be the stern. Experience counts here, I don't recommend that you put two novice paddlers in one canoe together. If you're all inexperienced on the water, in a canoe or don't feel comfortable, hop in a canoe with your guide. If you're the designated picture taker, be the bow and let your steady stern do all the work! Well, help them out sometimes, but the bow is typically in charge of taking all the selfies of the both (or trio) of you. Switch roles now and then if you can.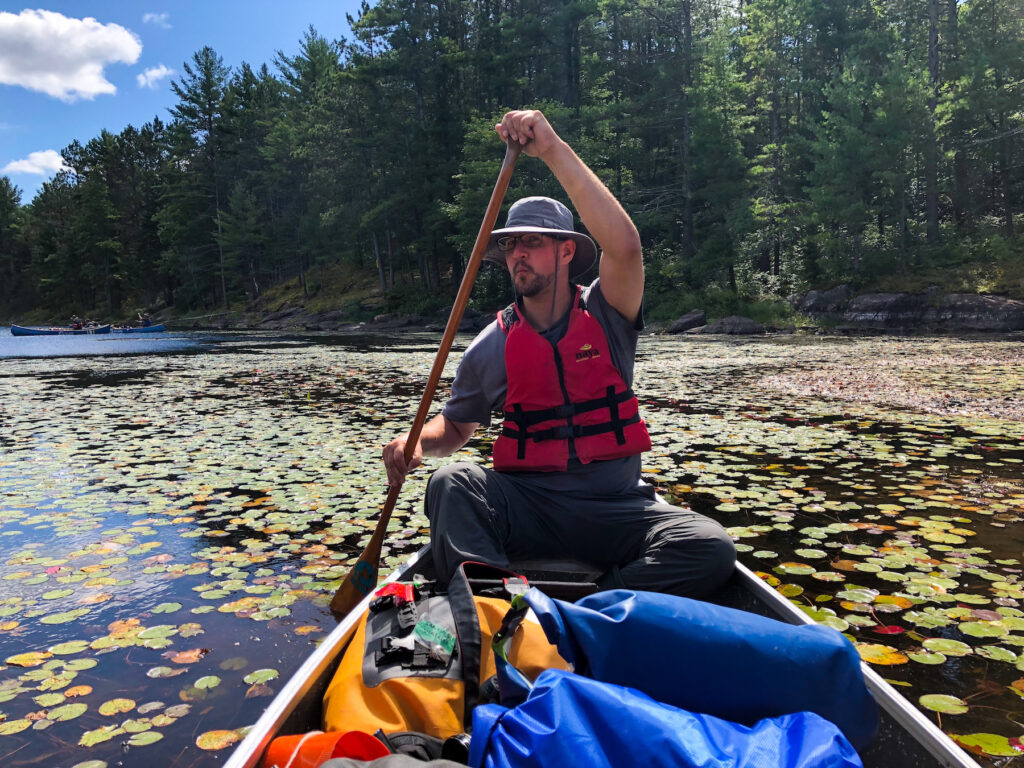 Pull your weight in gear
That means when you are in the midst of portaging overland from each body of water, make sure that no one is left making 3 or 4 trips across carrying the canoes and all the gear when you are making just one trip. That's the fastest way to wreck your friend's backs and shoulders and they will resent you for it. Unless they tell you it's okay. Even then, it's not really okay for you to slack off.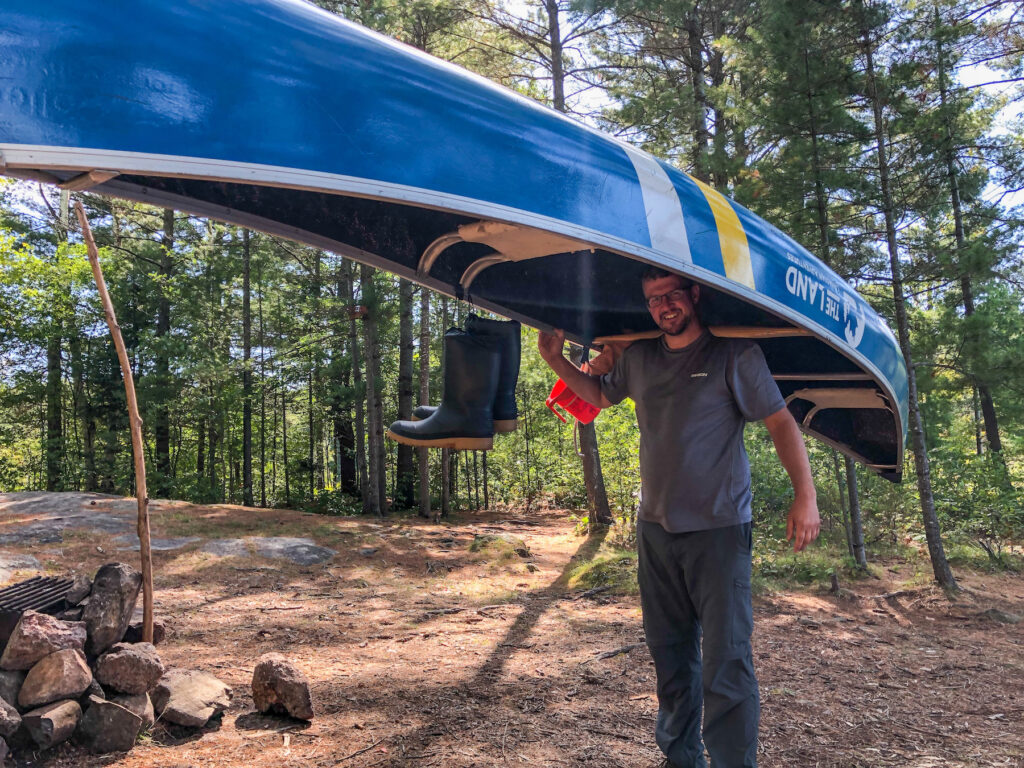 Get a poop bag
Nothing can ruin friendships faster than not keeping up with each other's excavation habits. In Kawartha Highlands Provincial Park, the campsites have a wooden poop box removed a hundred or so feet away from the campsite. What you need to do is make sure that a dry bag with hand sanitizer and toilet paper is positioned along the pathway from the campsite to the poop box. If the bag is gone, you know someone is indisposed and you won't call for them. If the bag is there, game on for you to go do your business, no discussion on the topic required!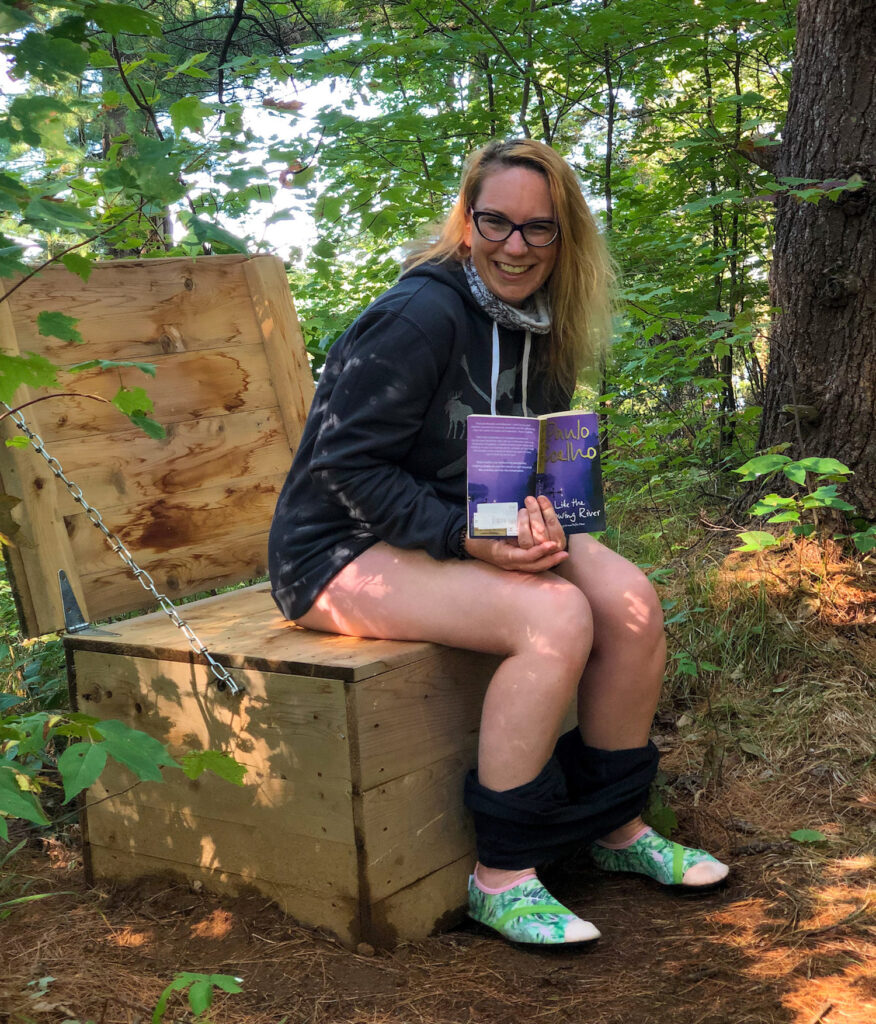 See Our Day 2 Video blog here:
Be a good tent mate
If you snore, don't share a tent with the person who is a light sleeper. See, your canoe and paddle partner do not necessarily have to be your tent mates! While my friend, Kevin and I spent 4 days together in a canoe, we thankfully slept far apart. In completely different tents. I shared a tent with Kim and Ryan. Kim was paddling with Chris. Ryan boat hopped between canoes with our guides.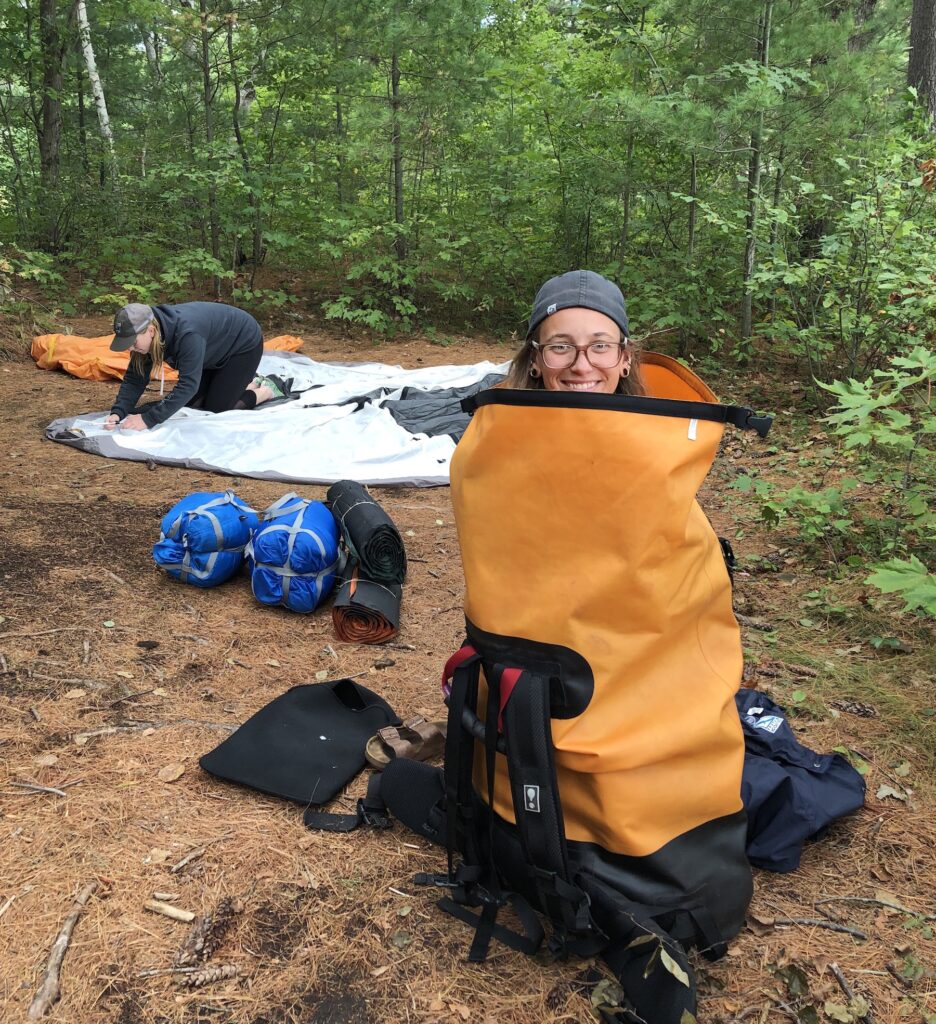 Help prepare food
Nothing is worse than that person sitting around and watching the sunset every time while the same people cook breakfast, lunch, and dinner. Sharing is caring! Share the meal preperation (as long as you don't poison your friends) and clean up duties for a harmonious meal!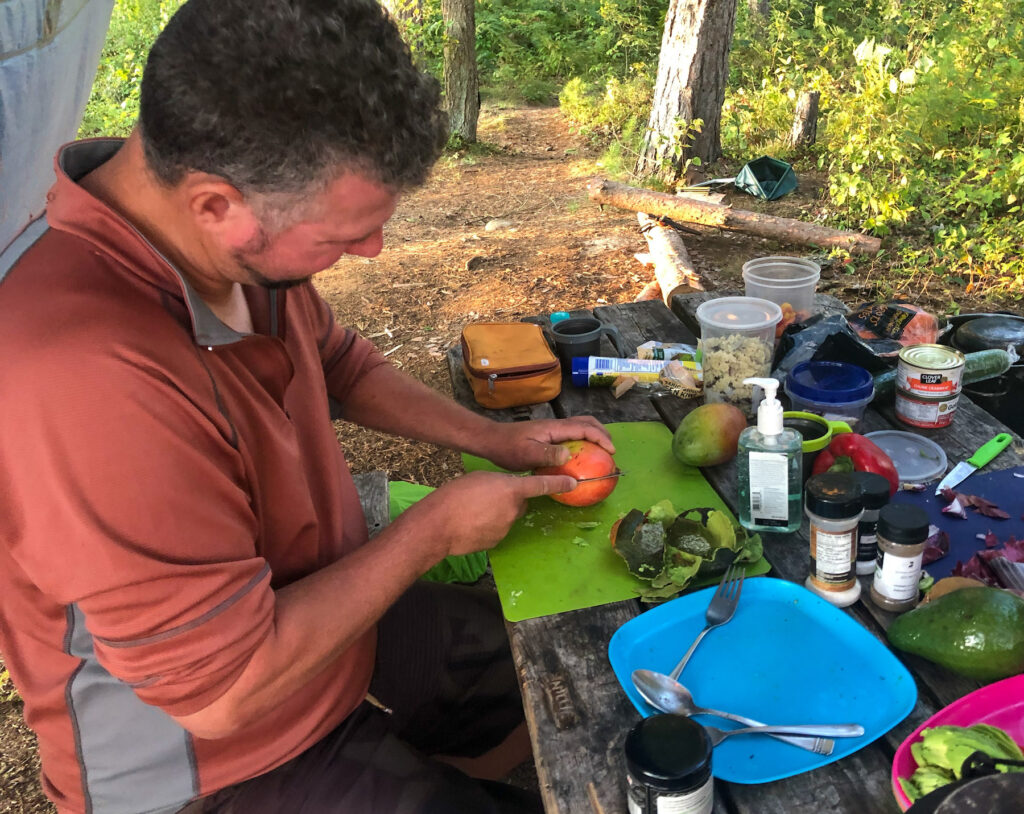 Take The Time To Watch The Sunset Together
Nothing is more magical than magic hour. By magic hour, I mean that time of the evening when the sun turns everything a golden hue. When the lighting is best on everyone. When you can all sit in silence and awe of the beauty surrounding you. This is the time of day where no one needs to talk, shhhhhhhhhhhhhh.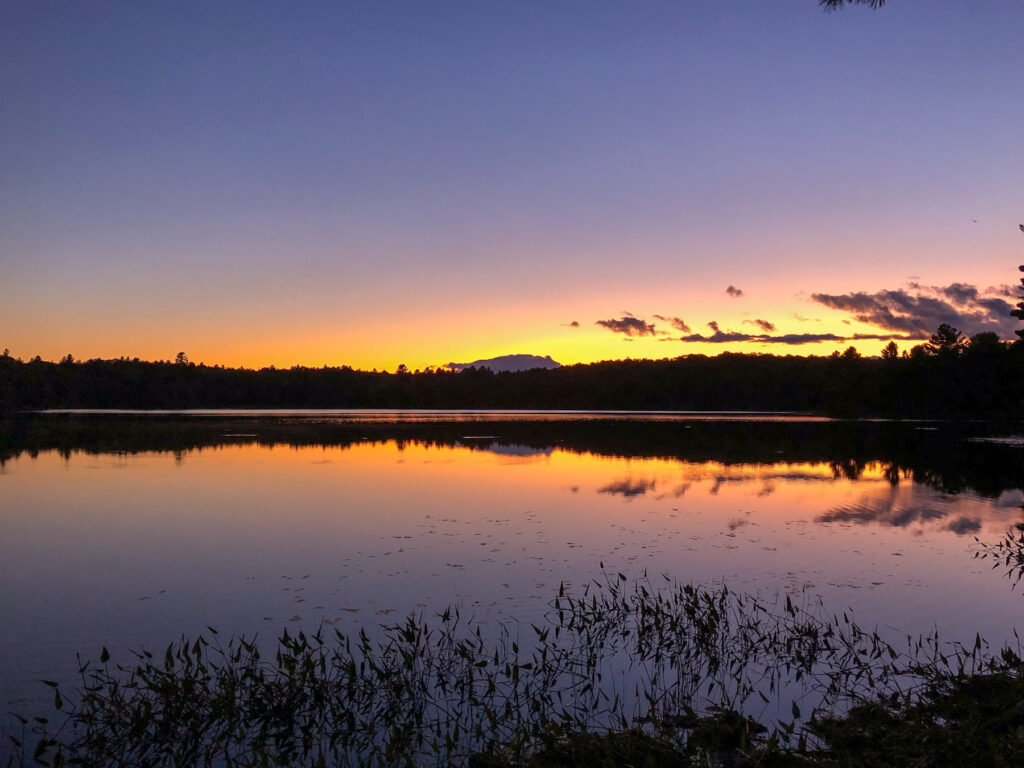 Hide the Pictures The Need Hiding
Hiding pictures that shouldn't see the light of day goes without saying. Like this one: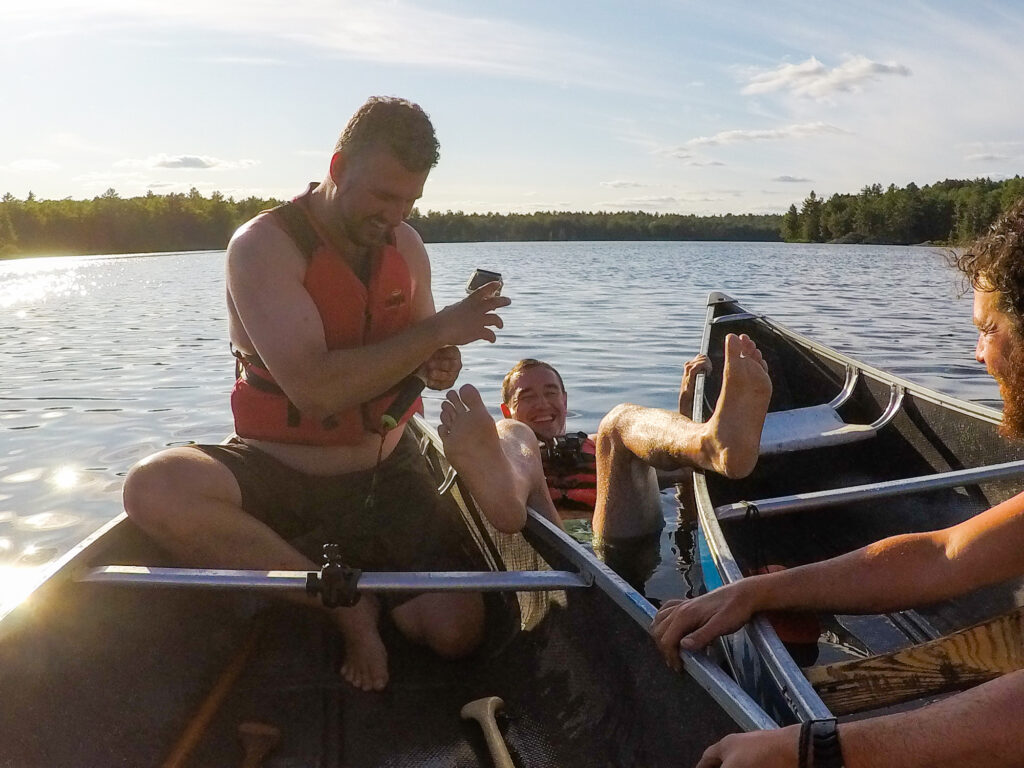 And this one because no one needs to see this: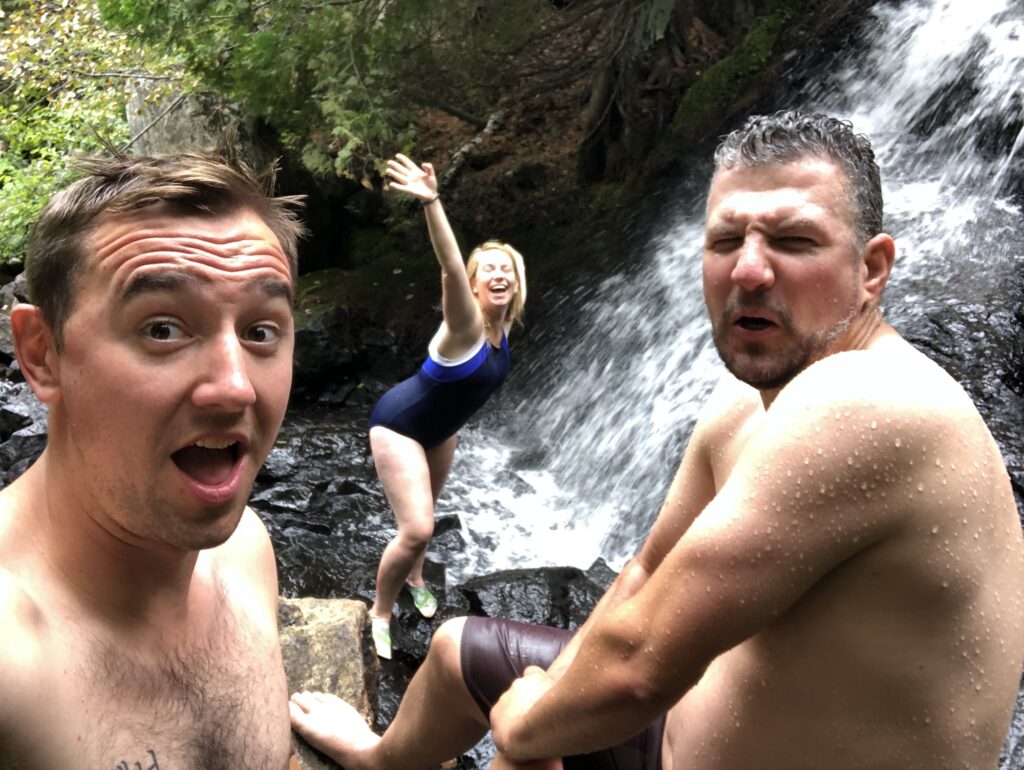 Yes that's me.
At the end of the trip, reflect on what made the trip awesome and what could be improved for next time. Once you do this canoe portage with friends once and do it well, you'll want to do it again and again and again! Happy camping!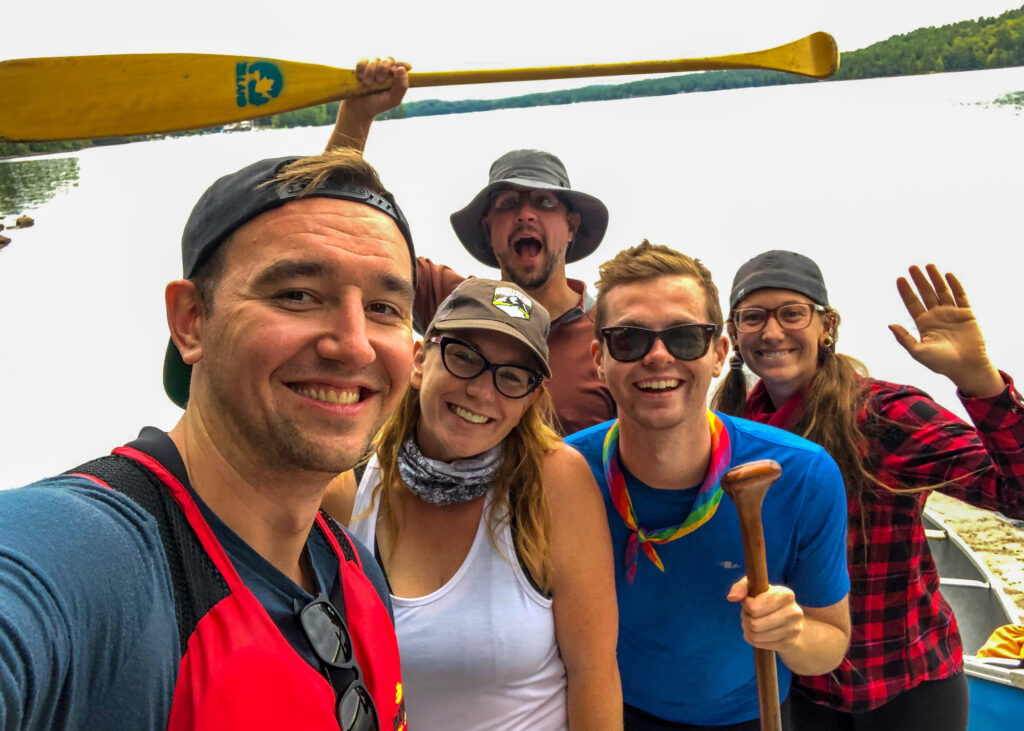 Endnote – yes conflict does arise when you're out in the wilderness with five very different and strong personalities. The inherent fear that we would each blast the others on social media kept us in check.
Just kidding!
We're actually all cool people and discuss things like adults despite our ability to react extremely quickly.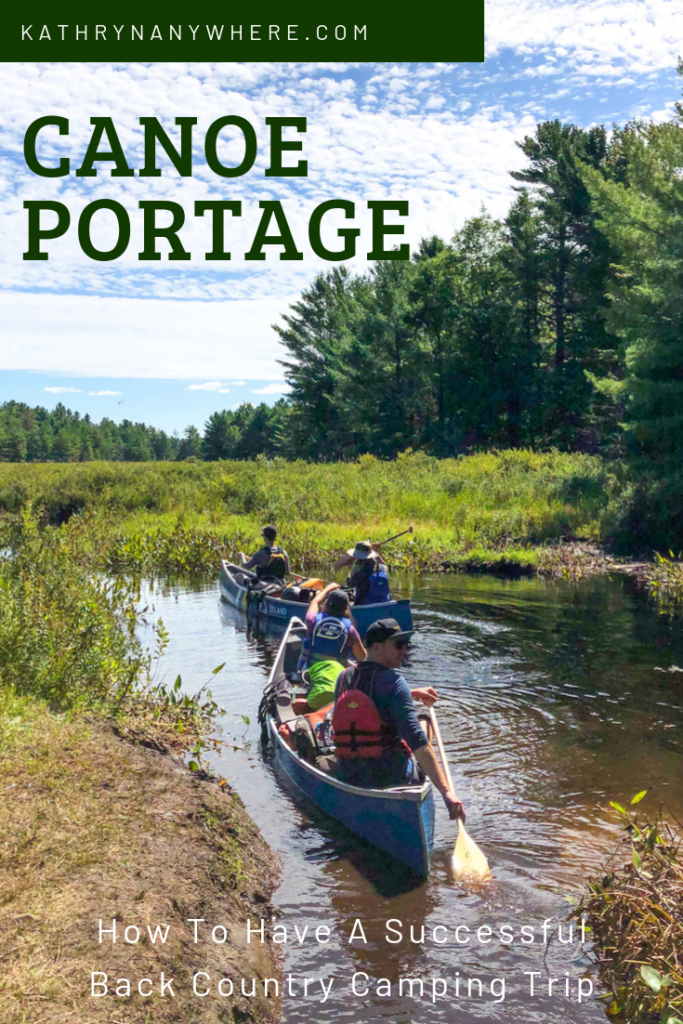 I'm no stranger to experiences in Ontario Parks. You can read up on my other camping and glamping trips here:
Epic Hikes With Kids – Barron Canyon Trail, Algonquin Provincial Park
Yurt Winter Camping in Algonquin? Yes Please!
Glamping in Bonnechere Provincial Park
Why I Took My Son Camping At MacGregor Point Provincial Park
20 Photos That Will Inspire You To Snowshoe at MacGregor Point Provincial Park With Your Kids
Serpentine Loop in Kawartha Highlands Provincial Park – 20 Photos to Inspire You To Canoe That Route