One of my favourite summer destinations is Tobermory, Ontario on the Bruce Peninsula. The first time my family visited was in the summer of 2017. We designated Tobermory as a two-night stop on our way to Lake Superior Provincial Park from Toronto. When we were there, we realized that Tobermory is a destination that needed more exploration.
We subsequently visited Tobermory in the summer of 2018 as we loved it so much and enjoyed everything the area has to offer. The Bruce Peninsula is stunning. The town of Tobermory is quaint. The grotto is right out of this world!
While summer is the main time to visit Tobermory, it can also be a destination for winter warriors as well.
How To Get To Tobermory From Toronto
The drive to Tobermory, Ontario from downtown Toronto is approximately 4 hours if you leave early in the morning. The most direct way from Toronto is north on Highway 427. Take Highway 401 westbound to the 410 and take the 410 north. That highway eventually becomes Highway 10. You will drive north on it until you reach a set of lights with a Champ Burger on one corner and a Super Burger on the other corner. We highly recommend Super Burger. Turn left and drive towards the town of Shelbourne. Follow the street signs that point north towards Owen Sound. Once you reach Owen Sound, follow Highway 6 North.
To get to that part of Ontario, you're not driving on mega highways with rest stops. You will be driving through small towns. Once you head north of Orangeville, the next biggest city is Owen Sound. If you wish to purchase any groceries for your stay, Owen Sound is the best bet. If you want to pick up a snack or meal at a fast food place or use a washroom, again, Owen Sound is the safe bet.
There is a gas station along the way in Wiarton. However, if you are looking to fill up your vehicle with Esso or Shell for rewards program purposes, do so in Owen Sound. Do not drive to Tobermory from Owen Sound with less than a half tank of gas. I recommend that you fill up in either Owen Sound or Wiarton.
We enjoyed our time in Tobermory in the summer of 2017 so much that we decided we would return in the summer of 2018 as well. And you know what? It is safe to say, I will return again. Tobermory boasts an abundance of things to do!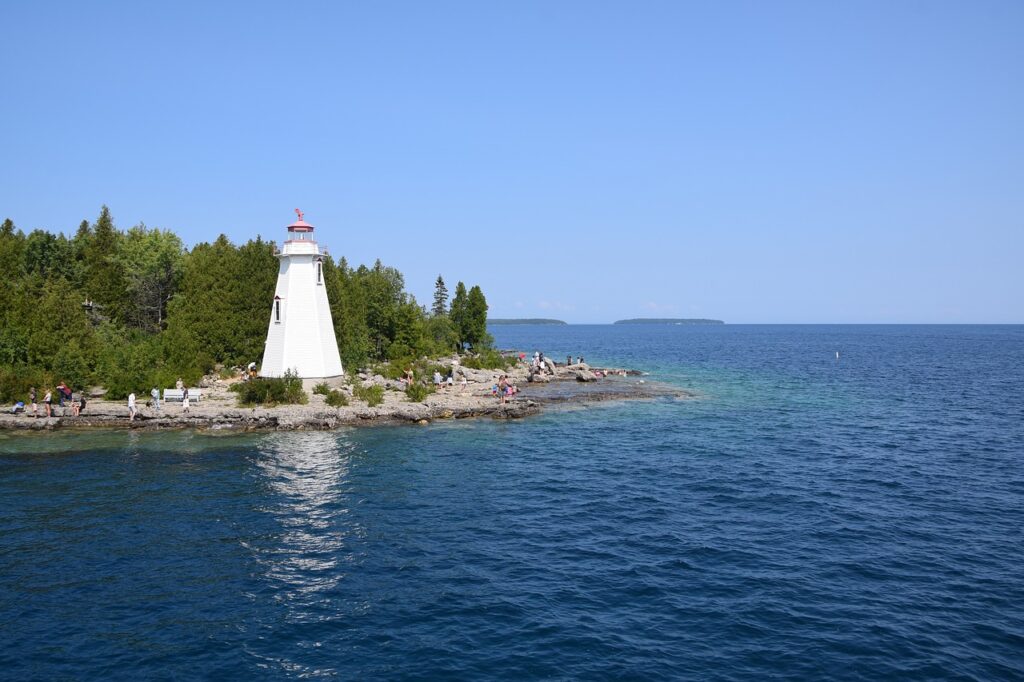 Best Things To See And Do In Tobermory, Ontario
Here is the list of the best things to do and see in Tobermory, Ontario. This is based on the activities my children and I enjoyed there. By no means is this a list of everything to do in Tobermory!
Shipwreck Boat Tour in Big Tub Harbour
Tobermory is one of the best places to see shipwrecks in Ontario! Really and truly, nothing beats scuba diving shipwrecks if you are a certified diver. If you are not a diver or a snorkeler or you are travelling with your children and do not have other care for them while you are on a dive, then viewing from a boat is the next best thing here. The two wrecks you can see in Big Tub Harbour in Tobermory are called Sweepstakes and the City of Grand Rapids.
The Sweepstakes went down in 1885, spoiler alert – no treasures left and currently lies in roughly 6 metres of water. It is one of the best-preserved shipwrecks of its time in the Great Lakes. The City of Grand Rapids wreck is from 1907, it was a double-decker steamer that caught fire while mooring. It was released from the dock and left to burn in the harbour. It sank where it lies.
Totally worth seeing – see if you can get on one of the glass bottom boats to do this! Note – the boats can get very crowded fast. Either get a seat up top for premium viewing over the side or stay down below at the glass bottom.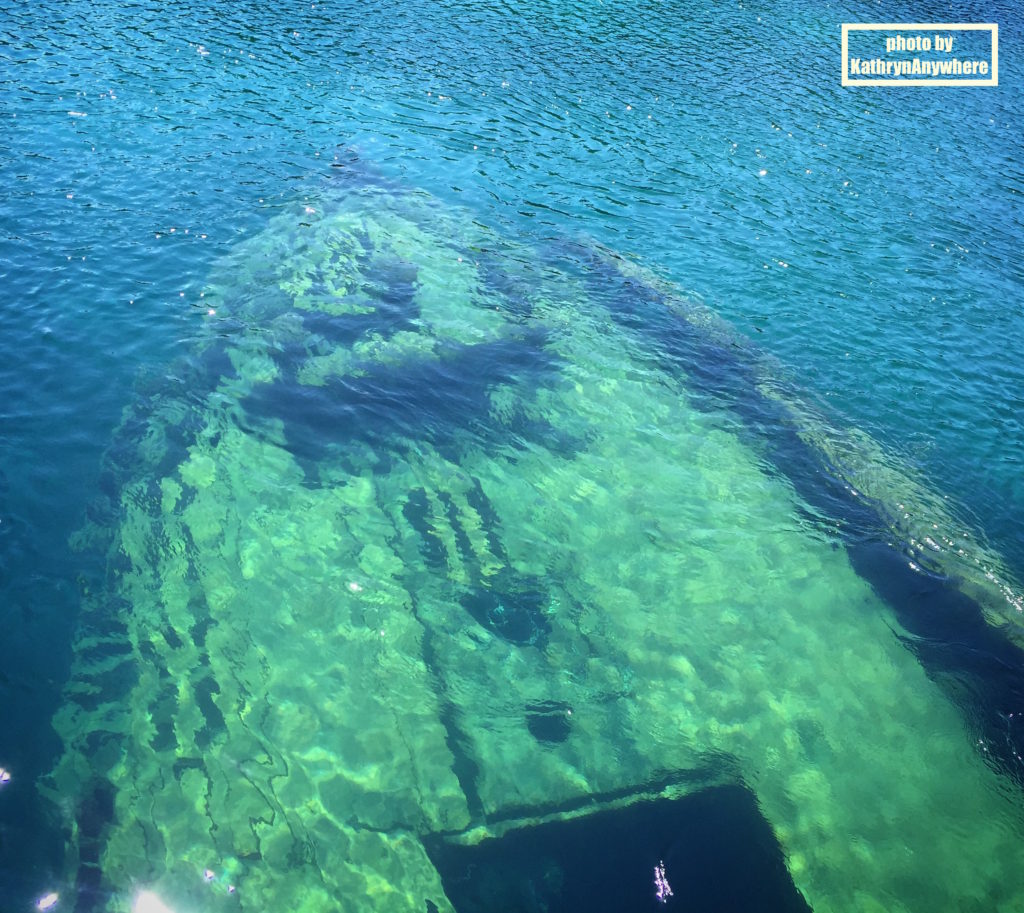 Diving and Snorkeling in Tobermory
In this same harbour where you can take a glass-bottom boat over the shipwrecks, you can scuba dive and snorkel over them as well. There are a few designated diving sites and a number of shipwrecks to see!
For certified scuba divers, you must register in advance with Parks Canada. There are only certain times of the day scuba divers are allowed in the area. Be sure to hit up the Divers Den for all of your diving needs in Big Tub Harbour. Going into the shipwrecks is not permitted, but observations from around them absolutely are. Snorkelers do not need to register in advance with Parks Canada, but there are certain areas in the water that you will have to stay clear of. This harbour sees so many large boats filled with tourists, please follow all of the rules and regulations.
We have snorkelled with Diver's Den. They handle everything from wetsuits to snorkel gear and take you on a two-hour adventure.
Kayaking in Tobermory
You can absolutely kayak in Tobermory as well! There are kayak rentals from a number of outfitters in Tobermory. Dunks Bay, south of Tobermory is a good place to launch and paddle around. Cyprus Lake and Cameron Lake and calm and picturesque places to paddle.
It is possible to kayak to Flowerpot Island from the harbour in Tobermory. You would need a sea kayak. It takes about an hour to get to Flowerpot Island and it will take you much longer to get back as you'll likely be fighting wind and waves. It's not uncommon to see swells of up to 5 feet, so please only venture out there if you are an experienced paddler. You can camp there overnight if you're not up to going back and forth in one day. Be sure to register for one of the six sites well in advance.
Flowerpot Island
Flowerpot Island is only accessible by boat from Tobermory, Ontario and is one of the best experiences in Fathom Five National Marine Park! The island is famous for its natural "flowerpot" rock pillars, caves, historic light station and rare plants. This is a great spot for easy to moderate-level hikers – my kids had no problem. Here you will find great swimming and snorkelling, picnic areas and overnight camping if you are adventurous. Be sure to bring your bathing suit in a day bag with you and have sturdy shoes. Hiking pro-tip: I don't recommend that you come in flip-flops and try to do the hiking.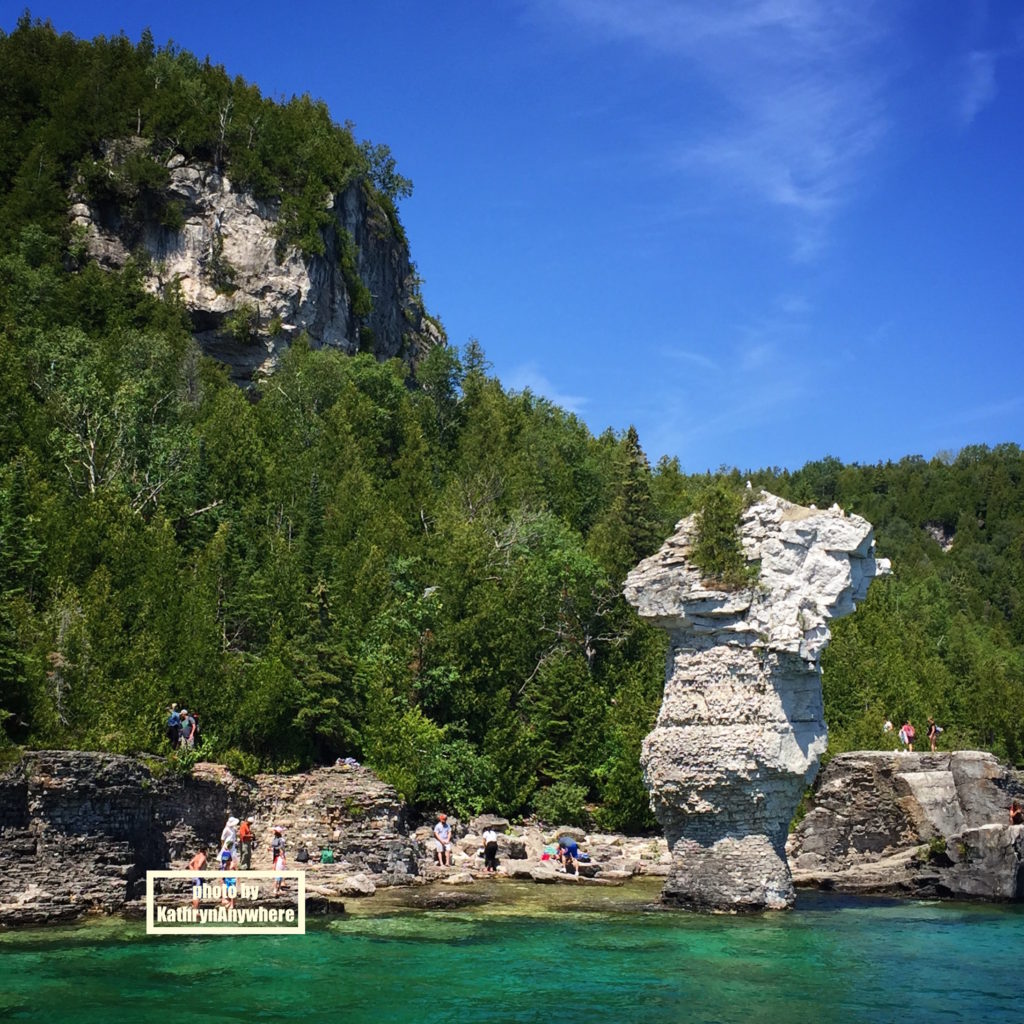 We were not prepared for the beauty here – it is so awe-inspiring! The water really is the colour of these photos – no filter! The rookie mistake we made when we went was not packing a cooler. There is really nothing to purchase here, bring your own food and water! Also, there are not a whole lot of places to dispose of garbage here, so please plan to take back with you what you bring.
Word of wisdom to the Instagram Models of the world – please do not try to climb the Flower Pots. It's dangerous to you if you fall, but it's also disruptive to nature. Imagine being the asshole who damages one of these natural structures so terribly that it changes its appearance?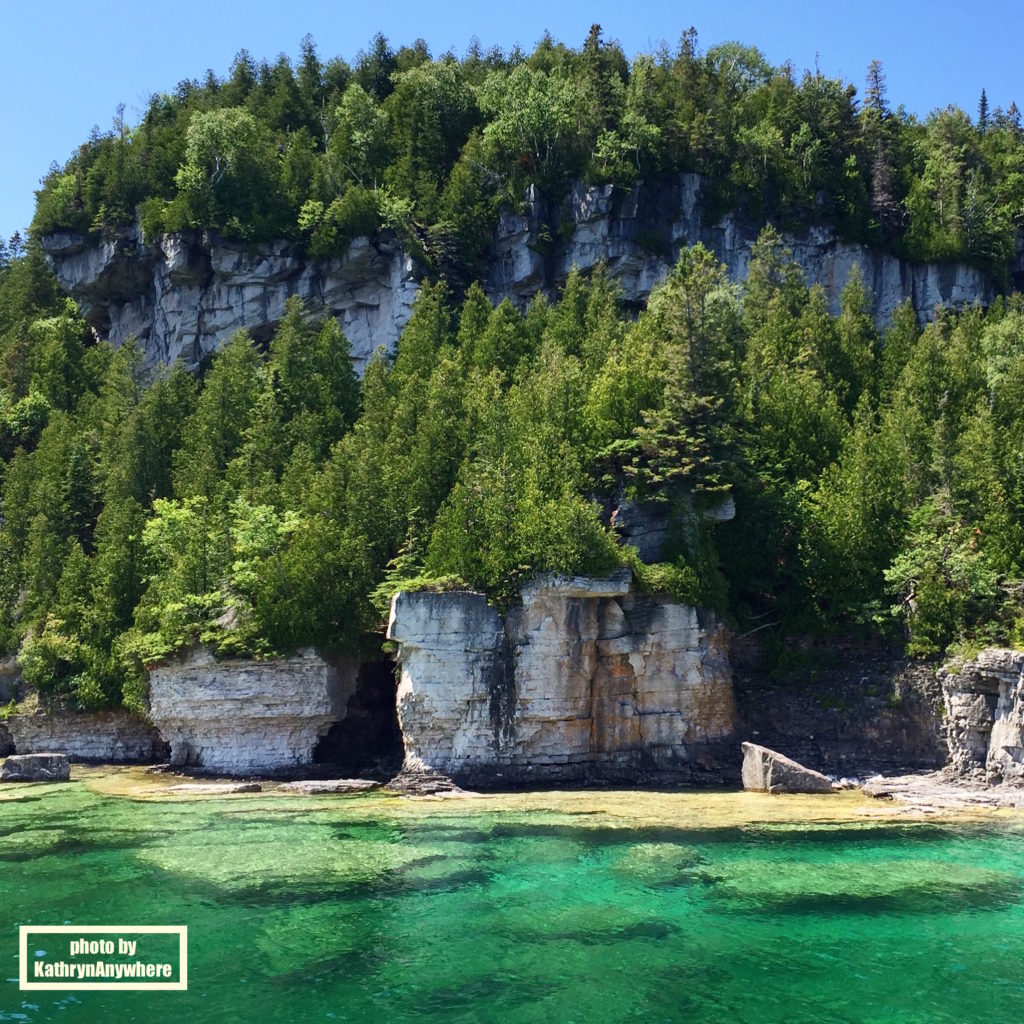 How To Get To Flowerpot Island
There are a couple of boat charter companies to get you here from Tobermory, Ontario. You do have to pay for tickets to get out to the island and back. You can combine a shipwreck viewing tour or simply take an express boat direct and they have ticketed return times when they drop you off. According to the Parks Canada website, they recommend that you spend 4-5 hours hiking and see it all. Plan to spend the day – at least an afternoon, please don't short change yourself on time here. Buying tickets from any of the suppliers in the harbour area of the town in advance is a good idea to ensure your plans for the day are not disrupted.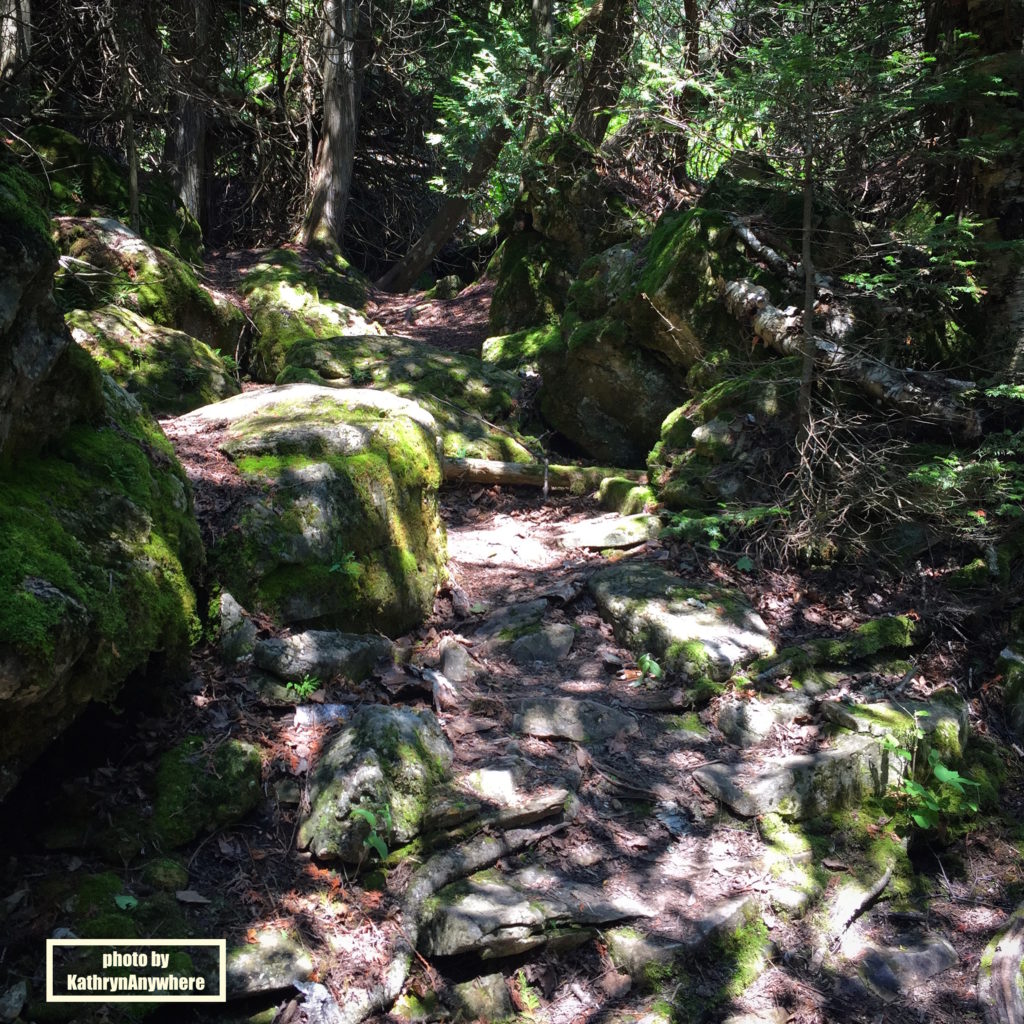 Visit The Grotto in Bruce Peninsula National Park
The Grotto, found in Bruce Peninsula National Park, just outside of Tobermory, is a place that is so popular, we couldn't get in the first year we tried. I severely underestimated that it is one of the top attractions in the province and that just showing up would suffice. It turns out it requires a little more planning to be able to see and experience this magical place.
We did our planning and did get into the Grotto in the summer of 2018 and I was back in the winter of 2021. During the peak season of July and August, there are a couple of ways to make sure you are in Bruce Peninsula National Park and can access the Grotto:
1.) Be there already as a camper at one of the backcountry sites along Georgian Bay or in Cyprus Lake Campground.
2.) Reserve parking in advance if coming from outside the park. Parking is assigned by time blocks and only a certain amount of cars are permitted per time slot.
3.) Head up there in the off or shoulder seasons of April/May/June or September/October when the demand to visit is much less.
There's a twitter hashtag you can follow for more information – #GrottoParking
As of June 1, some Parks Canada places began a safe, gradual reopening of some outdoor areas at national parks, national historic sites and national marine conservation areas.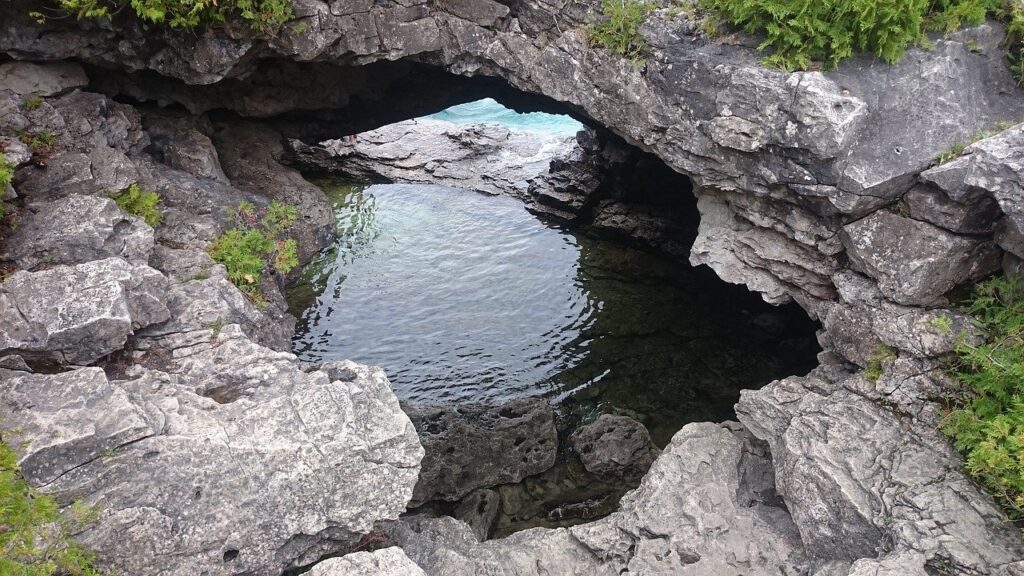 Covid Protocols and The Grotto, Tobermory
Reservations for parking at the Grotto for the summer of 2021 will be available online on April 29th at 8:00 a.m. EDT. Important to note – Visitors will not be permitted to climb into the Grotto since physical distancing is not possible. Parks Canada is asking that you enjoy the view from above.
Enjoy ice cream at The Sweet Shop on Bay Street
There's this sweet little ice cream shop with a lot of brilliant Canadian flavours of yummy ice cream. Located at 18 Bay Street, overlooking Little Tub Harbour, the locally owned Sweet Shop makes candy, fudge, chocolate and brittle onsite. Come after dinner, sit and relax! Walk around Tobermory and see the boats in the harbour with ice cream in hand, you won't be sorry!
Visit Singing Sands Beach
Singing Sands Beach is located off of Dorcas Bay Road south of Tobermory. This large sandy beach with shallow waters is part of Bruce Peninsula National Park. I admit, when my family rolled up to this beach, we were not impressed. It looked like it was full of weeds, there were not a lot of people there and it was windy. My family is a little spoiled. The kids are used to Prince Edward County and Caribbean beaches.
The water was warm and you could walk really far out before the kid's lower bodies became submerged. The kids even had a good time. For those who are squeamish about things touching their feet in the water, I recommend wearing a pair of water shoes. It's not really so bad once you walk out in the water for a bit. Admission here is free.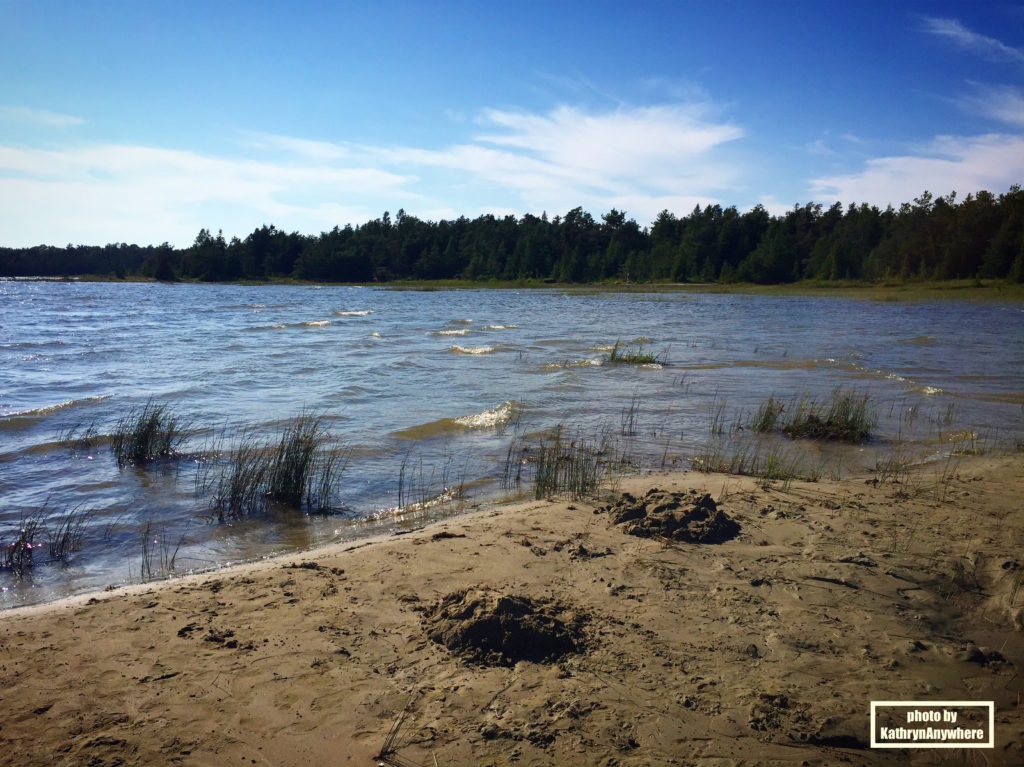 And as a bonus for you history buffs – there are historical walking tours available in town.
Tobermory Brewing Company
If you've been reading my blog posts and following me for a while, you know what a craft beer lover I am. In fact, Ontario craft beers rank as some of my favourites in the world! So no trip to Tobermory is complete without finding a brewery. And I found Tobermory Brewing Company. It's Tobermory's first and only brewery, a restaurant and a beer store. Sweet find, definitely worth a visit to sample the brew. The older woman hostess wasn't over-friendly – I think she wanted me to leave because I had children with me, but the beer made up for it.
Women with children enjoy craft beer too. We enjoy the artisan work involved. Trying to turn us away with your 40-minute wait and its really crowded speech is not cool.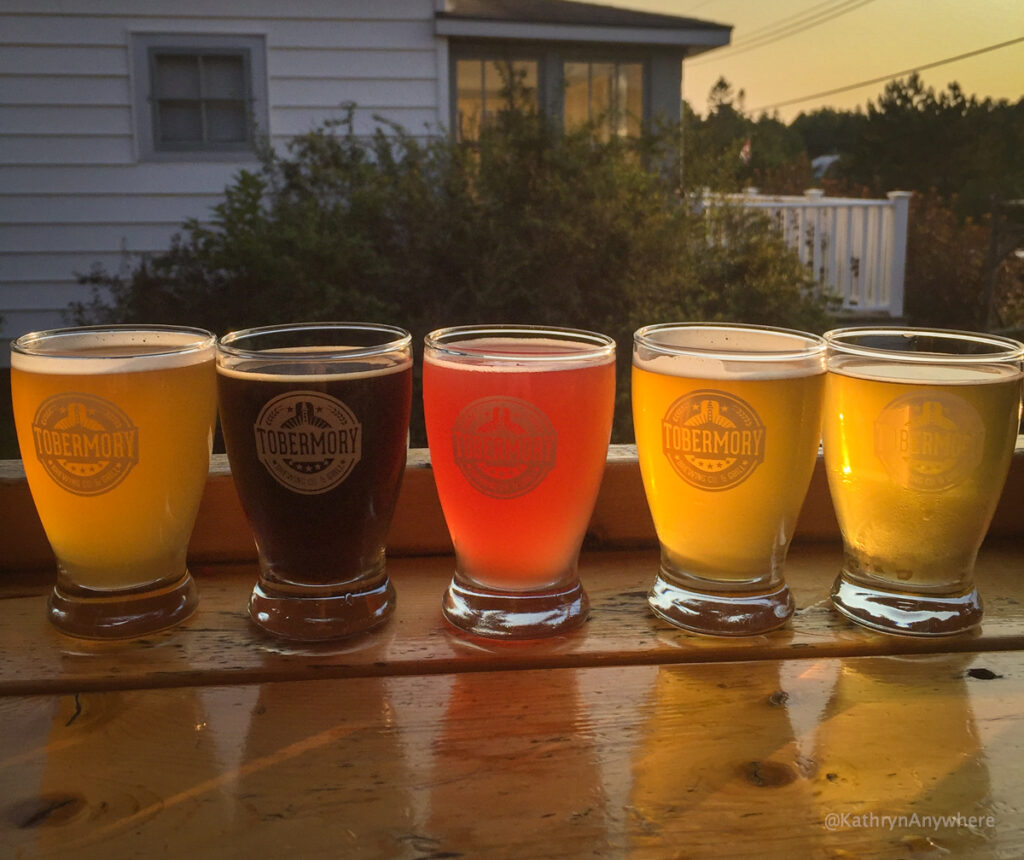 Visiting Tobermory Ontario In Winter
If you plan to visit Tobermory in the off-season, you need to understand that a lot of what draws people to the area is not available then. The town of Tobermory, in the winter, is essential shut down. The only shops you will find during the week that are on are the LCBO and the Foodland. Maybe the brewery on the weekend is open, but you should call ahead and double-check before you go to the Tobermory Brewing Company or any other restaurant you'd like to dine at.
Most accommodations in and around Tobermory are closed between Thanksgiving and the May long weekend. For our winter trip, we camped at Cyprus Lake in a Yurt.
There are definitely one-day activities during the winter you can check out in Tobermory.
Parks Canada Visitor Center and Look Out Tower
In the town of Tobermory, you'll find the Parks Canada Visitor Centre and the hike to the lookout tower. To get there from downtown Tobermory (Litle Tub Harbour), it takes approximately 10 minutes.
The Parks Canada Visitor Centre is an entertaining place for kids to learn about the shipwrecks of the area, the marine life, the geography and the grotto. We spent more than an hour in there for time reference. The curation of the information and all of it is in French and English, is really quite spectacular.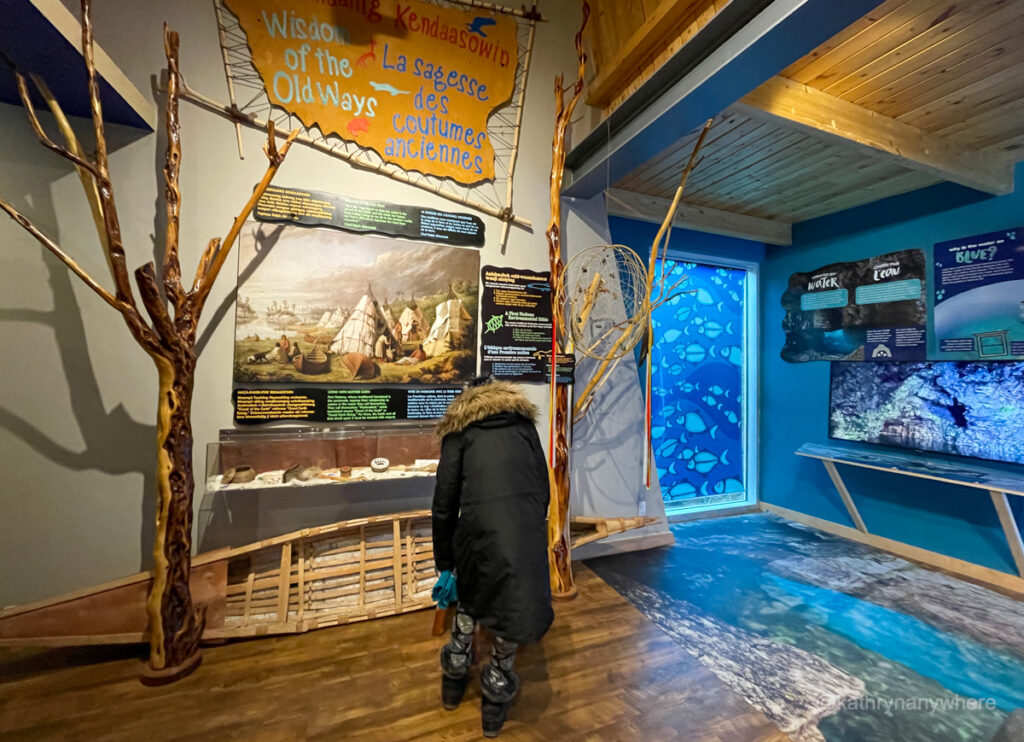 Once you've discovered all there is to discover inside the visitor centre, get outside and hike to the lookout tower. The lookout tower is 65 feet tall and is 112 steps to the top. From the lookout tower, you can see the town of Tobermory, Little Tub Harbour and the outlying islands.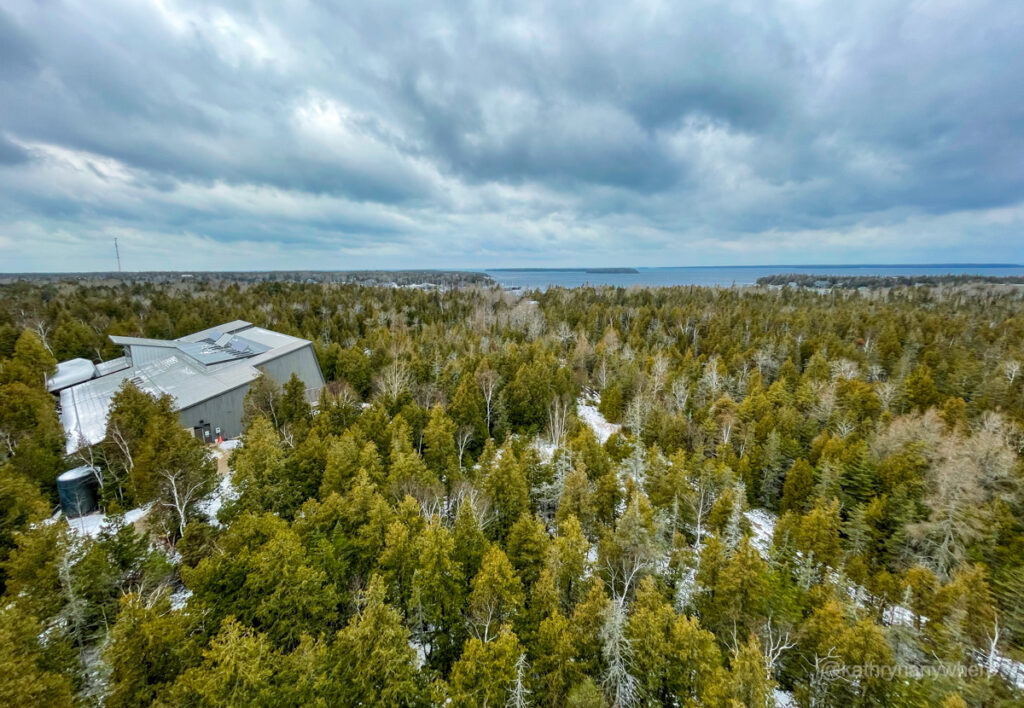 Hike to Little Dunks Bay Look Out
Honestly, if it wasn't December and there wasn't snow and ice on the rocks, you'd think it was still summer to look at the colour of the water. Those Caribbean hues of Georgian Bay hold even when it's below zero on the thermometer.
The hike to Little Dunks Bay Look Out from the tower is less than a kilometre and on the day we went, we were the only people on the trail. This is a very secluded little cove. The hike is relatively easy, the ground is flat and the path is very well worn in. The view is priceless!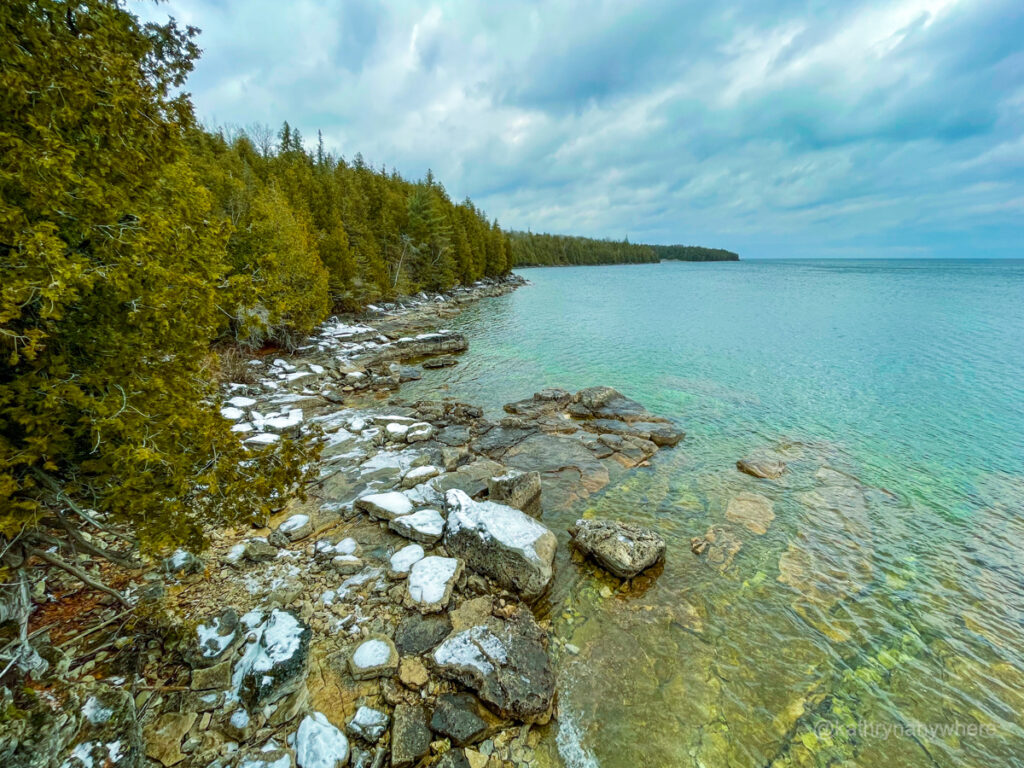 Where to Stay in Tobermory Ontario
My kids and I have stayed at the Blue Bay Motel as well as another location we do not recommend. We are booked to return to the Blue Bay motel this coming summer.