We were guests of Ontario Parks during our visit to Presquile Provincial Park. Our views remain our own.
Introducing my kids to camping through glamping during all four of our Canadian seasons has been one of the most rewarding experiences of my parenthood journey. Aside from when they were born or learned how to walk. See, I would rather be outdoors all the time. The kids? They are fairly rambunctious city-oriented kids. Miss M is so not the outdoors girl. If there are mosquitos, no electricity or running water, and lacks attached flushable toilets, she's out. Make that she's in. As in 'inside the house'. Our worlds don't always collide. So I've learned about what makes her tick. Camping is not it.
Little Man is normally up to try anything that gets him outside and out of the confines of our urban, Toronto townhouse. We had an opportunity to try out a Minka tent at Presquile Provincial Park at the beginning of October. Bonus for us? We got to also enjoy the extended autumn season at the park this year so that means extended fall foliage observations and attempts at being bird nerds.
It's not the first time he and I have ventured off together! Read all about our winter camping at MacGregor Point Provincial Park experience last winter here: Why I Took My Son Camping At MacGregor Point Provincial Park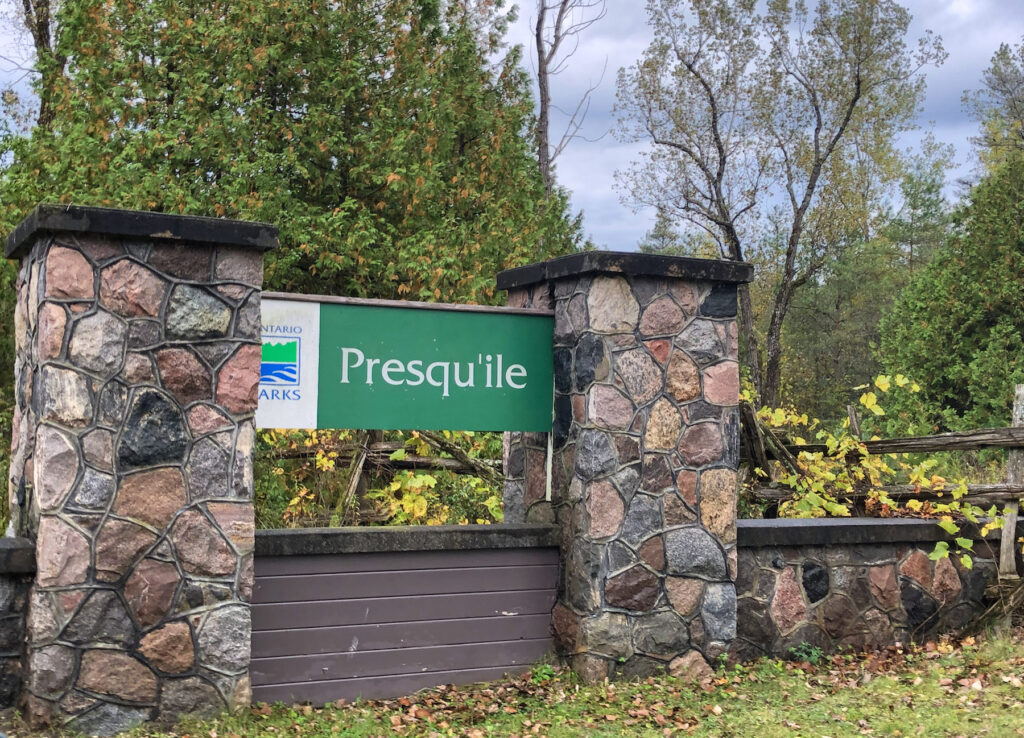 Where is Presquile Provincial Park?
Presquile Provincial Park is located just a bit south and a bit west of the town of Brighton, Ontario on Lake Ontario. For reference to larger towns, it's between Trenton and Cobourg, in south-central Ontario. You will need to exit the 401 at the Big Apple at drive through the small town of Colborne to get there.
When you check-in at the main gate, get a Presquile Provincial Park camping map as the park is really big. If it's your first time there, it can be tricky when driving or biking around from campground to campground.
What is a Minka Tent?
A Minka Tent is basically a one-room hybrid of a tent and a cabin. This one that my son and I stayed at in at Presquile Provincial Park had a small table inside and one single/two double mattresses. It can sleep five people. We had a BBQ outside, picnic table on the deck and a fire pit for cooking. There's no electricity at the site, so bring your solar-powered lanterns, headlamps and charged power packs to juice up mobile devices. The minka tent was a quick walk over to the water tap. There are 3 at Presqu'ile available for booking. Our Minka Tent is on Site #12 in High Bluff Campground.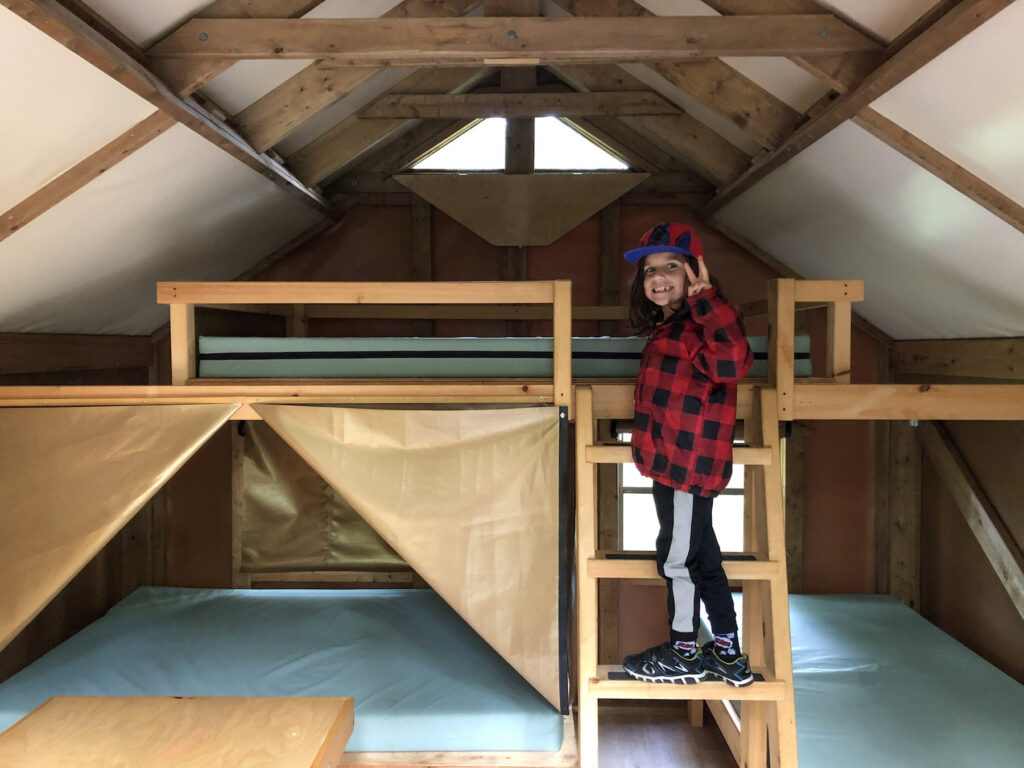 The nightly rate for each of the Minka tents is $97.18/night.
For me, travelling solo with my kids, it's a really great way to get out in nature with them and not have the hassle of setting up tents and pop-up trailers on my own. Presqu'ile was open to campers until October 21 this year – it was not that chilly at all sleeping in there! Despite there not being a source of heat, body heat in our sleeping bags kept us warm at night.
Funny enough, even though there are top bunks and basically your choice of places to sleep in the mink tent, Little Man insisted on sleeping on the double mattress with me.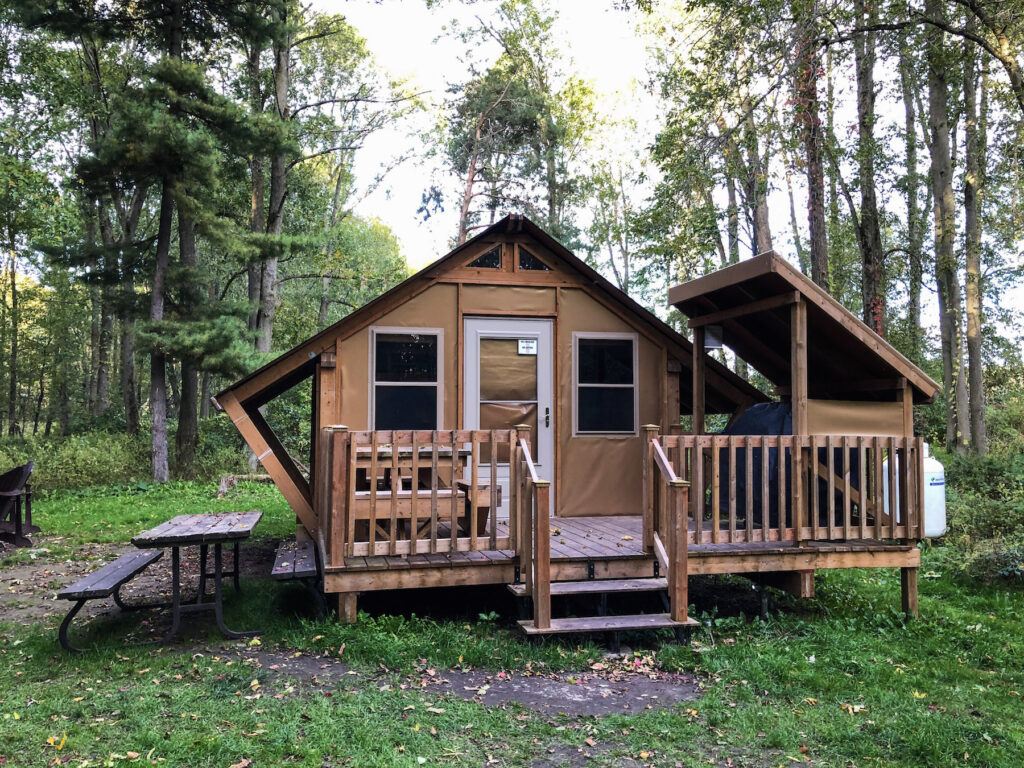 What Do You Need To Stay In A Minka Tent at Presquile Provincial Park?
Visitors should bring their own blankets or sleeping bags and pillows, food, cookware such as pots, and pans. You will definitely need to bring dishes, cutlery, plastic tubs to wash them all in. Try to pack food in Tupperware or Rubbermaid containers to avoid creating garbage at your campsite. Garbage attracts animals and while they are cute to look at, they're not cute when they are hungry and tearing apart garbage bags. You will be tasked with cleaning up the mess at your site.
Be sure to pack your basic personal items such as shower kit and toothbrush. There is a comfort station in the centre of High Bluff Campground. You'll definitely need to pack warm clothes for night time. As there is no electricity in the Minka tent, that means no heat. There's body generated heat, but that's all you have.
Please note there's no smoking for cigarettes or any kind in the Minka tents and you'll have to leave your pets at home.
What Activities Are There For Families at the Campground?
Normally, if the water is calm, it's acceptable to put in canoes and kayaks and paddle around the marsh. Unfortunately, the water was too rough for Little Man and I so we stayed on land.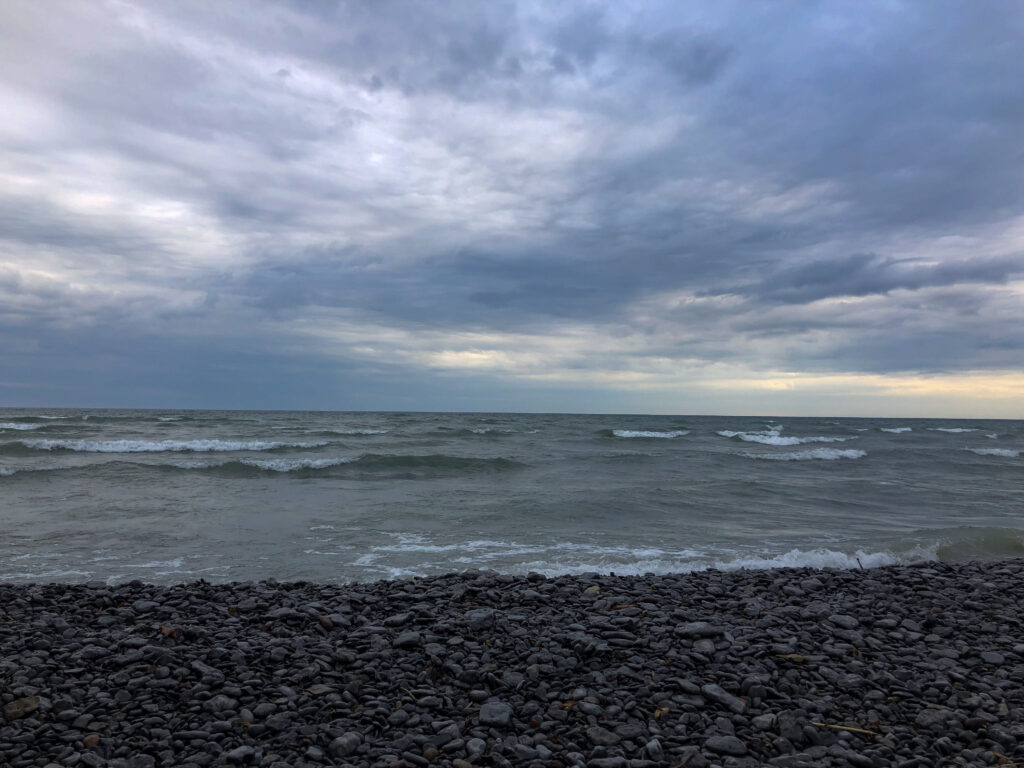 Presqu'ile Provincial Park is a hot spot in the province for birding. Bird nerds flock to Presqu'ile en masses for the fall migration. The best spots are Sandy Beach and the Marsh Boardwalk. I was hoping to see some myself! However, birding with a loud and crazy five-year-old boy is not an ideal circumstance. My son has a knack to turn any quiet experience into a complete and total gong show. In order to not anger any bird nerds in the area, we retreated!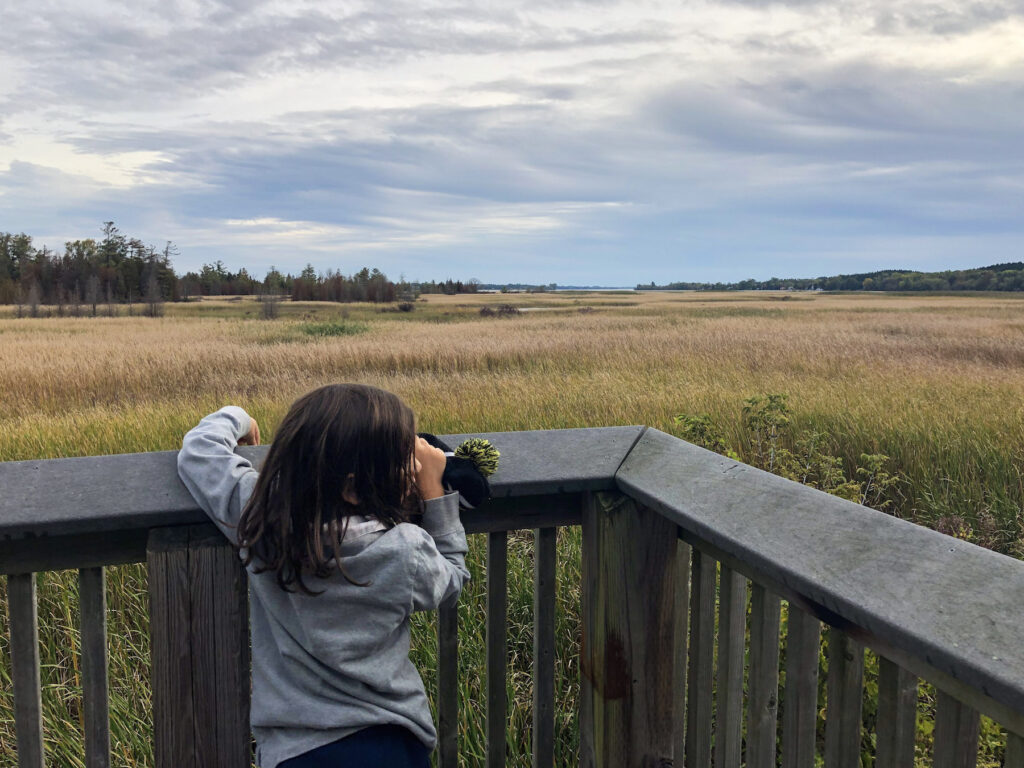 When birding fails, be sure to check out the lighthouse, the visitor's centre and skip rocks at the shore because there is a lot of shore to do that on. And the sunsets are fairly spectacular too.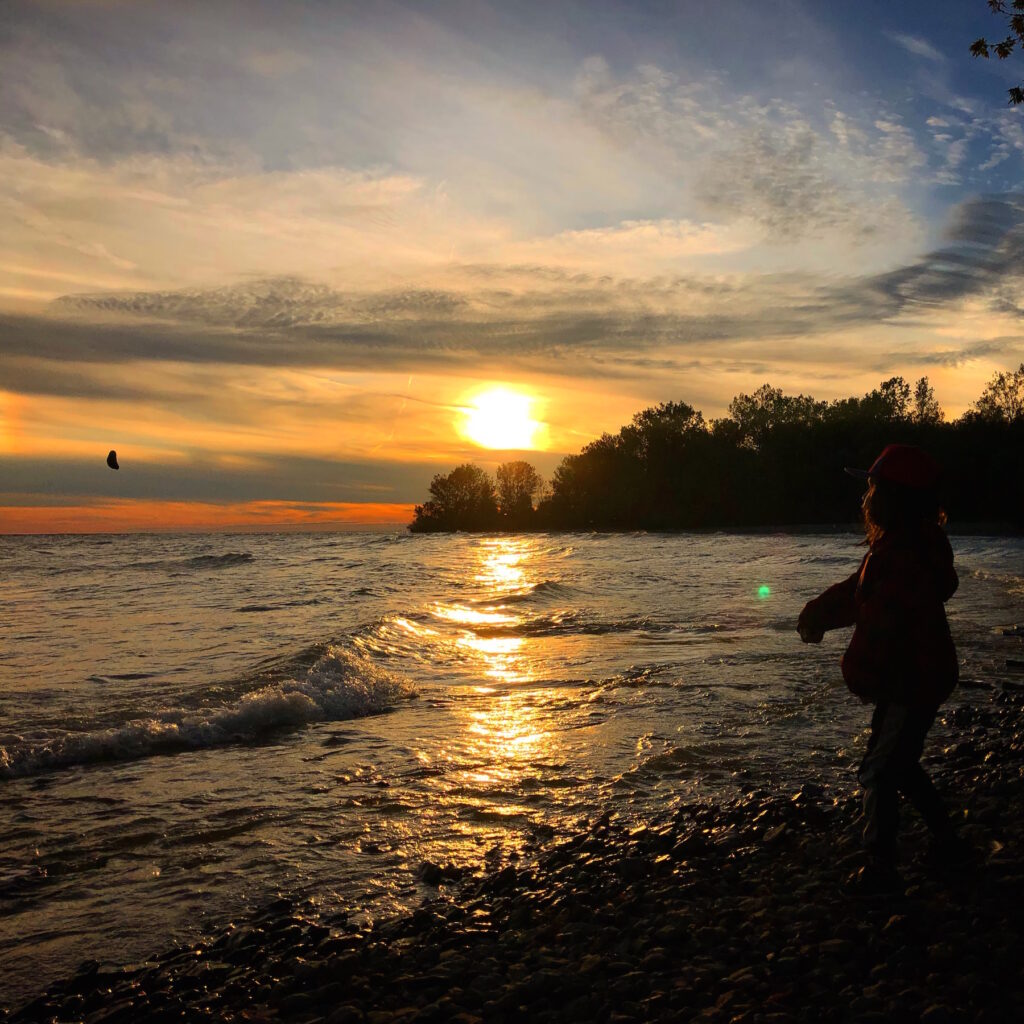 There are also quite a few easy hiking trails in the park. They're perfect for family exploration as the ground is fairly level and the area is not hilly, so get out there!
*** As always, please practise responsible hiking. Wear footwear that is practical for the environment, socks and long pants. When done, perform a check of each other's clothing and skin for ticks and other bugs. ***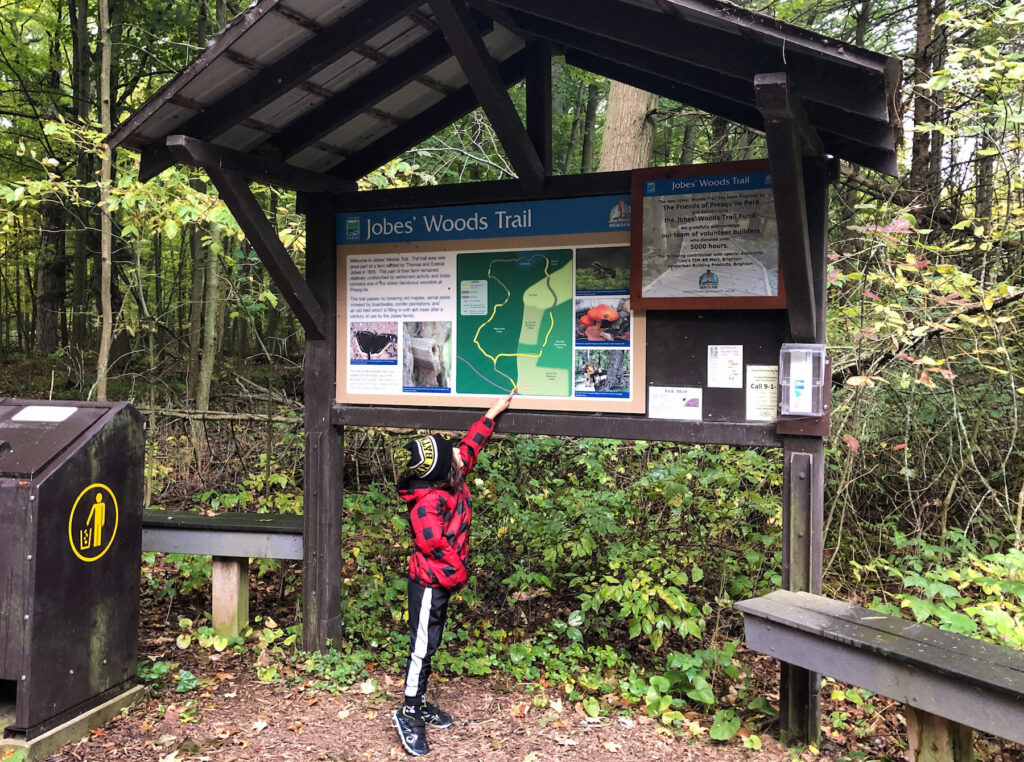 How To Book your Stay at Presquile Provincial Park
Presquile Provincial Park reservations can be made online. When reserving online select "Roofed Accommodation" as your reservation type. In the summer months, Presqu'ile Provincial Park operates are near capacity, so consider late spring or autumn as your travel time and remember you can book your reservations five months in advance.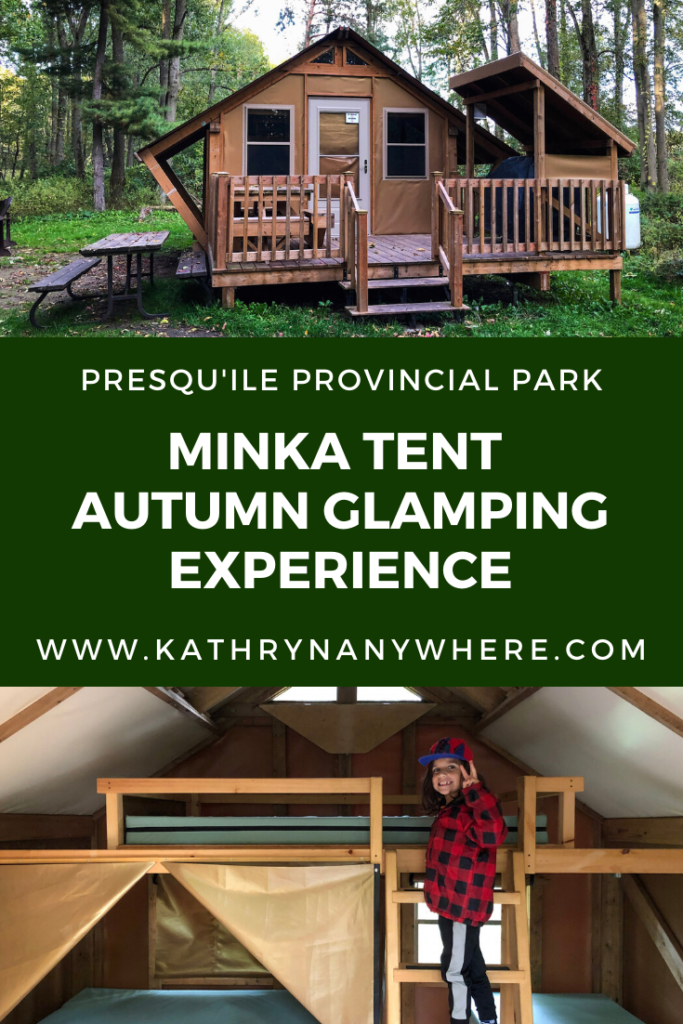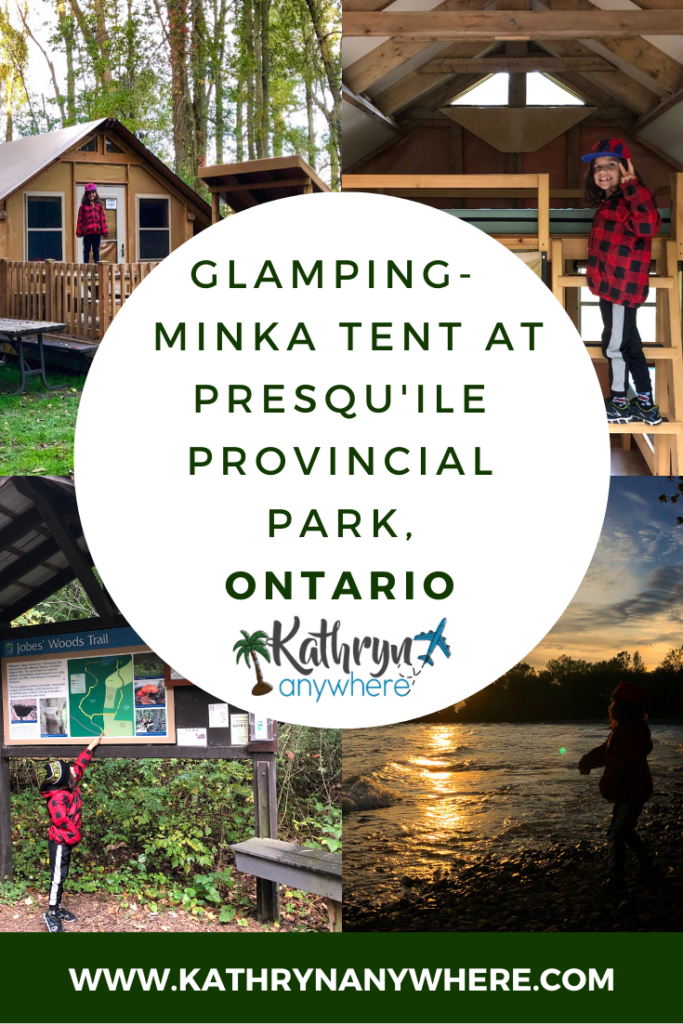 If you have been following along for a while, you know that I would rather be camping. Check out some of my other outdoor adventures in Ontario Parks here:
Epic Hikes With Kids – Barron Canyon Trail, Algonquin Provincial Park
Yurt Winter Camping in Algonquin? Yes Please!
Glamping in Bonnechere Provincial Park
20 Photos That Will Inspire You To Snowshoe at MacGregor Point Provincial Park With Your Kids
Serpentine Loop in Kawartha Highlands Provincial Park – 20 Photos to Inspire You To Canoe That Route
Canoe Portage With Friends: How To Have A Successful Back Country Camping Trip